There are several important things to look for when shopping for the best budget fishing kayak.
Top-notch stability, a comfy seat, and the ability to customize your boat can be found in the best cheap fishing kayaks.
Whether you're looking for an inflatable for easy transport or a heavier boat able to handle the open ocean, we highlight the best cheap kayaks for fishing below.
Best Cheap Fishing Kayaks in 2023

One of the few kayaks that can be paddled solo or tandem, the inflatable Intex Excursion Pro is a cheap but versatile kayak.
The durable PVC material can stand up to most bumps and collisions on the water while the spring-loaded nozzles make set-up and take-down easy.
There aren't many inflatable fishing kayaks that you can customize, but the Excursion has a removable mounting bracket where you can install a fishfinder and two fishing rod holders.
Fantastic bang for your buck
Carry bag, pump, and two paddles included
Removable skeg
Adjustable seats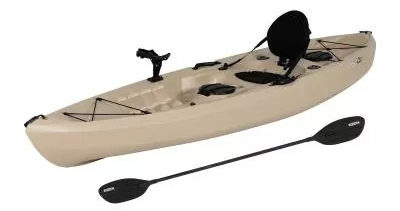 Lifetime prides itself on developing stable kayaks and the Tamarack Angler 100 is no different.
The wide flat bottom provides you with great stability making it a good choice for beginners. A skeg has been installed to compensate for the wide bottom and gives the Angler 100 solid tracking despite the wider hull.
It doesn't have the customization of more expensive hard-sided fishing kayaks but you will find multiple rod holders and two watertight storage hatches.
Not as comfortable as most fishing kayaks
Streamlined hull for improved speed
Ample storage space
Read our full Lifetime Tamarack Angler 100 Review.

One of the newer kayak companies, Vibe has produced several outstanding models. One of the most impressive is the Sea Ghost series.
Not as flashy or big as its older brother the 130, the Sea Ghost 110 nevertheless packs a tremendous punch for the price.
It's stocked with bonus accessories including multiple gear tracks to outfit your boat to your own specifications.
The pre-installed rudder makes for smooth paddling and impressive maneuverability even if the wind or waves pick up.
Add one of the comfiest kayak seats in the business, and you've got one of the best budget fishing kayaks ever produced.
One of the slower fishing kayaks
425 load capacity
Limitless customization possibilities
Read our full Vibe Sea Ghost 110 Review.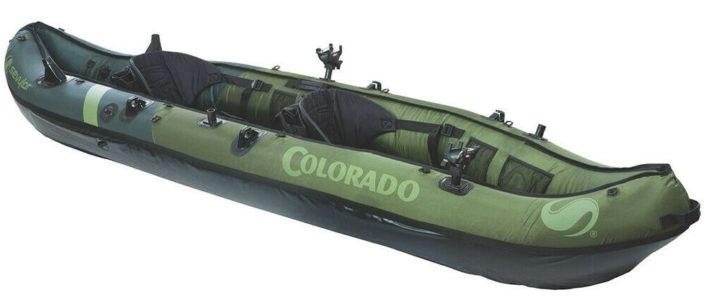 The Colorado 2 from Sevylor Coleman won't knock your socks off, but for its price point, it has all the necessary essentials to get you on the water.
This inflatable fishing kayak has a pair of flush-mounted rod holders and the ability to have a trolling motor installed for fast travel. The tough material is puncture and tear-proof so as long as you don't run it head-long into any rocks it should last a long time.
Set-up and takedown is a piece of cake. The multiple valves are Boston style which makes for fast inflation and more time on the water.
One of the cheapest tandem kayaks with solid performance
Not all the mounts are placed strategically and can get in the way
Room for a trolling motor
5. Cheap Tandem Fishing Kayak With Great Value: BKC TK122U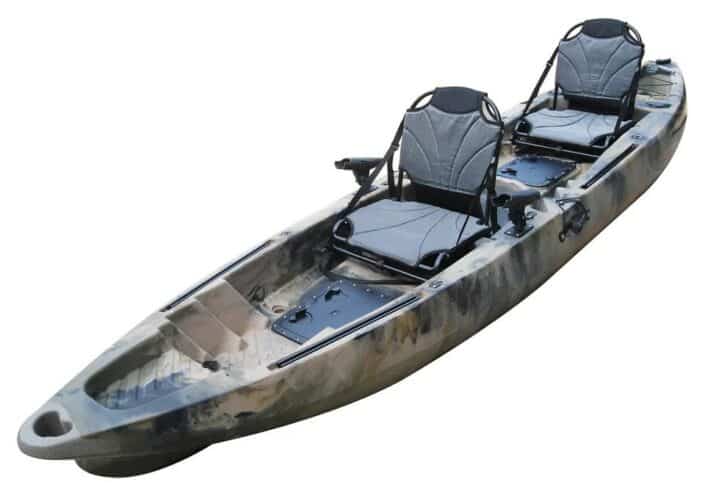 Most tandem kayaks are heavy and hard to carry, but the TK122U from the Brooklyn Kayak Company weighs just 74 pounds empty making it easy for most tandems to carry to and from the water.
Despite the lighter weight, it's durable and roomy with space for a third smaller person or a well-behaved canine.
Maneuverability is impressive for a tandem kayak and there are plenty of storage options, although a lot of it is open-air.
No keel or rudder
770-pound load capacity
Four fishing rod holders
Learn more: Best Tandem Fishing Kayaks

A fine fishing boat for experienced and beginner paddlers alike, the Excursion 10 keeps you dry in windy or choppy conditions.
Stability is impressive while the sleeker sit-in design gives it a better top speed than most sit-on-tops.
It's light and easy to transport, and while there aren't a ton of ways to outfit this kayak, there are three fishing rod holders including one that swivels so you can try your hand at trolling.
Some reviewers have questions about the durability
Cost-effective
Spray skirt compatible
Minimal storage options
7. Best Cheap Kayak for Ocean Fishing: Vibe Sea Ghost 130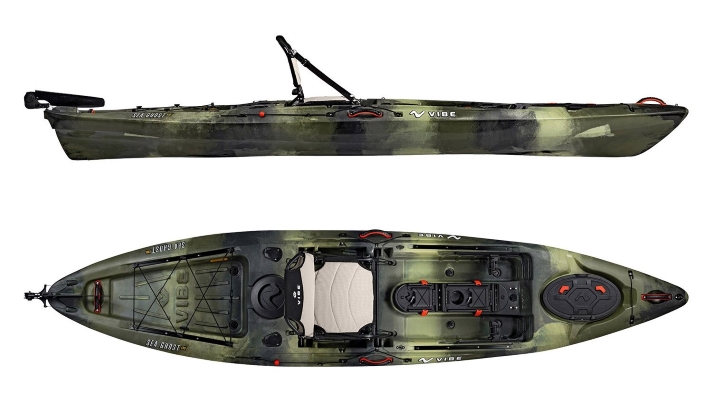 The big brother to the Sea Ghost 110, the 130 design includes all of the goodies from the 110 in a bigger package.
They've upped the load capacity without compromising the boat's stability. The hull is a little more streamlined so you can coax a more competitive top speed out of it.
All the custom options have been ported over so whether you can have a fishfinder, GoPro, or anchor at arm's reach.
The "hero seat" makes its return to keep you comfortable whether you're out for the day or a more ambitious multi-day adventure.
Increased length and weight make transportation logistics more challenging
Great versatility and customization
500-pound load capacity
Read our full Vibe Sea Ghost 130 review.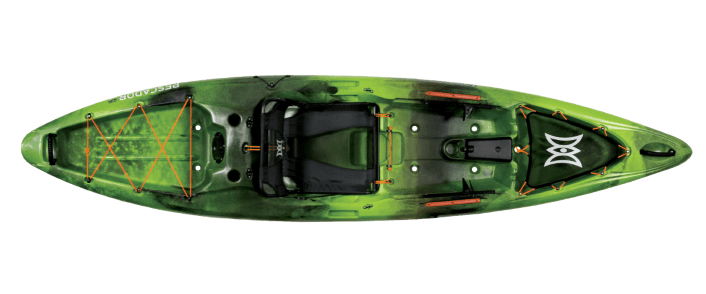 A little smaller and lighter than some of the other kayaks on this list, the Pescador Pro 12 is technically Perception's entry-level model.
It may not carry as much as bigger boats, but there's still plenty of storage space thanks to large bow and stern hatches.
Customization is limited but there are two rod holders installed and the center console does allow for a fishfinder to be installed.
For the price, it carries plenty of value while the on-water performance is the reliable standard you expect from Perception
375 load capacity may not be enough for some kayak anglers
Comfy and adjustable seat
Lightweight and easy to move
Stable enough for tall and big guys
Read our full review of the Pescador Pro 12.
How To Choose a Cheap Fishing Kayak
Your Experience Level
Some kayaks are built specifically with beginners in mind. Or if you're an experienced paddler but have never tried kayak fishing before, choosing a budget-conscious option is a good way to try it out without the financial commitment.
These entry-level boats tend to be more stable and forgiving, allowing the paddler to shift their body weight without ending up in the water. They tend to have wide, flat bottoms that can hamper tracking, speed, and overall performance. Most are generally cheaper and some can be made of lower quality material.
If you've already been out a few times and found you love kayak fishing, it's time to invest in a more durable design that you can have around for years.
While you'll pay more for one of these boats, there are still bargains out there like the Vibe Sea Ghost 110. But if you have the financial flexibility, you can't go wrong with one of the top-of-the-line models like the Vibe Sea Ghost 130 or Perception Pescador Pro 12.
Kayaks made for more experienced paddlers may have lower "primary stability" which can make them feel tippy to the untrained paddler. As they get more streamlined and engineered, the price tends to rise.
In the kayak fishing world, these boats are usually accompanied by more and more custom features such as mounting brackets and gear tracks where fishfinders, kayak anchors, and other components can be installed.
Sit-In vs. Sit-On-Top Fishing Kayaks
In most situations, I prefer sit-in kayaks to sit-on-top. Sit-in kayaks let you use a spray skirt to protect your legs and lower torso from rain or splashing water. Their lower center of gravity allows them to be more streamlined for faster, more efficient paddling.
But with kayak fishing, I'm not as concerned about speed. And sit-on-top boats give you a better vantage point which is vital for spotting fish.
Because of this, I'd recommend going with a sit-on-top model if you can, unless you live in an especially cold climate or plan on doing longer trips where speed is more essential.
Additionally, the most stable kayaks are generally sit-on-top models, which is especially important if you want to stand and cast.
Storage Capacity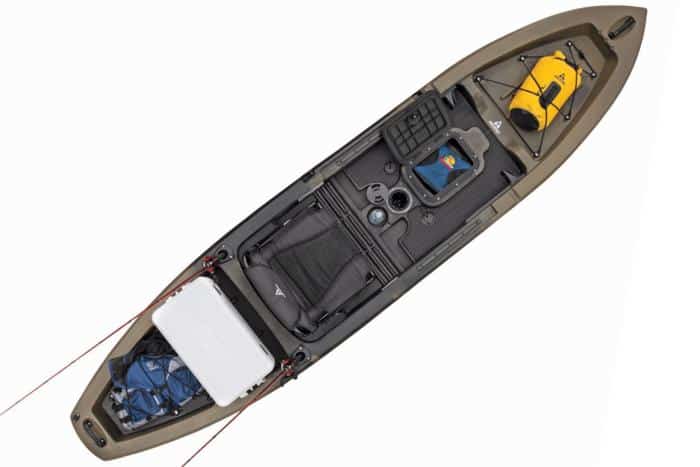 For more cost-efficient kayaks, there are two large storage hatches. In most cases, there's a "tank well" storage area in the stern. This portion is open-air and gear is secured with deck bungees. Accessible from the seat, it's the perfect place to store a cooler, tackle box, or camping gear if properly stored in dry bags.
The bow storage area is either another "tank well" or, ideally, a watertight hatch. All enclosed hatches are not created equal and make sure that yours is designed to keep water out. Remember that everything is only waterproof to a point.
Some boats will have another central console storage area directly in front of the seat. These are usually smaller and are a good place to keep personal effects or other items that need to be kept dry but close at hand.
Trip Length
Before you hit the "buy now" button, spend some time thinking about where you want to fish, how you'll get there, and how long you can stay out. Longer or overnight trips will require your boat to have several important characteristics.
Multi-day trips should be done in a boat with at least one watertight storage hatch to keep your sleeping gear dry. If part of your fishing trip will be extended paddling, it may be better to go with a faster boat with a slimmer hull to cut down on travel time.
Check the load capacity. All angling kayaks should list the max weight their boats can take and remember that the capacity includes your weight too. Overloading a boat will cause it to sit lower in the water than it's intended. This will make them less responsive, decrease buoyancy, and make them more susceptible to tipping over.
The best fishing kayaks have comfortable seats that are adjustable and may even have multiple height settings depending on whether you're paddling or fishing. Make sure that your prospective boat has a cushy seat.
Inflatable or Hard-Sided Fishing kayaks?
While inflatable fishing kayaks aren't as tippy or fragile as their reputation may suggest, you'll get better performance and a longer lifespan out of a hard-sided kayak made of plastic.
That said, inflatable kayak designs have gone through several changes over the years and the gap between them has lessened.
Inflatable kayaks are cheaper and if you can find one like Intex's Excursion, you'll get some of the customization usually reserved for more expensive boats.
Stability and performance in inflatables are often tied to how they're inflated. Make sure that you know how to properly inflate your boat before going out and that it's filled to the recommended PSI.
Storage when not in use and ease of transport are two benefits of inflatables. You can store your inflatable in a closet while set-up, take down, and transportation are simpler. Most come with a carry bag to make moving them even easier.
Tandem vs Single Fishing Kayaks
You can find kayaks specifically for angling in both categories. With a few exceptions, tandems should always be paddled by two people.
A solo paddler attempting to paddle a tandem fishing kayak will find it unresponsive, slow, and dangerous should the weather pick up.
Color Scheme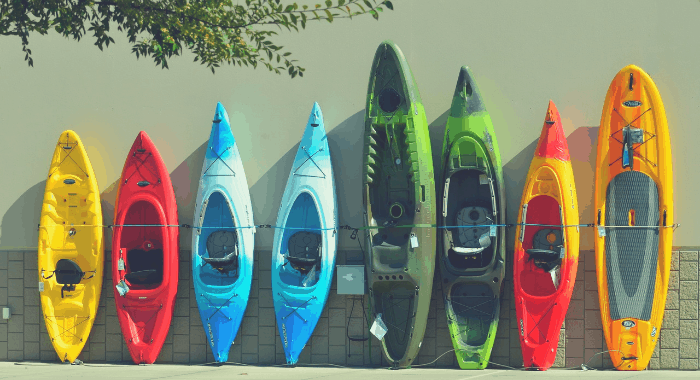 Select a color that will stand out on the water. In the event of an emergency, you want to be easy to spot.
Let people know the color of your cheap kayak before heading out so that if a search is necessary they know what color to look for.
Other Features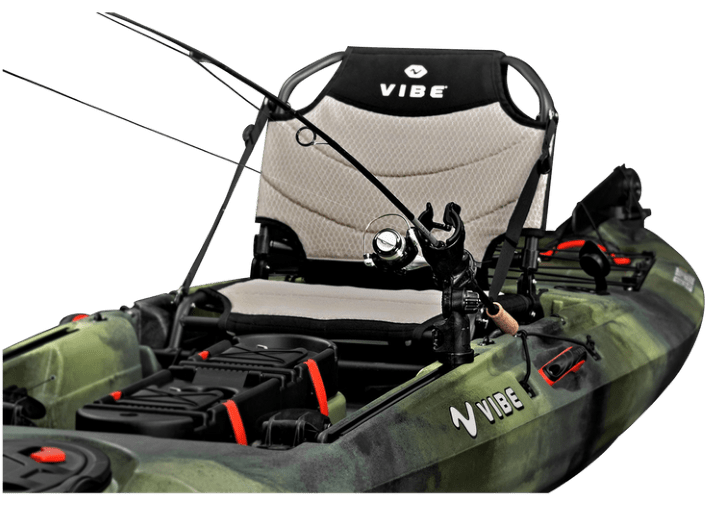 We've already talked a lot about the custom option that angling kayaks are known for. Along with them, many boats come with included goodies like paddles or in the case of an inflatable, an air pump and carry bag.
Check to see if the boat comes with a skeg to improve tracking or a rudder to help with maneuverability and steering in windy conditions.
Some may not come with a rudder but components that allow for in-home installations are available.
Cheap Fishing Kayaks – FAQ
How much is the average fishing kayak?
The average fishing kayak costs $500 to $1000. For $500, you get a cheap fishing kayak that's suited for beginners but with very few extra features.
Whereas for $1000, you get a great value fishing kayak with rod holders, gear tracks, a super comfortable seat, great stability, etc.
And then the best fishing kayaks sell at around $1500-$2000, all the way up to $4000+ for pedal fishing kayaks.
How much should I spend on a fishing kayak?
You should spend at least $500 if you want a decent fishing kayak. But if you can afford it, spending $800 or more will get you a much better fishing kayak in the long run.
Do Fishing Kayaks Go On Sale?
Yes, fishing kayaks go on sale at the end of summer and during winter. Additionally, some stores provide kayaks at a 10 or 20% discount several times a year when they're bringing in newer models.
Cheap Fishing Kayaks – Conclusion
In recent years there's been a steady increase in the number of specialized budget fishing kayaks. With such a diverse collection, there's no shortage of well-priced bargains and there's no reason to buy a substandard boat.
In a virtual tie for my favorite in this category are two models, Perception's Pescador Pro 12.0 and Vibe's Sea Ghost 130. The Pescador Pro is lighter and much easier to move around on your own and I love the storage capacity. As an entry-level boat, it also has great stability.
The Sea Ghost 130 has some of the best custom options in the field and a larger load capacity to go along with a tough design that can handle ocean paddling.
What do you think of the list? Any stories of the big one that got away? How about the one that didn't? Post your experiences and stories in the comments below.