There's no shortage of reliable and durable fishing kayaks on the market, so choosing the right one can be difficult.
In this article, we'll break down one of the high-end models, the Pescador Pro 12 from the South Carolina-based company Perception.
In this Perception Pescador Pro 12 review, we'll highlight some of our favorite features like the comfy seat and impressive top speed.
And give you a few of the cons like the lack of dry storage space and less responsive maneuverability.
Pros:
Solid top speed
Lots of ways to customize
Good for calm coastal settings
Cons:
No rudder
Lack of dry storage space
Maneuverability suffers in rough water
Things to Consider Before Buying A perception pescador pro 120 12′ fishing kayak

The Pescador Pro 12 has a "sit-on-top" design, which is the most popular recreational and angler kayak set-up. It has a wide cockpit that's easy to get in and out of with plenty of room to stretch out. A focus has been placed on stability so paddlers of all experience levels can feel comfortable.
But it provides little protection from the elements. Be prepared to get wet if there's rain or the water turns rough. If you live in a cold or rainy environment, you may be better off with a sit-in kayak like the Prodigy XS. It doesn't have the same fishing features but will keep you drier, especially if you wear a spray skirt.
As a hard-sided measuring 12-feet in length, the Pro 12 needs a decent sized storage space. Ideally, this will be in a climate-controlled setting like a garage, though a covered shed with protection from the elements will do fine as well.
Unless you have a big truck, plan on transporting your Pro 12 via a roof rack. Make sure you have the proper straps and a strong enough rack to move it safely.
Perception Pescador Pro 12 Specifications
Length: 12-feet
Width: 32-inches
Weight: 64 pounds
Load Capacity: 375 pounds
Perception Pescador Pro 12 Design
Material
Like most hard-sided fishing and recreational kayaks, the Pescador Pro 12 is made of a durable plastic known as polyethylene. This gives it excellent rigidity and toughness that allows it to handle most on-water bumps as well as any accidental drops when you're carrying it.
While a true puncture is unlikely, it's still best to carry instead of dragging your kayak as the hull will begin to peel and scratch over time which can hamper its speed and paddling efficiency.
There is an installed skid plate to provide a little more durability so it's not the end of the world if you have to drag it.
Speed
The Pescador Pro 12 is a little narrower than most kayaks of similar length. This along with the smooth, tapered hull design gives it a surprisingly decent top speed when compared with other recreational and fishing models.
It's still not going to keep pace with sleeker touring kayaks, but if your secret fishing hole is a little further away, the Pro 12 will help cut down on your travel time.
Maneuverability
Alas, we can't have everything. The longer keel means the Pro 12 takes a little more time to respond to your paddle strokes.
While it can certainly handle calm coastal waters, any extra turbulence, wind, or waves, can really hamper your ability to steer.
This can be alleviated to some extent by purchasing Perception's short pin rudder kit. This can be helpful not just in rough conditions, but if you're on a narrow river or trying to maneuver into tight spaces. Especially if you're a newcomer learning how to paddle, I'd strongly recommend a rudder to make life easier and help avoid frustration.
Comfort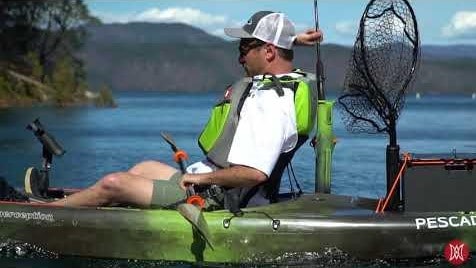 Perception has always done a good job with their seat design and the Pro 12 is no different. This "stadium-style" seat has a mesh seat back and bottom which provides excellent padding and comfort for hours on the water.
It's fully adjustable so paddlers of all sizes can find the right position whether you want to sit upright or in a more reclining posture. The seat is even removable so you have a handy camp chair to put next to the fire at the end of the day.
Adjustable foot braces are included too. I prefer these to the "footwell" style braces of some competing kayaks since my feet tend to always end up in the dead zone between the wells. The braces are great for taking the stress off your lower back and I like to push against them while I paddle to improve my stroke and efficiency.
Stability & Tracking
The Pro 12 has the stability you'd expect from a fishing kayak. There's no need to worry about capsizing with the sudden shifts in weight distribution that are bound to happen with a big fish on the line.
It feels stable and solid in rougher water. While I wouldn't take it into anything much bigger than three-foot waves, what are the chances you're fishing in those sorts of conditions anyway?
But it's not approved for "standing and casting." This may be a deal-breaker for those that have had stand cast kayaks in the past. Being able to stand improves the distance and accuracy of your cast and also gives you a better vantage point for spotting fish.
In good conditions, the long keel helps with the boat's tracking and does a good job of keeping you on your desired course. But in rough water, it can be easy to turn broadside to the wind or waves. This is where the optional rudder comes into play. It's a lot easier to maintain your course with a rudder as opposed to relying on your paddle stroke alone.
Durability
With proper care and maintenance, you can expect your Pescador Pro 12 to last a long time. The included skid plate is a great addition and I don't understand why they're not more common with recreational and fishing kayaks.
One thing that will weaken your hull and make it susceptible to eventual leaks or warping is prolonged exposure to direct sunlight. UV rays will eventually begin to weaken the polyethylene and can lead to weak points. Store your kayak out of direct sunlight when not in use to avoid this.
Portability
At 64 pounds the Pro 12 may be a little heavy when compared to other similar models but it's not an absurd weight.
Easy-grip handles on the bow and stern make it easy to do tandem carries, though I'd recommend always carrying your kayak empty to cut down on extra weight. Carrying your kayak loaded can also cause it to "bow" in the middle over time.
Perception Pescador 12 Features & Accessories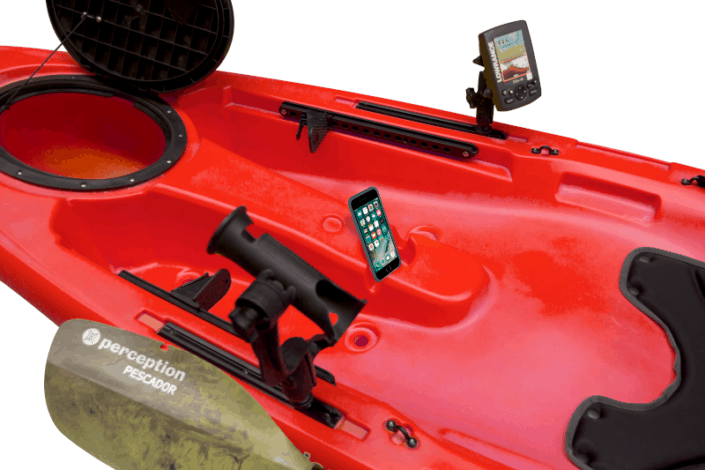 The boat comes with a handy paddle holder so you don't have to worry about it floating away while you're fishing.
It doesn't come with any extra features, but that's fairly common for mid-range kayaks such as this. Perception does make a pretty decent paddle however that's specifically tailored to be used with their kayaks.
Perception's kayaks come with a five-year warranty so you're covered should anything go awry.
Perception Pescador Kayak Fishing Ease
As we mentioned, the Pro 12 doesn't come with a rudder or skeg but one is available for purchase. It's a decent investment and the installation requires a little bit of technical know-how. It can be a real game-changer, allowing you to go into waters you wouldn't feel confident going into with just your paddle.
The boat comes with a pair of molded-in rod holders to keep them secure while you travel. Some users have expressed a desire for them to be a little deeper to keep them from wobbling so you may want to check that before purchasing.
Additional customization can be done with the two gear tracks installed in front of the cockpit near the foot braces. With these, you're able to outfit your boat to your own specifications without having to drill holes in your brand new boat. Whether you want a GPS, a GoPro, or additional rod holders, adding them is a piece of cake.
There's also a deck plate behind the seat if you want to install a small anchor or even a sail (I'd recommend some sort of outrigger if you want to sail as sudden wind gusts can compromise stability).
Finally, a transducer mount can be found between the foot braces. With its battery mount and drill-free set-up, it's the perfect spot to install your fish finder. 
There are two big storage areas, one in the bow and the stern. The stern area is secured with bungee cords and makes a good place for overly large items. The bow has a mesh covering, though I wish they'd made this watertight. Instead, the only watertight storage is a small hatch in the cockpit.
Perception Pescador Kayak Value
A little more expensive than some kayaks, it does come with a few more custom options than the Pescador 12. If you're a passionate fisherman willing to shell out a couple extra hundred dollars, it's worth the investment.
I do wish that it had more dry storage space as it makes overnight trips a little more complicated. But if you're willing to pack your tent and sleeping bag in a dry bag it's fairly easy to get past it.
Perception Pescador Pro 12 Alternatives

Very similar in design to the Pescador 12 Pro, the Pescador 12 is a little cheaper and doesn't have quite as many custom options as its more expensive cousin.
For casual paddlers, it may be hard to justify paying up for the Pro 12 when you can get similar performance with this model.
The optional rudder installation can make a big difference in the boat's maneuverability and tracking in rough water, and I'd recommend spending a little extra for it if you're going to be on the ocean.
The load capacity is 50 pounds less at 325 which may be an issue for some, and the lack of dry storage space remains.
Similar custom features to smaller Perception models
Improved tracking thanks to longer keel
Slightly larger 325-pound load capacity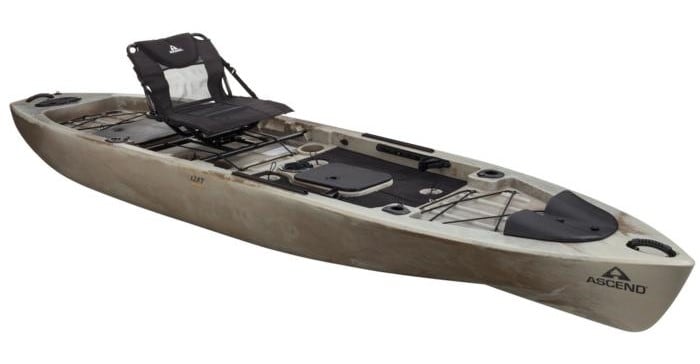 With fantastic stability and tons of storage, the Ascend FS128T is great for beginners and more experienced paddlers alike. The Ascend FS12T is very similar to the 128T design but is a little skinnier and lighter.
Both designs are rated as stable enough to allow for standing and casting which can be a huge advantage. Multiple watertight storage areas and one of the most comfortable seats in the kayak market highlight its list of features.
There's a notable lack of custom features however with no good way to install a fish finder and I'd like to see some gear tracks like the Perception models have.
No rudder or skeg
Great stability
Four rod holders
Read our full Ascend FS128T review

A smaller version of the Pescador Pro 12, the Pro 10 model gives you improved maneuverability but a lower top speed thanks to the shorter keel. All together it makes it better suited for calmer conditions such as lakes or rivers as opposed to taking it on the open ocean.
For the price, you get several custom gear track features so you can outfit your kayak however you see fit along with a couple of rod holders and a big open-air stern storage area.
It's a little more expensive than the more stripped-down version, the Pescador Pro 10, but at this price range, it gives you a nice blend of stability, maneuverability, and fishing ease.
Several customization points
Maneuverable and stable
Sluggish top speed
Perception Pescador Pro 120 Review – Conclusion
With an impressive feature list including the ability to install a fish finder and a comfortable, adjustable seat, the Pescador Pro 12 is a reliable fishing kayak that's bound to impress.
There are a handful of quibbles with the dry storage issue and not being able to stand and cast.
But when I contrast that with the boat's speed, tracking, (especially if you install a rudder), and easy customization, I think it's worth the extra expense.