No matter where you fish or what your price range is, there's no reason you can't find a reliable kayak for fly fishing that provides you with reassuring stability and all the custom features you need to maximize your catch.
But if you're wondering what the best fly fishing kayak is, not to worry, we've done the work for you and have highlighted some of our favorite ones below.
So whether you're looking for a kayak to use on the river, the ocean, or even one that doesn't require a paddle, you'll find the right model for you.
Best Fly Fishing kayak – our top 7

The latest in a long line of reliable fishing kayaks from Wilderness Systems, the ATAK 120 is a more stable kayak than its predecessors.
Despite the smaller design, it still tracks very well with a competitive top speed.
Meanwhile, the added stability means this is a boat you can confidently stand and cast from while playing and reeling in even the biggest trophy fish will not threaten to tip you over.
There's plenty of storage locations and the ability to outfit your ATAK 120 with your own specific fishing gear.
The seat is extremely comfortable thanks to Wilderness Systems' Air Pro Max seat that can be adjusted between three different positions.
Amazing stability
Comfortable, adjustable seat
A little on the heavy side (86 pounds)
Read our detailed Wilderness Systems ATAK 120 Review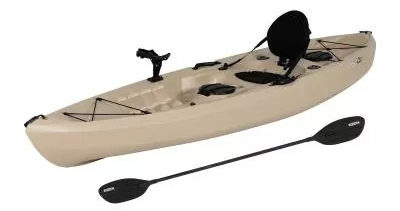 One of the smallest fishing kayaks out there at just ten feet in length, the Tamarack Angler trades speed and tracking for improved maneuverability.
While this won't help if you're covering long distances, it makes it a good choice for navigating narrow rivers or getting in and out of tight corners.
Shorter boats tend to be less stable, but the Tamarack Angler is still pretty stable and will even let you stand and cast.
Storage is a little scarce as you'd expect, but there are still a couple of watertight hatches including a larger one located in the bow.
A quartet of rod holders and an accessory mount for additional gear allow the Tamarack Angler to pack an awful lot into its svelte and maneuverable frame.
Light and easy to transport
The seat is not adjustable
Clean, open deck
Read our full Tamarack Angler 100 review

Here's the truth – if you want to enjoy ocean fishing, nothing beats pedal kayaks.
You'll be able to cover more water more quickly with less effort, all the while having your hands free to cast. This is especially useful when chasing fish.
Granted, pedal kayaks are more expensive than paddle kayaks, but ask any experienced angler and they'll tell you they're worth it.
The big storage hatch in the bow gives you plenty of dry storage space, especially if you plan on being gone overnight.
When it comes to stability, the Sportsman PDL 120 is almost "unflippable", which means you can stand and cast confidently.
For fishing, there are a pair of rod holders and a mount for a GPS or fish finder for additional customization.
Fast with excellent tracking for ocean travel
Plenty of dry storage space
Cheaper than most pedal kayaks
Read our full Sportsman 120 PDL review
Best kayak for Fly Fishing on the cheap: Vibe Sea Ghost 110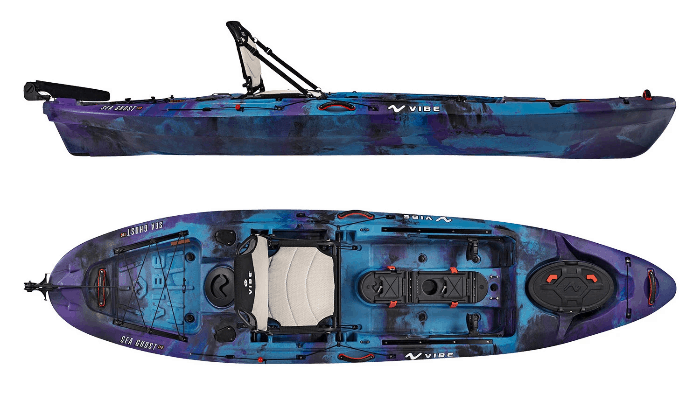 Featuring all the customization features and the stability that Vibe is known for, the simpler and cheaper Vibe Sea Ghost 110 is a budget alternative that can still get the job done.
It has a large weight capacity of 425 pounds and weighs a reasonable 62 pounds.
Stability is above average and you get the gear tracks, rod holders, and the super comfortable "hero seat" that accompanies Vibe's more expensive models.
A rudder is included and does help when paddling in rough or windy weather. But it doesn't seem to do much when traveling in calm conditions.
Big bow storage hatch and additional central console
Room for a GPS or fish finder
Rudder doesn't help much with tracking in calm conditions

A pretty good size for an inflatable with room for either one or two people, the Intex Excursion Professional has the space and stability to accommodate the most energetic of fly fishing casts.
It does suffer from some of the performance issues you'd anticipate from an inflatable. It can struggle to track in windy weather and the top speed and storage options aren't inspiring. But it can be paddled just as easily by a solo paddler adding to its flexibility.
Everything from the seats to the backrests and foot braces is adjustable and removable, allowing you to outfit this boat however you want.
For fishing, there's a mounting bracket for further customization so you can bring all your fishing gear with you.
Rod holders round out the extra features of this well thought out and easy to set-up inflatable kayak.
Two collapsible paddles and carry badge included
Interchangeable skeg
Weighs just 39 pounds
Best Tandem Kayak for Fly Fishing: BKC TK219 12.2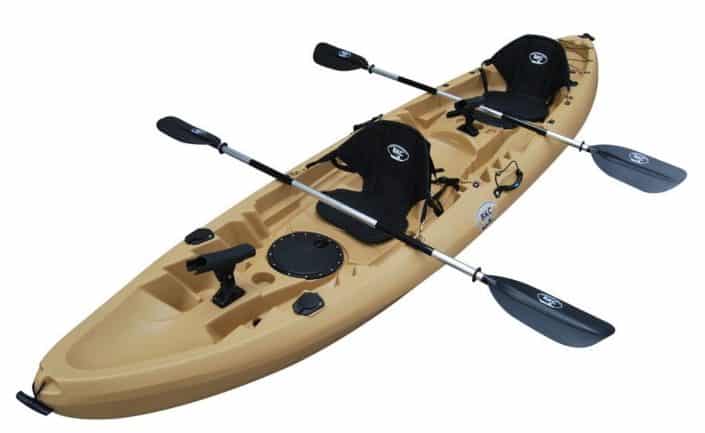 Able to carry up to three passengers and measuring 12 and a half feet long, the BKC TK219 feels criminally underpriced.
It's a wide boat, measuring 34-inches across so it has great stability, allowing both paddlers to cast with confidence.
There's not a ton of storage space, though I do like the personal hatches in front of each seat.
It may not have a ton of custom options, but I like the swivel rod holders placed in front of both seats.
Maneuverability and tracking is sometimes subpar
Can be paddled solo
Two paddles included
Best Pedal Kayak for fly fishing: Hobie Mirage Pro Angler 14

Most pedal kayaks are inherently stable as they're bigger, wider, and bulkier than traditional kayak designs. But the Outback from Hobie Mirage is the most stable of them all.
Maneuvering is made easier by two steering handles for added flexibility and the boat comes filled with customization options like a transducer mount, four rod holders, and a big open-air stern hatch secured with bungee cords.
The load capacity feels a little light for a boat of this magnitude at 425 pounds, but that's a minor nitpick. 425 pounds should satisfy most anglers and opens up the possibility of more ambitious multi-day excursions.
Easy to maneuver through shallow water
One of the more expensive fishing kayaks
Fairly light for a pedal kayak at 85 pounds
Read our full Hobie Pro Angler 14 review
How to Choose the Best Fly Fishing Kayak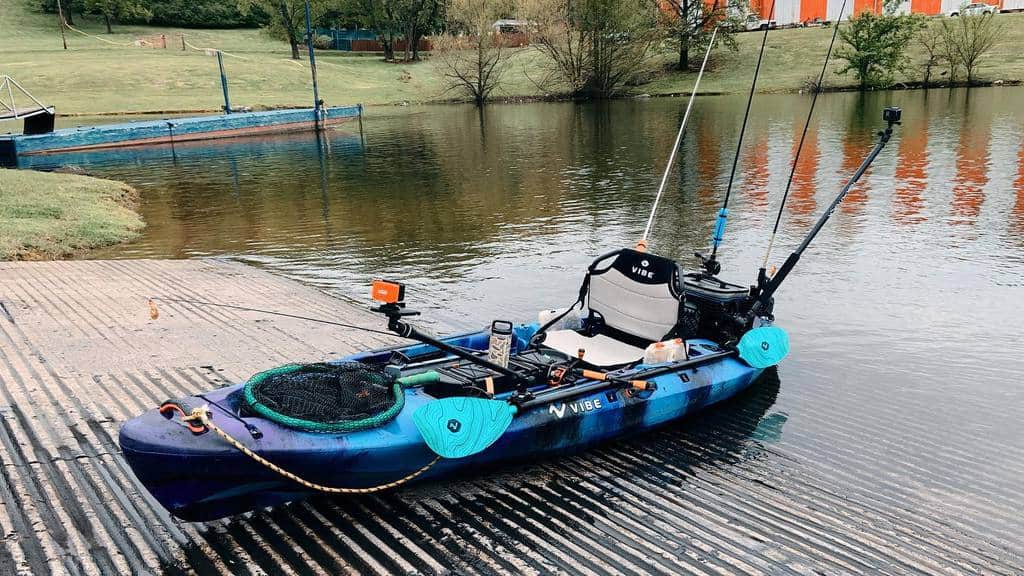 Experience Level
If you're new to the sport, you'd probably favor a cheaper, stabler boat, maybe an inflatable like the Intex Excursion.
If you find that you don't care for kayak fishing, you're not out a lot of money. Plus it's easier to store and transport.
For those that have been out a few times and know they'll get use out of it, a mid-range option like the Sea Ghost 110 provides a good middle ground with nice stability, customization, and the ability to go into rougher water.
And for those that have the space, time, and truck, there's no beating a high-end pedal kayak like the Hobie Mirage.
With this kayak, you can go just about anywhere completely outfitted for several days without a problem.
Dimensions
You can learn a lot about a kayak just from studying the specifications.
In most cases, the longer your kayak is, the faster it will go.
The width will also play a role in this and slimmer kayaks will move faster since there's less surface area coming in contact with the water and creating drag.
Slimmer, longer boats have improved tracking and stay on course in rough and windy weather better. But they can be less maneuverable and more of a challenge in tight corners.
While it may not list it explicitly, the hull type can play an important role. If possible, choose a boat with a flat hull which enhances stability and will be safer for this sort of activity.
Storage Capacity
Most hard-sided fishing kayaks are designed with at least one watertight storage hatch. Most inflatable kayaks don't have any dry storage space.
I'd recommend selecting a boat that has at least one dry storage hatch (or carrying sensitive gear in dry bags), especially if you'll be out overnight. Few things can ruin a trip faster than a wet sleeping bag.
You can gauge how much your boat can carry by looking at its load capacity. This refers to how much weight the boat can safely carry. Overloading your kayak will cause it to sit lower in the water which will make it sluggish.
Trip Length
Several factors will determine how good a kayak is for longer trips. Storage space is obviously an important one. Don't forget that the cockpit and deck can be used as storage as well. Just make sure you have a way to secure your gear, preferably with deck bungees.
Longer keeled boats will shorten your trip. Kayaks are slow, and boosting your average speed by even one mile an hour can make a big difference.
Lastly, make sure that the seat is comfortable and adjustable. Both the backrest and the bottom should be padded and provide plenty of support. Your boat should either have footwells or multiple footpegs you can brace against to take the stress off your back and increase your paddling efficiency.
Other Features
Today, many fishing kayaks come filled with custom features so you can outfit your boat however you want.
These can go by several different names such as "accessory mounts" or "gear tracks" but they mean the same thing.
From here you can place additional rod holders or install a GPS, fish finder, camera, or whatever else you want at arm's length while you're on the water.
Pedal vs. Paddle Kayaks
In many ways, pedal kayaks have more in common with a small skiff than a traditional kayak. Pedal kayaks are propelled with your feet similar to a bicycle. Since it uses the larger muscles in your legs, pedal kayaks move faster than a paddle model.
They are bigger, heavier, and more expensive. Though that does make them more stable in most cases.
Be prepared to do a little more maintenance to keep the moving parts in the pedal drive system functioning.
Do You Want to Stand and Cast?
This may be especially important for fly fishing. Standing allows for better accuracy and an improved view of the water for spotting fish.
Check the reviews and manufacturer recommendations before trying to stand in a kayak. Some will advise only standing in their boats in calm water.
Tandem or Single fly fishing kayaks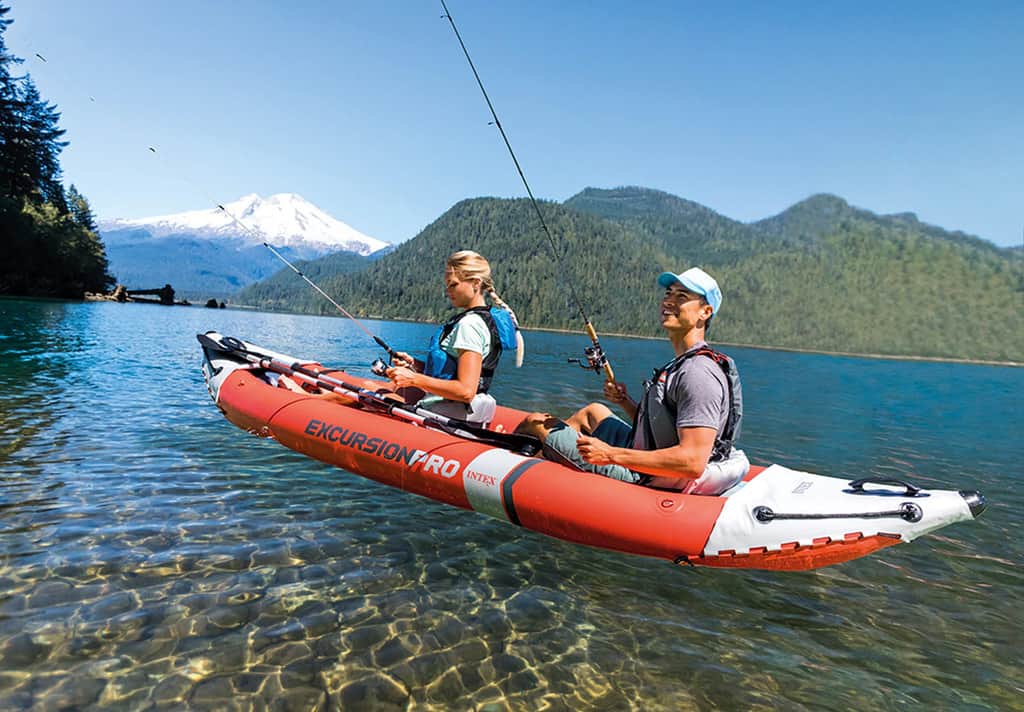 Some tandems in the recreational and fishing categories can be paddled either solo or tandem. This can provide extra flexibility and transporting a tandem can be easier than two singles.
A tandem fishing kayak with two paddlers can also move faster thanks to the added paddle and longer keel. Stability is usually better too, though you can fit more gear in two single kayaks than one double.
Color Choice
The color of your kayak is mostly cosmetic. But when I have the option, I go with a color that will stand out on the water so that I'm more visible to passing motorized vessels.
Best Fly Fishing Kayaks – FAQ
What Is the Best kayak for Fly fishing?
The best kayak for fly fishing is the Wilderness Systems ATAK 120. This fishing kayak gives you plenty of stability to stand and cast, along with great fly fishing features and comfort.
What Is the Best Stand up kayak for fly fishing?
The best stand-up kayak for fly fishing is the Wilderness Systems ATAK 120, yet again. This stable kayak lets you stand and cast confidently. In fact, it's one of the most stable fishing kayaks ever.
Fly Fishing kayak – Conclusion
In recent years the market has been flooded with kayaks marketed specifically for fishing. Luckily for us, this means that every price range now features a kayak that can be trusted to be both durable and reliable.
If you're looking at the absolute top of the line, there's just no beating a good pedal kayak like the Hobie Mirage. Not only do you move faster, but you always have your arms free to cast as you traverse your favorite fishing hole.
For those more in the mid-range, I really like Wilderness Systems ATAK 140X with its custom features and great stability.
What do you think of our list? Did we leave one of your favorites out? Let us know in the comments below.