Sometimes the hardest part of kayaking is just getting to the water.
If you need a small fishing kayak that doesn't sacrifice performance for portability, the Lifetime Tamarack Angler 100 may be the boat for you.
Since 1986, Lifetime has been perfecting paddle-based vessels. Today they offer a diverse selection of kayaks and paddleboards that includes everything from youth and fishing kayaks to sit-in boats, paddles, and other accessories.
After my Lifetime Tamarack Angler 100 fishing kayak review, I came away quite happy with the boat's lightweight design and noteworthy stability.
Several angling features are installed which, when coupled with the surprising maneuverability, make up for the boat's plodding pace and smaller weight capacity.
Pros:
Short hull and lightweight design make it very portable
Some customization options allow you to add your own gear
Excellent maneuverability
Cons:
Marginal top speed
Tiny weight capacity
What You Should Know Before Purchasing a Lifetime Tamarack Angler 100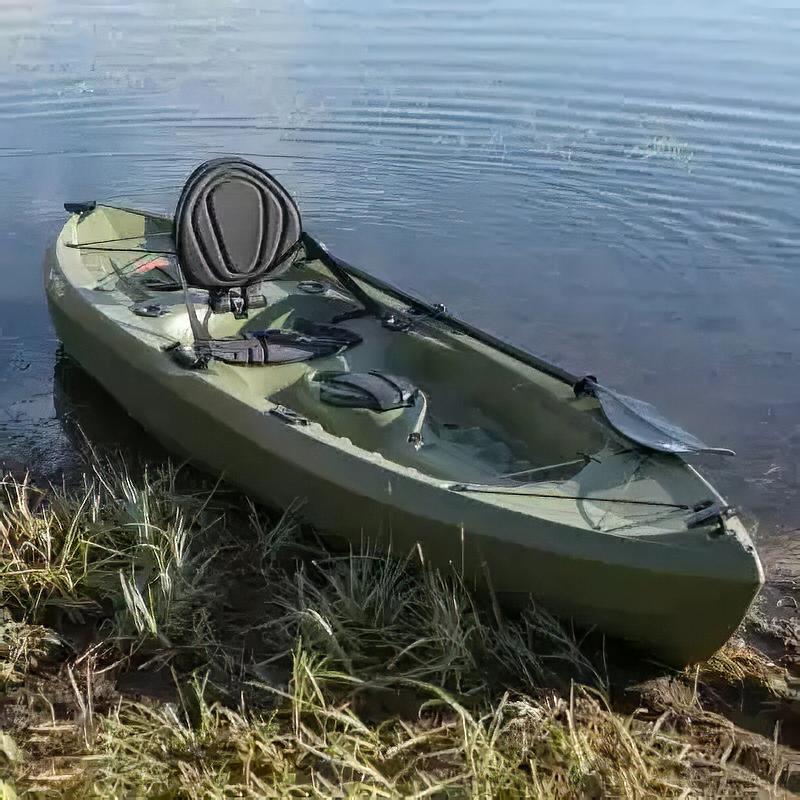 Chances are you'd be able to fish from any kayak. But angling models have been designed with several important features that tailor them specifically to the sport. Rod holders keep them in place as you transit and let you troll. Other gear tracks let you keep other types of angling accessories close at hand.
While one of the smaller fishing kayaks, the Lifetime Tamarack Angler 100 still measures ten feet in length. This can make it hard to store in some living situations, so make sure you have a good place to keep it before bringing it home. Preferably this location is out of the wind, rain, and direct sunlight.
If you need to drive to your fishing spot, a roof rack or a similar set-up will probably be necessary depending on what vehicle you drive. Make sure you have a plan that will secure and safely transport your kayak to the water.
Because of its open cockpit, it's best to limit usage to warm excursions where water splashing into the cockpit won't be a problem.
Those that fish in cold-weather regions can look to other options like the Wilderness Systems Tsunami 125.
Lifetime Tamarack 100 vs 120
For all of you who wonder what's the difference between the Lifetime Tamarack 100 and the Lifetime Tamarack 120, it's actually the same boat.
For some reason, there was a mixup with the name. The correct name is Lifetime Tamarack 100, even if you see it in stores with the incorrect Lifetime Tamarack 120 name.
Lifetime Tamarack Angler Specifications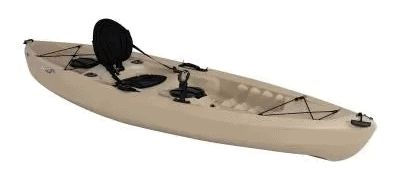 Length: 10 feet
Width: 14.1 inches
Weight: 52 pounds
Load Capacity: 275 pounds
Lifetime Tamarack Angler 100 Fishing Kayak Design
Material
The Tamarack Angler 100 is made of polyethylene, the most common plastic used in kayak construction. More forgiving and stouter than other kayak materials like fiberglass, plastic kayaks can take a pounding that would severely damage other boat models.
Speed
You can't have everything in a kayak. Short-keeled boats are at a disadvantage when racing their longer cousins. While the wide bottom improves stability, it increases water resistance meaning you'll be paddling harder to cover the ground a longer and sleeker kayak would cruise over.
If your preference is to fish in a wide area or you need to cover great distances to reach your favorite spot, this may not be the kayak for you. Fishing with friends may be challenging if they're outfitted in quicker vessels.
Maneuverability
The Tamarack Angler 100 is surprisingly maneuverable despite its bulky appearance. Even without a rudder, most paddlers are able to squeeze it into tight corners and locations that are impossible in larger and more cumbersome designs.
Comfort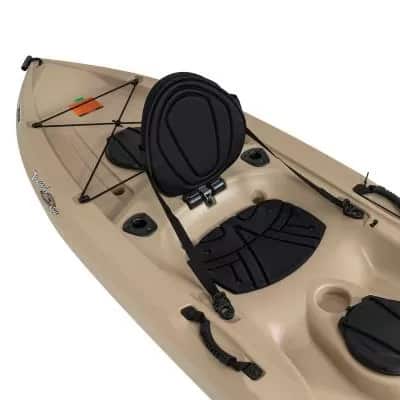 The seat and the foot braces are fully adjustable, which allows most paddlers to find a comfortable position regardless of height.
While I can't complain about the seat's comfort − I promise you there are some spine busters out there − I'd expect you'll start to feel uncomfortable after a few hours. The back has ample padding but the seat could do with a bit more. This can be minimized by adding additional padding yourself which isn't difficult.
Stability & Tracking
Deep hull channels help keep the Tamarack Angler 100 on its desired course. Even in rough conditions, I was impressed with how well it maintained its course.
Stability is top-notch thanks to the high chined walls and wide base. While it may not be quite sturdy enough to stand and cast, many will feel comfortable standing up to stretch or putting both legs over one side.
Even in rough water, the boat feels stable. In the event that the weather does change, you can feel confident that this kayak can handle it and will get you home safely.
Durability
When it comes to durability, you can't go wrong with plastic. Any submerged obstacles you happen to bump into won't be a big deal for this tank. Which doesn't mean you should treat it with impunity.
The plastic hull can still get scratched which doesn't look good and the flaking plastic will diminish the boat's already unimpressive top speed. Bang into enough things or have one too many drops on the way to the water and you'll eventually start to see permanent damage.
Be especially careful coming into shore watching for rocks and practice soft landing regardless of the shore type. On land always carry your boat in lieu of dragging it as there's no keel strip to protect it from scratches.
Portability
At just ten feet in length, the Tamarack Angler 100 is one of the shorter fishing kayaks. This coupled with a very reasonable weight of 52 pounds makes it one of the most portable kayaks without sacrificing quality.
That said, you may still want to enlist some help carrying it to and from the water's edge. Carrying handles have been installed in the bow, stern, and along the sides to make tandem carries a breeze.
Lifetime Tamarack Angler Features & Accessories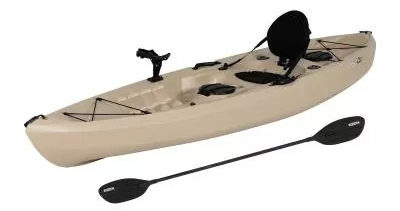 If the Tamarack Angler 100 is your first kayak then getting a paddle included is a great value. It's not a world-class paddle but is more than adequate and at worst serves as a decent spare. A paddle holder has been installed on the hull to keep it secure when you need your hands free to reel in the big one.
Scupper plugs do not come with your purchase, however. While not necessary, they can be vital in choppy water to prevent water from swamping your kayak.
Lifetime Tamarack Angler 100 Fishing Ease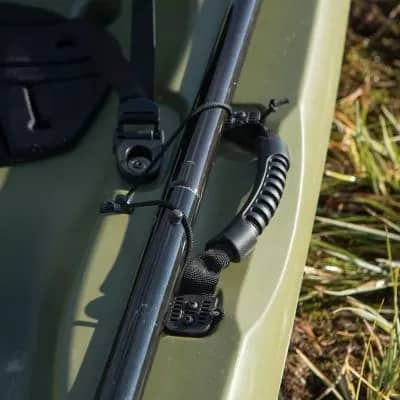 With a weight capacity of just 275 pounds, you may find yourself limited by how much gear you can bring along. It basically removes the possibility of taking this model on multi-day trips which will be a deal-breaker for some.
You do get a stern storage hatch and another in front of your seat. And while they both have watertight rubber gaskets, the openings are just six inches across. Bungee cords pulled across the bow and stern do a fine job of holding larger pieces of gear in place but they will be exposed to the elements.
Three rod holders are built into the hull, with the one on the starboard side in front of the seat able to pivot a full 360 degrees. It provides some of the customization that many fishing kayaks come with, including the ability to install a transducer mount or kayak anchor if you so desire.
The stability is impressive, but I'd still warn most paddlers from attempting to stand while they fish.
Lifetime Tamarack Angler 100 Value
In the world of kayaks, lighter often means cheaper with many willing to pay a premium for a lightweight boat that doesn't sacrifice performance. But the Tamarack Angling 100 doesn't break the bank despite the portable design.
Getting a paddle included is a nice plus and the shorter keel means it can even be transported via a kayak cart.
It doesn't have some of the customization options of some competitors and the minuscule weight capacity may be a deal-breaker for some depending on their own personal body type.
Lifetime Tamarack Angler Testimonials
To see if other paddlers shared my positive opinion of the Tamarack Angler 100, I spent some time looking online at reviews.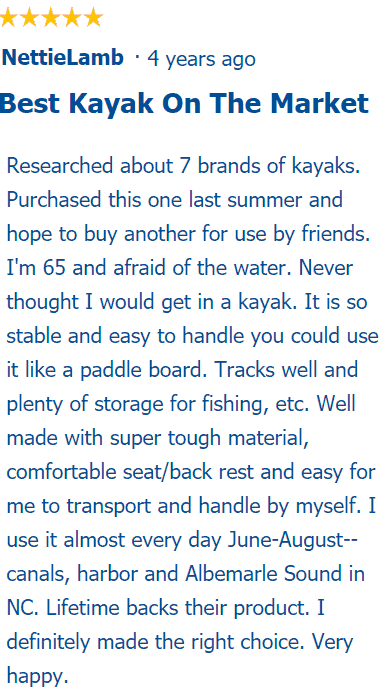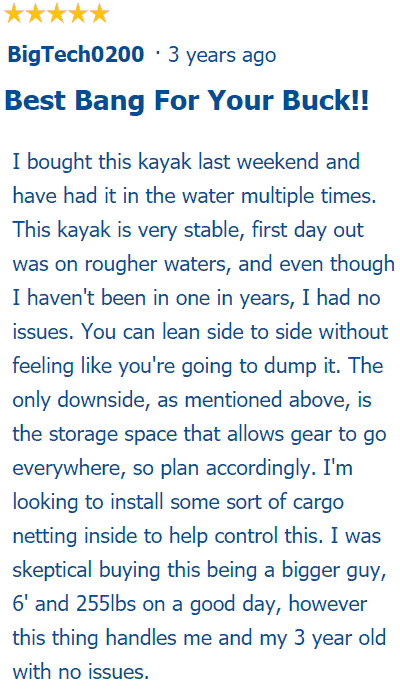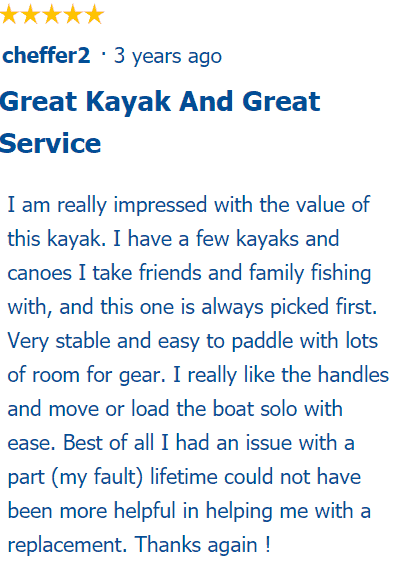 Lifetime Tamarack Angler 100 Alternatives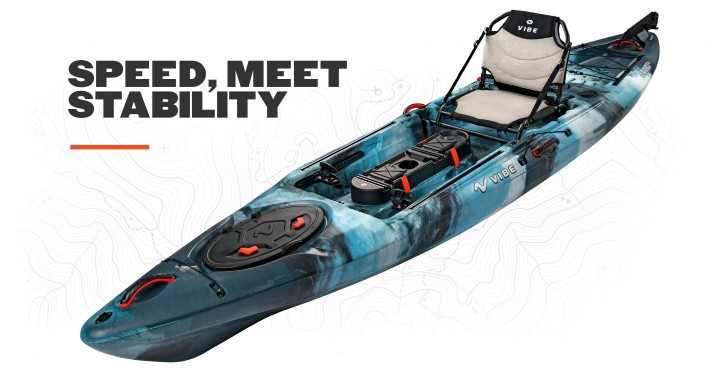 In a lot of ways, the Vibe Sea Ghost 130 is the antithesis of the Tamarack Angler 100. It boasts a mammoth 550-pound carrying capacity, one of the most comfortable kayak chairs on the market… and weighs an unwieldy 75 pounds.
You'll be paying a premium for a boat that's faster and sports more customization options, including an innovative central console that lets you install a fishfinder right onto the boat. But the weight and extra three feet of keel make it harder to store and transport.
If you're interested in doing multi-day trips or want to cover a lot more ground in a lot less time, the Sea Ghost 130 is a nice alternative.
The huge weight capacity is great for longer trips
One of the heavier single kayaks on the market
Huge range of customization options to tailor it to your needs
Handy central console where you can install a fishfinder
The "hero chair" is one of the most comfortable seats you'll find in a kayak
Read our full review of the Vibe Sea Ghost 130.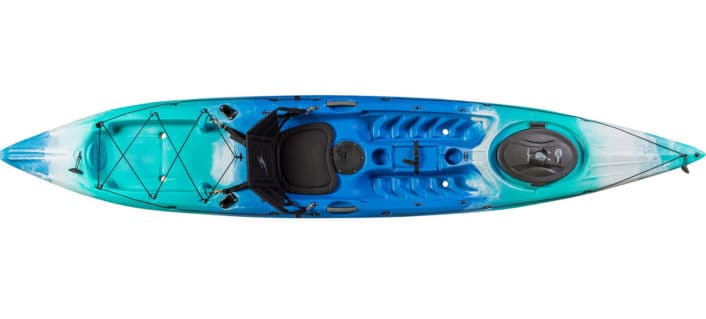 Even longer than the Vibe Sea Ghost 130, the Ocean Kayak Prowler 13 checks in at 14 feet, 4 inches long − making it one of the fastest fishing kayaks. Despite the longer length, it's just 56 pounds and has a weight capacity of over 500 pounds.
The narrow design does make it more unstable than the Tamarack Angler 100, so it may not be the best choice if you are just starting your kayak fishing career.
You won't find many of the customization options provided by other angling kayaks and there's no included paddle or other goodies with your purchase.
The longer keel makes it one of the fastest fishing kayaks
While still stable, the narrow keel makes fishing more challenging
Lack of customization options and other included goodies like a paddle
Read our full review of the Ocean Kayak Prowler 13.
Wilderness Systems Tarpon 120

More of a mid-range option, the Wilderness Systems Tarpon 120 is a reasonable 63 pounds with a 350-pound weight capacity. This coupled with a length of 12 feet 3 inches gives it a nice mix of speed and versatility.
You'll find adjustable foot pedals and a comfortable seat that will keep you fishing all day.
A bow hatch and a more accessible central hatch should fit what you need, while the open stern area is secured with bungee cords.
The eye-catching component is the "slide catch accessory" system. This allows you to attach almost whatever you want to the kayak to make your outing more successful without risking damage to the hull.
The scuppers aren't included in this model either and most packages don't include other bonus accessories like a paddle.
A good option if you're looking to mix speed with stability and middle of the road weight capacity
Plenty of storage space, although the enclosed hatches are not completely waterproof
The accessory system gives you plenty of customization opportunities including the ability to install a fishfinder.
The seat could be more comfortable
Lifetime Tamarack Angler Fishing Kayak -Conclusion
At just ten feet in length and a reasonable 52 pounds, the Lifetime Tamarack Angler 100 fishing kayak packs an impressive punch in such a small package.
The fantastic maneuverability and stability mean you'll be able to go places other anglers wouldn't dream of, and in weather you wouldn't challenge in other models.
But it does come with drawbacks. Other fishing kayaks come with a more comfortable seat, and the tiny weight capacity limits it to day trips and nothing more.
But if that fits your schedule and needs, it's hard to argue with the portability and stable fishing platform that Lifetime has developed.