In many cases, lake paddling provides some of the calmest conditions, but that doesn't mean you shouldn't try to find the best lake kayak.
Ideally, the best kayaks for lakes should have a versatile combination of speed, stability, and storage space for longer trips.
In this article, we'll examine some of the best boats in these categories and at the end crown the best kayak for lakes as well as our runner-ups.
11 Best Kayaks for Lakes

At home on lakes and mellow rivers, the Sound 10.5 from Perception is a versatile and well-designed vessel.
Stability is excellent thanks to a tri-keel hull and the cockpit is comfortable with an adjustable seat and footrests.
There's a handy dashboard in front of the seat for personal items but not much in the way of watertight storage.
There is a pair of built-in rod holders if you want to try your hand at kayak fishing.
Shorter keel limits speed
Fantastic stability
Shorter (10-feet, 6-inches) and lightweight (38 pounds) for easy transport
Lack of storage space
Read our honest Perception Sound 10.5 review.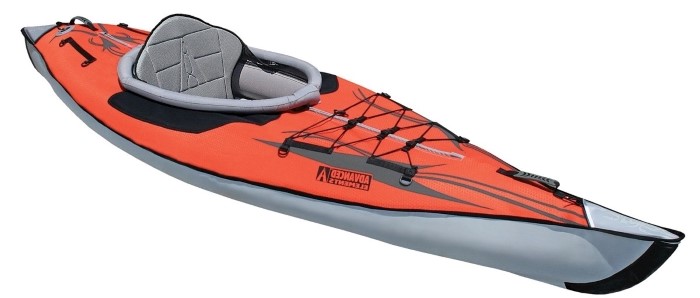 One of the most impressive inflatable kayaks out there, the Advanced Frame from Advanced Elements is one of the few inflatables that can challenge hard-sided kayaks.
The tough aluminum frame gives it great stability and allows for a more streamlined design that cuts through the water.
But it still weighs just 36 pounds making it easy to move around. The inflation process can be challenging at first with several air tubes and different nozzles.
Unlike most inflatables, there is a surprising amount of storage space, and the boat's ability to handle a variety of conditions means that you can take it out overnight if you desire.
Inflating is time-consuming with a steep learning curve
Can handle many challenging conditions
300-pound load capacity
Read our full Advanced Elements Advanced Frame review.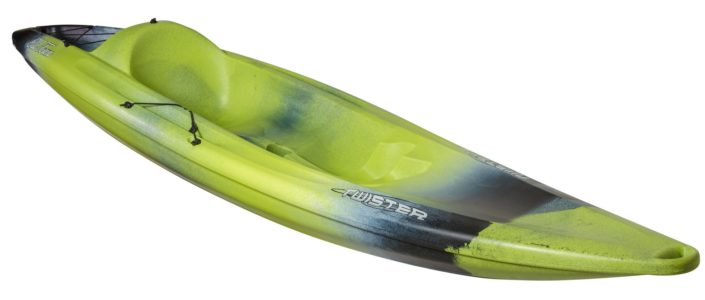 More streamlined than many sit-on-top kayaks, the bowl-shaped cockpit seats the paddler lower to the water and provides better stability than many sit-on-top designs.
Easy to paddle, it's a great choice for paddlers of all ages and experience levels.
The long keel increases the Twister's speed and also gives you a little extra open-air storage space in the stern that is secured with deck bungees.
Skid plate for added durability
Paddle holder included
No padding in the seat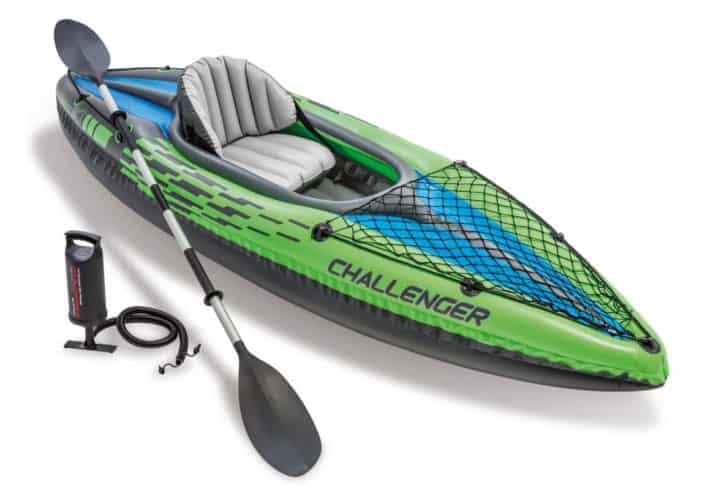 Cost-effective and well-built, Intex has several cheap, introductory kayaks available. Set-up and take-down are a piece of cake while the K1 is surprisingly stable and maneuverable.
There's no storage area outside of the large net bungee stretched across the bow and I wouldn't take it out in any conditions that have the potential to get bumpy.
But it's responsive and fun to paddle while the easy transportation makes it suitable for recreational trips.
Stable design is great for all skill levels
Pump and paddle included from most retailers
Performance diminishes rapidly in poor weather
Read our full Intex Challenger K1 review.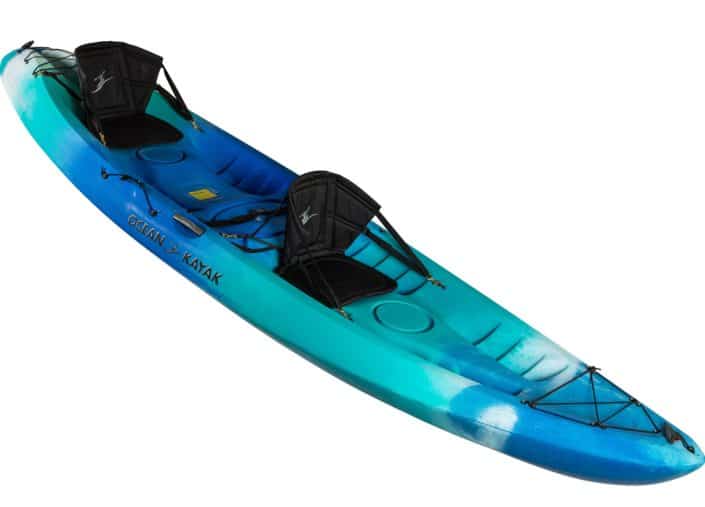 I have a soft spot in my heart for Ocean Kayak. They always seem to be cooking up little tweaks and modifications to improve their boats. The Malibu XL is no different.
This tandem kayak has notably high-backed and adjustable seats that contour to the body and make for one of the more comfortable rides out there.
The sit-on-top design feels spacious and there's room for a smaller third person or pet.
One of the shortest tandems (12-feet) for superior maneuverability
Lots of storage though none of it is watertight
Large 500-pound load capacity
Read our full Malibu XL review.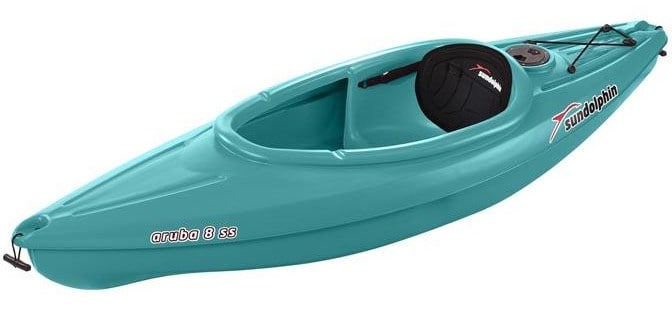 Fantastic for beginner paddlers but with a level of performance more experienced paddlers will appreciate, this is a boat you can grow into and love every step of the way.
While it can struggle in choppy weather, it tracks well in calm conditions and maneuverability is impressive.
Deck bungees bow and stern provide plenty of open-air storage while an enclosed stern storage hatch is great for more fragile belongings.
Weighs a minuscule 27 pounds
One of the more portable hard-sided lake kayaks
Subpar top speed
Better suited for day trips
Read our full Sun Dolphin Aruba 8 ss review.

Another design from Old Town, the Heron 9XT gives the paddler a versatile boat that can handle moderate conditions on both lakes and rivers.
It's built to take a pounding and can handle up to Class 3 rapids if the paddler has some experience.
It maintains the maneuverability for river travel while the tracking is still good enough to handle mild wind and chop.
Just 39 pounds
Comfortable seat with knee padding
Impressive buoyancy thanks to the watertight stern bulkhead
Read our full Heron 9XT review

One of the higher-performing kayaks on this list, the Tsunami 125 will be appreciated by more experienced paddlers.
The seat is incredibly comfortable which improves longer paddling days. Even better, it's one of the few kayaks marketed toward bigger and taller paddlers. No more pretzeling yourself into spaces that are far too small!
The narrow hull means you can expect an impressive top speed while the longer keel means that tracking through rough or windy conditions is a lot easier.
A host of storage options
One of the more expensive lake kayaks on the list
Excellent blend of speed and versatility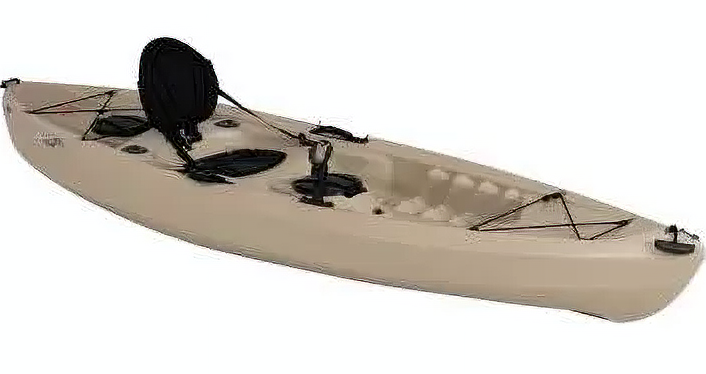 More streamlined than most fishing kayaks, Lifetime's Tamarack Angler 100 maintains impressive stability thanks to the flat bottomed design.
Speed and tracking are further improved with the included skeg that allows it to handle some more challenging conditions.
There's not a ton of storage capacity, but since the boat has a smaller weight capacity this doesn't feel like a big deal.
You do get some of the features that have become staples in the kayak fishing world. There are two flush-mounted rod holders, two top-mounted holders, and a pair of six-inch watertight storage hatches that are accessible from the seat.
The weight capacity of 275 pounds limits it to day trips
One of the more cost-effective fishing kayaks
Includes a skeg
Read our full Lifetime Tamarack Angler 100 review.
Best Touring Lake Kayak: Riot Edge 13 LV Flatwater

One of the more high-end models, Riot's Edge 13 is packed with features to make your overnight journeys more comfortable.
The adjustable seat and padded thigh braces allow paddlers of all sizes to travel in comfort, and the low profile makes for a slick and sleek appearance.
A retractable skeg allows for premier tracking in all sorts of conditions, and I love how much storage it has thanks to the protected bow and stern storage hatches.
Add in the handy fishing pole holder and you have a boat capable of tackling larger lakes and portages.
Streamlined hull
Plenty of storage options
Versatile and lightweight design
Best Lake Kayak for customization: Wilderness Systems Tarpon 100 Angling Kayak

Don't let the name fool you. The Tarpon 100 can handle a lot more than simple fishing trips.
The accessory mount system comes in handy when fishing but the customization options can extend into other activities as well.
There isn't a ton of dry storage space, but the wide stern deck has been outfitted to hold a decent-sized cooler or other items. There is a pair of smaller dry storage hatches mid-stern and in the bow.
325-pound load capacity
Can be easily outfitted for a variety of activities
Unimpressive cruising speed
How To Choose The Best Kayak For Lakes
What You Plan on Doing
Not all lakes are created equal, you may not think of them as dynamic with the potential for changing weather conditions, but it's important to have the right boat for what you want to do.
If you live in a warm climate and all you're looking for is a "play boat" to take out on the occasional Saturday, then a simple inflatable kayak will probably be just fine.
But as the lakes get larger and the trips more ambitious, it's important to select a kayak that can stand up to the challenge.
This will mean going with a boat that has better speed, maneuverability, and tracking to handle the potential changing conditions and make your paddling more efficient.
Check to see if your boat comes with a tracking skeg or rudder. Some models don't include one but they can be installed by the user.
If overnight trips are on your itinerary, choose a boat with at least one watertight hatch to keep your tent and sleeping bag dry.
There are few things more demoralizing than crawling into a wet sleeping bag at the end of the day.
Sit-In vs. Sit-On-Top lake kayak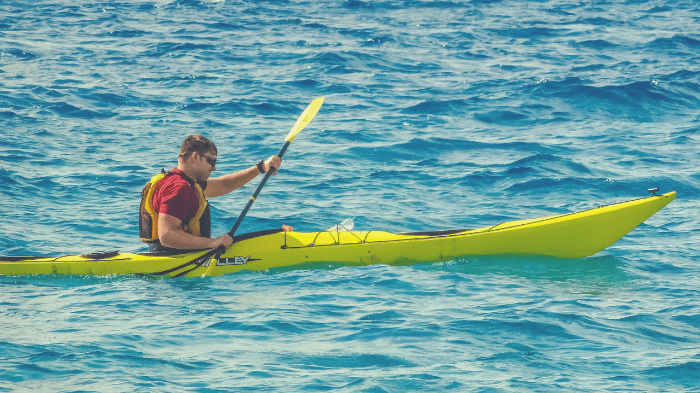 If you live in a cooler environment I'd highly recommend a sit-in kayak.
With the help of a spray skirt, you'll be able to protect your lower torso from any splashing waves or rain. Sit-in kayaks tend to have more watertight storage hatches and more streamlined design.
If you're looking for speed and the flexibility for longer trips a sit-in kayak is the way to go.
Conversely, most sit-on-top kayaks are better suited for a more casual day or recreational use. Most sit higher above the surface but you can still expect any choppy waves to get you wet.
Since you have a higher center of gravity, a sit-on-top kayak must be wider to maintain stability. This makes them less streamlined which reduces their speed in most conditions. Tracking and maneuverability may also be compromised depending on the wind.
Inflatable vs Hard-Sided lake kayaks
In recent years, the gap between inflatable and hard-sided kayaks has shrunk.
Inflatable kayaks have become more durable with tough fabric that is tear-resistant and can withstand typical bumps and collisions.
The ability to store them in a hallway closet and transport them in the trunk of your car makes them perfect for those with limited storage space.
There's less storage space in inflatable kayaks and overall performance, while improving, is still noticeably worse than many hard-sided designs. Use inflatables as cheap recreational kayaks along calm or mild lakes where wind and other changing conditions won't affect it.
Hard-sided kayaks cover a broader spectrum. Cheaper models may have many of the same limitations as an inflatable kayak. But you can find higher-end and more specialized designs that can handle most conditions and can be out on longer trips.
Tandem or Single lake kayak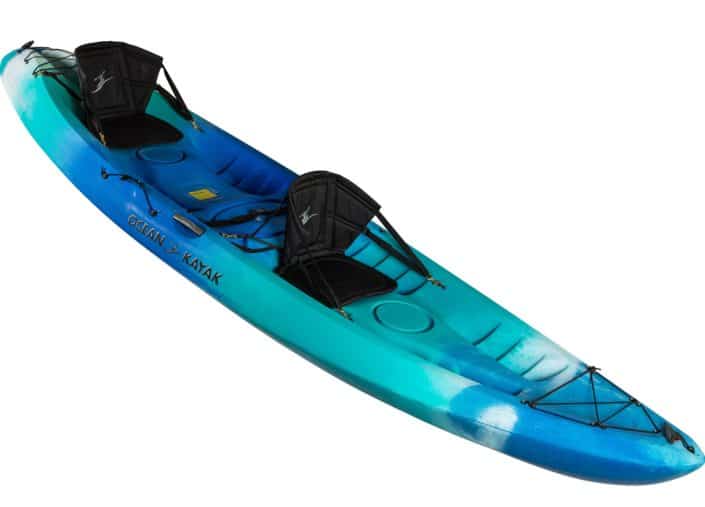 In most cases, paddling a tandem kayak on your own isn't safe. Since they're wider with a longer keel they can be difficult for a solo paddler to steer and power.
Recently a few companies have begun to market tandem kayaks that can be powered by a solo paddler. Thus far all of these have been in the recreational category while higher-end tandems remain exclusively for two people.
If you're unsure how much paddling you'll be doing with someone, I'd suggest purchasing a pair of singles for greater flexibility. This will require more storage space though and your vehicle may not be able to fit two kayaks on top.
Kayaks for Lakes – FAQ
What Is the Best Kayak For Lakes?
The best kayak for lakes is the Perception Sound 10.5, thanks to its great stability and maneuverability. The seat is also very comfortable for the price, and the large cockpit will help beginners not feel cramped while still being able to use a spray skirt for rough weather.
What Type of Kayak is Best For a Lake?
The best type of kayak for a lake is a short recreational sit-in or sit-on-top kayak with good maneuverability, speed, and tracking. If the kayak has a skeg or a rudder, this will make tracking even better, especially for beginners.
What Is the Best Length Kayak for a Lake?
The best length kayak for a lake is between 9 to 12 feet for recreational use. This provides a good balance between maneuverability and speed, with good enough tracking. For long trips on very large lakes, though, a 14-ft touring kayak would be even more enjoyable.
best kayaks for lakes – Conclusion
With such an impressive lineup of boats, it's hard to go wrong when it comes to lake kayaks.
While they will all excel in their given categories, my favorite has got to be the Wilderness Tsunami 125.
As a taller paddler, I'm a sucker for roomier boats, but the host of features and the high-performance level will be appreciated by paddlers of all sizes.
Versatile enough for rivers and with the storage for longer trips, it's an easy choice.
Coming in second is the Riot Edge 13. The retractable skeg gives you superb tracking capability and the low deck design makes it one of the more attractive boats on the water.
What do you think? Do you have a favorite? Let us know in the comments below.