why we created happiness without
Let's face it– in our hectic times, it's getting harder to find time for oneself.
Many people know something's lacking in their lives, but they just can't pinpoint what it is exactly.
And while many people rightfully talk about finding happiness within… we'd rather focus on happiness without. (It's not only a pun by replacing In with Out, but did you know that Without also used to mean Outside? Well… now you do.)
Don't get us wrong: Yes, there is a part of happiness that you must find within, and we do agree with this.
But people should also realize a big part of happiness is actually outdoors. To be one with nature, to go on amazing adventures and marvel at the outdoors' beauty.
When we're outdoors, we feel truly alive. Every fiber of our body is awake, and our senses are at their peak joy.
Tell me you don't feel like this when you're outdoors.
I know you do, because that's just how we humans are made. We are made to live in the outdoors and to enjoy nature to the fullest, with our own bodies and through our own experiences.
Now, what's the problem?
Well, first of all, we are too busy at work. And we can't do anything to fix that, so this website won't focus on this.
Instead, we'll tackle the second problem: analysis paralysis.
Basically, we want to give you the most useful advice and gear for your specific situation, so you can get out there and stop worrying about if you got it all "right".
Maybe you're not one of them and you don't believe me, but trust me when I say so many people actually spend 90% of their free time searching for "how to get it right" instead of just going out there and enjoying the outdoors.
And if you're one of these people, then you definitely know that's true.
So, that's our mission. We can't give you more free time. But we can allow you to spend 90% of that free time outdoors, instead of in front of your screen.
Who We Are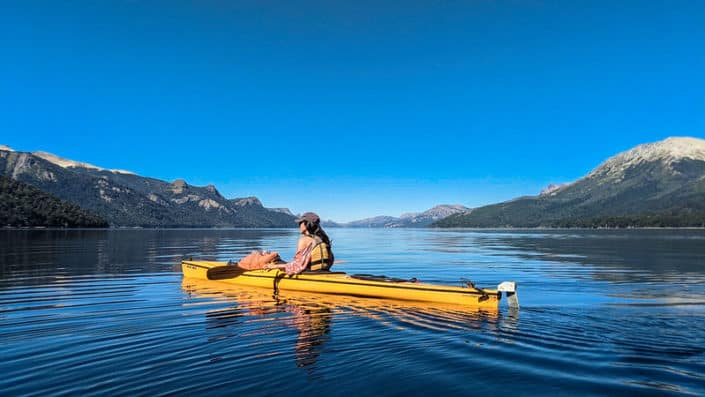 Hi there,
We're Guillaume Bonastre and Valentina Lopez. An interesting duo formed by a French guy and an Argentinian woman. We travel a lot, but I wouldn't say we're "travelers". Why? Because most of our time is not dedicated to traveling. Most of our time is dedicated to "seeking happiness".
Now, as cliché as that may seem, I'm afraid that's who we are, and so we must admit it.
Our goal in life is to find happiness, as well as help others find it. And in our quest for happiness, there's one thing that has always proved to be easy and bulletproof − enjoying the outdoors.
Whether we're kayaking in Thailand's beautiful mangroves or climbing a 4000m high volcano in Ecuador, we're always amazed by nature's beauty and greatness. There's something so wonderful and fulfilling about going outdoors, each and every time.
What You Can Expect
On this website, you can expect to receive only the best of the best, the "crème de la crème" of information. Whether it's giving you advice on how to kayak for the first time, or how to choose your gear for a specific expedition, we always strive to make it easy and straightforward for you.
Our goal is to give you advice as an experienced friend would, so that you can actually go out there and start enjoying your trip.
We don't only make sure we're carefully comparing products and giving you real advice. We make sure that we're giving you the Best advice for You and Your specific situation. We share actual tips & tricks that will help you enjoy your trip even if you've never kayaked before, or if you have a disability.
Our goal is to take your hand and lead you outdoors. We want you to feel safe and secure, knowing you are fully prepared. It's the only way you can actually enjoy each and every trip.
It's Cliché, But What If…
What if all the people you knew spent their free time in the outdoors?
Heck, what if you yourself spent all your free time in the outdoors?
What if every time you're feeling down and depressed, you just grab your kayak or hiking shoes and go for a trip?
As cliché as the word "happiness" may seem, I'm sure you will agree on one thing – being outdoors actually feels like happiness.
So, let us all stop wasting time on finding the information. Let us all be fully prepared in a minute, so that we can immediately go outdoors when we want to. When we need to.