Since its founding in Malibu in 1971, Ocean Kayak has specialized in producing versatile and reliable sit-on-top kayaks. Whether for recreation or fishing, Ocean Kayak provides a diverse range of models.

One design is the Prowler 13. Skinnier and longer than some of Ocean Kayak's other angling kayaks, the Prowler 13 combines speed, stability, and versatility.
The Prowler 13's sleek design allows it to handle an array of water conditions from lakes to mild ocean settings.

With useful features and surprising speed, I was happy to find in my Ocean Kayak Prowler 13 review that it remains relatively lightweight for a plastic hulled boat.
Solo paddlers will appreciate the skid plate on the hull that increases durability if it must be dragged (rather than carried) from the car to the water.
Pros:
Narrow design makes it efficient and faster than most angler kayaks
Lightweight compared to Ocean Kayak's other solo fishing models
Can handle a wide range of water conditions
Cons:
Doesn't come with a rudder or paddle
Open cockpit limits it to warm water fishing
Things to Consider Before Buying an Ocean Kayak Prowler 13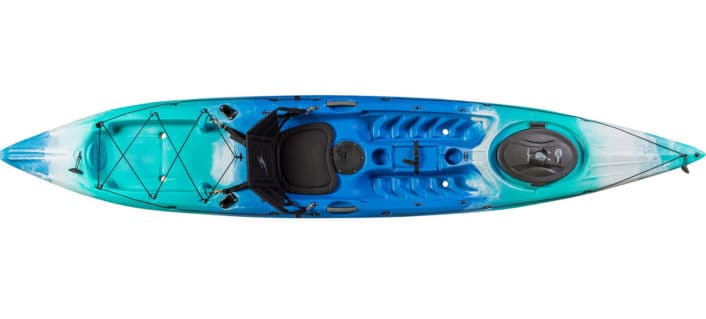 While it is possible to fish from any kayak, fishing kayaks come with several helpful accessories. Features like rod and paddle holders make fishing easier than from a generic kayak. Angling can be challenging enough without worrying that your paddle is floating away.

While hard-sided kayaks are more versatile and capable than inflatable kayaks, they are harder to store. At over 14-feet in length, be sure you have room in your garage, shed, or elsewhere for a Prowler 13. Though durable, kayaks should be stored in dry, protected environments to prevent long-term damage.

Knowing where you plan on fishing is key before purchasing. Fortunately, the Prowler 13 can handle many different environments. Nonetheless, you should limit your fishing to calm and protected areas. Because of its open cockpit, it's best to limit usage to warm excursions where water splashing into the cockpit won't be a problem.

Those that fish in cold-weather regions can look to other options like the Wilderness Systems Tsunami 125.
Ocean Kayak Prowler 1 3 Specifications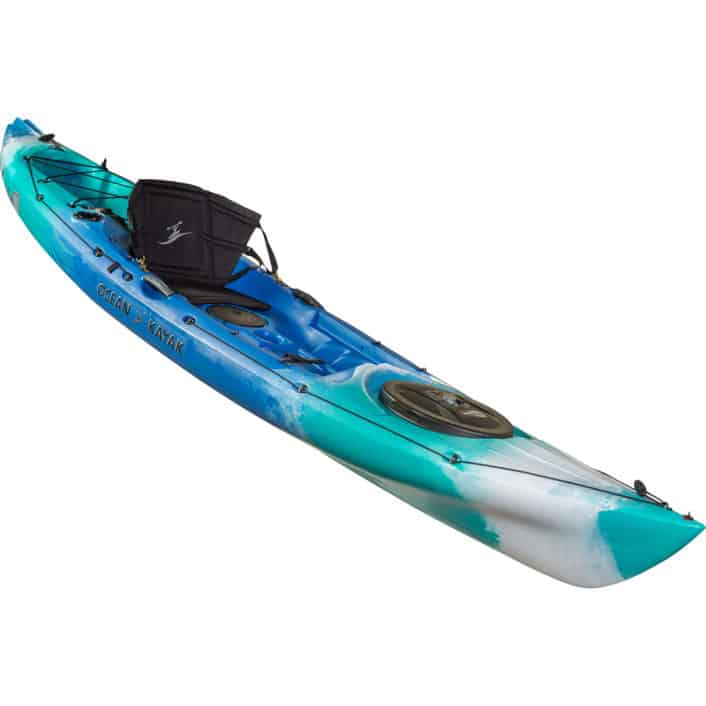 Length: 14 feet, 4 inches
Width: 28 inches
Cockpit Dimensions: 28 inches wide
Weight: 56 pounds
Load Capacity: 450 pounds
Ocean Kayak Prowler 13 Design
Ocean Kayak Prowler Material
The Prowler 13 is made of a single layer of Polyethylene. One of the most popular kayak materials, this plastic is durable and resistant to abrasions. Though heavier than other elements like fiberglass, Polyethylene is forgiving with most drops and bumps.

This is a great hull type for beginner kayakers or those that foresee being on surf heavy or rocky beaches where the hull is likely to get bumped.
Ocean Kayak Prowler Speed
I'm not a very patient angler when the fish aren't biting and prefer to cover a wide area. So I love how fast the Prowler 13 is.
The narrow hull means less water resistance when paddling and helps generate more power with every stroke. At over 14 feet, the extra length helps increase speed too.
Ocean Kayak Prowler Maneuverability
I was pleasantly surprised by how maneuverable she was. The Prowler 13 performs well on both rivers and oceans. Though she turns well, I would keep her off rougher and more turbulent waterways.

On the ocean, the absence of a rudder becomes glaring on windy days or when waves come from the side. There is space for a rudder to be installed if you feel like purchasing one.
Ocean Kayak Prowler Comfort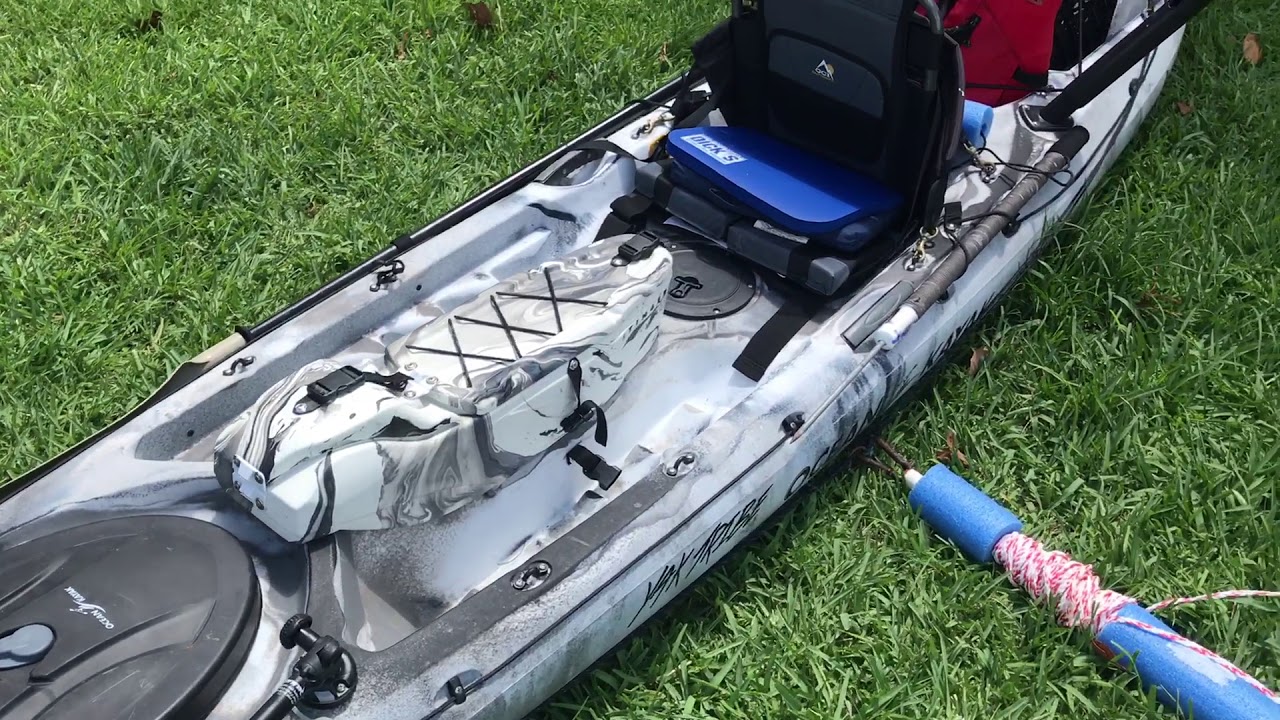 The foam-based, padded, and adjustable seat is fairly comfortable as far as kayak seats go. If you plan on being out all day or your legs and back stiffen easily, I'd recommend going for the seat upgrade.
The narrow design can make entering and exiting a little more challenging.
I like the molded foot braces that allow you to adjust the position of your feet whether you're fishing or paddling. I have longer legs, so these braces helped prevent me from getting too stiff.
Ocean Kayak Prowler 13 Stability & Tracking
First-timers may find the Prowler 13 a little tippy. This is due to the boat's excellent secondary stability that helps it handle wind and choppy water better. It can make small adjustments feel more tenuous though and may take a while for beginners to get used to. Rest assured, it is a stable boat. It just may not feel like it right away.

Whether paddling with or without a rudder, the Prowler 13 tracks well in most conditions. If you're planning on doing more open ocean fishing or think there's the potential for bad weather, I'd recommend the rudder to help keep you on course.
Ocean Kayak Prowler Durability
The polyethylene plastic makes this a tough boat to damage. That said, paddlers should always exercise caution not to ram too hard into rocks or other obstacles regardless of their boat's material. The same attentiveness should be used when trying to land in surf where multiple crashes will eventually weaken a polyethylene kayak's structural integrity.

I love the skid plate installed on the keel for extra protection. This plate allows solo paddlers to drag their Prowler 13 over sandy or moderately rocky beaches without creating unnecessary scratches.
Ocean Kayak Prowler Portability
While lighter than many similar models, the Prowler 13 still checks in at 56 pounds. Even with the carrying handles, the long keel and awkward weight can make it a hard portage on your own. I have to say the keel plate and ability to drag it helps a lot.

The long hull means this boat can be a challenge to transport via small cars or bicycles. A roof rack or secure tie-down system on top of your car will be necessary for transporting.
Ocean Kayak Prowler 13 Accessories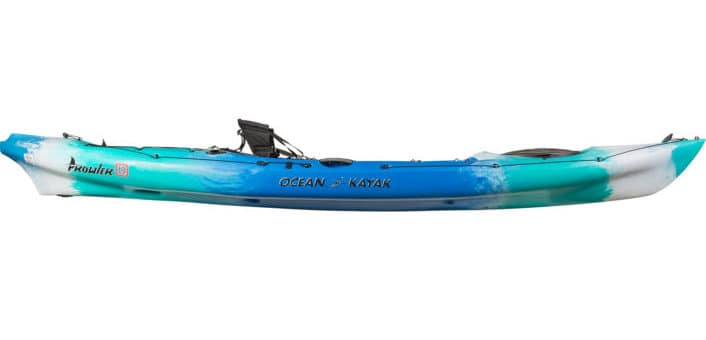 The Prowler 13 comes with many of the basic features you need to get your kayak fishing career started. Two paddle holders are included so you can have your hands free to fish.

There's even a cup holder so your favorite beverage is always close at hand. Be sure to always paddle and fish responsibly.

That said, the Prowler 13 lacks some of the kayaking necessities. A rudder must be purchased separately and there's no paddle included. There's also no scuppers provided with this model. While not necessary, scuppers help keep water out of a boat's hull and are nice in choppy or chillier water.
Ocean Kayak Prowler 13 Fishing Ease
The lack of a rudder can mean you drift more than you'd like when your lures are in the water. This can be frustrating on the ocean where wind, tide, and currents are often moving you around.

I like the two mounted rod holders which are great when you need a break from casting or need your hands free.

Once you're used to the Prowler 13's secondary stability she feels very comfortable whether paddling or fishing. While the seat can get a little uncomfortable after a while, the kayak is stable enough to accommodate any shifting or adjusting you need to do.

The bow hatch is water-tight and the 16.5-inch by 10-inch opening is convenient for storing gear for the day. A small six-inch hatch in front of the seat has a storage bucket for spare line, lures, and other equipment you want close at hand. Bungee cords cover the decking behind the seat and can accommodate bulkier items such as tackle boxes or large dry bags.
A large bow hatch and the smaller seat-accessible hatch provide ample storage space.
Ocean Kayak Prowler 13 Value
Prospective owners will appreciate that the Prowler 13 is more price-efficient than some of Ocean Kayak's other fishing kayaks. The versatility is impressive and I love that I can use it on lakes, oceans, or rivers.

I don't know how I feel about taking it out when there's the potential for real rough weather. But if there's substantial chop or a lot of wind it's pretty hard to fish anyway.

Because it's a sit-on-top, any waves or splashes you go through will get you wet. Unless you're wearing a wetsuit or tough rain gear, it's best to limit the Prowler 13 to warm-climate environments where splashing water is more refreshing than freezing.
Ocean Kayak Prowler 13 Testimonials
I spent some time online looking to see if other consumers were impressed and happy with their Prowler 13 purchases. By and large, it seems most are. Some agreed that the seat wasn't their favorite. But most seemed happy with the Prowler 13's maneuverability, stability, and versatility.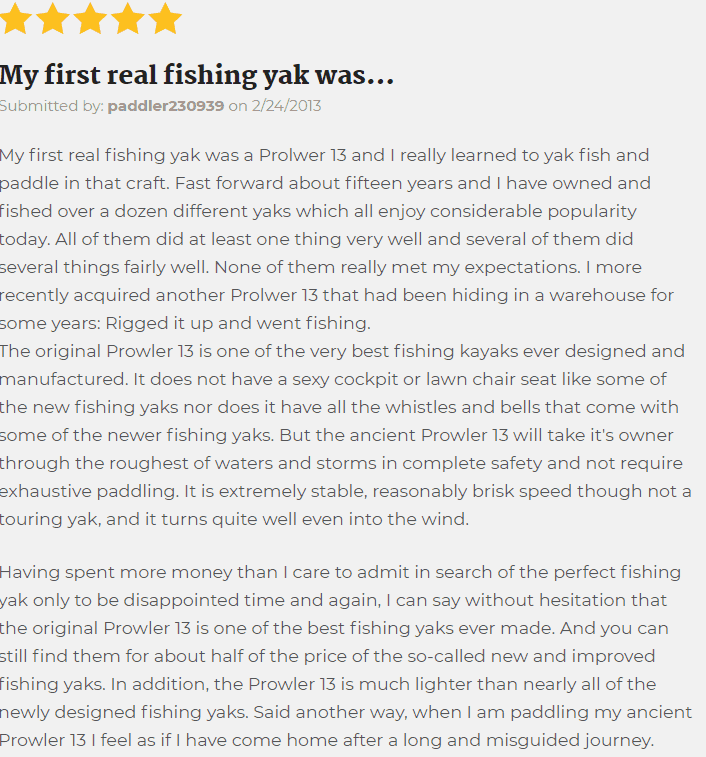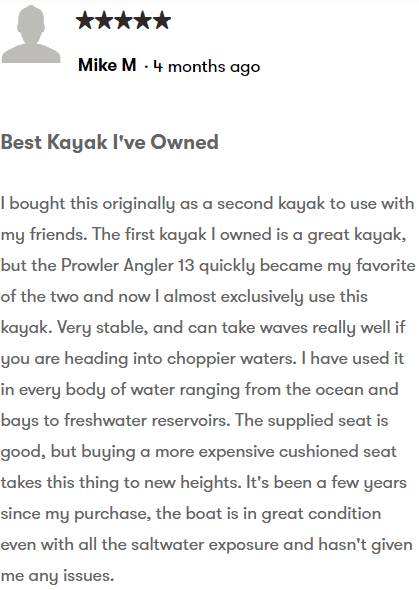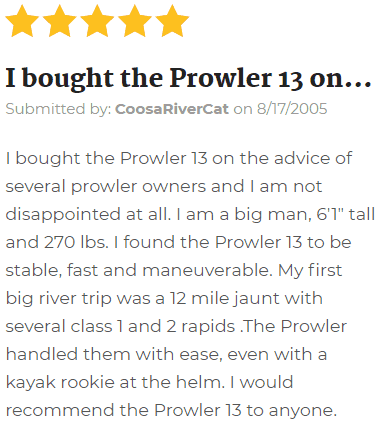 Ocean Kayak Prowler 13 Alternatives
There's no shortage of angling kayaks on the market. Whether you're looking for the most cost-efficient option or the one with the most bells and whistles, chances are you can find what you're looking for. Here are three of my favorite alternatives to the Prowler 13.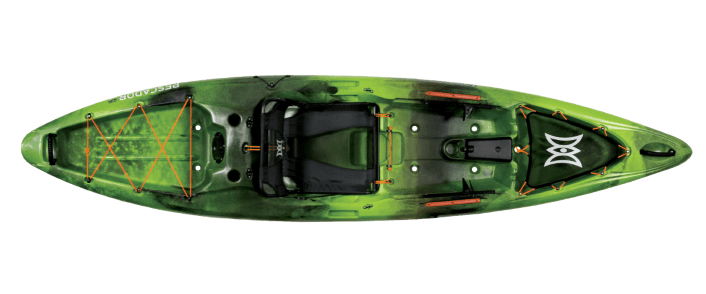 Heavier and shorter than the Prowler 13, the Perception Pescador Pro 12.0 has the same versatility, capable of handling lakes, rivers, and protected saltwater. The shorter keel means it's not as fast as the Prowler 13, but still rivals it in maneuverability. It's also very stable with a wide 32" base. 
The smaller size does mean that it doesn't have the same weight capacity, maxing out at 375 pounds.
The adjustable, camp chair seat has drawn rave reviews. Accessory mount options allow anglers to customize the fishing set-up to their liking.
Pro tip: get the best rod and reel combo for saltwater fishing.
Versatile design with comparable stability and maneuverability
64-pounds with nothing in it makes it a challenge to move solo
Comfy seat and mount options allow customization options
Read our detailed Pescador Pro 12 review.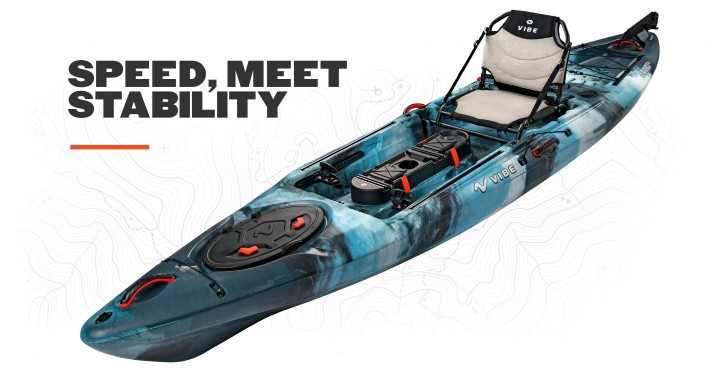 The eye-catching feature is the center console which has two independent hatches and a pair of dry bags. Two gear tracks on top of the console allow you to install different accessories like a fish finder. The bow hatch comes with a dry bag too, and the hatch in the 2019 model is water-tight.

The Vibe Sea Ghost 130 has four gear tracks, two on each side. Behind the seat are two rod holders that can be capped to keep water out when not in use.

But my favorite feature on the Sea Ghost 130 is the built-in rudder. I love the peace of mind that comes with always having one in case I need it. If you'd rather not use it, it can be removed easily.
Able to install fish finder in the center console
The built-in rudder is one less thing you have to purchase
A heavier boat that is slower in calm water
Read our honest Sea Ghost 130 review.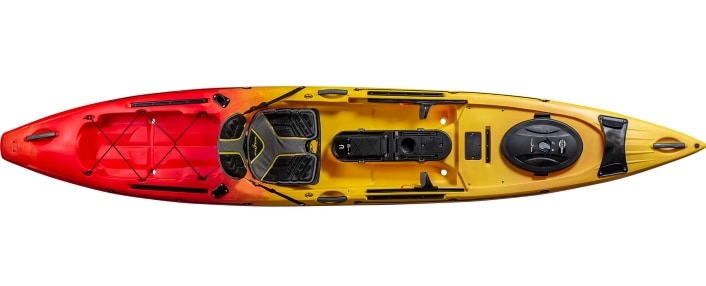 Like its sister boat the Prowler 13, the Trident 13 is a fast kayak able to handle a variety of water conditions. It comes with the same big bow hatch, smaller hatch in front of the seat, and deck bungees on the stern.

The Trident 13 is of similar design to the Prowler 13 with a narrow hull that makes it ideal for covering long distances.

Despite weighing a heavy 79 pounds, the Trident 13 doesn't have the carrying weight of the Prowler 13, able to carry just 355 pounds.
Stable enough to handle rivers, lakes, and calm oceans
Narrow with a long hull allows for faster travel
A heavy boat whose weight capacity may limit paddlers to day trips
Ocean Kayak Prowler 13 – Conclusion
For fishing in a variety of environments, the Ocean Kayak Prowler 13 provides a stable and reliable platform. The long narrow hull may take some getting used to, but anglers will love the unexpected speed that makes getting from spot to spot a breeze.

I wish there was more customization like the Sea Ghost 130 provides with the gear tracks and center console. Not getting a paddle or rudder included in the purchase is disappointing.
But if you're willing to spend a little extra for these, the Prowler 13's exceptional versatility will likely cover most fishing expeditions.