Since the 1970s, Perception has been designing high-quality kayaks. Originally focusing on white water models, they have since branched into touring, recreational, and angling designs.
In this article, we'll talk about some of the best Perception kayaks. With a variety of sit-in and sit-on-top designs, there's a model for all skill levels.
Check below to see Perception kayak reviews in several different categories and price ranges.
Best Perception Kayaks
Best Recreational Kayak: Access 11.5

One of the longer recreational sit-on-top kayak models, the 11.5-foot long Perception Access gives the paddler plenty of room to operate. There's lots of open-air storage space and even room for a medium-sized dog.
Stable and easy to maneuver, it's at home on lakes and mellow rivers though I'd discourage you from taking it into windy or inclement conditions.
Integrated fishing rod holders
Replaceable skid plate increases durability
Molded, high-backed seat and leg braces
Best Touring Kayak: Conduit

Long, swift, and with plenty of storage space, the Conduit is great for extended trips. For a 13-foot-long plastic kayak, 51-pounds seems pretty light. Impressive tracking and speed keep you on course and helps you cover longer distances.
The bow and stern hatches are both watertight and the seat is comfortable for those long days of paddling. Excellent stability makes it a great choice for beginners who don't mind spending a little more on their first boat.
Impressive storage capacity
Large, spray skirt compatible cockpit
Superior tracking and speed in a variety of conditions
Best Fishing Kayak: Pilot 12

This is no garden variety fishing kayak. Perception's refined pedal drive system keeps your hands free to troll and cast. Ample storage, rod holders, and four customizable gear tracks means you can outfit your Pilot 12 however you want.
While stable enough to let you stand and cast, it's best on calm lakes and similar environments as performance is subpar in rough water. As a high-end angling kayak, be prepared for a bit of sticker shock when you see the price tag.
Adjustable seat with different height settings
Tons of watertight and open-air storage
Weight (85 pounds) and length (12-feet) make it difficult to transport
Best Budget Fishing Kayak: Sound 9.5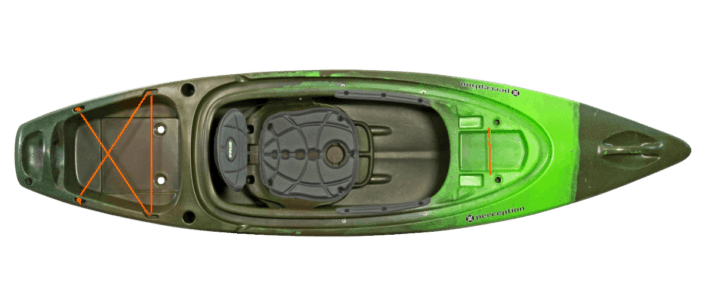 Capable of recreational and angling trips, the Sound 9.5 is one of the cheaper versatile kayaks on the market. It doesn't have a lot of the high-end accessories of more expensive fishing kayaks, but does have a couple of rod holders.
The padded, adjustable seat and footrests make for a comfortable and enjoyable time on the water no matter how long you're out.
Large rear storage but no watertight hatches
Built-in dashboard
Versatile and reliable in calm water scenarios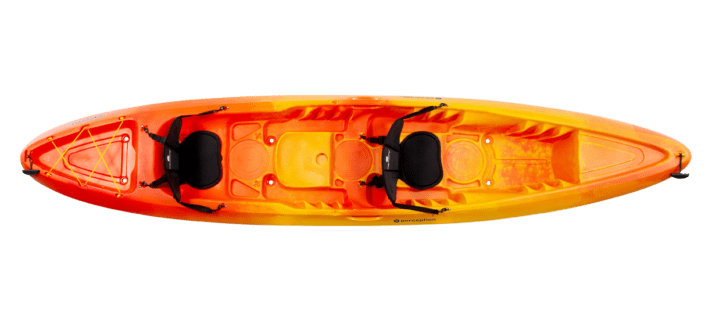 The Rambler 13.5 keeps paddlers of various heights and sizes comfortable thanks to adjustable, removable backrests and easy to adjust foot pedals. Multiple handles make tandem carries easy despite the longer length (13.5 feet) and 78-pound weight.
The Rambler can handle everything from calm to moderate water conditions, but since it's a sit-on-top be prepared for some water splashing over the sides.
Wide cockpit for easy entrance and exit
Room for a small third person or dog
Can handle wind and mild chop
Sit-on-top design limits it to warm water paddling
Best Kayak for Kids: Prodigy XS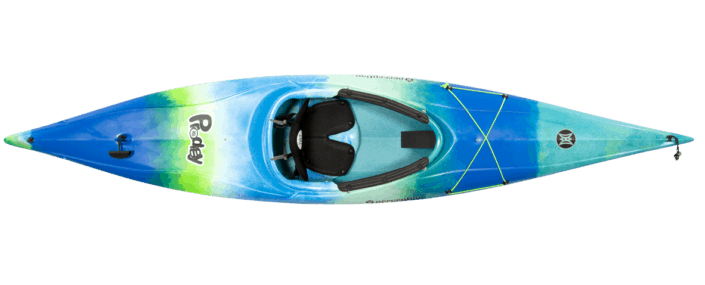 One of the longer kayaks for kids (10 feet), the Prodigy XS has room for your young paddler to grow.
At just 26 pounds it's an easy boat to move and simple to handle. Parents and kids will appreciate how maneuverable and stable it is along with the wide accessible cockpit.
Unlike other youth-style kayaks, the Prodigy XS can handle mild chop and wind without sacrificing performance.
Versatile for a children's kayak
One of the more expensive kayaks in the category
No paddle included
Types of Kayaks Perception is Known For
Touring
Sporting long keels and large, watertight hatches, touring kayaks are built to be in the field for several days.
They're fast kayaks designed to maintain their course through a litany of windy or wavy conditions.
To coax such a high performance out of them, they're also some of the most expensive kayaks.
Fishing
Some of the most stable kayaks out there. With their focus on stability, most of these kayaks are slow and can have trouble in waves or wind.
Angling boats are usually plastic but some cheaper inflatable models can be found.
Customization options (usually referred to as "gear tracks" or accessory "eyelets") are common on more expensive designs and virtually all of them come with rod holders.
Recreational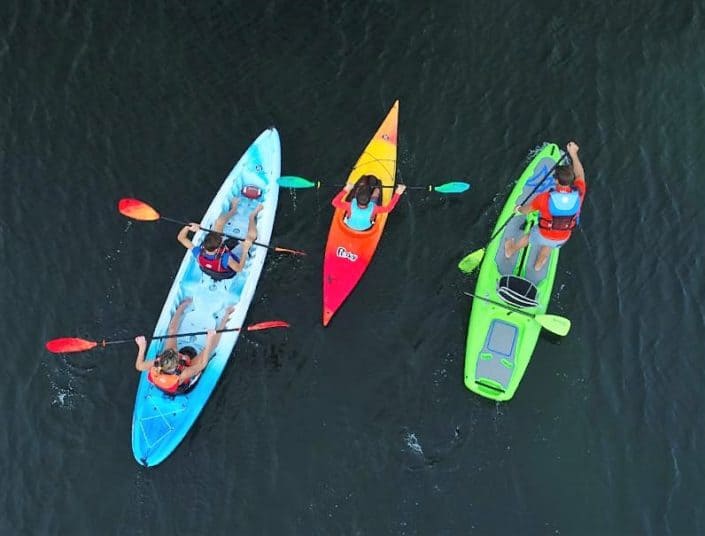 The cheapest kayaks on the market, recreational boats are shorter, and easy to transport.
Most are either made of plastic or are inflatable with premiums placed on stability and maneuverability. This makes them easy to handle for all skill levels and serves as a good introduction to the sport.
They're ideal if all you want is a boat to play in on a calm lake or slow moving river. But they struggle to track in rough water or wind, lack storage space, and have a poor top speed.
Tandem
You can find tandems that can be used in most conditions. Recreational tandems have the same focus on stability and some introductory inflatable designs can be paddled either solo or tandem.
Most tandems are longer to accomodate a second person and hard sided designs can get heavy and cumbersome.
Kids
The width of most kayaks can make it difficult for smaller paddlers to reach the water. These smaller kayaks allow kids and pre-teens to paddle comfortably and gain valuable experience.
An emphasis is placed on stability with these models to make them as safe as possible. While some can handle a little bit of chop, most should be kept close to shore, in calm water, and near adult supervision.
How to Choose the Right Perception Kayak
Where You Plan on Paddling
Before you hit the "buy now" button, ask yourself where you plan on doing the majority of your paddling.
Many of the cheaper recreational kayaks aren't capable of handling the rigors of white water or ocean conditions and can be dangerous.
White water and ocean kayaks are specialized categories that tend to be more expensive but can handle these more dynamic conditions.
Sit-in vs Sit-On-Top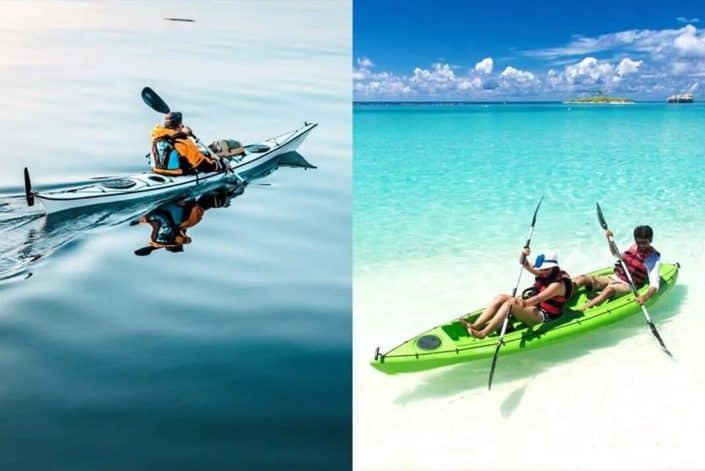 Most kayaks fall into one of these two categories.
Sit-in kayaks are generally narrower with your legs and torso inside the boat's hull. They're better choices for colder climates where you want to keep rain and splashing water out. Spray skirts wrap around the cockpit to help keep unwanted water out.
Sit-on-top kayaks sit higher on the water to minimize splashing water. To maintain stability, they're wider and sometimes have a pontoon-style hull. This does hinder their tracking and speed, making them popular for recreational use.
Solo or Tandem
In most cases, paddling a tandem on your own is frustrating. The rare exception is some cheaper recreational inflatable models that are designed to be paddled both solo and tandem.
Tandem boats are longer which improves tracking but can be heavy and challenging to transport, especially if they have a polyethylene hull.
Extra Features
In many cases, kayaks come with specific features or accessories with your purchase. Check with your retailer of choice to see if there are any included goodies before you purchase.
One of the most common extra features is an included paddle(s). Many times these aren't the highest quality as they're usually added to recreational kayaks. But they're enough to get you started.
Check the storage space of the boats as you shop. There's a big difference between a watertight compartment and a couple of bungee cords stretched over a "tankwell" stern hatch.
Fishing kayaks are known for outfitting their boats with a litany of extra accessories that let you customize and carry specific gear. Some even have space to mount fish finders.
Perception vs Other Brands
Pelican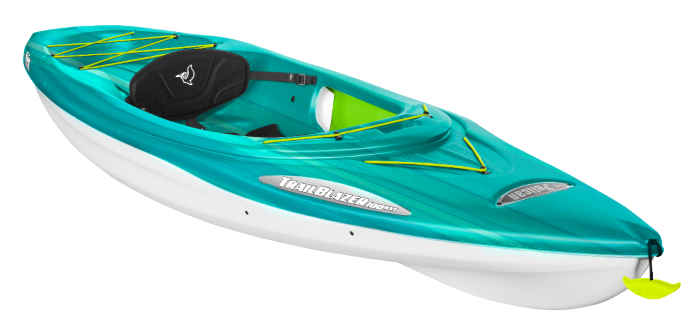 One of Perception's chief competitors, the Canadian-based Pelican builds angling, recreational, and touring kayaks along with a specific "high performance" category.
They've patented their own mold of polyethylene plastic called "Ram-X" and put an onus on their boat's durability.
On the water, many reviewers favor Perception's line of boats from a performance perspective and the prices are usually competitive from most retailers.
Sun Dolphin

Another hard-sided kayak company, Sun Dolphin's boats fit mostly the recreational or angling categories. Most designs have shorter keels with a focus on stability so they're a preferable option for newcomers.
There aren't any high performance touring or sea kayaks but they do have both sit-on-top and sit-in models for recreational and angling. They are reasonably priced and well made with options from little 6-foot play kayaks to longer tandems.
None of their angling kayaks are pedal-drives and most have a limited number of storage and customization options.
Intex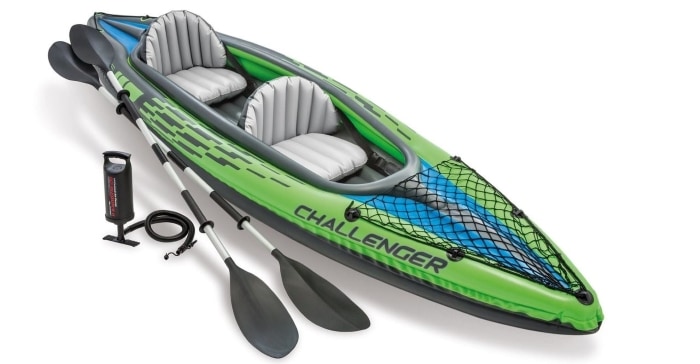 Intex makes a range of inflatable products and their kayaks serve as a fine option for newcomers. Single and tandem options are available and the fabric is surprisingly tough.
They won't stand up to wind or waves very well, but if you need a cheap kayak that's easy to store, transport, and set-up, Intex has several models that may work just fine.
Lifetime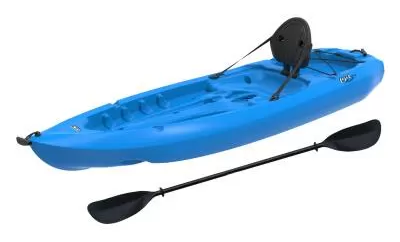 Lifetime shares a lot of similarities with Sun Dolphin. Both produce cost-efficient hard-sided kayaks that are at home in calm lakes and mellow waterways.
Their angling kayaks offer many of the same customization options of other companies and they seem focused on creating portable and lightweight designs.
Seat design and comfort does seem lacking and the weight capacity of some models feels on the light side which may limit the length and accessibility for some paddlers
Sea Eagle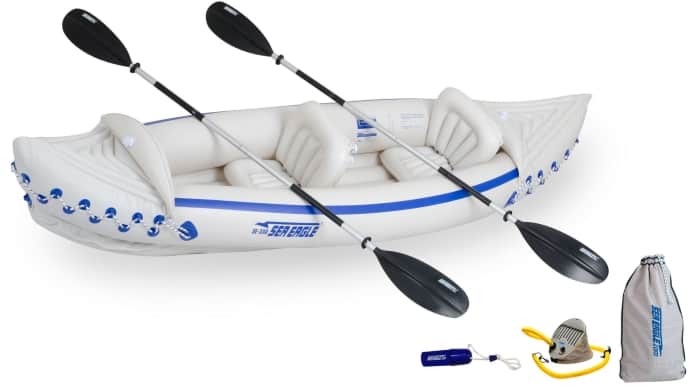 Sea Eagle shares a lot of similarities with Intex. They sell inflatable kayaks with a focus on stability and safety that makes it easy for beginners to get on the water.
Some of their tandem designs like the Sea Eagle 370 can be paddled by a solo or tandem paddler to maximize versatility.
Like all inflatables, they must be treated carefully to avoid damage and should be limited to calm freshwater environments.
Vibe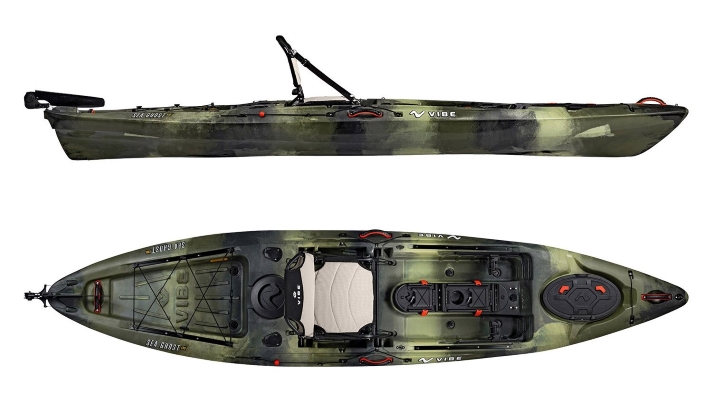 While some companies spread their efforts to a variety of models, Vibe has decided to double down on one thing only: fishing kayaks.
Their boats are defined by their customization options and their "hero seat" has been lauded as one of the most comfortable kayak seats on the market.
A nice combination of stability, speed, and load capacity allows a lot of their designs to be used as recreational boats too.
Sevylor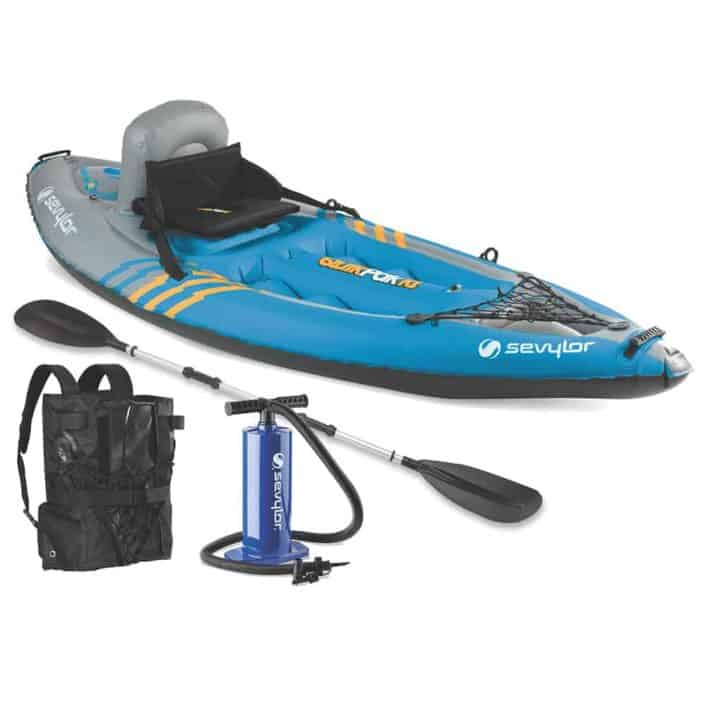 Sevylor is one of the longest-tenured inflatable kayak companies around. But that longevity doesn't ensure a high-end product.
While most of their boats are quite cheap, there is dissent among reviewers about the quality of their boats. Fragility and a tendency to spring leaks along seams and valves are common complaints.
If you're going for a low-performance recreational inflatable kayak, you're better off trying a boat from Intex or Sea Eagle.
Conclusion
With kayaks filling so many paddling niches, comparing Perception's best boats can be tough.
For me, it's hard to look past the Conduit's versatility. Able to hand fresh and saltwater with plenty of storage capacity, the Conduit is swift and a joy to paddle.
The Access 11.5 is a well built recreational boat, but the two designs are close enough in price I feel good about going up to the Conduit.
If you can, be patient and wait for the Conduit to go on sale to give yourself the option of safely paddling in a myriad of water conditions.
Do you have a favorite Perception model? What's your experience with their boats been like? Let us know in the comments below.