Let's be honest, nothing beats a pedal kayak.
Not only can you go much faster with less effort, but having your hands free to cast and even follow the fish while they move is sometimes paramount.
But, as you probably know…
Pedal kayaks are quite expensive.
That's why you want to make sure you get the best pedal kayak.
In this article, we'll be taking a look at some of the best kayaks with pedals. We'll examine everything from speed to stability to storage space to price, and more.
Let's get started.
Best Pedal Kayaks in 2023

Thanks to a more streamlined hull and well-placed carry handles, the Pilot 12.0 is one of the easiest pedal kayaks to carry and transport but still has a 475-pound load capacity.
There's no sacrifice to performance with a well-designed pedal system that minimizes noise on the water so you can move without disturbing your quarry.
There are two gear tracks where a fish finder or GPS can be installed and a quartet of rod holders makes transporting your gear easy.
One of the lighter pedal kayaks
Comfortable seat that can be adjusted on the water
Sleek design and pedal system for an impressive top speed
Read our detailed review of the Pilot 12.0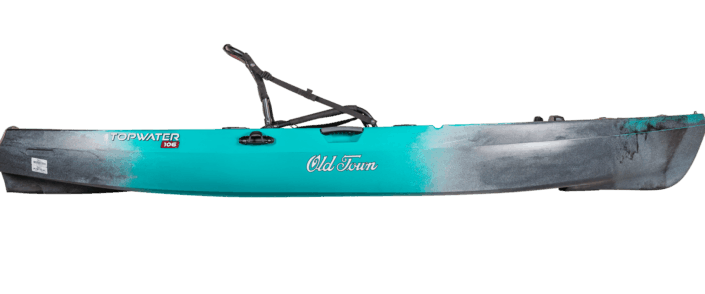 The Sportsman 106 PDL is the new version of the Topwater 106 PDL and feels like a battleship on the water. If you're at all concerned about your kayak feeling tippy underneath you, this is the boat for you.
There's plenty of specific angling accessories included such as the two rod holders and the space to store your poles horizontally.
Some users have found the tracking to be subpar. The seat can only be adjusted between two positions as opposed to being on a sliding scale that some paddlers may not find comfortable.
Premier stability
Easy to remove pedal drive system for shallow water
Large stern tank-well and watertight bow hatch
Read our complete Topwater 106 PDL review.
Best Budget pedal kayak: BKC-UH-PK11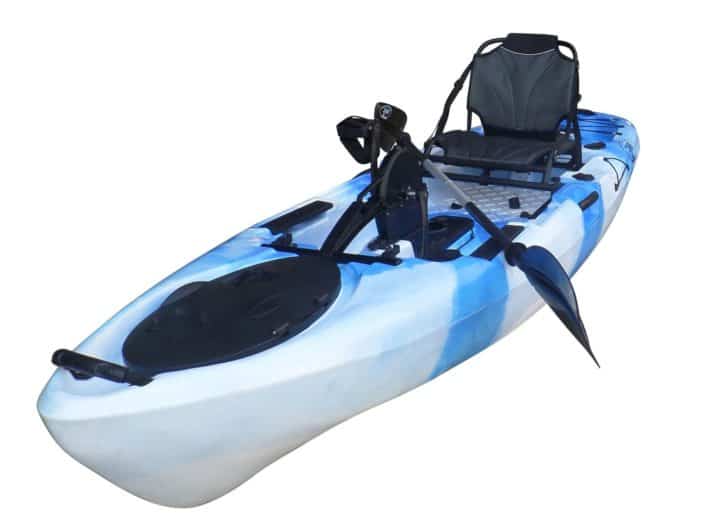 Just ten and a half feet long and weighing a svelte 60 pounds, the BKC-UH-PK11 combines portability with cost-efficiency.
Despite the smaller size, it still has the incredible storage space and reliable stability that pedal kayaks are known for.
While not as tricked out as other pedal boats, there's still a trio of rod holders if you want to try fishing.
Multiple color options
Paddle included with purchase
Comes with scupper plugs

Almost thirteen and a half feet long, and 35 inches wide, the Compass Duo has a ton of room for your and your paddle partner to operate. You'll find there's plenty of room for a well-behaved small or mid-sized dog to join you.
Four rod holders and accessory mounts allow both of you to fish from the comfortable ergonomic chairs. The pedal system is responsive and the maneuverability is impressive despite the larger size and width.
Tons of customization for angling
Molded tracking keel
Two paddles included with purchase
Read our full review of the Mirage Compass.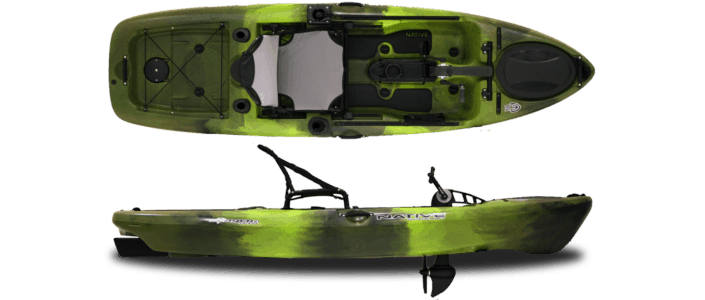 While most pedal kayaks are large and difficult to move, the Watercraft Slayer Propel 10 offers one of the lighter and more compact designs in the category.
It manages not to sacrifice much in the way of stability. The 34-inch wide hull is plenty solid enough to allow you to stand and cast and it still has an impressive load capacity of 500 pounds.
Just 81 pounds with the pedal drive system installed
Watertight bow hatch and tank-well stern storage
Armchair style seat with adjustable settings
Two rod holders
Read our detailed review of the Slayer Propel 10.
Best pedal kayak for Recreational use: Ocean Kayak Malibu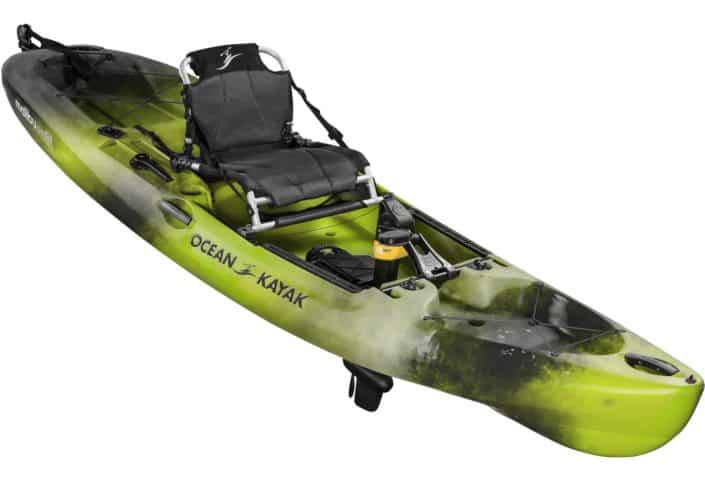 While the Malibu is categorized as a recreational model, it can double as an angling kayak thanks to a pair of accessory mounts and 450-pound load capacity.
The stern storage area is spacious enough to accommodate a second person while the stable hull is capable of handling moderate ocean environments. I was impressed with how well the Malibu tracked even in some chop.
Versatile enough for angling and recreational trips
Attached rudder for improved tracking and maneuverability
Lack of spacious watertight storage
Read our full Ocean Kayak Malibu review.
best pedal kayak – Buying Guide
Pedal Kayak vs. Regular Fishing Kayak
From a performance and angling perspective, pedal kayaks are far superior. Having both hands free to fish allows you to troll and adjust your boat's position without having to put down the pole.
Squeezing into small corners and tight turns are easier and don't require any specific paddling skills or techniques. The pedal drive systems are quieter than a paddle with minimal splashing to prevent you from spooking any fish near the surface.
Despite pedal kayaks almost always being bigger, heavier, and wider, the average angler will move faster with a pedal drive system than they would with a paddle.
Using the pedal system also keeps you drier since you don't have to worry about water dripping off the paddle shaft and into your lap. Since they're sit-on-top models, you do still have to worry about waves sloshing over the side.
But all these luxuries do come with a few drawbacks. The first thing you'll notice is cost. Pedal kayaks are prohibitively more expensive than their simpler paddle counterparts.
More maintenance is necessary to keep the pedal drive system functioning such as frequent lubrication of moving parts. If you plan on using your boat in saltwater, it's important to spray it down after each use to avoid corrosion.
All the extra gear also makes them heavier and since the pedal system is beneath the hull you have to be careful not to bottom out in shallow water. Some models can struggle with tracking and turning depending on the water conditions due to the wide hulls.
Types of Pedals
Push Pedals
Push pedal systems use your ankles and feet instead of the entire leg. Since each individual "push" is creating your forward momentum, push pedal models don't glide as efficiently and slow down quickly when you stop pedaling.
Rotational Pedals
In comparison, rotational pedals use your entire lower body. Similar to the rotation you use when pedaling a bike, these models require more room for your legs to operate.
Rotational models tend to be faster since you have the benefit of using your entire lower half.
Like a bike, they're able to maintain some speed and can coast if you stop pedaling.
Stability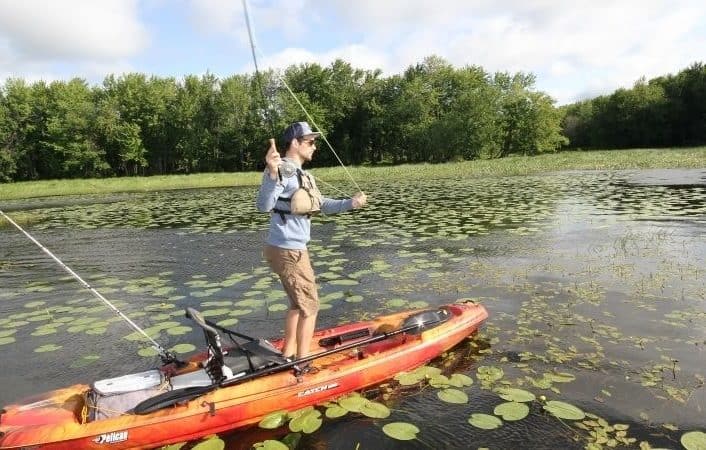 Traditional paddle kayaks rely on a combination of factors and features to keep you stable and upright in the water. A boat's stability is based on its width, hull type, the paddler's ability to brace and balance, and their experience on the water.
As open-air kayaks, pedal models lose some of these skill sets. There's no good way to brace yourself against the boat for balance, and since you're not using a paddle most of the time, bracing via the blade isn't an option.
To compensate, paddle kayaks are wider than their paddle-style brethren. Multi-chine or pontoon hulls are common design types that maximize stability and allow you to stand and cast safely.
It's a good idea to always bring a paddle just in case you need a little extra help. Research the type of conditions your boat is suited for before purchasing and adhere to the suggested waterways. If the manufacturer doesn't recommend their vessel going through rough water there's probably a good reason.
Speed
While pedal kayaks are wider and heavier, the ability to use the larger muscles in your legs to propel yourself makes pedal kayaks more efficient. In most cases, you'll be able to pedal longer than you could paddle without tiring.
Tracking & Turning
Some models help compensate for subpar tracking with a skeg, a fin-like accessory that is installed on the stern and keeps the boat on course. A narrower, single keel hull may feel less stable to some but will improve not just tracking but stability too.
Most pedal kayaks have a rudder on the stern to help change direction. In most cases, this is controlled by a joystick although some use foot pedals.
Portability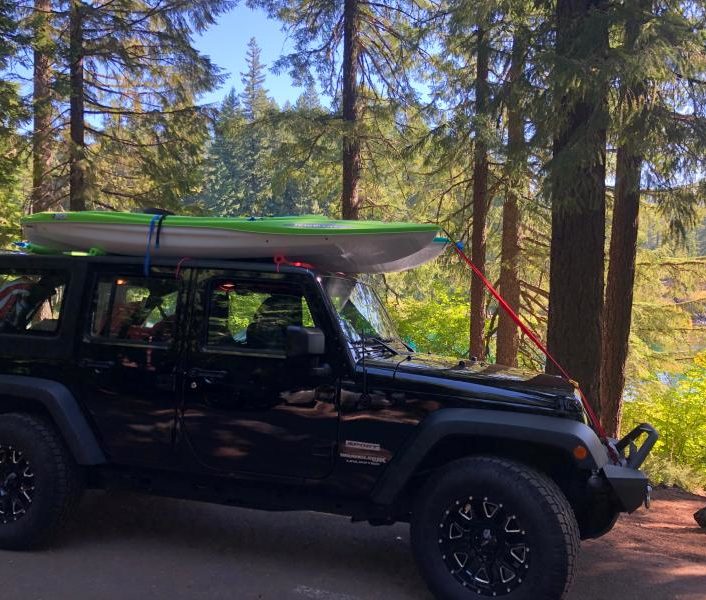 Pedal kayaks require some foresight when it comes to transportation. Some longer and wider models may need a large truck bed with straps to be transported safely. Smaller models may be ok on a traditional roof rack. A lot will depend on the load capacity of your vehicle.
Once off the car, pedal kayaks will require a minimum of two people to carry them to the water's edge as most weigh around 100 pounds. Well placed carry handles have been implemented to make the process easier.
Inflatable vs. Hard-Sided kayaks with pedals
While you won't find any inflatable pedal kayaks, there are some inflatable paddle angling kayaks. Cheaper and more portable than their hard-sided cousins, they're much more susceptible to bumps, drops, and punctures.
They lack the customization of hard-sided angling kayaks, though a few models have managed to squeeze rod holders into their design.
Stability and durability are far superior in hard-sided boats that are usually made of a tough plastic called polyethylene. There's a wider range of prices with cheaper boats built for calm water with few customization options.
Mid-range boats often have mounts to install fish finders, GPS, or kayak anchors and are capable of larger load capacities. In some cases, they're able to go on rougher open water.
The cream of the crop comes with the pedal kayaks that are heavy and expensive but fast and usually loaded with customization opportunities.
Storage and Load Capacity
Not all storage spaces are created equal. I prefer boats that have at least one watertight storage hatch either bow or stern in the event there's splashing water or rain. This is especially important if you plan on doing overnight trips. The last thing you want is a wet tent or sleeping bag.
Load capacity refers to the amount of weight the kayak can handle and remain stable. For big boats like pedal kayaks, this is usually around 500 pounds. Putting 501 pounds in a kayak with a 500-pound load capacity may not sink it, but as you add more and more gear the boat will sit lower, go slower, and the stability will be compromised.
Tandem vs. Single kayaks with pedals
Some pedal kayaks are big enough to fit a dog or second person behind the paddler's seat while others like the Hobie Mirage are designed specifically for tandem paddles.
When dealing with boats this big, wide, and heavy, it's not a good idea to try to operate a tandem on your own. It will be difficult to maintain speed while tracking and maneuverability are greatly diminished.
If you'd prefer a more flexible boat that can be tandem or solo, consider a lower quality but reliable boat like the inflatable Sea Eagle 370.
Tandems are longer and heavier. In a class already defined by large and unwieldy boats, it's not uncommon for tandems to be over 100 pounds. The Hobie Mirage for example weighs 127 pounds fully rigged and may be challenging for some couples to carry to the water's edge.
Pedal Kayaks – FAQ
What Is the Best Pedal Kayak?
The best pedal kayak is the Perception Pescador Pilot 12, because it's one of the easiest pedal kayaks to carry while still having a good 475 lb load capacity. Stability, tracking, and speed are also pretty good on the Pilot 12, and it's cheaper than most pedal kayaks.
What Are The 2 Types of Pedal Kayaks?
They 2 types of pedal kayaks are rotational pedals and push pedals, as discussed above. Push pedals are what made Hobie's kayaks so popular, but these days rotational pedals (similar to a bicycle) tend to be just as good, as long as you stick to good pedal kayaks like the Pilot 12 or the Sportsman 106.
Is a Pedal Kayak Faster than Paddling?
Yes, a pedal kayak is around 50% faster than paddling at top speed. But more importantly, pedal kayaks are very beginner-friendly while proper paddling needs hours of training. This means that beginners can go at 3 to 4 mph with a pedal kayak for hours, whereas they could only go at 2 mph or slower for half an hour with a paddle kayak.
Is a Pedal Kayak Worth It?
Yes, a pedal kayak is worth it if you want to go fishing. Not only can you cover a lot more ground faster, but pedal kayaks also allow you to have your hands free for fishing. This is paramount when chasing fish, as you can move along while still using your hands for fishing.
best pedal kayaks – Conclusion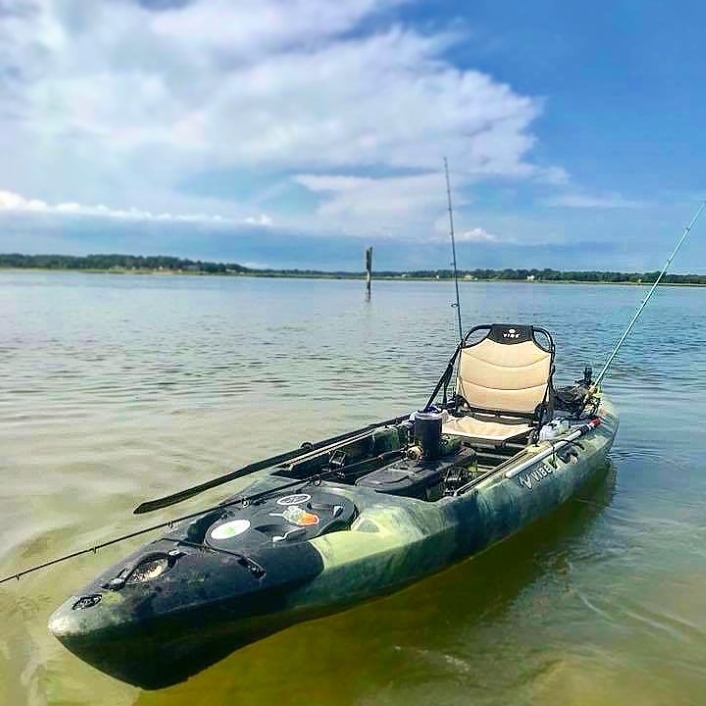 In a class of high-budget boats, it's especially important to maximize the value of your kayak.
The good news is that most pedal boats are worth the investment and are well made, durable, and have lots of added features. Being patient and watching multiple retailers for a good sale can make a big difference in how much you pay.
If I had to choose, my top pick would be the Perception Pescador Pilot 12.0. It's one of the easier pedal kayaks to carry and the engineering allows for minimal water disturbance while paddling. There's no blaming the Pescador Pilot if the fish won't bite.
The Ocean Kayak Malibu is a worthy runner-up. The smaller load capacity may limit the length of some of your trips, but it's a well-rounded boat that can fill the role of a high-end playboat as well as a stable fishing platform. Note that Ocean Kayak has another "Malibu" model that is not a pedal kayak.
What's your favorite pedal kayak? Do you have any good fishing or maintenance tips to share? Let us know in the comments below.