In recent years, the revolutionary pedal kayaks have grown in popularity and made kayak fishing easier and more efficient than ever.
It may be a newer design, but even heritage companies like Old Town are getting in on the pedal kayak market. In business since 1903, Old Town has taken a century of kayaking knowledge and applied it to their new pedal kayak models.
In our Old Town Topwater 106 PDL review I'll break down some of my favorite features and any nitpicks I have with this shorter and more maneuverable pedal kayak design.
Pros:
Two skid plates make it easier to drag
Transducer mount for fish finder
Excellent maneuverability for river fishing
Cons:
Lack tracking for ocean fishing
Slower than the Topwater 120
Aluminum frame in the seat can be uncomfortable for some
[Update 2022: The Topwater 106 PDL is out of stock everywhere. I'd suggest getting the Sportsman 106 PDL instead since it's the newer, upgraded version]
Things to Consider Before Buying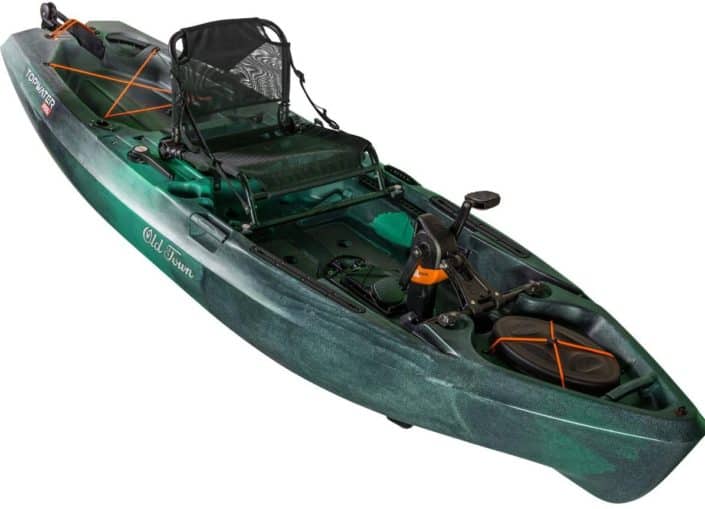 If you're a casual outdoorsman or are new to fishing, the Topwater PDL 106 has most of the features and custom options you're looking for. But it won't come cheaply. If you're on a tighter budget or aren't sure how much you'll enjoy fishing, I'd recommend going with a less expensive model to start.
There's no shortage of cheaper fishing kayaks that still have great stability and custom options to play with. One of my favorites is the Sea Ghost 130 from Vibe that comes at a much lower price but still features plenty of gear tracks, great stability, and a really comfortable seat.
The Topwater PDL isn't that long for a pedal kayak measuring just ten and a half feet long, but it still will require a sizable storage area and a vehicle capable of safely transporting it.
Ideally, your storage spot will be in a climate-controlled area like a garage, although a covered shed will be fine. For transportation, plan on investing in a roof rack for your car unless you have a truck with a large bed. 
Also, the Topwater 106 PDL is out of stock everywhere. I'd recommend the Sportsman 106 PDL instead since it's the newer, upgraded version]
Specifications
Length: 10-feet, 6-inches
Width: 36-inches
Weight: 95 pounds
Load Capacity: 450 Pounds
Design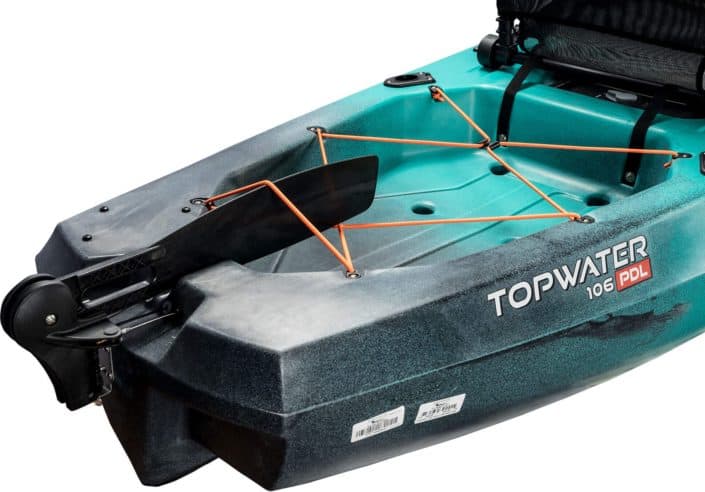 Material
The Topwater PDL 106 is made of a rigid and reliable plastic called polyethylene. One of the most durable kayak materials, it can handle most drops or on-water collisions. Even hitting a rock at high speed shouldn't be enough to punch a hole in the hull. 
Speed
While a little shorter than most pedal kayak models, the Topwater 106 PDL still manages to coax out a respectable top speed. The pedal drive system works well, and strong-legged paddlers should be able to reach five miles an hour in calm, neutral water conditions.
If your friends are pedaling bigger, longer models you may have to work harder to keep up, but plan on leaving most traditional paddle kayaks in your wake. 
Maneuverability
The Topwater 106 PDL has a retractable rudder system that can be easily raised and lowered via a lever on the right side of the cockpit. 
While the shorter keel may lead to a lower top speed, it works to your advantage here. The Old Town Topwater PDL is responsive and easy to steer. Even newcomers or young paddlers should be able to get the hang of it in just a few outings. Designed for rivers and lakes, the boat excels at squeezing into tight fishing holes or navigating sharp bends in the river.
It's a good idea to bring along a paddle to help you negotiate these tight corners too. It's also a good safety precaution in case the pedal system is damaged and inoperable.
Comfort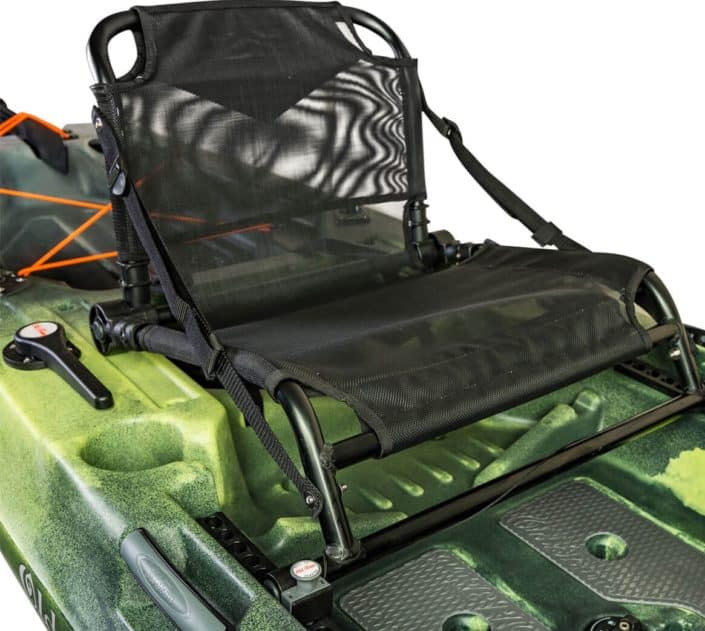 The seat is installed on a sliding track system that lets you adjust it back and forth easily both on dry land and on the water.
The seatback is secured with nylon straps and allows you to adjust your lumbar support, though the aluminum frame may poke some paddlers through the breathable mesh covering, I still found the seat to be comfortable. If it becomes too much of an issue for you, it's easy to add a little extra padding.
Stability & Tracking
A fishing kayak won't do you much good if you spend the entire time worried that you're about to tip over. You won't have that problem with the Topwater.
The wide 36-inch hull gives you a stable paddling platform that can absorb any sudden shifts in weight as you cast, play, and land your catch. The kayak is rated as stable enough for standing and casting which can be a huge advantage as it allows you to get better distance and accuracy on your casts.
I do wish they'd installed a stand-assist strap that helps me feel more stable when standing, but the handle for the drive system is sturdy enough to help you get to your feet. 
The boat tracks decently enough, but much like the boat's speed, the tracking is hampered by the shorter keel. This shouldn't be a problem on rivers, moderately sized lakes, and even protected ocean environments, but it can make traveling over exposed bodies of water dicey and even dangerous.
Durability
I won't go as far as calling it indestructible, but you're going to have to work pretty hard to do serious damage to this boat. With a few precautions, you can expect this boat to last for years.
It comes with two skid plates. The first is on the stern and allows you to drag your kayak without doing too much damage to the hull. If you have to drag it, make sure the plate takes the brunt of the punishment. Over time, dragging your kayak can cause the plastic to peel and scratch which can reduce the boat's efficiency.
The second covers the transducer mount and protects your fish finder from any damage. This isn't featured in a lot of models and I'm glad that Old Town took the time to install one to protect this expensive piece of equipment.
When not in use, store your Topwater 106 PDL out of direct sunlight. Prolonged UV exposure could lead to the plastic warping and weakening over time. 
Portability
Like most pedal kayaks, the Topwater PDL is on the heavy side weighing 95 pounds empty. While the skid plates make solo drags and portages much easier, I wish the boat had some better carry handles.
A couple of plastic handles are built into the bow and stern, and while they do the job, I prefer the gel molded "T-handles" of some of the boat's competitors. It's a minor nitpick and shorter tandem carries won't be a problem. But it may make longer walks with the boat less desirable.
There are my preferred gel-style handles along each side of the cockpit so carries with more than two people feel light and easy.
You can make your life easier by always carrying your kayak empty. Even if you feel capable of loading it up with gear, the extra weight can cause the keel to "bow" in the middle of the boat over time leading to warping and a loss of pedaling speed.
Features & Accessories
A paddle clip can be easily installed with a screwdriver so you can bring one along just in case something happens to the pedal system.
Outside of that, the boat doesn't come with much in the way of "sweeteners." But I wouldn't be too discouraged by this, most boats in this price range are marketed towards more experienced paddlers who probably have a lot of the necessary gear already.
Included paddles and similar features are generally only offered with cheaper recreational and entry-level kayaks.
Fishing Ease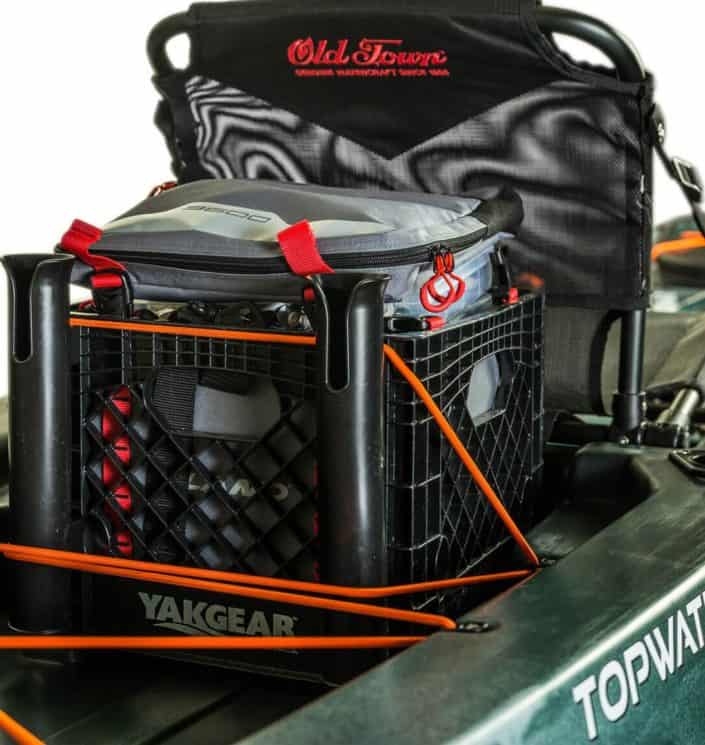 The Old Town Topwater 106 PDL comes with all the necessary custom features to get your fishing career off to a roaring start. The well-protected transducer mount allows for easy installation of a fish finder without fear of damaging it on a submerged rock or tree branch. 
Sliding gear tracks have been placed on either side of the cockpit so you can install all your other toys like a GPS, rod holders, a camera, spare tackle storage, or whatever else you feel like you need. Depending on the make and model of your gear, the tracks may need some slight modifying, but this should be simple enough for most anglers.
Speaking of rod holders, there are two roto-molded holders that can be found directly behind the seat and are easy to reach whether you're standing or sitting.
For storage, there's a covered hatch in the bow that's watertight and should be large enough to hold all your moisture-sensitive gear like your tent or sleeping bag. 
The main storage compartment is in the stern. It's open-air so you'll need some dry bags, but it's great for storing oversized pieces of gear like a cooler or tackle box. There's no need to worry about anything floating away as deck bungees are stretched across it.
Value
With the stability to stand and cast, multiple places to install custom features, and a pedal system, it shouldn't be a surprise that the Top Water PDL is one of the more expensive fishing kayaks on the market.
But with that said you get what you pay for. If you're a passionate angler who has the time to get out on the water on a consistent basis, a high-end pedal kayak like this may be worth the investment.
But if you're a more casual paddler or need something capable of handling some bigger ocean swells, the Topwater 106 PDL probably isn't the way to go. Look for something either a little bigger (albeit more expensive) or start with a cheaper recreational model to see how much you really enjoy the sport. 
Alternatives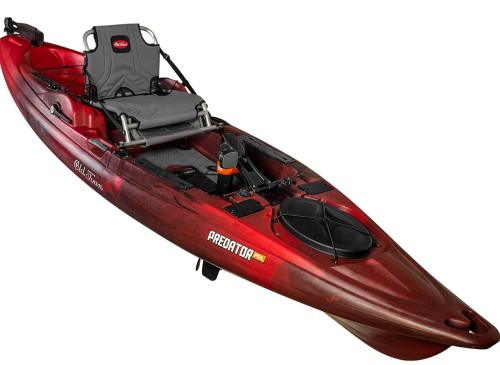 The big brother of the Topwater, the Predator is more than 13-feet long and features a huge 500-pound load capacity. It's more capable of handling ocean swells than its little brother, and while it does come at a higher cost, it's better for those that will be spending time on saltwater.
Mounting brackets, rod holders, and a comfortable seat highlight the boat's features and the pedal system is quiet, smooth, and efficient, allowing you to move across the water without scaring your prey.
Big, stable, and capable of handling ocean swells
More expensive
Weighs 117 pounds
Read our full review of the Old Town Predator PDL.

The same length as the Predator PDL, the Hobie Mirage Outback has a ton of features but weighs a svelte 85 pounds.
While the load capacity is a bit smaller at 425 pounds, it should still be enough for most multi-day trips.
A narrow and efficiently designed bow makes it a fast kayak while not sacrificing any stability and the new pedal system runs smoothly.
A pair of standing pads flush with the bow hatch makes for a great platform to stand and cast from.
Lighter than most pedal style fishing kayaks
Nice combination of stability and speed
Several gear tracks for customization
Read our full review of the Mirage Outback.

Sitting in the middle between the Topwater and Predator at 12-feet long, the Compass is a nice mid-range option. It's a little lighter than most pedal kayaks weighing 87 pounds fully rigged, but comes with a nice paddle holder and the gear tracks you'd expect from a kayak of this caliber.
It's another fishing kayak you can feel confident standing and casting from and I love the extra dry storage hatch located directly in front of the seat. If you're looking for something a little bigger than the Topwater but don't want to go all the way up to the biggest pedal models, this is a good kayak for you.
Reasonably light
Comfortable, removable seat
Stable enough to stand and cast from
Read our detailed Hobie Mirage Compass review.
Conclusion
With plenty of custom features and the ability to stand and cast, the Topwater 106 PDL is one of the best pedal kayaks for protected waterways.
If it was a little longer, I'd be more willing to trust it on the open ocean, but we'll have to be satisfied with its excellent turn radius which makes it perfect for rivers and most lakes.
[Update 2022: The Topwater 106 PDL is out of stock everywhere. I'd suggest getting the Sportsman 106 PDL instead since it's the newer, upgraded version]