Kayak fishing is on the rise, and there seems to be no shortage of quality kayaks designed with the only goal to make your fishing trips more successful.
But this doesn't mean that all angling kayaks are created equal, and the Hobie Mirage Compass rises above much of the competition.
After 70 years in business, Hobie has churned out a wide variety of watercraft. Their Mirage Compass is a pedal kayak, a unique and rather recent addition to the kayaking world.
Instead of paddling like a traditional model, a pedal system similar to a bicycle is used instead.
In this Hobie Mirage Compass review, we'll break down our favorite aspects of this design and any issues that we've found.

While more expensive and heavier, the Mirage Compass is faster, more stable, and comes packed to the gills with custom features and accessories that allow you to outfit your kayak however you please.
Pros:
Stable enough to stand and cast from
The comfortable, removable seat makes a handy camp chair at the end of the day
Can handle a wide variety of waterways
Cons:
More expensive than a paddle kayak
Heavier and difficult to store
Pedal drive system requires more maintenance
Things to Consider Before Buying a Hobie Mirage Compass

The Mirage Compass is a good-sized boat, measuring 12-feet long and checking in at 87 pounds with the rigging installed. Add in the 34-inch width, and you've got a boat that will require a sizable storage area.
If you live in a small house or an apartment, you may need to rent out a storage space to accommodate your Mirage Compass. If that seems too difficult or impractical, that is a lot of decent (and cheaper) inflatable kayaks designed for fishing too. If at all possible, store your kayak in a place that will protect it from the elements.
The Mirage Compass is what is known as a "sit-on-top" kayak with a big open deck that makes it easy to get in and out of. These are nice for people with mobility problems and they feel less cramped than the more confining "sit-in" models.
But they don't provide much protection from the elements. Expect to get wet if you run into any rain or splashing waves that wash over the hull. If you live in a cold-weather or temperate climate or plan on being in rougher water, it may be worth considering a sit-in model that will provide extra protection.
Unfortunately, the design of a pedal kayak makes a sit-in model difficult, but there are plenty of paddle designs out there to choose from like the Tsunami 125.
Specifications
Length: 12 feet
Width: 34 inches
Weight: 68 pounds, fully rigged: 87 pounds
Load Capacity: 400-pounds
Design
Material
The Mirage Compass is made of a tough plastic called polyethylene, one of the most common kayak materials out there.
It's a preferred material because it's tough and resistant to scratches, collisions, and accidental drops.
If cared for properly, a polyethylene kayak can last a very long time.
Speed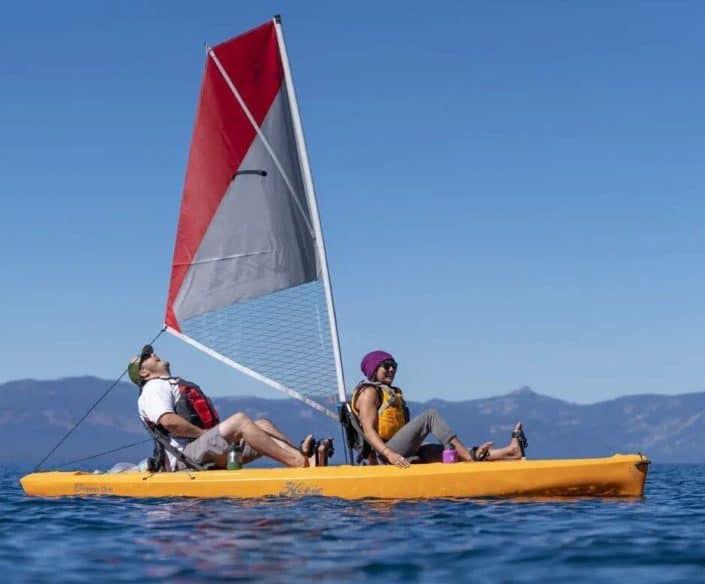 One of the biggest advantages of a pedal kayak is they're much more efficient when it comes to speed.
Since you're using the larger muscles in your legs to propel yourself, you can expect to go faster for a longer period of time in a pedal kayak.
If you feel up to multi-tasking, you can bring a paddle along for redundancy in case something happens to the pedal drive system. Or paddle while you pedal to increase your speed even more.
Maneuverability
The Mirage Compass has a pre-installed rudder to make turns quick and responsive.
It's controlled with a joystick mounted on the right-hand side of the boat and mastering it is easy and intuitive.
It should serve fine on narrow rivers as well as getting in and out of tight "honey holes" where fish tend to congregate.
Comfort
Sporting a good looking mesh covered seat, the Mirage Compass is comfortable for paddlers of all shapes and sizes.
It doesn't have as many adjustment points as some models, but you should be able to find the right setting for you.
As an added bonus, the seat can be completely removed from the boat and used as a handy camp chair around the fire at the end of the day.
Stability & Tracking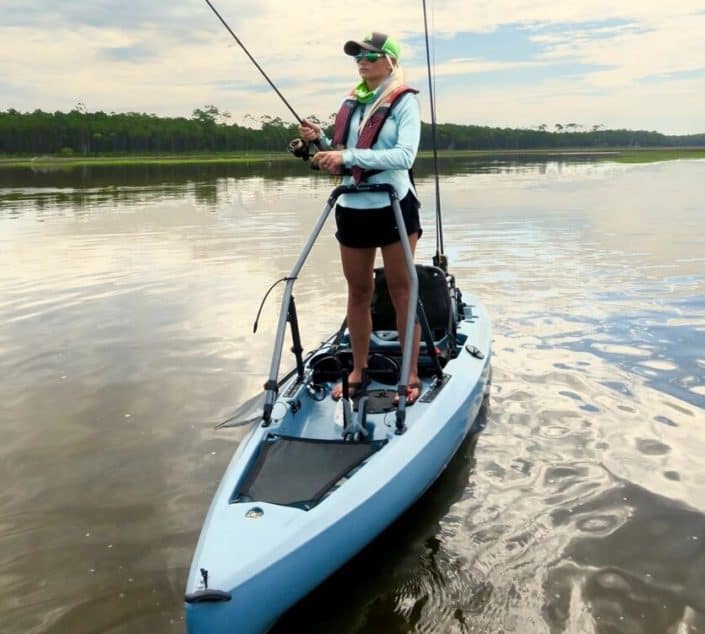 The pontoon hull and wide design make this an incredible stable kayak.
You should be able to take it out on the ocean with confidence, but always check weather conditions and predictions before setting out.
One of the more important things I look for in a fishing kayak is if I can stand and cast. This gives me better accuracy and distance on my casts and allows for a better vantage point for spotting fish.
The Mirage Compass feels rock-solid underneath when standing and you can be sure that it can handle the surprise shifts in weight and balance that come when you have a big one on the line.
Durability
The tough plastic finish on this boat allows it to stand up to just about anything.
But when possible, be sure to carry your kayak to the water instead of dragging it. Dragging can lead to peeling and chipped hulls that will hamper efficiency and make your boat slower.
When storing, keep it out of the elements and ideally, out of direct sunlight. UV rays can damage and degrade the plastic over prolonged exposure which can weaken your boat's rigidity.
Portability
With great stability and durable materials, the Mirage Compass is no lightweight. With the pedal system installed it weighs almost 90 pounds and the twelve-foot hull is tough to fit in anything smaller than a midsize truck.
A pair of handles on the bow and stern does make tandem portages easier. A skid plate on the hull would be nice for solo paddlers on their own and would make it easier to drag without damaging the hull. But these can be pretty easily installed if you want.
Features & Accessories
The Mirage Compass comes decked out with plenty of features and accessories. Most notably is the fiberglass paddle which is included with most purchases (confirm this before you hit the 'buy now' button).
Getting a paddle isn't anything new with kayak purchases, but it's rare to find one included with a high-quality boat such as this one.
An attached bungee on the starboard side next to the seat gives you a place to secure it and allow you to have both hands free for fishing.
Fishing Ease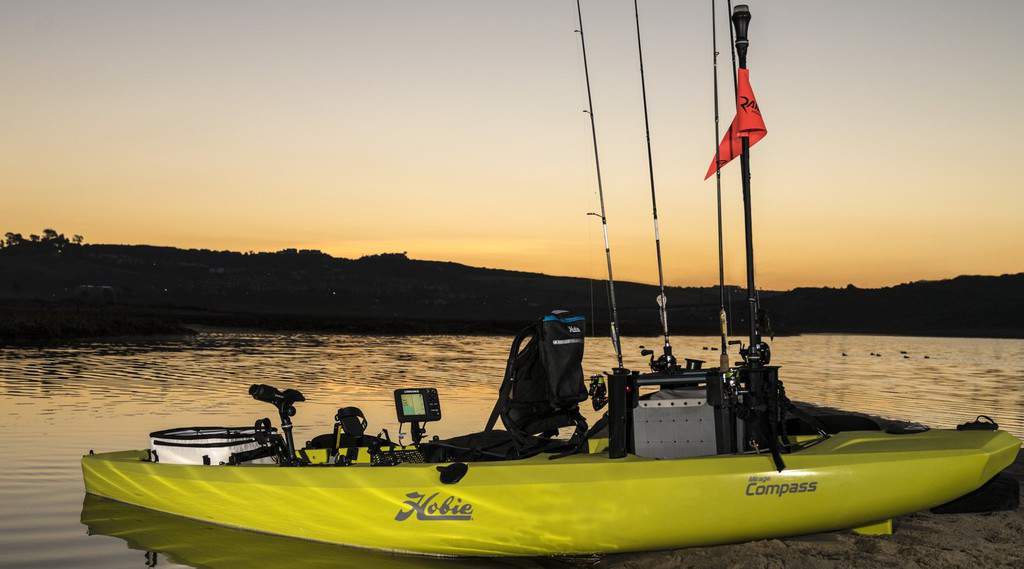 As you'd anticipate with a boat of this quality and design, it comes filled to the brim with extra features meant to make your kayak fishing easier.
Two rod holders are built into the hull and both are easily accessible from the cockpit.
Unlike some designs, the Mirage Compass has a big open tank-well style storage space in the bow. This does mean your gear is more exposed to the elements, but you'll probably appreciate the easier access and extra space available to you when standing and casting.
Another big storage space is in the stern. This is also open to the elements and uses deck bungees to secure your gear.
There is one dry storage space directly in front of the seat. The opening is just 8-inches so you can't cram a whole lot into it, but it's a nice spot for delicate items and personal gear like keys and wallets.
For customization, there are accessory mounts in front of the seat so you can outfit your boat to your precise specifications. Whether you want additional rod holders, a GoPro mount, or even a fish finder or GPS, you can make it happen without having to drill any risky holes into your boat.
On the stern is a spot where a shallow water anchor can be installed. This may take a little more work to configure the boat's brass inserts and it won't work well in deep water. But it's a great feature nonetheless that will keep you in place when you find the perfect spot.
The rudder is mounted on the underside of the hull so that it stays out of the way without sacrificing any responsiveness.
The "Mirage Drive" pedal system has gotten positive reviews and allows you to pedal forward and reverse without any trouble. It will require a little maintenance to make sure it operates at peak performance and you should exercise caution when paddling in shallow areas so the fins don't hit the bottom.
Value
You wouldn't expect a boat with a high precision pedal system and tons of features to come cheaply.
While the performance and gear is all excellent, it's hard to recommend this boat if you're a casual kayaker or newcomer. I just don't think you'll get your money's worth.
But for the passionate fisherman with the extra funds, it's hard to quibble with it.
Alternatives

The big brother, the Mirage Compass Duo adds an additional foot and a half of deck space while also being an inch wider. This gives you enough room for a second paddler (or should I say pedaler) giving you an even better top speed.
Many of the same features are here such as a specific spot for a fish finder, the anchor mount, and paddle holder.
One notable loss is the big bow storage area has been minimized significantly to give the bow seat more legroom. That's great for your speed and comfort, but it may hurt your storage space, though both seats have the same 8-inch dry storage spot.
That coupled with a load capacity of 475 pounds means it may be tough to load up all your gear and two people for too long, but this is a minor nitpick.
Newer models have the ability to go forward and reverse
Minimal storage space
Same custom features

The Outback provides many of the same qualities that Hobie is known for. It may be even more stable than the Mirage Compass, but comparing these two boats that both feel like battleships seems unnecessary.
Maneuvering is made easier by two steering handles for added flexibility and the boat comes filled with customization options like a transducer mount, four rod holders, and a big open-air stern hatch secured with bungee cords.
The load capacity feels a little light for a boat of this magnitude at 425 pounds, but that's a minor nitpick. 425 pounds should satisfy most anglers and opens up the possibility of more ambitious multi-day excursions.
Easy to maneuver through shallow water
One of the more expensive fishing kayaks
Fairly light for a pedal kayak at 85 pounds
Read our detailed Hobie Mirage Outback review.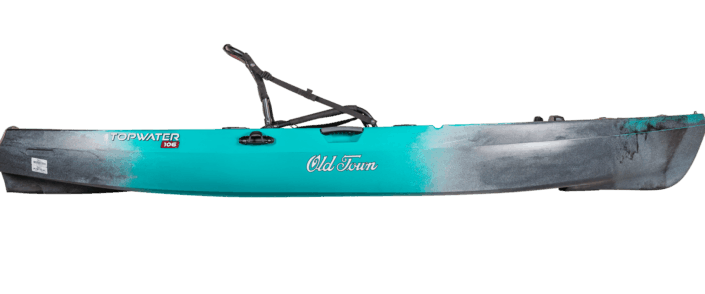 Especially good on rivers, the Topwater 106 PDL's most impressive attribute may be its maneuverability.
It can handle tight corners and little nooks with ease while being fun to handle and control. The propellers attached to the pedal system can also be raised and lowered with relative ease, allowing you to sneak over sand bars or rocks unscathed.
There's plenty of specific angling accessories included such as the two rod holders and the space to store your poles horizontally.
Some users have found the tracking to be subpar, but this deficiency is mitigated on most rivers.
The seat can only be adjusted between two positions as opposed to being on a sliding scale that some paddlers may not find comfortable.
Great stability
Easy to remove pedal drive system for shallow water
Large stern tank-well and watertight bow hatch
Read our complete Topwater 106 PDL review.
Conclusion
With a pontoon hull and tons of features, the Mirage Compass is an impressive pedal kayak. I wish there was a little more dry storage space, and the steep price will keep some people away.
But if you want to glide across the water and have all your fishing gear an arm's reach away. There aren't many kayaks out there that can provide what the Compass can.