I've spent the last weeks trying this boat on the water.
And while it's one of the cheapest pedal kayaks out there, I was quite impressed with its performance.
In this Native Watercraft Propel Slayer 10 review, we'll look at what I like about this boat, and what could be improved.
Spoiler alert: I love the customization options and the well-designed pedal system that's much easier to transport and store than many of its competitors.
Pros:
One of the cheapest pedal kayaks
Great stability with the ability to stand and cast
Multiple gear tracks allow for plenty of customization
Cons:
Shorter hull limits its performance in bigger water environments
Tracking not as great as some pedal designs
Heavy compared to traditional kayaks
UPDATE [SUMMER 2023]: The Propel 10 isn't available anywhere… I'd recommend getting the Old Town Sportsman 120 PDL instead. It's a bit more expensive but it's also faster and more stable.
Things to Consider Before Buying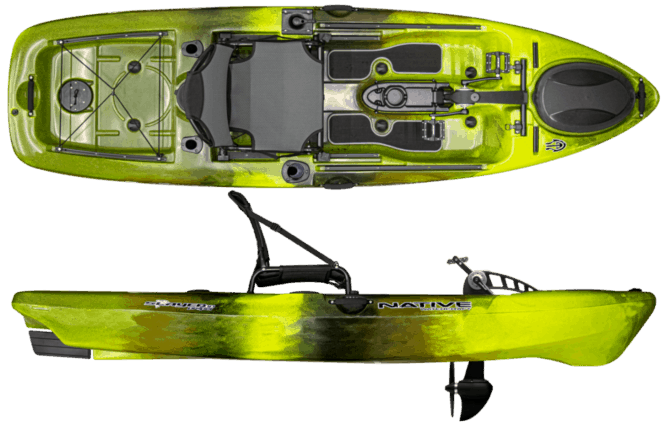 For a pedal kayak, the Propel Slayer 10 is on the short side, measuring ten feet in length. This makes it one of the easiest pedal kayaks to store and transport. You may find it can fit in the back of some pick-up trucks. But if you own a smaller vehicle, you'll probably still need to invest in a rough rack to safely transport it.
For storage, it's best to store your kayak in a protected and climate-controlled environment, though a covered shed will also be ok if that's all you have access to.
Pedal kayaks come at a higher cost than their traditional paddle cousins. While the Propel Slayer 10 is one of the cheaper pedal models, it's still a sizable investment. If you're new to kayaking or aren't sure how much you'll use it, you may be better off with a cheaper paddle design to start out.
Don't feel like you need to sacrifice quality and stability when you go down in price. There's no shortage of well-made fishing kayaks out there like the Sea Ghost 130 from Vibe that has plenty of customization options and excellent stability. The big drawback is you'll have to use your arms to propel yourself instead of a pedal system.
Using the common "sit-on-top" design, the Propel Slayer 10 has a wide hull that gives it great stability. The cockpit is big and open with plenty of room to move around and store your gear. But it provides little protection from the elements. If you're going to be travelling through a lot of rain or rough water, you may prefer a "sit-in" kayak that offers more protection.
Specifications
Length: 10-feet
Width: 34-inches
Weight: 81 pounds
Load Capacity: 400 pounds
Design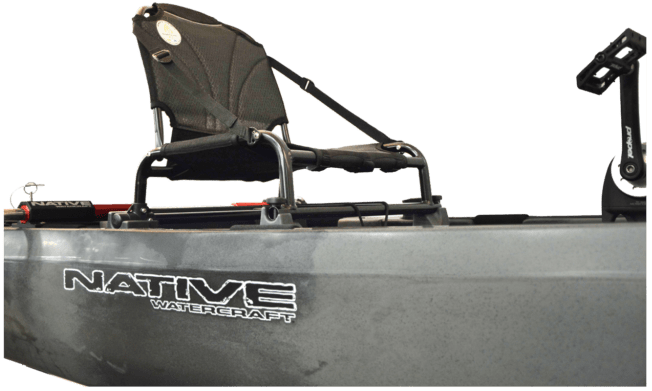 Material
Like the majority of the kayaks in its class, the Propel Slayer 10 is made of a tough and durable plastic called polyethylene. This gives the boat excellent rigidity in most water conditions and is very hard to seriously damage.
Speed
Armed with the Propel Pedal Drive System, the Slayer 10 cruises across the water with smooth and efficient grace. While the keel isn't as long as most pedal models, it still moves faster than your average kayak. Once you get the hang of it, strong paddlers can expect to hit 3.5 or even 4 miles per hour.
Maneuverability
Propel's pedal drive system allows you to easily pivot between going forward and backward, a feature that isn't available from all pedal kayak designs. This coupled with the shorter keel and impact-resistant rudder makes it great for maneuvering sharp river bends or sneaking stealthily through tight areas.
The rudder is controlled with a joystick-style system mounted on the left side of the kayak and easily accessible from the cockpit. It may take you a few times out to get the hang of it, but the whole rudder system functions.
I'd still recommend bringing a paddle along though. This gives you some redundancy and a safety net in case something happens with the pedal system. A paddle can also be useful for making tight turns in close quarters.
Comfort
It doesn't matter how fast your kayak is or how tight it can turn if you spend the whole day with hard plastic pushing into your back.
Native Watercraft has taken extra care with their kayak's comfort and the Slayer 10 is no different. The seat is well-padded and can be easily adjusted backward or forward. Breathable and durable, most paddlers should be able to spend the day on the water without feeling stiff.
Unlike some pedal kayaks, this seat design can't go up or down which can be advantageous when switching from traveling to fishing, but this is a minor quibble and isn't a deal-breaker in my opinion.
Stability & Tracking
With a beefy 34-inch hull and a tunnel hull design, you can feel confident that this boat will stay upright in most water conditions. It's rated as safe enough to stand and cast from which can give you a big advantage, allowing you to cast with better distance and accuracy while helping you spot passing schools of fish.
The sharp bow and rudder help compensate for the shorter keel length and allows it to track quite well for a boat of this length. But for me, a boat this short probably isn't safe or capable of handling bigger ocean conditions. I'd advise keeping this boat on safe bodies of water like lakes, rivers, and protected bays.
Durability
This isn't meant as a challenge, but I'd be stunned if you managed to punch a hull in the tough plastic. It should be able to handle most day-to-day collisions as well as any accidental drops or bumps.
This doesn't mean you should treat it with impunity. Whenever possible, carry your kayak to and from the water in lieu of dragging it. If you're on your own a lot, purchasing a kayak rack will help take the stress off your arms and back.
Drag only as a last resort as there's no skid plate. Prolonged or frequent drags will eventually cause the hull to peel and scratch which will harm the boat's efficiency and reduce your top speed.
Prolonged UV exposure can also weaken and warp the plastic over time. When not in use, store your kayak away from direct sunlight.
Portability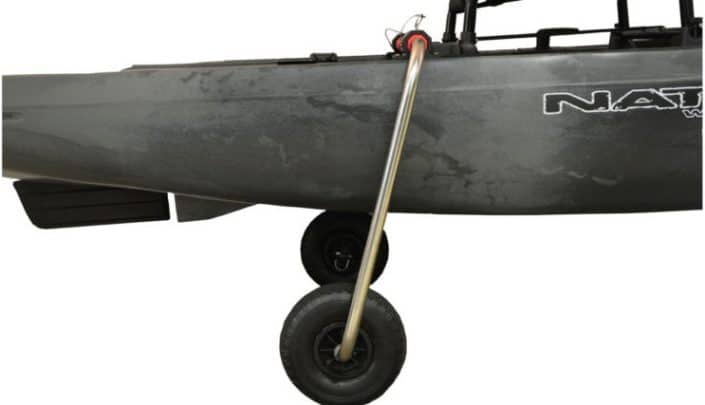 Relatively speaking, the Slayer 10 is pretty light for a pedal kayak. With the pedal drive system fully rigged, it checks in at 81 pounds, more than 20 pounds lighter than many of its competitors.
If you want to, you can remove the pedal system and carry that on its own for longer portages. This drops the total weight when empty down to a more manageable 62 pounds.
For tandem carries there are molded handles on both the bow and stern to make life easier.
Propel 10 Features & Accessories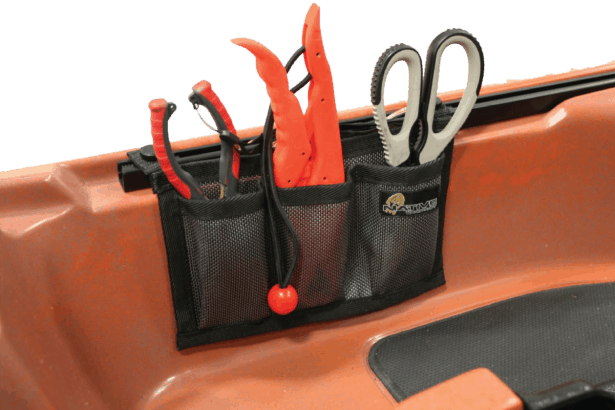 While the Propel Slayer 10 doesn't come with a bunch of included goodies like a paddle, I do like that it comes with its own scupper plugs. Many companies make you purchase these independently if you want them and they can be handy for preventing your boat from swamping when you're in rough water.
Propel 10 Fishing Ease
For a shorter fishing boat, the Slayer 10 comes with a lot of customization options and plenty of features.
Two flush-mounted rod holders are mounted aft of the seat. Groove tracks for accessory mounting are located in front of the seat. From here you can add a GPS, a GoPro, or spare tackle holders. The boat doesn't come with a paddle holder, unfortunately, so I'd advise using some of this space to install one.
There are three dedicated storage areas, two of which are waterproof. The biggest of which is the watertight bow hatch with a big 17" cover. The spacious opening gives you plenty of space to fit larger items you want to keep out of the elements like a sleeping bag or tent.
The other large storage area is open-air and located behind the seat. Perfect for dry bags, a cooler, and other oversized items, they can be secured to this tank-well area with bungee cords that are stretched over the top.
Underneath the tank well is another, smaller dry storage area with a 5" hatch cover. This is nice for personal items, but I wish they'd put it closer to the cockpit so it was easier to access while you're out on the water. 
Value
If you really want a pedal kayak but don't feel like you can justify purchasing one of the bigger and more expensive designs, the Propel Slayer 10 provides a nice middle ground.
It's still noticeably more expensive than any 10-foot paddle kayak in its class, but comes with tons of features and I'm impressed with the pedal drive system.
Native Watercraft Slayer Propel 10 Alternatives

The Outback provides many of the qualities that Hobie is known for.
Maneuvering is made easier by two steering handles for added flexibility and the boat comes filled with customization options like a transducer mount, four rod holders, and a big open-air stern hatch secured with bungee cords.
Despite almost being almost 13-feet long, the Outback is lighter than a lot of pedal kayaks that are of similar length, making it a good choice for those that will be off on their own a lot.
The load capacity feels a little light for a boat of this magnitude at 425 pounds, but that's a minor nitpick. 425 pounds should satisfy most anglers and opens up the possibility of more ambitious multi-day excursions.
Easy to maneuver through shallow water
Almost 13-feet long
Fairly light for a pedal kayak at 85 pounds
Read our review of the Hobie Mirage Outback.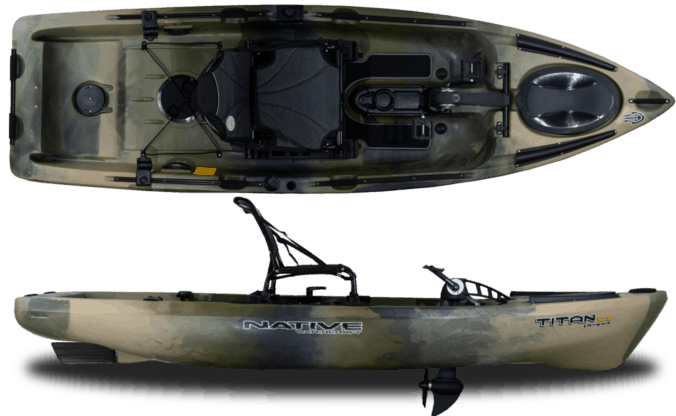 Another smaller pedal kayak model from Native Watercraft, it shares a lot of the features you can find in the Slayer 10.
It's a little wider at 37-inches so the stability is even better than its counterpart. The load capacity has also been boosted to 500 pounds, making it a slightly better choice for longer, overnight adventures, though I think the Slayer 10's 400-pound capacity is enough.
You do get a few extra odds and ends with the design including a spot on the stern deck where a trolling motor can be installed. But it's also noticeably more expensive than the Slayer 10, and to me, there are not enough upgrades to justify the large price increase.
Spot for trolling motor
Larger load capacity
Not worth the price hike

A bigger and more expensive version of the Slayer 10. Measuring over thirteen feet in length, the Slayer Propel 13 (or the newer Slayer Propel Max 12.5) is more capable of handling rough ocean conditions than its little brother. It does come at a cost though, as it's much heavier than the Slayer 10 and tips the scales at 178 pounds when fully rigged.
It's even wider than the Propel 10 at 41 inches, making it one of the bigger fishing kayaks you can buy. This gives it great stability in all conditions and you can feel confident standing and casting from it.  
You get plenty of custom features that are included in the Slayer 10 and there's even a transducer mount for a fish finder.
Fishfinder compatible
Very heavy
Excellent stability in most water conditions
Native Watercraft Slayer Propel 10 – Conclusion
So many of the pedal kayaks on the market are so big and feature-packed that the price keeps a lot of people away. That's what I like about the Propel Slayer 10 from Native Watercraft. They've found a nice middle ground that gives you a lot of a pedal kayak's bells and whistles without breaking the bank. 
If you want a pedal kayak that's cost-effective and can handle smaller bodies of water, seriously consider the Propel Slayer 10.