After finally getting my hands on this little baby after the terrible out-of-stock issue that lasted 2 years because of the Pandemic…
I'm thrilled to be able to write this Old Town Sportsman 120 PDL review.
Just read on to find out everything I like about the Sportsman PDL 120, as well as the few things that could be improved.
[Spoiler alert: This baby really is as good, or even better than I had expected it to be.]
Things to consider before buying the Old Town Sportsman 120 PDL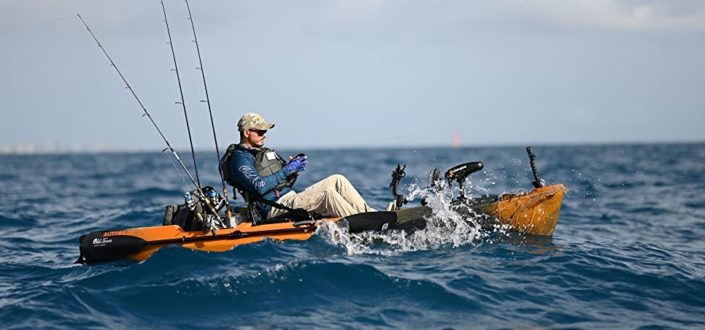 The Sportsman 120 PDL is a great pedal fishing kayak, and there's not much to keep you away from buying one.
I'd say if you plan on kayaking in saltwater, then the Salty 120 PDL would be a better fit.
If you'll be paddling on super narrow rivers and needing to make sharp turns, then the Sportsman 106 is a bit more maneuverable.
And finally, if you've got deep pockets then just go for the best pedal kayak out there − the Hobie Mirage Outback.
Apart from these few reasons, the Sportsman 120 really is a superb kayak, and I'll tell you why below.
[If you're in a hurry… I'd recommend you just Grab this amazing boat. It'll be the best pedal kayak you've ever had. Period.]
Old Town Sportsman 120 PDL Specifications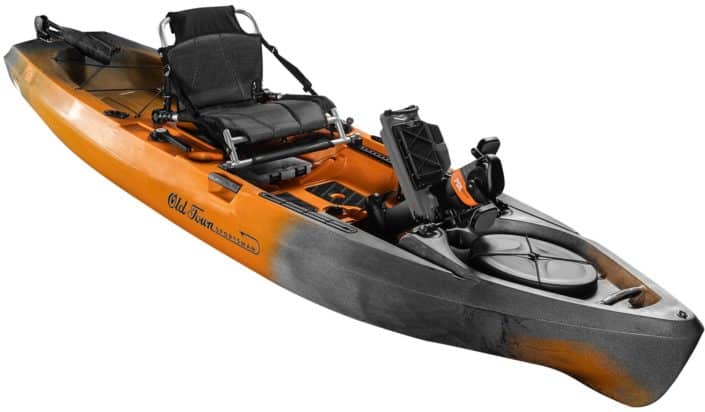 Length: 12ft
Width: 36 in
Weight: 116 lb
Load Capacity: 500 lb
Old Town fishing Kayak Design
Material
Like most pedal kayaks, the Old Town Sportsman 120 PDL is made of high-density polyethylene.
This tough and rigid plastic is almost impossible to damage and requires very little maintenance.
Even in shallow waters with rocks and dead trees, expect your Sportsman 120 PDL to last a lifetime.
Speed
First of all, the Sportsman 120 PDL isn't very long at only 12 feet, which as you know, automatically reduces top speed.
Second, this fishing kayak is meant to be stable enough to stand and cast, and that also makes it slower.
Not to mention it's particularly heavy at 116 pounds and quite wide at 36 inches.
Obviously, that's all compensated by the fact this is a pedal kayak, and since your leg muscles are much stronger than your arm muscles, you will still be able to get pretty good speed out of it.
You should definitely be faster than any regular, paddle fishing kayaks. (Or else your friends will make fun of you − as they should)
If I go as fast as I can, I'm able to coax 5.2 mph out of it. I couldn't sustain that speed for longer than 20 minutes though (although I know some who might).
All that to say the Old Town Sportsman 120 PDL is perfectly fine for day trips or short overnight excursions, but I wouldn't take it on a multi-day, 10-mile+ trip. For that, I'd rather grab a longer, lighter pedal kayak, such as the Salty 120 PDL. It's pretty much the same boat but lighter and narrower, I know people who get 6 to 7 mph out of it.
Maneuverability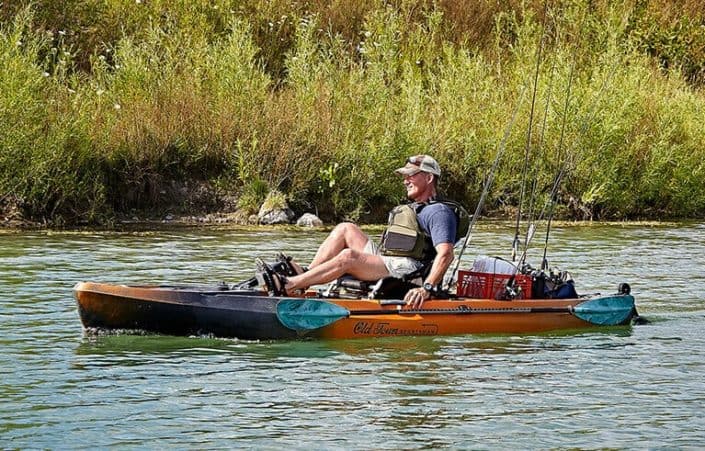 The maneuverability on the Old Town Sportsman 120 PDL is just great.
Granted, it's not as good as a Hobie, but I can still do a 180 turn within about 15 feet.
Unless you plan on needing to turn super tight in narrow rivers, the Sportsman 120 PDL will do the job pretty well.
Pedal System
The Old Town Sportsman PDL 120 pedals very smoothly. It takes little effort to go forward or backward.
I must admit I prefer Hobie's pedal drive to this bicycle-like system, but that's because I'm 6ft tall. What this means is if I try to pedal with the balls of my feet, then the heel will drag on the hull… So I have to pedal with the arch of my foot, which is a bit awkward.
So for tall guys, I'd say the Hobie's pedaling system is better in this regard. Still far from a deal-breaker though, and people under 5ft8 won't have this problem.
That said, the pedal drive is incredibly durable and backed up by a 5-year warranty. (More on that below)
Comfort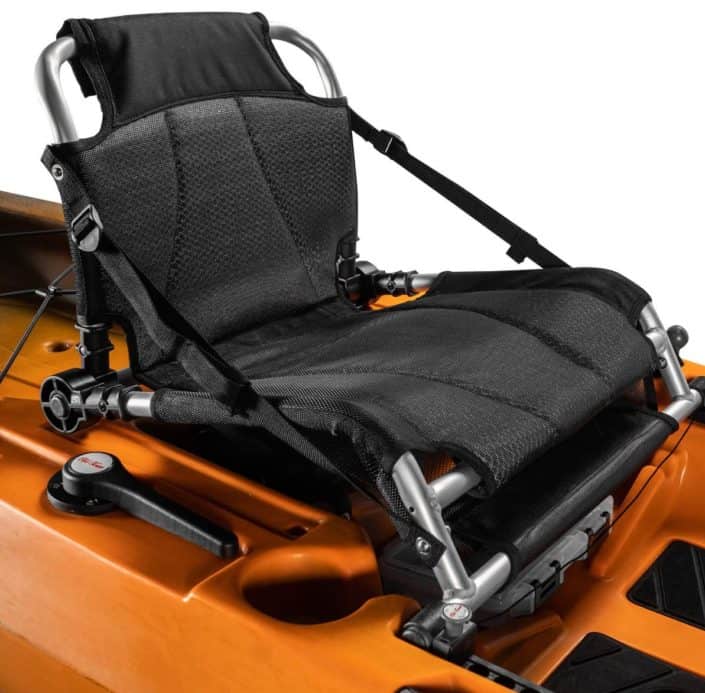 Yet again another area where the Sportsman 120 really shines.
The seat may not be as good as a Hobie's, but it's still good enough. I've gone fishing for hours with it and honestly never felt any discomfort.
I'd say the comfort is similar to a Bonafide seat, so it's pretty much one of the best (again, not as good as Hobie's). It's the same seat as on the Autopilot which is a much more expensive boat.
Also, if you're on the taller side you'll still have plenty of room for your legs. I'm 6ft tall and I'm only on the 7th hole of the seat. It gives me pretty good legroom, I can easily stand on the pad without being too close to the pedal drive.
I do wish the seat had a little bit more adjustment to it, but again, it's quite fine for fishing all day long.
It's also worth mentioning that the Sportsman 120 manages to stay spectacularly dry. It has 8 scupper holes and I hardly ever see more than a few drops of water inside.
Stability and Tracking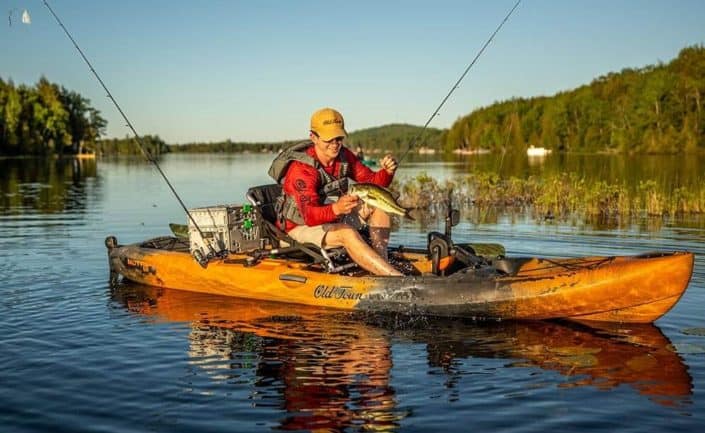 With the included rudder, the boat tracks just fine − you won't have any problems going long distances.
Stability… should I even mention it? This boat is just CRAZY stable.

Not only can you stand and cast… but you'll never have to worry about tipping over, even if you TRY to.
Case in point: I risked falling into the water for you guys. I tried standing on the nose of the boat, fully prepared to get wet. But guess what? It was a lot more stable than I thought, and there's no way I could fall even standing on the nose.
Durability
Now one thing you should know about the Old Town Sportsman 120 PDL is that it's built to last a lifetime.
Literally.
Like the hull literally has a lifetime warranty on it.
The pedal drive has a 5-year warranty, which is better than Hobie's 3-year warranty. I think Old Town really put their money where their mouth is with this warranty, they're backing up their claim of making durable boats.
One thing I'd say though is that if you have a Hobie, the pedal drive is easier to fix on your own because there are so many tutorials online. That's because the Hobie has been around so much longer.
Also, a little-known feature: the lock for the drive is made to break off if you hit something really hard, so the drive comes up and you don't damage it.
The pedal drive is built like a tank. I've hit rocks going so fast I got thrown out of the seat, but the drive didn't get any damage. And if you break the drive lock, you can just buy a new one for cheap. Definitely beats buying a new drive.
Portability
Now that's where the Sportsman 120 PDL may not be great for some.
While it's definitely MUCH lighter than the Autopilot (especially when you add the battery and motor), it's still fairly heavy at 116 pounds.
If you plan on fishing solo and getting the boat to the water on your own, I'd consider buying a kayak cart. The Boonedoxe landing gear isn't very easy to mount on this boat, although I know some people who have managed to install one.
For tandem carries, it has two handles − one on the bow and another on the stern, just like the Topwater. I personally prefer the ergonomic "T handles", but honestly two people can easily get this boat to and from the water.
Sportsman 120 PDL Features & Accessories

Like most high-end kayaks, the Sportsman 120 PDL doesn't come with extra goodies to entice buyers. This is more common in cheap recreational kayaks or inflatable boats. A lot of these come with a cheap paddle or something similar.
However, it does have a nice paddle holder (which is a definite advantage over the Topwater 120 PDL) with a "nice touch": it has added protection with a secure clip just to make your paddle extra safe.
Old Town Pedal Kayak Fishing Ease
Now, for the part you've all been waiting for… The Old Town Sportsman PDL 120 has AMAZING fishability.
It's incredibly stable, you won't ever fall while standing and casting.
I love the Instant Reverse which allows you to stop on a dime, and to stay locked in without having a "spot lock" and a motor and a battery doing all that like on the Autopilot. So great for fishing structures like a bridge or piling.
It has one forward-facing and two rear-facing flush-mounted rod holders. I also like the dedicated horizontal rod storage that's on the side and doesn't get in the way of the pedals.
You've got a storage pouch under the seat to put bait and tackle, a decent-sized storage hatch on the middle of the pedal drive, and a Humongous front tankwell storage. You can keep so much stuff in there. There's also a tankwell in the back where you can put your shoes, water bottle, backpack, additional rods…
You can install any fish finder thanks to the universal transducer mount, and it has two 18" tracks to mount lots of fishing accessories.
It only has one cup holder which isn't amazing, but hey, many fishing kayaks still don't have any to this date so… I guess it could be worse.
All in all, when you consider the comfortable seat, the great pedal drive, the amazing stability and good speed, and the many customization options… I'd say it's one of the best pedal fishing kayaks out there.
Who Is the Sportsman PDL 120 For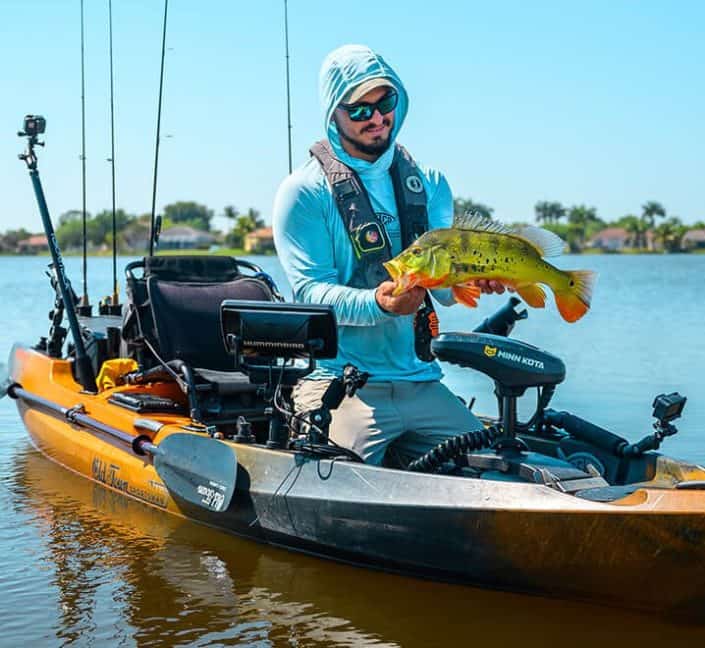 The Old Town Sportsman 120 PDL is made for all of you out there who want a stable, fast fishing kayak.
You'll be able to cover long distances and stand and cast without a problem.
I'd say it's perfect for bass fishing or in-shore fishing. If you plan on fishing in saltwater, then I'd consider the Old Town Salty PDL instead. Although the Sportsman is stable enough and you could use it in saltwater if you wanted to.
Finally, I'd say it's really HARD to find a better boat for the price. It generally sells at around $2200, and honestly, for this level of quality I think it really stands out.
If you're looking for a pedal kayak under $2500 or under $3000, then the Sportsman 120 PDL is definitely the one I would pick.
Alternatives to This Old Town fishing Kayak
Old Town Topwater 120 PDL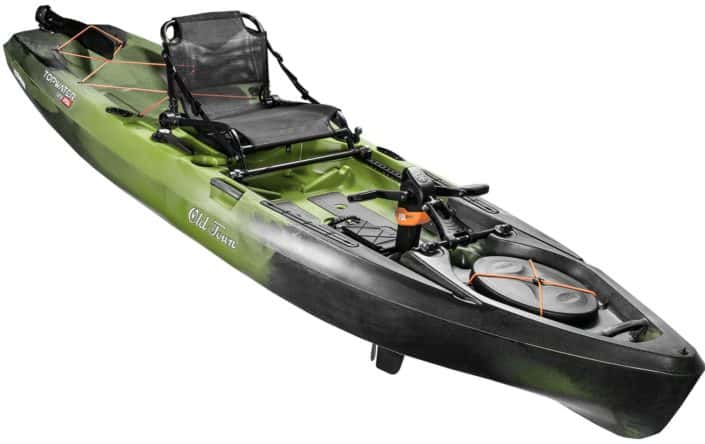 We've mentioned the Topwater PDL 120 a few times in this article, and there's a good reason − it's very similar to the Sportsman 120.
In fact, the Sportsman is the upgraded, newer version of the Topwater.
It boasts a new high-quality seat, new premium floor pads, an expanded stern tankwell, and… that's about it.
So, the only reason I'd pick the Topwater 120 PDL over the Sportsman is if you can't find the Sportsman… or if you find a great deal on the Topwater.
You can read my full review of the Topwater 120 PDL if you want to find out all the small differences.
Old Town Sportsman 106 PDL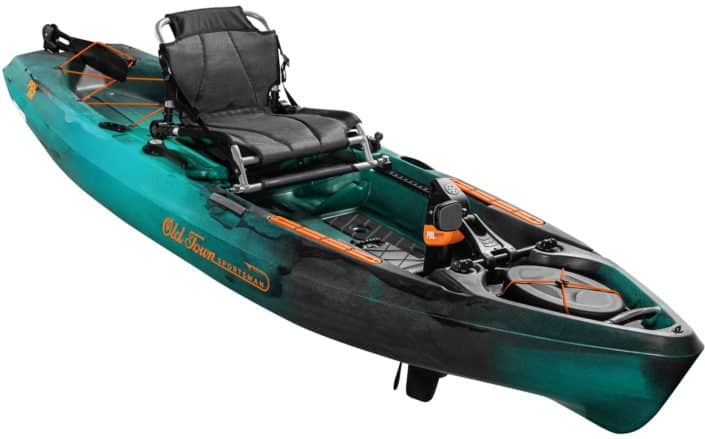 The Sportsman PDL 106, as its name suggests, is very similar to the Sportsman 120.
Because the Sportsman 106 is shorter, it's also slower and it won't track as well.
The pedal drive is actually the same on both the 106 and 120 versions, so you're still getting a great pedaling experience.
As is to be expected, the front tankwell storage is much smaller on the Sportsman 106, although the central and back storage areas are about the same.
It's a little lighter at 106 pounds, with a total weight capacity of 450 lb.
Overall, if you don't mind losing a bit of speed and if you're aren't tall, then why not grab the Sportsman 106 PDL.
Almost the same as the 120 PDL
Shorter, slightly lighter
Less storage
And that's it
Hobie Mirage Outback

If you've been in this game for more than a few days, then you know there's no way to write a review on a pedal kayak without mentioning Hobie.
The Mirage Outback is Hobie's most popular kayak, and the golden standard to compare other pedal kayaks against. Although its price does match its reputation (expect to pay around $4K for this little baby).
Because it's longer at 13 ft long and narrower, you can get better top speed out of it.
The H-rail custom system is better than Old Town's rails, although not worth the extra cost alone.
I love the handy little pockets near the seat, but again, not worth $2K.
Despite being longer, it has a weight capacity of only 425 lb, which is significantly less than the Sportsman 120.
As mentioned earlier, if you're a tall paddler then the Hobie pedal drive will be slightly more comfortable.
I'd say the biggest advantage to the Mirage Outback is that it's great for ocean fishing. It's so stable that you won't have any problems going through waves.
All that said, I'd only pick the Mirage Outback over the Sportsman 120 if you want the absolute best and money is not an issue.
Lower weight capacity of 425 lb
Great custom features
Super stability for ocean fishing
Expensive
Read my full Hobie Mirage Outback review.
Old Town Sportsman 120 PDL – Wrapping Up
Overall, I love the Sportsman 120 PDL. It's got great fishability, superb stability, pretty good speed, and great comfort.
At this price point, I can't think of a better pedal kayak, although the Salty 120 PDL is a strong contender.
Keep in mind that because it's so good, this kayak tends to be sold out. So if you can get your hands on one… just grab it before someone else does.
True story: I hesitated on buying this kayak just before the pandemic… and then I couldn't get my hands on it for over a year and a half! Needless to say I spent each and every sunny day regretting not getting it when I could.