There's no shortage of angling kayaks on the market today. And at the top of the heap are the pedal kayaks that combine speed, stability, and tons of features. One of these models is the Hobie Mirage Outback.
Based in California since 1950, Hobie has become the golden standard of pedal kayaks − for good reasons that we'll see below.
In our Hobie Outback review, we'll break down all the ins and outs of this unique and well-designed pedal kayak that is filled with features designed to improve your fishing proficiency.
I'll also talk about what I think could be improved.
[Spoiler Alert: the Hobie Mirage Outback is a beast of a kayak. Its H-rail system is the best in its class and allows for insane customization. The pedal drive is the best out there, making it maneuverable and fast as he**. If you can afford it, I don't see any better boat out there]
Pros:
Tons of custom options
The pedal system provides better top speed
Stable enough to stand and cast from
Cons:
Heavy kayak at 103 pounds
Sizable financial investment
Pedal drive system requires more maintenance
Things to Consider Before Buying the hobie mirage outback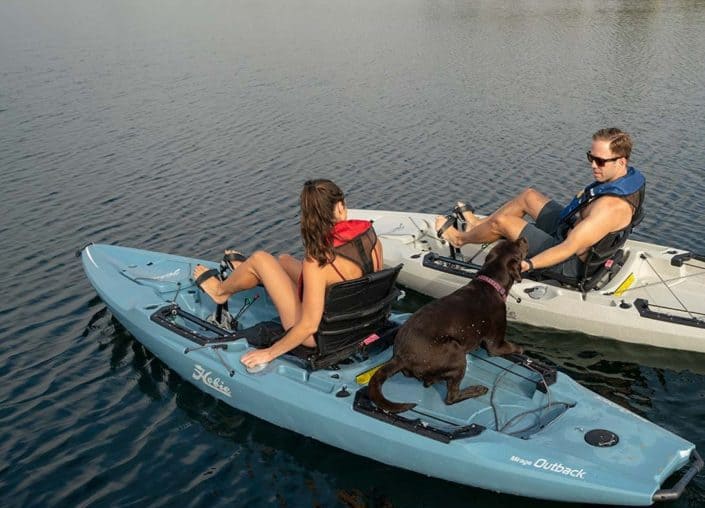 As far as fishing kayaks go, the Hobie Outback is near the top of the heap. But this comes with a sizable financial investment. If you're a passionate kayaker and angler who goes out a lot, you may be able to justify the large monetary commitment.
If you consider yourself a more casual fisherperson, there's no shortage of cheaper but well-designed kayaks like the Sea Ghost 130. These boats still have lots of custom features and durable construction at a fraction of the price. But these are paddle kayaks so be prepared to use your shoulders to get anywhere.
Like most fishing kayaks, the Hobie Outback has a sit-on-top design. These boats have a big and accessible cockpit that's easy to get in and out of with a comfortable seat for paddlers of all ages and sizes. It boasts excellent stability and you can even stand and cast with confidence, even if there are a few waves.
But if you live in a rainy environment or plan on being in especially rough water, a sit-on-top kayak may not be for you. It offers little protection from the elements so sloshing waves and rain will get you wet. You won't find a sit-in kayak with the feature list of the Hobie Outback, but they provide more protection for your body, especially if you utilize a spray skirt.
Filled with features and measuring almost 13-feet long, the Outback is really heavy, weighing over 100 pounds. This can make carrying and loading your kayak difficult, so be prepared to invest in a kayak rack for your car unless you have a big truck.
It will also need large storage space at home, preferably in a climate-controlled environment like a garage. But in a pinch, it's fine stored outside as long as it's covered.
hobie mirage outback Specifications

Length: 12-feet, 9-inches
Width: 34-inches
Weight: 103 pounds
Load Capacity: 425 pounds
hobie mirage outback Design
Material
The Outback is made of a tough-as-nails type of plastic called polyethylene. This gives the Outback a rigid frame that can handle almost any collision or accidental drop. You can be confident that your Outback will last a long time while maintaining good performance on the water.
One of the few preventative measures you should take is to avoid dragging your boat when possible. Over time this can cause the plastic to scratch and peel which can diminish your speed and pedaling efficiency.
Speed
The Outback is powered by Hobie's famed MirageDrive 180 pedal system. The design works well with minimal effort, allowing you to utilize the larger muscles in your legs to generate an impressive top speed that will leave most pedal kayaks in the dust.
You're free to use a paddle if you wish, though the design of the hull makes it more difficult to get up to speed. I'd recommend bringing a paddle along even if you don't plan on using it just in case the MirageDrive is damaged.
The third method of propulsion available with the Outback is wind power. There's a specific mount on the hull where one of Hobie's sail systems can be installed easily.
Maneuverability
The Outback can be steered with a rudder that can swivel 180-degrees in either direction for pristine control in and out of tight places. This makes the Outback capable of squeezing into narrow corners or around constricting rivers despite its wide and long hull.
Unlike a traditional pedal kayak, the rudder is controlled with a joystick system that can be used with either hand.
Comfort
Few things will ruin your kayaking experience faster than a hard plastic seat that digs into your back and leaves you sore and cramped.
Hobie has always taken pride in the quality and comfort of their seats and the Outback is no different. The Vantage CTW seat can be adjusted back and forth or up and down, giving you the perfect position whether you're traveling or fishing.
Stability & Tracking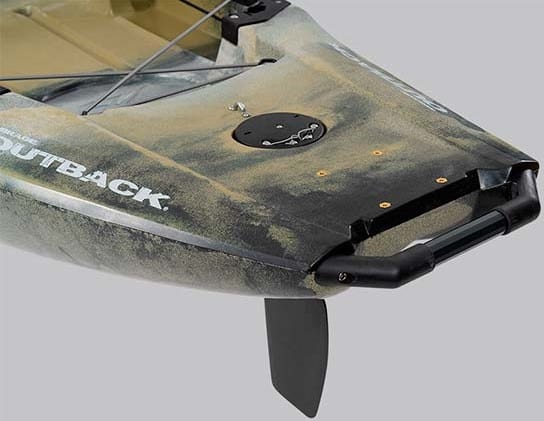 Wide and solid, the Outback feels like a battleship underneath you, even when the weather gets rough. It's more than capable of handling the sudden shifts in your weight as you land the big one.
It's so stable in fact, that you can safely stand and cast. This can give you a huge advantage for fishing as you can cast further and more accurately. It also gives you a better vantage point for spotting passing schools of fish.
There's a designated standing deck with specialized grips so that you can feel safe even if you're fishing in a little bit of chop.
At almost 13-feet long, the longer keel helps you stay on course. The rudder really helps with the tracking and allows you to stay on course even if the wind or waves are hitting you broadside.
Durability
Thanks to the tough plastic hull, you won't find a more durable kayak out there. Rocks, accidental drops, and even the occasional drag won't do too much to the structural integrity of a Hobie Outback. This is a boat meant to last for years with minimal maintenance.
One suggestion though is to store your kayak out of direct sunlight if possible. Prolonged exposure to UV rays can cause the plastic to weaken and warp over a long time. But even this can take a long time to develop.
The pedal system is tough and can handle any surprise rocks or if you run aground. The propellers can also be retracted to provide additional protection.
Portability
If you have stability, durability, and an impressive top speed, you have to expect a drawback somewhere. For the Hobie Outback, this is the weight. Polyethylene is a dense substance which makes for a heavy boat that tips the scales at 103 pounds.
It's almost impossible to move on your own, so plan on having a partner for tandem carries. Two large handles are situated on the bow and stern to make these easier.
If you're going to be on your own, it's worth investing in a kayak cart with wheels so you don't have to drag it over rough surfaces all the time.
For your car, you'll need to buy a kayak rack and the necessary straps to move it from your home to the water. If you have a larger truck, you may be able to squeeze it into the truck bed, but chances are you'll be hoisting it onto your car.
hobie outback Features & Accessories
Unlike most kayaks in this price range, the Hobie Outback comes with an included paddle. The design also comes with a horizontal paddle holder to keep it secure and out of the way when it's not needed.
Other than that, there aren't any other included goodies or features with your purchase, but this is pretty standard for kayaks in this class.
hobie mirage outback Fishing Ease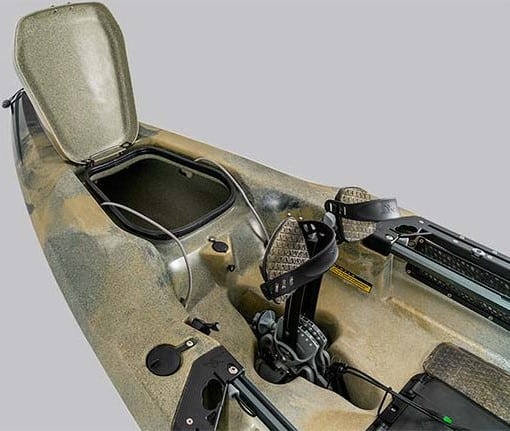 It seems like every fishing kayak has its own nomenclature for its custom feature system. The Hobie Outback has the "Hobie H-Rail" where you can mount all your accessories.
From here you can install GPS devices, fishing rod holders, a GoPro or whatever else you want. You will want to use some of this space to install a rod holder as there isn't another dedicated one on-board. The forward accessory mount is designed to have a sail installed.
There are additional side accessory tracks where you can hold pliers, knives, tackle gear, and a bungee system so you can keep it all close at hand. Altogether it's a well-designed system that keeps you stock full.
There's a spot for a fish finder, and the transducer shield keeps it protected from underwater hazards. It can be installed easily through the hull with no drilling necessary with plenty of room for side scanning.
Stability is fantastic, and you can feel at ease on the water standing and casting thanks to the EVA deck pads found just in front of the seat.
With a weight capacity of 425 pounds, the Outback is capable of longer overnight camping trips. The biggest storage area is an open-air "tank well" in the stern. Secured with deck bungees, it's a good spot for oversized gear or a tackle box.
In the bow is a large, watertight hatch for keeping more sensitive gear, though it isn't really accessible on the water. But there's a smaller watertight hatch near the deck pads which is easy to reach in most conditions.
hobie mirage outback Value
With all the included features and the intricate pedal system, the Outback is one of the most expensive kayaks out there.
Unless you're a really passionate angler, you may not get your money's worth unless you're going out all the time. If it's your first kayak, I'd recommend buying something a little cheaper to start out with and see how much you like the sport.
However, if you're a serious angler and you can afford it, the Hobie Outback is an absolute beast of a kayak that will last you a lifetime.
hobie mirage outback Alternatives
The Hobie Outback is a cheap pedal kayak, but there are higher-end pedal-drive kayaks out there. Here are a few you may want to consider.

Sharing many of the features that Hobie's other kayaks have, the Pro Angler 12 is another pedal kayak that can handle a wide range of water conditions.
It has impressive maneuverability and Hobie's famed pedal system that combines durability without sacrificing the boat's speed. The load capacity is even higher, topping out at 500 pounds, but weighs even more, coming in at 128 pounds making tandem carries almost mandatory.
The Pro Angler 14 design has a lot of similarities to the 12. The biggest difference is it's two feet longer so you can coax a little more speed out of it.
Very heavy at 128 pounds
Lots of custom features
Good top speed and can stand and cast
Read our full review of the Hobie Mirage Pro Angler 12.

A little shorter and almost 40 pounds lighter than the Outback, the Compass still has a lot of the same features. It can handle a variety of waterways and also has the stability to stand and cast from.
You also get the same Mirage Drive pedal system so you can maintain speed and move through rougher water with minimal effort.
The load capacity is a little lower and you don't have quite as many storage or custom options when compared to the Outback.
Lighter and easier to transport than the Outback
Plenty of custom features to work with
Same pedal system for impressive top speed and maneuverability
Read our detailed Mirage Compass review.

Old Town's pedal variant provides many of the same features and performance ratings as Hobie's designs.
The pedal system is a little different however as it's designed more like a bike's pedals than the back and forth motion of Hobie's. This may feel more natural to some and it makes going backwards easier in my opinion.
The pre-installed rudder gives it excellent maneuverability and the reliable stability and 13-foot long keel means you can take it just about anywhere.
Tons of storage options
Stable enough to let you stand and cast
Pre-installed brackets let you customize to your heart's content
Read our full Old Town Predator PDL review.
hobie mirage outback – Conclusion
With a well-designed pedal system and loaded to the brim with fishing features, the Hobie Outback is an impressive angling kayak.
Besides the unwieldy 103 pounds, there's little to quibble about with it.
You can't expect a boat of this caliber to come cheaply, so be prepared for a bit of sticker shock. But if you're willing to take the plunge, the Outback will get you to all your favorite fishing holes in a variety of conditions.