There's no shortage of fishing kayaks on the open market today. Whether you're looking for a cheap and simple inflatable, a boat for the weekend, or a serious kayak for all sorts of adventures, you should be able to find one for you.
At the top of this kayaking heap are the pedal kayaks. These large, unique designs feel more like human-powered skiffs than kayaks.
What sets them apart are their pedal systems that allow you to propel yourself across the water with your legs, much like you'd pedal a bicycle.
Faster, durable, and sporting great stability, boats like Perception's Pescador Pilot 12 are great for the hardcore fisherman.
After 40 years in the business, Perception's learned a thing or two about what makes a good fishing kayak, and they've funneled it into their Pilot 12.
In our Perception Pescador Pilot 12 review, we'll break down some of our favorite features with this model as well as anything to look out for.
Pros:
The seat is very comfy and removable
Lots of custom options including an anchor mount
Capable of open ocean paddling
Cons:
One of the more expensive fishing kayaks
Heavy and difficult to move or transport solo
Sit-on-top design limits it to warm weather and dry environments
Things to Consider Before Buying a Perception Pescador Pilot 12

If you're going to make a big investment in a high-end kayak like a Pescador Pilot 12, you'll want to make sure you take good care of it so it'll last a long time.
The Pilot 12 is a big kayak compared to other fishing models, measuring 12-feet, 6-inches long and as such, needs a large protected storage area. Ideally, this will be a place out of the elements and away from falling rain and snow.
If you live in a small house or apartment, you may be better off getting an inflatable fishing kayak that can fold up to the size of a suitcase and be stored in a closet.  
Make sure your vehicle is set-up to safely transport your kayak. The long keel will make it difficult for smaller trucks to carry safely in their truck bed. Smaller vehicles will want to invest in a quality kayak rack and the proper straps or webbing that will keep your kayak secure when moving from A to B.
On the water, the Pescador Pilot 12 is capable of handling ocean environments. But it is a "sit-on-top" kayak. This gives you a ton of deck space, plenty of room to move around, and easy to get in and out.
But you don't get much in the way of protection from precipitation or splashing waves. If you live in a cold, rainy environment or see yourself heading into choppy waters where waves may be splashing over the side, you may be better off investing in a "sit-in" kayak like the Tsunami 125 which will provide additional protection for you.
Perception Pescador Pilot 12 Specifications
Length: 12 feet, 5 inches
Width: 33.75 inches
Weight: 85 pounds
Load Capacity: 475 pounds
Perception Pescador Pilot 12 Design
Material
The Pilot 12 is made of one of the more common kayak materials, high-density polyethylene. While it is heavy, it's favored for its superb durability. You can be assured that this boat can stand up to most drops and collisions.
You can ensure your kayak has a long life by treating it gently. Whenever possible carry your kayak to the water's edge in lieu of dragging it. This will damage the hull over time and create scratches and peeling that can hamper the boat's speed and efficiency.
Speed
Perception's Pilot Drive system has received positive reviews for its lightweight design and easy learning curve.
It glides over the water with impressive efficiency and if you're able to coordinate your pedalling with a paddle you can coax even more speed out of it.
Another added bonus is the whole propeller system can be easily lifted out of the water, allowing you to skim over shallow gravel beds and past rocks without damaging the system.
It will require a little more maintenance than a traditional kayak to keep running at peak efficiency and it may not be a bad idea to always carry along a paddle just in case.
Maneuverability
The Pilot 12 comes with a rudder (though you have to install it yourself, don't worry, it's easy) mounted on the stern that can be easily raised and lowered. This is great for windy or wavy days where conditions can knock you off course.
You control the rudder with a joystick-style lever mounted near the seat. It's intuitive and easy to use and allows you to navigate tight corners and those little honey holes where fish love to congregate.
Comfort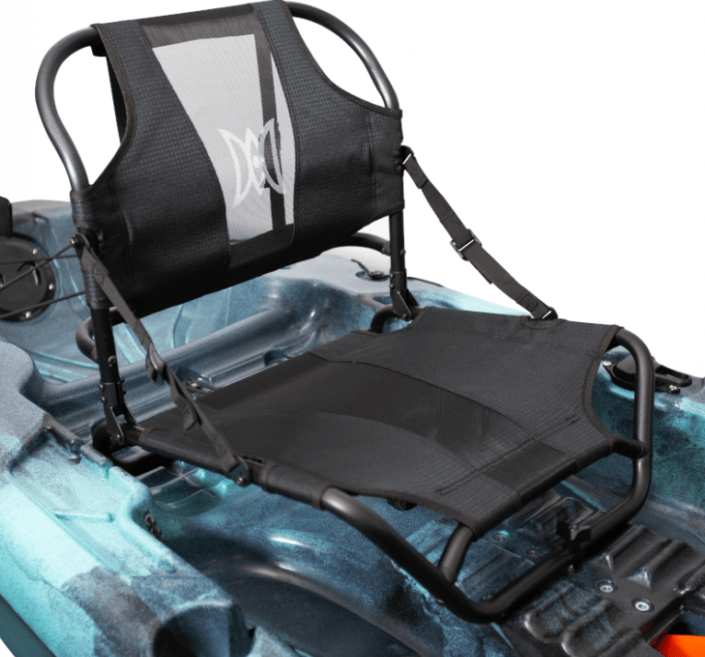 The seat on the Pilot 12 comes with everything you need to be comfortable on the water for hours.
It's well-cushioned with an ergonomic design that should be acceptable for most paddlers. Not enough? There's a mesh covering to promote airflow that will keep you from sweating on those hot summer days. On-water adjustments are easy and safe without having to worry about rocking the boat.
The seat is even removable so you have a handy camp chair to set up around the fire at the end of the day.
Stability & Tracking
The Pilot 12 isn't as wide as some fishing kayaks, but it doesn't sacrifice any stability.
In fact, it remains stable enough that paddlers of all experience levels should be able to stand and cast with confidence.
If you're new to kayak fishing, I'd recommend starting out in really calm water, but the boat should be able to handle a standing angler even in choppy or windy conditions.
The narrower hull also helps with tracking. This boat cuts through adverse conditions pretty well and can handle waves, wind, or tide hitting you from the side. I'd still recommend always utilizing the rudder though to help improve your tracking.
Durability
We've already talked about the tough plastic hull that should be able to handle any accidents that come from carrying it or paddling.
My one complaint is that I wish they'd installed a skid plate on the hull so that if you did have to move it on your own, you could drag it without fear of peeling the plastic.
For storage, it's best kept out of the rain and snow. It's also important to protect it from direct sunlight. While the plastic is UV resistant, over time these rays can begin to weaken or warp the hull. But with proper care, this polyethylene battleship should last you a long time.
Portability
One of the drawbacks to plastic kayaks is that they're heavier than other hard-sided kayak materials. A couple of nice, padded handles have been built into the bow and stern to make tandem carries easier. But with that said, it's still a heavy boat weighing over 80 pounds empty.
Always carry your kayak with nothing in the hatches, even if you and your carrying partner think you could load some gear into it. Over time, an overladen kayak will start to "bow" in the middle and warp if carried with a lot of weight in it.
Pescador Pilot 12 Features & Accessories
Most kayaks of this caliber don't come with a lot of added goodies the way entry-level boats do. There's no included paddle, although Pescador does make their own custom paddle designed for their kayaks.
You do get a five-year warranty with your purchase however should anything go amiss and detailed instructions on how to install and maintain the rudder and pedal system.
Perception Pedal Kayak Fishing Ease
Any fishing kayak worth its salt comes loaded with custom options and features all designed to help you catch more fish.
The Pilot 12 is no different. It comes with four rod holders built into the hull which are easily accessible from the cockpit. There's also an attachment point for your paddle so you'll always have your hands free to fish.
There's a mounting point for an anchor system. Bear in mind that the anchor system is sold separately.
You also get a gear track accessory system which is a common feature on fishing kayaks. From there you can install any number of gadgets from GPS and fish finders, to additional rod holders, a GoPro, or even a flag or sun cover.
The main storage areas are in the bow and the stern. The bow hatch is covered and watertight, a good place for camping gear if you're going out for the night.
The stern hatch is bigger but open to the environment. Deck bungees are stretched across this "tank well" to keep your gear secure.
Smaller storage spots have been placed around the cockpit and make a great place to keep personal items or gear you want easy access to while you're on the water.
Perception Pescador Pilot 12 Value
Pedal kayaks have great stability, speed, and all the features necessary to get you on the water and to your favorite fishing hole.
With that said, be prepared to spend a pretty penny on a pedal kayak like the Pilot 12. If you're new to the sport and not sure how much time you'll have, or if you're a more casual angler, it's probably better to go with a cheaper model.
But if you're a passionate fisherman or have the money to spend, it's hard to argue with the performance and features you get with a boat like this.
Perception Pescador Pilot 12 Alternatives

A comparable pedal model from Hobie, the Mirage Compass gives you a lot of the same features and performance as the Pilot 12.
It is a little shorter, measuring exactly 12-feet and it's a little bit wider. But these small differences shouldn't influence the boat's speed or tracking that much.
The rudder does come pre-installed and is mounted on the underside of the kayak which does make going through shallow water a little more treacherous.
There's plenty of storage, but a lot of it is open-air. So if you're going to be paddling in wet or wavy conditions where water will be coming over the side, you'll want to make sure all your water-sensitive gear is stored in dry bags.
Similar performance and custom features to the Pilot 12
Less dry storage space
Rudder placed under the hull
Read our honest Mirage Compass review.

Even bigger and heavier than the Pilot 12. The Predator PDL is 13-feet long and 113(!) pounds. If you can get past the extra weight, you'll find it boasts a lot of custom features and the same reliable stability you come to expect from a pedal kayak.
If you're newer to the sport, this is the pedal kayak I'd recommend as the stability is fantastic.
The 500-pound load capacity means you'll have plenty of space for all your gear whether you're out for the day or a couple of days.
Big load capacity
Very heavy, needs two people to safely carry
Beginner-friendly
Read our detailed Predator PDL review.

I don't mean to keep repeating myself. But the Mirage Outback is another pedal kayak that provides you with excellent stability and similar custom features to the other kayaks listed above, though there is no anchor mount in this model.
Maneuvering is made easier by two steering handles for added flexibility and the boat comes filled with customization options like a transducer mount, four rod holders, and a big open-air stern hatch secured with bungee cords.
The load capacity feels a little light for a boat of this magnitude at 425 pounds, but that's a minor nitpick. 425 pounds should satisfy most anglers and opens up the possibility of more ambitious multi-day excursions.
Read our complete Mirage Outback review.
Perception Pescador Pilot 12 – Conclusion

If you have the money and love to fish, it's hard to beat a high-quality pedal kayak like the Pescador Pilot 12.
But I understand that not everyone has the time or money to justify such an expense. There are plenty of good mid-range paddle kayaks that can get the job done for you too. But if you choose to go the more expensive route, you can fire up a Pilot 12 and know that, if you still can't catch any fish, it's not the kayak's fault.