There's no shortage of entry-level and mid-range fishing kayaks. But what if you're looking for something bigger? The cream of the crop?
With an incredible list of features including an eye-grabbing hands-free pedal system, the Old Town Predator PDL stakes its claim as one of the best.
With more than a century of experience, Old Town is one of the oldest kayak and canoe companies out there. They also produce a host of accessories to go with their boats such as life jackets and paddles.
I came away from my Old Town Predator PDL review amazed at the boat's performance and versatility.
If you're willing to make a big financial commitment and don't mind dealing with a big heavy boat, there are few that can challenge the Predator PDL.
Pros:
PDL pedal system keeps your hands free as you fish
Tons of storage options
Stable enough to let you stand and cast
Pre-installed brackets let you customize to your heart's content
Cons:
One of the more expensive kayaks in its class
Big, heavy, and hard for most vehicles to transport
Things to Consider Before Buying an Old Town Predator PDL

It's possible to fish from any kayak, but angling models have specific built-in accessories that make it much easier. The Predator PDL has no shortage of these including a pedal system that keeps your hands free to troll.
It's one of the bigger and heavier kayaks however. Make sure you have a protected space to protect what is a sizable monetary investment. Preferably this location is out of direct sunlight and rain, ideally in a garage or similar area.
Transporting will require a sizable pick-up truck. If you own a smaller vehicle, you'll likely need to purchase in a trailer to safely transport it.
The mechanics of the pedal system means that the Predator PDL is a sit-on-top kayak.
While this is fine for most situations, if you plan on fishing in rough or cold water, you may want to consider a sit-in fishing kayak like the Wilderness Systems Tsunami 125. While not as feature-rich, it does a better job of keeping you warm on those chilly days.
Specifications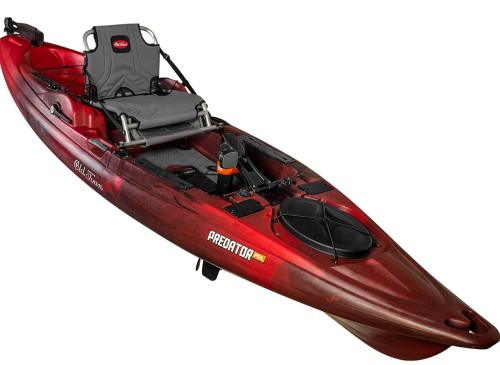 Length: 13 feet, 2 inches
Width: 16.5 inches
Weight: 117 pounds
Load Capacity: 500 pounds
Design
Material
The Predator PDL is made of a tough and durable plastic called polyethylene.
Scratch-resistant and rigid, this material can absorb a lot of bumps, scrapes, drags, and drops before it is compromised.
While it's a lot tougher than other common designs like fiberglass or inflatables, it is much heavier.
Speed

The PDL drive system operates in a similar fashion to a recumbent bike or pedal boat. Pedal forward and you activate the propeller mounted below the waterline. Pedal backward to reverse direction.
You can use a traditional paddle as well, though with the boat's width and the height of the seat I'd recommend one that is at least 250 cm in length which may feel a bit long for some folks.
Both methods generate an impressive top speed thanks to the streamlined hull and long keel.
Maneuverability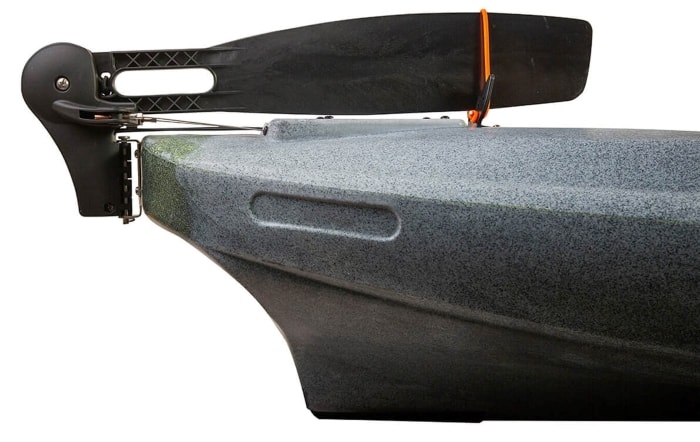 A rudder is included on the base model of the Predator PDL. Unlike most kayak rudders that are controlled with your feet, there's instead a knob on the hull next to the seat that controls your direction by twisting it left and right.
It took me a little bit to get the hang of this new method of steering, but once I figured it out I found it intuitive and efficient.
Despite its size and weight, the Predator PDL can fit into a lot of tight corners once you've mastered the steering mechanism and drive system.
Comfort
Many angler kayaks have well designed and comfortable seats to keep you fishing all day. The Predator PDL is no different. A fine mesh finish covers the ample padding and helps wick splashing water away from you.
For added security, the seat can be strapped to the hull for transport.
The seat is fully adjustable so you can lean back or sit up as straight as you like.
It can accommodate a wide range of paddlers thanks to the seat's track system which lets you slide the seat forward and backward smoothly and easily.
Stability & Tracking
At 36-inches wide, the Predator PDL allows most users to stand and cast with confidence. I always get more distance and accuracy with my casts when I'm standing as opposed to sitting, so having a boat stable enough to let me stand is a huge plus.
In transit, it can handle moderate wind and chop. I don't know how I'd feel about taking sizable waves over the bow, but if the weather is that rough, I don't want to be fishing anyway.
The long hull helps this boat maintain its course through wind and waves making for a smooth and stress-free paddling experience.
The PDL drive system comes in handy when trying to hold your position while fishing.
Between the pedals and the steering knob, you should be able to hold your spot regardless of what direction the wind is blowing.
Durability
You're gonna have to work to put a hole in this boat.
It's a tough, durable vessel that can put up with the majority of collisions or mistakes. But treating your boat well will increase its lifespan.
Carry your boat to and from the water's edge whenever possible. This will save unnecessary wear and tear and prevent scratches.
Even if they seem superficial, enough scratches will degrade the plastic, decrease the boat's speed, and lower the overall performance.
Portability
Probably the most challenging and difficult aspect of the Predator PDL is just getting it to the water. It's a fair tradeoff for the cornucopia of features and pedal system, but it can still be frustrating.
Unless you own a large truck, you'll almost certainly have to purchase a trailer to transport it and some truck beds may even require an extender to safely load it.
Once you've reached the beach, the boat does have some nice carry handles to help with tandem carries and bigger handles on the bow and stern allow you to slide it short distances.
But the awkward length and 117-pound weight when empty will almost certainly require a second person to safely move it around.
Features & Accessories
The Predator's rudder system is built on a slick pulley system with a simple handle set-up that allows you to easily deploy and retract it.
While it's a boat designed to be peddled more so than paddled, there's still a handy bracket-type paddle holder to keep one secure and close at hand.
Fishing Ease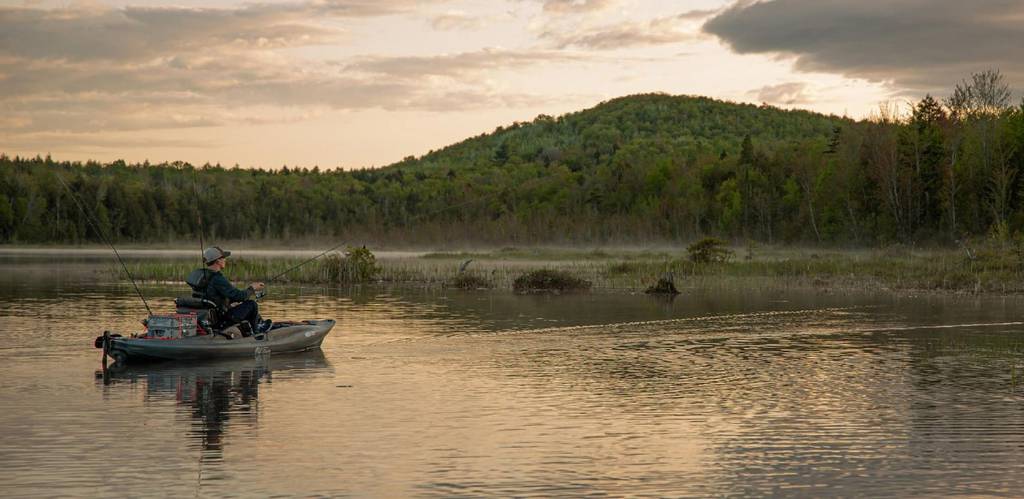 Where to begin? The Predator PDL has just about everything you'd want in a fishing kayak.
There's a large watertight bow hatch and another one in front of the seat. Little pocket-style compartments have been built next to the seat and are the perfect place to keep extra lures.
Six mounting brackets are scattered along the hull, designed to hold any number of fishing tools from extra rod holders to depth finders and anchor mounts.
The base design allows you to bring three rods with you. These rod holders are plenty deep and will keep your poles in place as you paddle.
The seat is very comfortable and situated high enough to allow you to cast with accuracy. But the Predator PDL is more than stable enough to let you stand and cast if you desire.
Both the rudder and pedal systems are quieter than you'd expect so you don't have to worry about scaring your quarry when you switch positions.
Value
The Predator PDL is not a boat for beginners.
It's very stable and easy to maneuver, but the size, accessories, and PDL pedal system make it one of the more expensive fishing kayaks.
If you're looking for a simple boat for the occasional weekend paddle, you probably won't get your money's worth.
But if you see yourself as a hardcore angler who plans on spending a lot of time on the water with a rod in your hand, it's hard to go wrong with the customization options and intuitive pedal system.
Testimonials
I spent some time looking online and found mostly positive reviews for the Predator PDL.
Most praised the stability as well as the speed of the PDL system.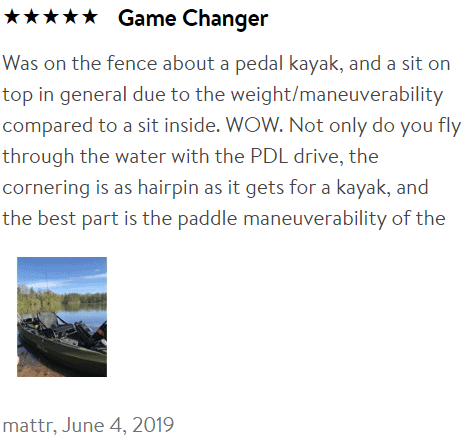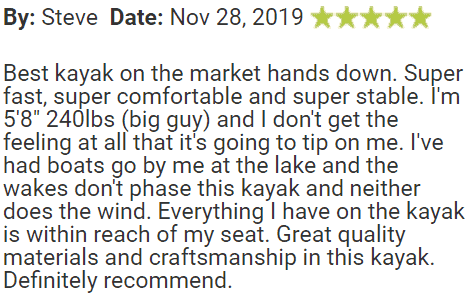 Alternatives

Even larger, wider, and heavier than the Predator PDL, the Hobie Pro Angler 14 is another high-end fishing kayak.
This thing feels more like a boat than a kayak underneath you. It's incredibly stable and standing up in it is a breeze.
The rudder and pedal system work well together and a pair of "turbo fins" enhance the tracking and make it capable of handling rough conditions with ease.
The pedal system has been improved from previous models and when incorporated with the fins and long keel make it one of the faster angling kayaks despite its weight.
You'll find similar shortcomings in the Pro Angler 14 as you do in the Predator PDL. It performs great on the water but getting there is a chore and most retailers have it listed as even more expensive.
Turbo fins and improved pedal system makes for user-friend peddling
Accessory mounts for plenty of customization
Weight and cost could be a deterrent
Read our detailed review of the amazing Hobie PA 14.

A smaller and cheaper fishing kayak is the Old Town Topwater 120 PDL.
It comes with a lot of the same features as the Predator PDL with plenty of storage, customization options, and a paddle holder.
But if you want a rudder you'll have to install it yourself and there's no pedal system built into the design.
And while it is shorter, it still measures 12-feet long and weighs 82 pounds.
Moving it by paddle isn't a problem, but don't expect to go as fast as its big brother. Tracking is fine thanks to the long keel, but without a rudder, the boat can get knocked off course.
Cheaper and with plenty of high-end accessories and customization options
Plenty of storage and the large load capacity allows for multi-day trips
No rudder included
Maneuverability and tracking is compromised in rough water
Read our honest review of the Topwater 120 PDL.

The same length as the Predator PDL, the Hobie Mirage Outback has a ton of features but weighs a svelte 85 pounds.
While the load capacity is a bit smaller at 425 pounds, it should still be enough for most multi-day trips.
A narrow and efficiently designed bow makes it a fast kayak while not sacrificing any stability and the new pedal system runs smoothly.
A pair of standing pads flush with the bow hatch makes for a great platform to stand and cast from.
The new keel allows for tighter turns and is invaluable with a big fish on the line.
Lighter than most pedal style fishing kayaks
Nice combination of stability and speed
Several gear tracks for customization
Smaller load capacity may limit the length of trips for some paddlers
Read our full review of the Hobie Outback.
Conclusion
With a host of customization options, impressive maneuverability, and the hands-free pedal system, the Predator PDL sits at the top of the fishing kayak pyramid.
If you have the financial flexibility and time to devote to fishing, it's hard to find a boat that compares.
But if you feel that you don't fit in that category, the burdensome weight and logistical challenge of transporting it may not be worth the effort.
If you're looking for a less intensive boat, there are plenty to choose from. But from a pure performance standpoint, it's hard to argue with the Predator PDL.