I've spent a few days on the water and 20+ hours comparing online reviews and talking with fellow anglers.
In this Hobie Pro Angler 14 review, I'll tell you what I love and what I hate about this iconic pedal fishing kayak.
Spoiler alert: It's a pretty darn good boat.
Pros:
Tons of storage space
Stable enough to stand and cast
Easy to customize
Cons:
Very heavy
Short area maneuverability is poor
One of the most expensive kayaks
Things to Consider Before Buying the Hobie Pro Angler 14

Like most pedal kayaks, you can expect a little bit of sticker shock when you see the price. You get what you pay for though and the Pro Angler 14 comes with plenty of features and great stability.
If it feels a little rich for you, there are plenty of cheaper paddle kayaks out there like the Sea Ghost 130 that have great stability and enough custom features to get you on the water.
The Pro Angler 14 is a sit-on-top kayak like most fishing kayaks. While this gives it great stability and makes it easy to get in and out of the open cockpit, it doesn't provide much protection from the elements.
If you live in a cold or rainy environment, I'd suggest investing in some really good rain gear or even a dry suit so you stay comfortable. If protecting yourself from the elements is most important, consider choosing a sit-in kayak instead. These are narrower without sacrificing stability and protects your legs and lower torso from rain and splashing waves.
Hobie Pro Angler 14 Specifications
Length: 13 ft 8 in
Width: 38 in
Weight: 144.5 lb fully rigged
Load Capacity: 600 lb
Design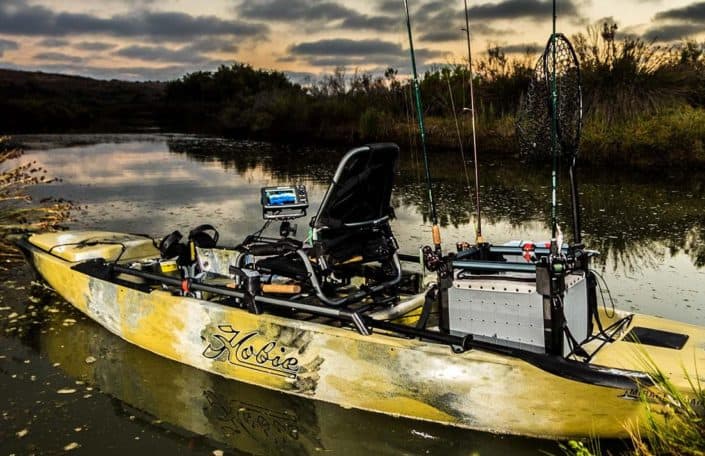 Material
Like most fishing and recreational kayaks, the Hobie Pro Angler 14 is made of a tough and durable plastic called polyethylene.
Rigid and tough to damage, this material can last a long time with minimal care and a few basic handling techniques. Bumps and collisions shouldn't do much to it, and it's almost impossible to put a hole in the hull.
Speed
The Pro Angler 14 has Hobie's famed MirageDrive pedal system so you pedal the boat like a bicycle. Durable, efficient, and easy to use, the drive system propels you across the water with ease and impressive speed.
A kayak's speed is often correlated with its keel length, and at almost 14-feet long, the Pro Angler is on the longer side of fishing kayaks. This should allow you to outpace most competing pedal kayaks and all paddle designs. If your favorite fishing spot is far away, this is a great model to cut down on travel time and increase your time with a hook in the water.
Maneuverability
Since your feet are busy with the pedal system, the Pro Angler 14's rudder is controlled with your hands. There are two joystick-style steering mechanisms, one on each side of the cockpit to accommodate both left-handed and right-handed anglers.
The boat is responsive and users of all experience levels should be able to get the hang of it with little trouble.
While it is easy to steer. It's not as capable of making tight turns as some of its competitors. This isn't due to a design flaw, but simply the mechanics of having a longer-keeled boat. If you need to maneuver around a lot of tight corners or really narrow rivers you may find yourself having a little more trouble.
Comfort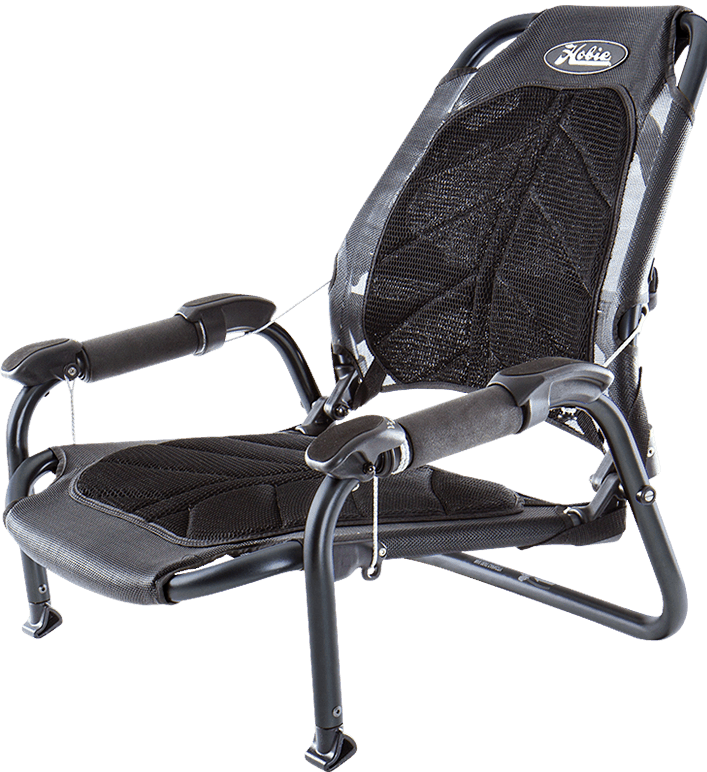 A fishing kayak is only as good as its seat. It's hard to have fun if you have a hard plastic seat digging into your back.
Hobie has you covered with a comfortable seat complete with a mesh covering to keep you cool on those hot summer days.
Fully adjustable, the seat can be moved forward or back so that paddlers of all heights and builds can find the perfect spot.
Even better, the seat can be raised and lowered. Having a higher vantage point isn't good for traveling as it will reduce the boat's stability. But being able to cast from a higher seating position is a huge advantage. It allows you to get better distance and accuracy on your casts and also helps with spotting passing schools of fish.
Stability & Tracking
The Pro Angler 14 comes with a fold-up tracking skeg to help keep you on course in a variety of weather conditions. Combine that with the long keel and rudder, and this is one of the better boats when it comes to maintaining your course while traversing turbulent or windy water.
Stability is equally impressive and you should feel confident casting and reeling in the big one without worrying about tipping over. At 38 inches wide, it's one of the broader fishing kayaks on the market.
The Pro Angler 14 is rated as stable enough to stand and cast from and comes with a specific platform for just that. The platform comes complete with grip pads so you'll feel like you're on solid footing at all times.
Durability
This isn't a challenge, but you're going to have to work pretty hard to damage this boat.
I do wish they'd installed a skid plate on the hull. With such a heavy boat it feels inevitable that you'll need to drag it at some point. Try to minimize this as much as you can. While it won't punch a hole in it, prolonged dragging will scratch the hull and cause the plastic to peel. This can minimize the boat's speed and efficiency over time.
Prolonged exposure to UV rays can weaken, thin, and warp the plastic over an extended period of time. If possible, store your kayak out of direct sunlight when not in use.
Portability
You can't have everything, and I can't fault the Pro Angler for weighing 144 pounds fully rigged. With a boat this big and durable, there has to be a trade-off somewhere.
If you're going to be on your own, I'd highly recommend investing in a kayak cart to make those solo portages easier.
If you're lucky enough to have some help, the Pro Angler 14 does come with two large plastic carry handles on the bow and stern. This helps, but I wish they'd included another pair of handles alongside the seats to make carries with three or four people easier.
Pro Angler 14 Features & Accessories
Most kayaks in this price range don't come with a lot of bonus goodies. Partly this is because the boats are already packed with features, but also because it's assumed people in this price range already have a lot of the necessary accessories.
I'm a big proponent of bringing along a paddle, even if you don't plan on using it. It's an extra safety measure in case something happens with the pedal system. Unfortunately, the Pro Angler 14 doesn't come with a paddle holder, but you can add one on the H-Rail accessory system if you'd like.
Hobie Pro Angler 14 Fishing Ease
Virtually all fishing kayaks come with some sort of custom system that allows you to accessorize your boat however you want.
Hobie's boats have what they call an H-Rail mounting system. There's one on each side of the boat just in front of the seat. From here you can easily install a GPS, extra rod holders, a GoPro, or whatever else you'd like to bring along without having to drill any holes in your new boat.
There's plenty of rod holders built into the hull. Two vertical mounting points are found behind the seat and there's space to store more fishing poles horizontally in front of the MirageDrive pedal system.
With a 600-pound load capacity, you'll want plenty of room for all your gear. For storage, the Pro Angler 14 has a mammoth, watertight bow hatch which should be more than enough space for all your water-sensitive gear and your camping stuff.
To store all of your tackle and smaller items, there's another dry hatch located in the middle of the boat just in front of the seat. An intuitive tackle management system has been built into it to keep you organized. No more rats nest of fishing lures with intertwined hooks for you!
A final 8" hatch is in the stern. The lid is connected to the boat so you won't have to worry about leaving it behind. It's placed below a large "tank-well" open-air storage space for oversized items that can get wet. This is secured with bungees so there's no need to worry about your items being washed overboard.
Hobie Pro Angler 14 Value
Fair warning, this is one of the most expensive fishing kayaks on the market. Between the pedal system, the size, and all of the extra gadgets, you definitely get what you pay for with this boat.
If you're just getting started or are more of a casual angler, I imagine that it'll be hard to get your money's worth. Maybe consider purchasing a cheaper paddle kayak first to see how you like it.
But if you have the financial means and are passionate about fishing, it's hard to find a boat more capable of getting you to your favorite fishing hole quickly and safely.
Hobie Pro Angler 14 Alternatives
The Hobie Pro Angler 14 is easily the best pedal fishing kayak if you can afford it. However, if your budget is more limited, you may want to check the alternatives below

A little shorter and lighter than the Pro Angler 14, the Outback still comes with plenty of custom features and ample storage space.
It weighs just over 100 pounds so it can still be a difficult kayak to move, but is more manageable. It's also about a foot shorter so the turn radius is a little tighter.
You do sacrifice some in load capacity as it's "only" 425 pounds. But this should still be plenty for weekend trips and even more if you pack wisely.
Tons of customization features
Comes with Hobie's MirageDrive pedal system
Still pretty heavy and expensive
Read our full review of the Hobie Mirage Outback.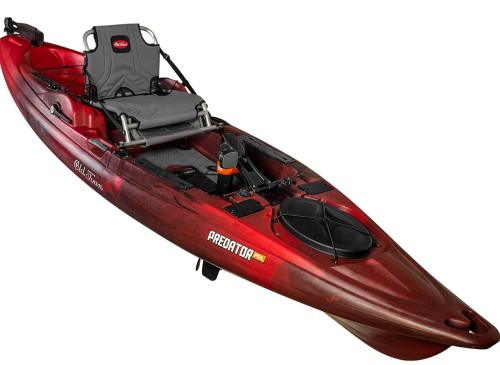 The Predator is more than 13-feet long and features a huge 500-pound load capacity. It's more than capable of handling ocean swells and makes a great choice for those that plan on spending a lot of time on saltwater. (Pair it with the best rod and reel combo for saltwater).
Mounting brackets, rod holders, and a comfortable seat highlight the boat's features and the pedal system is quiet, smooth, and efficient, allowing you to move across the water without scaring your prey.
Big, stable, and capable of handling ocean swells
More expensive
Weighs 117 pounds
Read our full Old Town Predator PDL review.

The little brother of the Hobie Pro Angler 14, you can expect a lot of the same features as the Pro Angler 14 but in a smaller package.
The maneuverability is noticeably better thanks to the smaller keel, but it won't be able to keep up with its longer keeled brother all things being equal.
Since it's a little shorter it usually comes a little cheaper but you can still expect to spend good money on this model.
Custom features include the H-track rail system as well as plenty of space for a GPS and room for multiple fishing poles.
Many of the same features as the Pro Angler 14 but in a smaller package
Very stable and capable of ocean fishing
Better maneuverability than the Pro Angler 14
Read our full review of the Hobie Pro Angler 12.
Hobie Pro Angler 14 – Conclusion
Absolutely stuffed with features and sporting some of the best stability in its class, the Pro Angler 14 sits near the top of the fishing kayak heap.
If you're willing to spend the money, the Pro Angler 14 really is a solid investment.
But if you consider yourself a more casual paddler or don't have the money to invest in such an expensive boat, I'd recommend the cheaper Hobie Mirage Compass instead.