At the top of the kayaking pinnacle are the pedal kayaks. Fast, maneuverable, and incredibly stable, they come at a steep price but easily outclass their cheaper paddle kayak brethren.
One such design is the Mirage Pro Angler 12 from the California-based Hobie. They've been in business since 1950 and today specialize in a wide range of products including both pedal and paddle kayaks.
In our Hobie Mirage Pro Angler 12 review, we'll give you a detailed breakdown of the boat's features and on-water performance. If you're looking for a high-end kayak designed to maximize your fishing output, you've come to the right place.
Pros:
Lots of custom features
Impressive top speed
Very stable
Cons:
One of the heaviest kayaks out there
Sizable financial investment
Pedal system will take some upkeep
Things to Consider Before Buying a Pro Angler 12

As far as kayaks go, the Pro Angler 12 is one of the more expensive models on the market. With its pedal drive system and extra features, it will require a sizable financial investment.
If you're a more casual angler or are new to kayaking, there's no shortage of mid-range or entry-level kayaks at a fraction of the price. Consider trying out a boat like the Sea Ghost 130 from Vibe Kayaks which offers excellent stability and lots of custom options at a considerably lower price.
The Pro Angler 12 is a "sit-on-top" kayak, the most common design for angling kayaks. This gives you a wide cockpit with plenty of room to operate. It's also a wide boat so it has excellent stability and even allows you to stand and cast without fear of capsizing.
But it offers little protection from the elements. If you're traveling through splashing waves or a rain cloud, be prepared to get wet unless you're properly outfitted.
If you're planning on traversing rough water or live in a really rainy environment, you may want to consider either investing in really good rain gear or going with a simpler but more protected sit-in kayak. These provide more coverage, especially when you wear a spray skirt.
The Pro Angler 12 is a decent size, measuring 12-feet long and 36-inches wide. It's one of the heavier kayaks out there though weighing 128 pounds. This does introduce some logistical challenges when it comes to storing and transporting.
Make sure you have a large enough protected storage space and a vehicle that can safely transport your kayak via either a large truck bed or a rough rack.
Specifications
Length: 12-feet
Width: 36-inches
Weight: 128 pounds
Load Capacity: 500 pounds
Design
Material
The Pro Angler 12 is made of a tough plastic called polyethylene. Rigid and difficult to damage, the hull can absorb most bumps and collisions and keep on going. While putting a hole through this boat is difficult, the more careful you are with your boat the longer it'll last.
There's no skid plate on the hull, so it's best to avoid dragging it over rough surfaces. Over time, scratches and accumulated peeling plastic can decrease the boat's efficiency and speed.
Speed
The pedal drive system is smooth and makes for efficient pedaling that will speed past most paddle kayaks. Instead of pedaling like a bicycle, the Pro Angler's system pivots your legs back and forth while the propeller spins like a rotor.
It's a unique design but when combined with the sleek hull, it gives you an impressive top speed that allows you to cover long distances you wouldn't dream of in other kayaks.
Maneuverability
The Mirage Pro Angler has a skeg and a rudder, both of which are retractable. The rudder is controlled with a joystick-style system that can be easily installed on either side of the cockpit. You can even adjust the responsiveness of the stick to get better control over your turn radius.
Altogether it allows the Pro Angler 12 to squeeze into tight spaces and around sharp corners with little trouble while giving you premium control.
Comfort
Today there's no reason to endure a hard plastic seat with little support. Hobie has always taken great pride in their seat design and the Pro Angler 12 is no different. The "Vantage VT" seat is comfortable and adjustable with excellent lumbar support for paddlers of all sizes and heights.
The seat bottom, back, and lumbar support are all easily adjustable, even on the water so you can transition seamlessly from a pedaling position to one more advantageous for fishing at the drop of a hat.
Stability & Tracking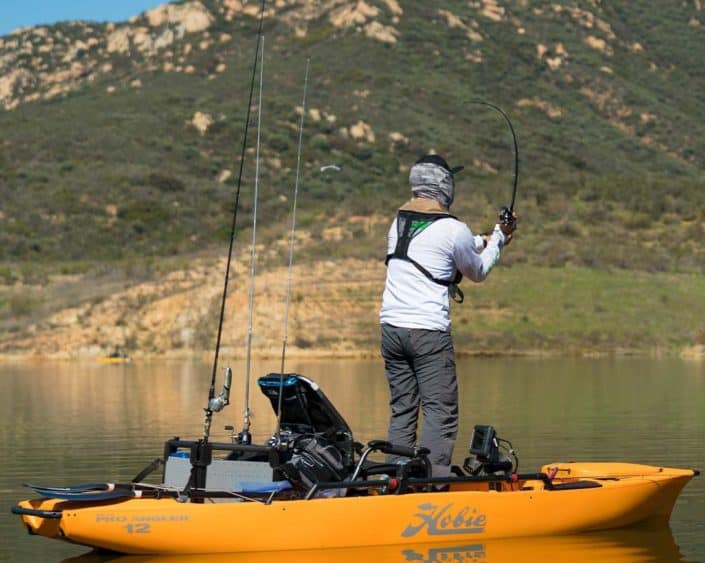 A fishing kayak won't do you much good if it feels wobbly while you're fighting the big one. Measuring 36-inches wide, the Pro Angler 12 has excellent stability so anglers of all experience levels can feel comfortable.
The boat is rated for standing and casting which can be a huge advantage. Standing allows you to get better range and accuracy on your cast and you're better able to spot passing schools of fish.
A standing platform is located in front of the seat complete with deckpads to ensure that you have excellent traction while you fish.
Between the retractable skeg and rudder, tracking is not an issue with this design. Even in wind and waves, you should be able to maintain your course and get back to shore with little trouble. The pedal system allows you to have pristine control over your speed and acceleration which helps with your tracking even more.
Durability
The plastic hull should ensure that you're Pro Angler 12 lasts a long time. But with such a sizable financial investment, it's important to baby your boat whenever possible. When not in use, store your kayak out of direct sunlight as prolonged UV exposure can weaken the plastic hull over time.
On the water, there's little that can damage it. I love the rotor's design. They're tough and well made, and when they come in contact with an underwater obstacle they automatically retract upward to prevent damage.
Portability
Great stability, speed, durability… something has to give right?
In this case, it's the weight. While not overly long at 12-feet, the Pro Angler 12 weighs 128 pounds empty. This can make it almost impossible for single paddlers to carry on their own.
While I don't condone dragging kayaks to the water, you may not have a choice sometimes. If you'll be on your own a lot, I'd recommend investing in a small kayak cart so you can wheel your boat to the water and take the stress off your arms and the boat's hull.
Large plastic handholds are installed on the bow and stern to make tandem carries easier.
Features & Accessories
While designed to be moved strictly with the pedals, it doesn't hurt to bring along a paddle for redundancy just in case. There isn't a paddle holder incorporated into the design, but with a boat this big, finding a spot to keep it stored shouldn't be too hard.
Anchor mounts have been strategically placed on the bow and stern of the Pro Angler 12 for easy installation thanks to the brass inserts. Drift chutes and stakeout poles can also be easily installed from these points.
Cheaper recreational and fishing models sometimes come with included goodies as extra value. But in this price range that's not the norm so don't expect any bonus accessories with your purchase.
Fishing Ease

The Mirage comes with an H-Rail mounting system that allows you to mount just about anything on your boat. The level of customization is really impressive. Whether you want additional rod holders, mounting plates, cameras, a GPS, even cup holders, you can do it all without ever having to take a drill to your new boat.
Two rod holders are incorporated into the design that allow you to store poles horizontally.
It also comes with a Guardian Transducer Shield that allows you to safely install a fishfinder. The shield does a great job of protecting your fishfinder from underwater hazards and includes a nice mount in the cockpit for easy access. The shield can be retracted for shallow water travel or when loading the boat onto a trailer or cart.
There's a ton of storage options with this boat thanks to a big watertight bow hatch and even larger open-air stern storage area. The stern deck is secured with bungee cords making it a good spot for those bulky or overly large items. Another smaller watertight hatch with an 8" inch opening can be found beneath the stern storage area.
With a load capacity of 500 pounds, the Pro Angler 12 is more than capable of handling weekend trips or even longer with plenty of space for all your camping and fishing gear.
Value
Chock full of custom options and brimming with extra features, you can't expect a boat of this magnitude to come cheaply and the Pro Angler 12 is one of the more expensive kayaks on the market.
It's certainly worth the investment in my opinion, but if you're a casual kayaker looking for the occasional weekend fishing trip, you probably won't get your money's worth.
But if you're a passionate angler with discretionary income and a reliable way to transport this beast of a kayak, there are few that can compete with the stability, speed, and custom feature options.
Alternatives

Even bigger than the Pro Angler 12, the 14-foot model is an even longer version.
At almost 14-feet long and weighing 120 pounds, it's not the easiest kayak to transport, but when it comes to fishing there's not much it can't do.

Featuring six rod holders, the Pro Angler 14 also has a specific "live tank" storage area to keep either live bait or your catch.
Incredibly stable, you can stand and cast with confidence in a variety of conditions from the standing deck while a lean bar ensures you keep your balance.
Faster than a traditional kayak, it's also quieter when you're pedaling allowing you to sneak up on fish.
Be prepared for more upkeep and maintenance to keep your Mirage Pro Angler 14 in prime working condition.
Requires more maintenance than traditional kayaks
One of the more expensive kayaks
Can handle mild chop and wind
Read our honest Mirage PA 14 review.

The Outback provides many of the same qualities that Hobie is known for.
Maneuvering is made easier by two steering handles for added flexibility and the boat comes filled with customization options like a transducer mount, four rod holders, and a big open-air stern hatch secured with bungee cords.
Despite almost being almost a full foot longer, the Outback is lighter than a lot of Hobie's other pedal models making it good for solo paddlers.
The load capacity feels a little light for a boat of this magnitude at 425 pounds, but that's a minor nitpick. 425 pounds should satisfy most anglers and opens up the possibility of more ambitious multi-day excursions.
Easy to maneuver through shallow water
Almost 13-feet long
Fairly light for a pedal kayak at 85 pounds
Read our detailed Hobie Outback review.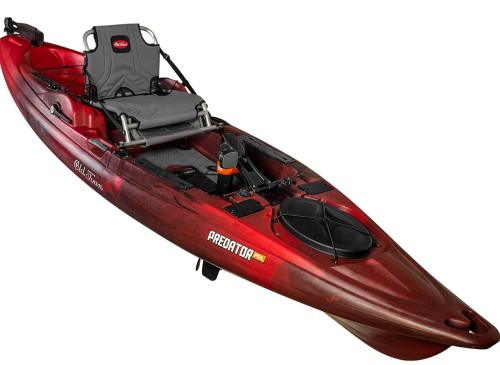 Old Town's pedal variant provides many of the same features and performance ratings as Hobie's designs.
The pedal system is a little different however as it's designed more like a bike's pedals than the back and forth motion of Hobie's. This may feel more natural to some and it makes going backwards easier in my opinion.
The pre-installed rudder gives it excellent maneuverability and the reliable stability and 13-foot long keel means you can take it just about anywhere.
Tons of storage options
Stable enough to let you stand and cast
Pre-installed brackets let you customize to your heart's content
Read our full review of the Old Town Predator PDL.
Conclusion
A massive kayak and full of features, it's hard to find many faults with the boat's design, performance, or accessories.
It really comes down to whether you can justify the sizable financial investment in a boat of this magnitude. But if you have the time to spend on the water, you'll love the boat's speed, maneuverability, and accessory system. If you can't catch fish, you'll know it's not the boat's fault.