After extensively testing this boat on the water for the past few weeks, I must say I was quite impressed.
In this Old Town Topwater 120 PDL review, I'll break down what I liked with this cheap but reliable pedal kayak, and what I think could be improved.
Things to Consider Before Buying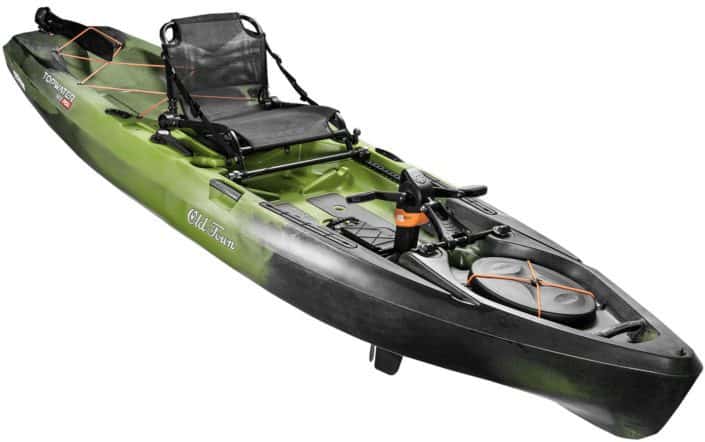 While the Topwater 120 is lighter and shorter than most pedal kayaks, it's still noticeably heavier than a lot of pedal kayaks due to the pedal drive system. This can make it a challenge to load onto a vehicle by yourself with similar issues once you reach the water.
While pedal kayaks are faster than paddle designs, the Topwater 120 doesn't come with the same amount of custom features as some of these despite carrying a higher price tag. If your fishing hole isn't too far away, or outfitting your boat is a high priority, there's plenty of good paddle kayaks like the Sea Ghost 130 from Vibe that are available at a lower price. 
Hard-sided boats like this can also be harder to store than inflatable boats. Make sure you have the proper storage space before purchasing. Ideally, this will be a climate-controlled area like your garage though a covered shed will also work if that's all you have available.
Specifications
Length: 12-feet
Width: 36-inches
Weight: 106 pounds
Load Capacity: 500 pounds
Design
Material

Like most fishing kayaks out there, the Topwater 120 PDL is made of a tough and rigid plastic called polyethylene.
Tough as nails and almost impossible to damage, it'll require significantly less maintenance than a hard-sided boat made out of fiberglass. Expect your Topwater 120 PDL to last a long time.
Speed
The Topwater 120 has an average keel length for a fishing kayak, measuring 12-feet in length. This coupled with the 36-inch beam gives the boat a solid if unspectacular top speed for a pedal kayak.
For day trips or overnight ventures over short distances, the Topwater 120 is fast enough to make the travel time manageable.
But if you're planning on more multi-day excursions where you plan on covering more than 5-miles on a consistent basis, it may be worth investing in a narrower, longer boat that will paddle more efficiently.
Maneuverability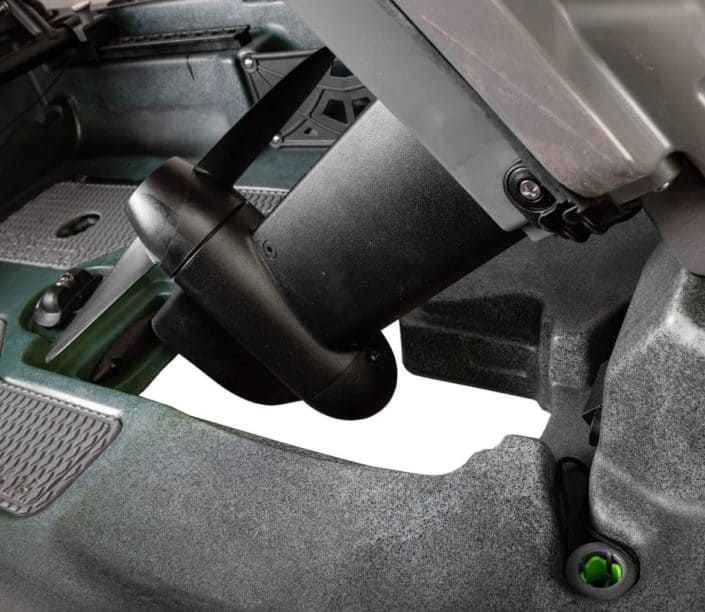 Keel length also correlates to how maneuverable a kayak is. So it's no surprise that the Topwater 120 PDL has an average but unspectacular turn radius.
It's responsive enough to handle narrow rivers. More practiced kayakers should have no issue squeezing in or out of tight areas and little fishing holes. I'd recommend bringing along a paddle even if you don't plan on using it. Using a paddle instead of the pedal system can make those short-area turns much easier.
Comfort
Old Town takes their kayak seats seriously, knowing it's hard to have fun if your back hurts. The seat is easily adjustable as well as breathable, making it great for those hot summer days.
The seat can even be raised or lowered depending on whether you're traveling or fishing. The deck is big and open, making it great for paddlers of all shapes and sizes.
Stability & Tracking
Here's where the Topwater 120 shines. The boat has a tunnel hull design with what looks like two inverted U's. This pontoon-style gives the boat excellent stability, capable of handling sudden rocking or shifts in body weight.
It's so stable that anglers can stand and cast without fear of capsizing. This is a tremendous advantage since you can get better distance and accuracy on your casts while standing. It's also easier to spot passing schools of fish.
If you're new to the sport, I'd recommend staying close to shore in calm (preferably warm) water the first couple of times you try to stand. While plenty stable, newcomers do have a tendency to rock and move around more than they should.
The Top Water 120 PDL comes with a rudder that can be easily deployed from the seat. This gives the boat excellent responsiveness, improves maneuverability, and helps with tracking. It allows you to handle more adverse conditions such as wind, waves, or tides while still maintaining your course.
Durability
If you punch a hole in a polyethylene kayak I'll be amazed. The tough plastic will absorb any accidental drops, or on-water collisions and keep on going.
I do wish they'd added a skid plate to the bottom of the hull in case you have to drag it. This is one area where I'd exercise some caution. Prolonged drags can cause the plastic to scratch and peel which will lower your boat's efficiency. The same precautions should be applied for landing on rocky beaches or in high surf.
Portability
Fishing kayaks tend to be on the heavy side because of all the extra features and the weight of the polyethylene hulls. The Topwater 120 PDL is no different, checking in at 106 pounds when empty. This will make it tough for most paddlers to move on their own, but is actually a reasonable weight for a pedal kayak.
If you'll be fishing solo a lot of the time, it may be worth buying a small hand trailer to help you get it from the car to the water's edge.
For tandem carries, the boat comes with a couple of handles, one on the bow and another on the stern. I prefer the ergonomic "T-handles" that are also popular, but two people should have no issue moving a Topwater 120 over reasonable distances.
If you're having trouble with your two-person carries, there are two more handles near the center of the boat making four-person carries possible.
Features & Accessories
Like most kayaks in this price range, the Topwater 120 doesn't come with much in the way of extra goodies to entice buyers. This is more common in entry-level, recreational kayaks or inflatable boats. A lot of these come with a cheap paddle or something similar.
I do wish the boat had come with a paddle holder though. I'm a big proponent of bringing one along even if you don't plan on using it for safety and redundancy. Not having one built into the hull makes it much more challenging to store one when not in use.
Fishing Ease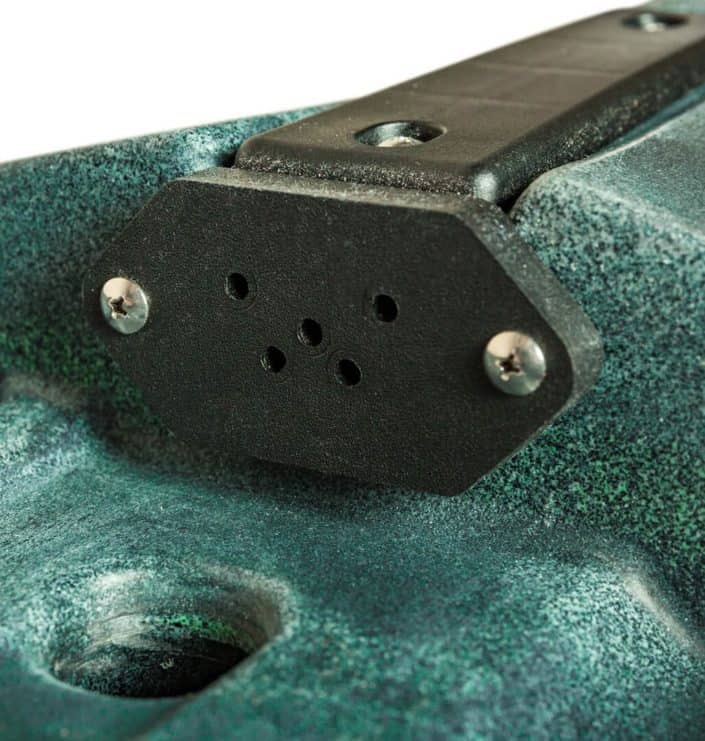 No fishing boat would be complete if it didn't come packed to the gills (no pun intended) with fishing options.
The Topwater 120 PDL comes with three fishing rod holders, allowing you plenty of diversity on the water. A large scupper hole in the front of the boat doubles as a transducer mount. This enables you to install a fishfinder without drilling a hole in your boat.
Additional rod and tackle storage areas mean that you're able to keep everything at arm's reach and find the perfect lure to bring dinner home.
But my favorite fishing feature is the boat itself. In addition to providing excellent stability, the U-shape hull design makes it one of the quietest boats as it moves over the water. If you're in shallow water or your target species is near the surface, this can be a serious game-changer, allowing you to sneak up on an unsuspecting school without spooking them.
For storage, the Topwater 120 has a big stern storage tank. Bungee cords stretched across the stern secure your gear and is a great spot for oversize items like a tacklebox, cooler, or camping gear in dry bags.
A dry hatch can be found in the bow and should be large enough to accommodate any water-sensitive camping gear you want to bring along. With a 600-pound load capacity, there should be plenty of room for you, your gear, and any fish you're lucky enough to bring home.
Value
While the Topwater 120 doesn't have quite as many custom features as other pedal kayak designs, it's also noticeably cheaper. Especially when you factor in the included transducer mount which isn't even included in some more expensive boats.
If you're on a budget or are new to the sport and just looking to get started, this is a great model to try out and see how much you like the pedal kayak designs.
But if you consider yourself a more serious angler or have the funds to go up in price, it may be worth it just so you can get more of the custom gear tracks. From these you can install a GPS, GoPro or similar fishing accessories.
Alternatives
Old Town Sportsman 120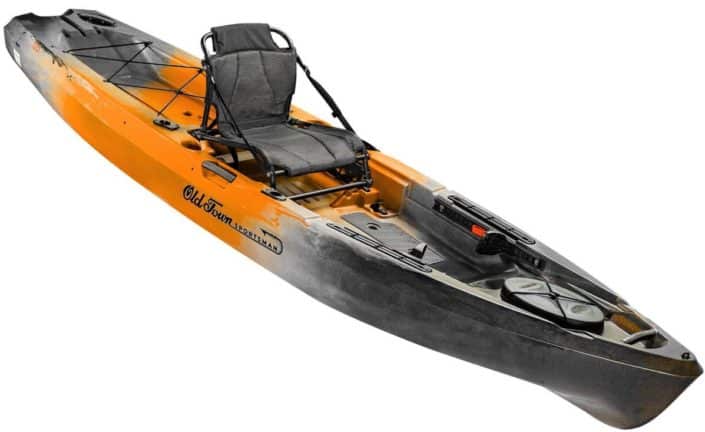 A similar design to the Topwater 120, the Sportsman has the same length and width as its counterpart. The biggest advantage to this design though is the weight. It comes in at 82 pounds, making it much easier for solo paddlers to move.
The drawback? This is a traditional paddle kayak, so while it's lighter or cheaper, it's also slower when compared to its pedaling brethren. That's not to say it's a poor boat, stability is still wonderful and the stability is good enough for you to stand and cast.
At a lower price point, it has appeal to casual and weekend anglers looking for a lower entry point and better portability.
Two rod holders and a transducer mount
Much lighter than the Topwater 120
Lack of custom features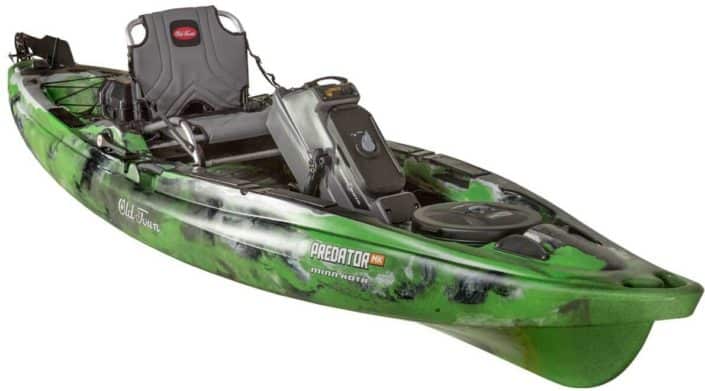 The Predator PDL has almost the same length, dimensions, load capacity and weight as the Topwater 120.
It's a pedal kayak as well so you can expect to coax similar performance, speed, and maneuverability out of it.
The big difference comes in the fishing loadout. You'll find more custom features in this model including six mounting plates for a GPS and similar items. Multiple fishing rod holders have been included as well.
It does come at a higher price point though. But if those custom options are worth the extra money, the Predator PDL may be a better boat for you.
Similar dimensions to the Topwater
More custom features
Higher price point makes it better for more serious anglers

The Outback from Hobie shares a lot of similarities with the Predator PDL. It's a little longer, measuring almost 13-feet long, and when you factor in the slightly narrower keel, you can expect a better top speed out of the model making it better for longer trips.
The H-rail custom system means outfitting your Outback to your precise specifications is a breeze and there's also a spot for a fish finder. Handy little pockets near the seat are great for keeping your spare lures and other things you want access to on the water.
The load capacity is just 425 pounds though, so despite the long keel, it's not as good for longer trips than the options from Old Town.
Smaller load capacity than some competitors
Easy to use custom features
Great stability that does well in ocean environments
Conclusion
As one of the lightest and cheapest pedal fishing kayaks out there, the Topwater 120 PDL is appealing for the easier transportation and lower price tag. It's missing a few of the flashier features like a gear track system or a paddle holder, but getting the transducer mount is a huge value.
If you're looking for a reliable kayak for those day or weekend outings and don't feel like paddling the whole way, consider the Topwater 120. 
You can learn more about Old Town and their other products by visiting their website.