Looking for a way to get a fishing pole on the water without breaking the bank?
Inflatable fishing kayaks are lightweight, easy to inflate, and some are stable enough to stand and cast from.
But which is the best inflatable fishing kayak? In this article, we'll give you our top picks in several categories so you can make an informed decision and get on the water faster.
Whether you want the best value, a stand and cast model, or the safest pick for your family, you'll find what you're looking for below.
Best Inflatable Fishing Kayaks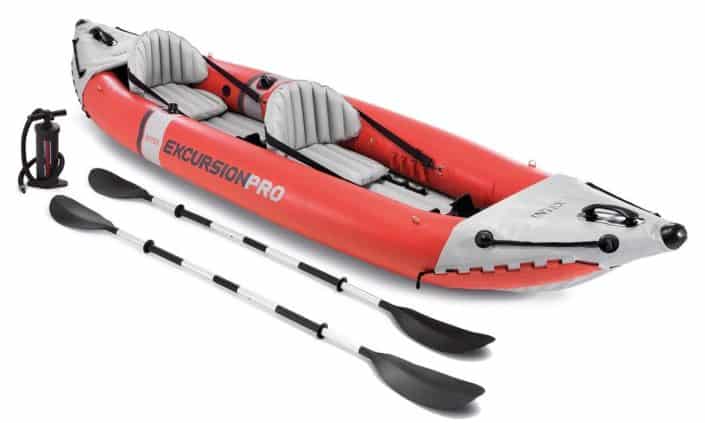 With the strength and durability to rival a hard-sided kayak, the Intex Excursion Professional Series is an easy choice for the best value.
This two-person kayak has room for additional seating making it the perfect choice for families who want to get their kids on the water.
Everything from the seats to the backrests and foot braces is adjustable and removable, allowing you to outfit this boat however you want.
For fishing, there's a mounting bracket for further customization so you can bring all your fishing gear with you.
Rod holders round out the extra features of this well-thought-out and easy-to-set-up inflatable kayak.
Two collapsible paddles and carry badge included
Interchangeable skeg
Weighs just 39 pounds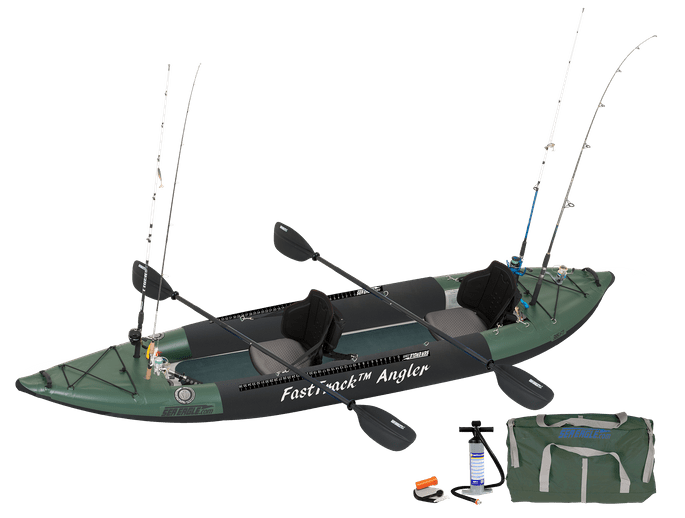 Able to handle up to class III whitewater, the Sea Eagle 385 Angler has the versatility and stability to handle challenging waterways.
Best on lakes and rivers, the 385 can be paddled either solo or tandem and is a manageable 45 pounds.
It's a tough durable design with thick PVC fabric and non-slip padding on the floor and sides.
Once on the water, it can hold up to 635 pounds which should satisfy even the most voracious angler.
The boat comes with built-in rod, hook, and lure holders so everything stays secure.
They've even installed a 36" fish ruler on the pontoons so you can back up your fishing tales with the numbers.
Able to be paddled solo or tandem
Specific locations to secure all your angling gear
Flexibility to handle some tougher rivers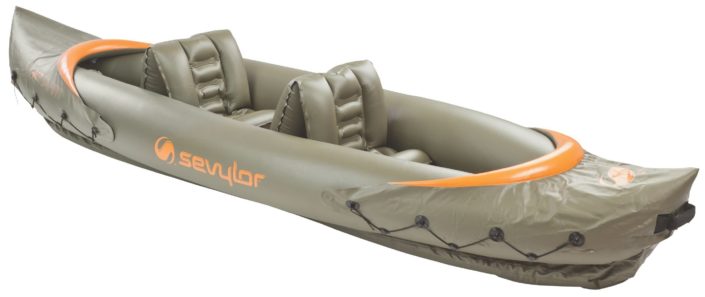 A hybrid fishing and hunting inflatable with an olive green exterior to help you blend into your surroundings, Sevylor's Tahiti model provides extra protection from the elements making it suitable for cold weather paddling.
It's one of the lightest kayaks on this list, weighing only 19 pounds when deflated, making it excellent for backpacking trips or for packraft-style expeditions.
Despite this light weight, the PVC is really durable and the boat can hold up to 400 pounds.
The lightweight design does limit where it can be used. I'd recommend only taking it on calm lakes and mild rivers and would avoid whitewater conditions or more challenging ocean paddles.
Three-month warranty
Repair kit included
Adjustable seats and backrests
No rod holders or other custom options
4. Best 1-Person inflatable fishing kayak: Sea Eagle SE370

Like a lot of Sea Eagle's designs, the 370 can be paddled both solo or tandem. Of all their models, this is the best to paddle on your own.
Able to be paddled both solo or tandem, the 370 is stable enough for ocean paddling and tracking isn't all that bad thanks to two tracking skegs.
It's also capable of handling up to class III whitewater with a tough fabric exterior that can absorb most bumps and minor collisions.
It can also hold an incredible 650 pounds, it has the capacity to support long trips as long as your gear is secured in dry bags as there's not much dry storage space.
Two paddles, pump, and carry bag are included
Can be paddled solo or tandem
Fantastic stability and capable of ocean paddling
5. Best Stand-Up inflatable fishing kayak: Saturn FK396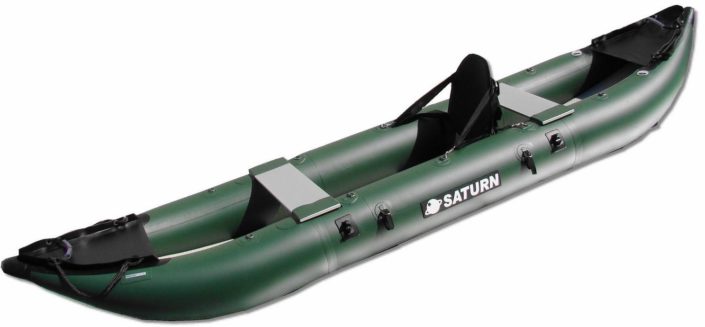 With a slim design and excellent buoyancy, the Saturn FK396 is a maneuverable kayak and a joy to paddle.
Made of heavy-duty PVC, the interior has several customization options so you can outfit it to your exact specifications.
With two aluminum benches instead of traditional kayak seats, there's plenty of room to mount a GoPro, fish finder, or GPS device.
There are no scupper holes in it however and therefore no way to bale out any excess water that comes into the boat.
Some people recommend cutting small holes in the bottom to remove any extra water, but this makes me nervous. I'd feel better bringing a bilge pump or towel for any pooling water.
Not suitable for white water or other rough water
Room for up to three people
Optional vertical plate in the stern for a trolling motor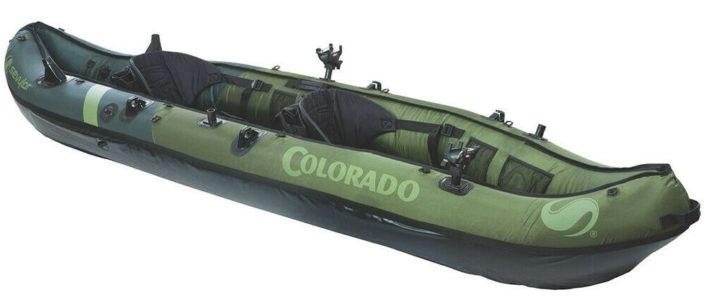 Not the flashiest of fishing kayaks, the Sevylor Coleman is still a reliable paddling platform with some additional protection from rampaging waves.
The high pontoon-style hull keeps rough water out of the boat and gives you some extra space to store gear.
Mesh pockets have been sewn into this tough fabric material and are great spaces to hold spare lures and day gear.
In addition, a pair of rod holders and paddle holders have been built into the design so you can have your hands free when necessary.
Inflation is a piece of cake and the air tubes are airtight and leak-proof with proper maintenance.
Can be paddled by one or two people
Capable of longer trips with trolling motor
Rod holders and other accessories may get in the way while paddling
How to Choose the Best Inflatable Fishing Kayak
Sit-In vs Sit-On-Top fishing kayaks
The two primary kayak models, sit-in and sit-on-tops differ in several ways.
Sit-in kayaks provide more protection from the elements with a defined and enclosed cockpit that shelters your legs and lower torso from splashing waves and rain.
This makes them preferable for coldwater or choppy environments but they can be more difficult to get in and out of and longer paddlers will want to pay attention to how much legroom there is.
In many cases, hard-sided sit-ins provide ample storage space that's watertight, but this isn't always the case with inflatables. You will find some protected space near your feet, but in most situations, storage will have to be on the deck and secured with deck bungees.
Sit-on-top kayaks have no designated cockpit dimensions and as such are much simpler to get in and out of. You will feel any rain or splashing waves, however, making them best for warm waters where some cool liquid will feel refreshing.
Sit-on-top designs do try to protect the paddler to some degree by placing the seat higher above the waterline. While this does help to some extent, it raises your center of gravity, and because of this, sit-on-top kayaks are wider than sit-in models. This makes them slower and less efficient to paddle.
Do You Want to Stand and Cast?
Being able to stand and cast can be a huge advantage. Standing gives you a better angle of the water with an improved perspective, better able to spot schools of fish and cast farther and more accurately.
There's not necessarily a rating system for whether a boat is stable enough to stand and cast. But most kayak manufacturers will tell you if they recommend standing and casting from their boat. If so, try standing in calm, protected water until you feel comfortable.
Some boats are only safe to stand in if the conditions are good while others are stable enough to stand in choppier waters.
Storage Capacity
Because of the design of inflatable kayaks, there isn't much in the way of dedicated storage space. Bungee cords stretched across the deck bow and stern is good for a day pack and water bottle.
Depending on the boat's length, you may also be able to place small items in the bow and stern cockpits where they'll have some modicum of protection from the elements.
Each kayak has a "load capacity" figure that you can find on the boat's specifications page. This refers to the amount of weight the boat can safely carry. Overloading a boat will make it sit lower in the water and feel tippy and more susceptible to capsize. Remember that this load capacity number also refers to the weight of the paddler(s).
Short and Long Trips
Your trip length will likely be limited if you're paddling an inflatable. Many inflatables lack the storage space to fit all the gear you need for more than a few days. Watertight storage is basically non-existent, so plan on packing all fragile gear in dry bags.
If you are planning on trying a more extended trip or two, select a boat with a long keel that will provide more speed. A slimmer design may be tippier but will make your paddling more efficient and also help cut down on travel time.
Other Features
Today, many fishing kayaks come with the ability to customize and outfit your boat any way you want. But this is harder to do with an inflatable kayak.
While some higher-end and more expensive boats can come with several "accessory sliders" or "gear tracks" most inflatables don't have such luxuries. A couple of rod holders is about the best you can hope for.
Since many inflatables are marketed towards beginners, be on the lookout for offers that include generous warranties and boats with included paddles, carry bags, and repair kits.
1-Person vs 2-Person inflatable fishing Kayaks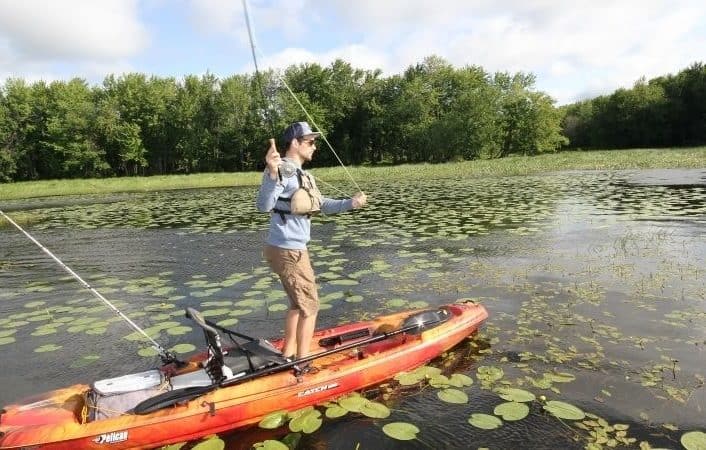 For those that plan on paddling with a partner most of the time, investing in a tandem kayak may be worthwhile.
Tandem kayaks are longer and wider than solo models making them more stable and faster.
Many inflatable tandem kayaks are also designed to be paddled by either one or two paddlers to give you greater flexibility.
This isn't the case for all tandem models though, so make sure you check the reviews or with the manufacturer before attempting to paddle it solo. Some tandems are too big and unresponsive when paddled on their own.
Color Choices
Many kayak companies offer multiple color schemes for you to choose from.
While this is mostly cosmetic, I prefer my kayaks to be brightly colored so they stand out on the water.
This makes it easier to be seen by motorized vessels, and if I need help, easier for search and rescue crews to find me. 
Best Inflatable Fishing Kayak – FAQ
Can I use a trolling motor on an inflatable kayak?
Yes, you can use a trolling motor on an inflatable kayak. In fact, there are a few trolling motors that are designed specifically for inflatable kayaks.
Can I stand and cast on an inflatable fishing kayak?
Yes, you can stand and cast on several inflatable fishing kayaks, including the Saturn FK396. However, it's true that inflatable fishing kayaks are typically less stable than hard-sided kayaks.
best inflatable fishing kayak – Conclusion
While not as flashy as their hard-sided older brothers, getting a good day fishing with an inflatable kayak is still possible.
My favorite of the models listed above is the Intex Excursion Professional. Customization is hard to come by with inflatables, but Intex has made it happen with their mounting bracket, giving you a taste of what awaits you if you ever decide to upgrade.
For backcountry trips, it's hard to beat the super lightweight Sevylor Tahiti that opens up all sorts of opportunities for the passionate angler or hunter who wants to travel off the road system.
What do you think of our list? Share your favorite fishing and paddling stories with us in the comments below.