From their beginnings on the shores of Malibu, California, Ocean Kayak brand kayaks have been reworking their kayak designs to provide reliable and stable recreational models for solo and tandem paddlers alike.
One of their more versatile designs is the Malibu Two. Unlike most tandems, the Malibu can be safely paddled by either one or two paddlers allowing you to venture out with a partner or on your own without sacrificing performance, speed, or safety. 
In this article, we'll give you a thorough Ocean Kayak Malibu Two review, breaking down our favorite features and any quibbles we have with its design or performance.
It doesn't come with too many custom options and in rough water, the tracking and overall performance can suffer. But is very competitively priced for a hard-sided tandem. Add in the superb stability and you have a solid boat for day trips or quick overnight adventures on protected ocean bays, rivers, or lakes.
Pros:
A versatile design able to be paddled solo or tandem
Great stability
Seats can be added or removed
Cons:
Limited storage capacity
Tall paddlers may be cramped in the stern seat
Best on calm, warm water
Things to Consider Before Purchasing an Ocean Kayak Malibu
The Malibu is a big, reliable kayak with excellent stability. This coupled with the ability to be paddled solo or tandem (with room for a smaller third passenger or dog) makes it a great choice for families or those that are just starting their kayaking career.
As primarily a recreational kayak, it's not a boat meant for speed or for super-efficient paddling. The top speed is decent, but the lack of storage space means you're better off just going out for the day or quick overnight adventures.
At 12-feet long, it is a pretty good-sized kayak and will require decent sized storage space when not in use. Ideally, this area will be in a covered area protected from the elements.
The Malibu is a sit-on-top kayak, the most common design for recreational kayaks. This gives it a big and open deck with room to stretch out and move. Getting in and out is much easier than a sit-in.
From a performance standpoint, it can handle most lakes and rivers as well as protected bays and inlets. But the sit-on-top design offers little protection from the environment when you're on the water. Be prepared to get wet if there are any splashing waves or if it starts to rain.
If you live in a cold-weather or rainy region, you may be better off with a sit-in tandem kayak like the Looksha T from Old Town. It's more expensive but maintains excellent tracking and stability while offering additional protection, especially if you use a spray skirt.
Specifications
Length: 12-feet
Width: 34-inches
Weight: 57 pounds
Load Capacity: 425 pounds
Design
Material
The Malibu is made of a tough durable plastic called polyethylene, one of the more common hard-sided materials. Resistant to dents and scratches, it can take a lot of punishment and stay afloat.
Speed
Tandem kayaks tend to be faster than single kayaks thanks to their longer keels and the extra paddler. While sit-on-tops are wider than sit-in kayaks to help with stability, that doesn't seem to hamper the Malibu's speed too much.
In fact, with two experienced and strong paddlers the Malibu has a competitive top speed, especially in calm waters where there's no headwind.
Maneuverability
While it doesn't have a rudder, the Malibu still manages to have a solid turn radius capable of handling rivers and tight corners. It's a nice kayak to learn the finer points of kayaking that newcomers will appreciate.
In rougher water or if the wind or tide is strong, it may struggle a little more and less experienced paddlers could get frustrated relying on their paddle technique to make turns.
Comfort
The seats aren't anything flashy, but that's not a criticism. They're well padded on the back and the bottom and ensure that you'll be comfortable on the water.
They're fully adjustable so you can find a good position no matter your body type. I also love the ability to remove seats which provides more flexibility.
Longer paddlers may find the stern seat a little cramped, but there's plenty of room in the bow.
Multiple footwells are in front of each seat which are great for bracing, improving your paddle stroke, and taking the stress off your back.
Stability & Tracking
Like most recreational kayaks, the Malibu is built with stability in mind. It feels like a battleship on the water, able to handle sudden shifts in weight so you can take your family out on the water without worry.
Unlike some recreational boats, I can't recommend trying to stand up while on the water, but even in rough water it holds up pretty well.
For a sit-on-top, the tracking is pretty good. But since sit-on-top boats are wider to maintain their excellent stability, but that can make it difficult to stay on course. As long as the water is calm it should be more than adequate. But watch out for wind, waves, or tide that can make paddling more dicey. If you're new, keep close to shore until you feel confident in your abilities.
Durability
The tough plastic hull means that you can expect your Malibu to last for a long time. It should stand up to any drops or collisions without risk of serious punctures or leaks.
But the better you take care of your kayak the longer it'll last. When you can, carry your kayak instead of dragging it to the water. This will prevent your kayak from getting scratched or the plastic from peeling which will make your boat slower and eventually weaken the hull.
If you're on the own and don't have any help, the kayak does come with a skid plate that will be able to minimize the damage to the hull while you drag it. You should still be as careful as possible, especially if you're moving across concrete or a rough beach.
Portability
For a big, stable kayak the Malibu isn't too heavy. At 57-pounds it's reasonably manageable when carried by two people.
Convenient handles in the bow and stern make the process easier and there are additional handles along the sides if you have even more help.
Features & Accessories
The biggest advantage the Malibu has is that it can be paddled both solo or tandem.
This makes it a great boat for couples and families that want to learn how to paddle but want the flexibility of solo outings if no one is available. This along with the skid plate makes independent outings easier without risking damage or your safety.
There's room between the two primary seats for a smaller third seat that should fit smaller children without too much trouble. It's also stable enough that you can even bring your canine companion without having to worry about them rocking the boat and tipping you over.
A screw-in drain plug is included to help you drain water if you do end up in rough water. It's not quite as effective as the more traditional "scupper plugs" but it should still do a decent enough job.
Most of the storage space is exposed to the elements. So if you're doing an overnight trip, make sure that your tent and sleeping bag are packed in dry bags. Few things ruin a camping trip faster than a wet sleeping bag.
The boat does come with some straps stretched across the bow and stern storage areas to keep your gear in place as you paddle. But overall I'd say the lack of storage space is one of Malibu's shortcomings.
Fishing Ease
The Malibu isn't strictly a fishing kayak, but it can still manage in this role in a pinch. If you're going to use it primarily for this, you may be better off going with a dedicated fishing kayak that comes with more custom features tailored to make fishing easier.
The Malibu doesn't come with any rod holders or gear tracks, so your ability to load up all your fishing gear is limited.
It does have a respectable load capacity of 425 pounds so fitting all your gear shouldn't be a problem even with two people paddling.
Value
For newcomers looking for a safe and stable kayak that can venture into protected ocean environments, the Malibu is a solid choice with a very reasonable price for a well built hard-sided tandem.
It won't necessarily blow you away and the lack of additional features are a little disappointing. But the on-water performance is awfully impressive, especially the boat's stability, and the added flexibility of one or two paddlers (with more room for a third person) is rare in the kayaking industry.
As long as you're not too serious about fishing and are happy with just the occasional overnight trip, the Malibu should do the job for you.
Alternatives
Ocean Kayak Malibu Two XL + XL Angler
Ocean Kayak hasn't forgotten their roots, and they have multiple kayaks that they've christened with their hometown of Malibu. The XL and XL Angler are easy to lump together as they share the same length (13-feet, four-inches) and load capacity (500 pounds).
The big difference comes with the XL Angler's additional fishing features like the four deck mounts and two rod holders that make it better if your specific goal is to catch fish. The longer keel designs mean it's a faster design and will track better but will have less maneuverability.
Better design for fishing
Cost more
Faster with better tracking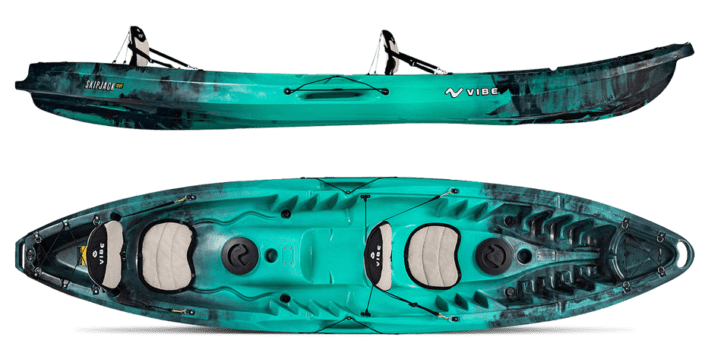 Vibe has dedicated themselves to crafting well designed and cost-efficient fishing kayaks. If your lone goal on the water is to bring dinner home the Skipjack 120T might be for you.
Like the Malibu Two, a smaller seat has been installed in the middle that will fit a child or a well-behaved medium-sized dog. All that space does make it on the heavy side (72 pounds).
It has all the customization features that Vibe kayaks is known for allowing you to outfit your boat any way you want.
This model has four gear tracks, though I wish there were more than the two rod holders in case both paddlers want to fish.
Two watertight storage hatches, a spacious deck well, and a load capacity of 500 pounds makes the Skipjack a versatile vessel capable of multi-day trips.
Two paddles included
Lots of storage space
Plenty of customization options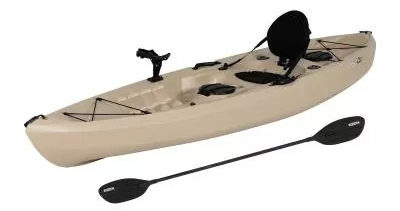 Shorter than the Malibu Two model at just 10-feet long, the Sport Fisher Angler 100 from Lifetime is a more maneuverable kayak.
Despite the shorter keel though, it's just five pounds lighter and I wish the load capacity was bigger than its 275 pounds which really limits it to day trips. The shorter keel also hampers its top speed and the Angler 100 is at its best on protected lakes or mellow rivers.
It's a pretty cheap kayak though and it does come with a few features that make fishing easier like three rod holders and a transducer holder if you'd like to install a fishfinder or any other gadgets.
Some customization options allow you to add your own gear
Excellent maneuverability
Tiny weight capacity
Conclusion
With a rugged and wide hull, a long keel that gives you a surprisingly good top speed, and the stability that will give newcomers confidence while they learn, the Malibu's on-water performance is pretty impressive, especially when you incorporate price.
I love the flexibility of being able to go solo if I want. And the included skid plate makes solo carries possible and shows that Malibu knows what they're doing with their designs. I wish there was more storage space, but for a day boat for yourself or the whole family, the Malibu Two doesn't disappoint.