If you're new to the sport, you probably want to find a great first kayak to have fun in the summer.
In this Ocean Kayak Malibu Two review, I'll tell you what this kayak excels at, and what it could do better.
I'll also talk about the Ocean Kayak Malibu Two XL which is slightly more expensive but gives better value.
Keep reading to know my first-hand experience with this popular recreational kayak.
[Spoiler Alert: The Ocean Kayak Malibu Two is the best value recreational tandem kayak. To have fun on the water with your family, there's simply no better boat. If you can afford the extra $100, I would get the better Malibu Two XL version that is simply unmatched. The only downside is it tends to get out of stock, so it might be already too late to get yours…]
Things to Consider Before Buying Your First Kayak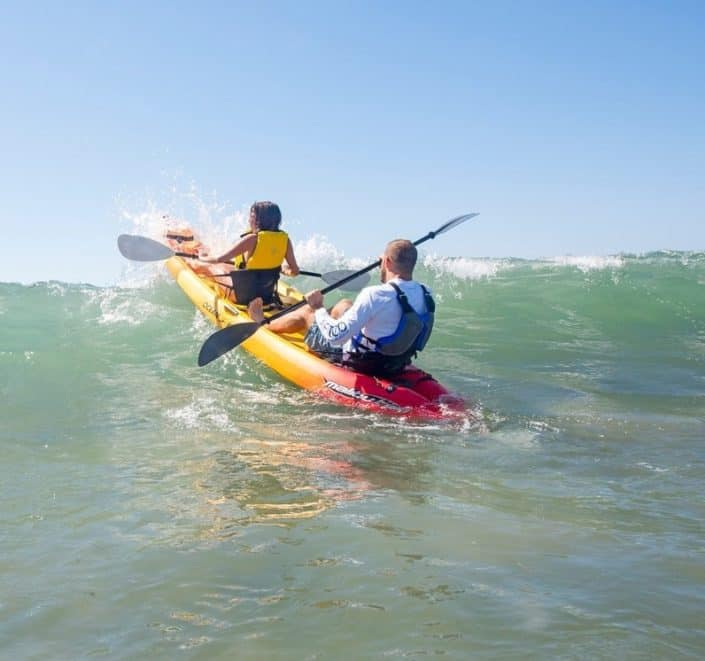 The most important thing to look for in a recreational kayak for beginners is stability.
After all, you'll use the boat to have fun on the water, and you'll want to avoid capsizing at all costs.
As a beginner having fun, you might also lean on the side quite often (talking with your partner) without realizing it.
Second, you want good tracking. As a beginner with poor technique, a boat with subpar tracking will have you making circles instead of actually going forward.
Tracking will also be a life-saver in case the wind picks up while you're on the water.
Finally, you should already have somewhere dry and out of the sun to keep your kayak.
If you leave your kayak unprotected in the sun, the hull may warp over time and you'll have to throw it away.
Ocean Kayak Malibu Two Specifications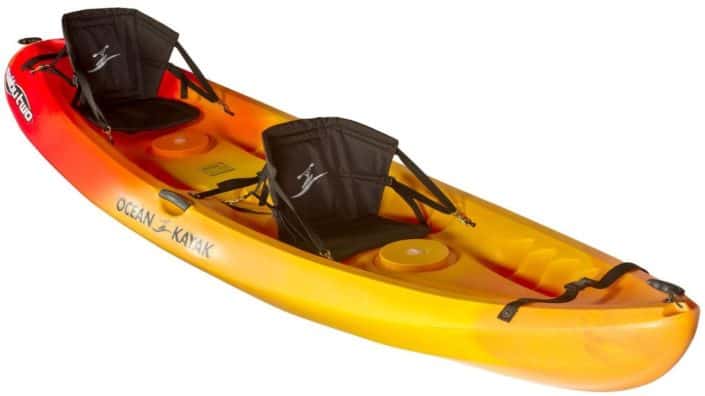 Length: 12 ft
Width: 34 in
Weight: 63 lb
Load Capacity: 425 lb
Ocean Kayak Malibu Two Design
Material
The Ocean Kayak Malibu Two is a hard-sided kayak. As such, it is made of single-layer polyethylene.
This material is virtually indestructible. It will withstand on-water collisions, rocks, submerged tree branches… and anything you throw at it.
If you're looking for a kayak that can take a beating, then a polyethylene rotomolded kayak is what you need.
Speed
For a recreational kayak, the Malibu Two isn't as slow as you may think.
Sure, if you're paddling with people in sit-in touring kayaks… then it will be impossible to keep up.
But for summer fun on calm waters, you'll find it fast enough.
This is due in part to the molded-in seat well that allows you to seat closer to the water.
Most beginners will be able to get a comfortable cruising speed of 2.5 mph on a windless day.
My wife and I who are more experienced can actually go at a decent 3.5 mph. (Far from the 5 mph we're used to in our longer touring kayaks).
Pro Tip: If after a few trips you notice the kayak is heavier than usual, this might mean that some water has accumulated inside the hull. Therefore, you should unscrew the drain plug at the front so that the water can get out.
Maneuverability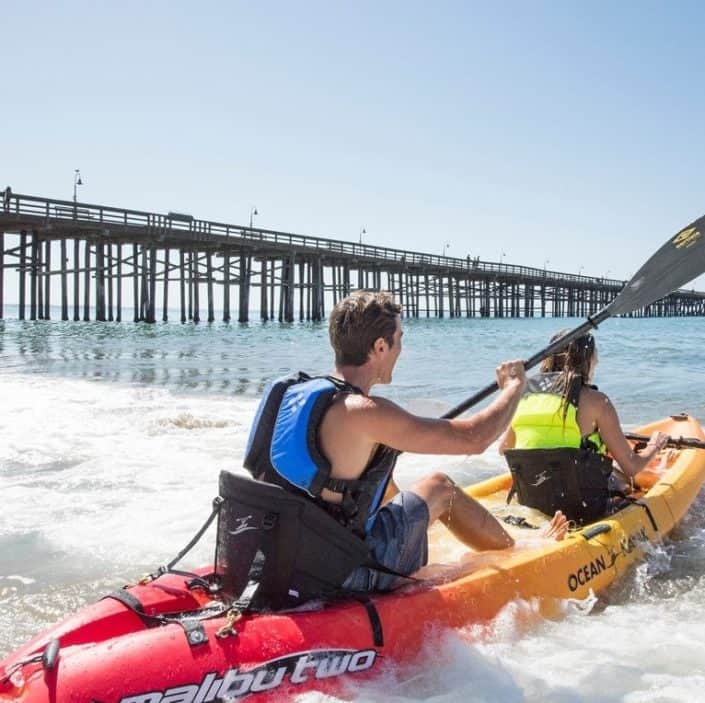 Because it's so short at 12 feet long, the Malibu Two is a very maneuverable kayak.

This means you could take it on narrow rivers without problems once you get the hang of it.
On open water, you'll also be able to avoid obstacles such as boats or people swimming.
However, if you've never paddled a kayak before then you'll still need to work on your technique before being able to turn at will. But the same can be said of any kayak.
Comfort
While not as stable as high-end kayaks, the Ocean Kayak Malibu Two is still more comfortable than its competitors.
I like the two removable seats that can be easily adjusted depending on your height.
I find them comfortable enough for a few hours, although I wouldn't take these camping.
The seats can be reclined if you just want to relax on the water and stop paddling. While paddling, you can simply straighten them up to have more power and control.
Also, this boat was made to be incredibly versatile. It can be paddled tandem, or solo by simply placing a seat in the middle of the boat.
When paddling in tandem, you could also put a small child or pet in the center of the kayak.
The molded-in footrests are comfortable but overall pretty basic. If you're a tall paddler, you might get cramped at the back. If so, I'd recommend the longer Malibu Two XL instead (more on this below)
These footrests have a patented overlapping design. If you are paddling solo, this will allow you to have comfortable foot bracing when seating at the center of the boat.
The Malibu Two has four scupper holes, that are designed to take the water out. Overall the boat will still be quite wet (particularly at the feet) but that's also normal on a recreational kayak.
The huge upside of these scuppers is that you can get back on the boat in case you capsize, and you won't need a bilge pump to take the water out.
Stability and Tracking
If you remember, we just said that the Ocean Kayak Malibu Two won't break any speed records.
Well, that's actually due to its extreme stability.
This kayak was made for beginners, and as such, they made it incredibly stable and impossible to flip.
Even if you lean a lot on one side − if you're talking to your partner behind for instance − you won't feel unstable.
If you manage to flip this boat, I'll be amazed.
Regarding tracking, I'd say it will be fine for recreational trips.
It definitely tracks much better than most inflatable kayaks. But don't expect it to track as well as a touring boat.
That said, as a beginner going straight will always be a challenge. This is totally normal and you will improve your technique over time.
Durability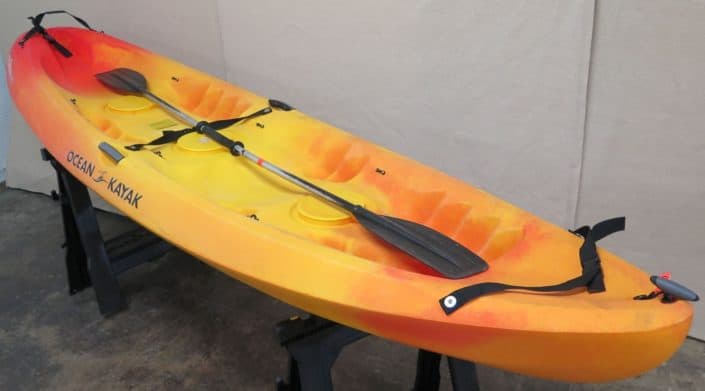 As mentioned before in the Material section, the Malibu Two is a very durable boat.
That said, some people have told me theirs cracked at the hull near the scupper holes after only a few years of use.
That shouldn't happen in a boat that costs almost $1000, and as such it is covered by Ocean Kayaks' lifetime warranty.
For most people though, you'll be able to keep this boat for years without seeing any damage.
Portability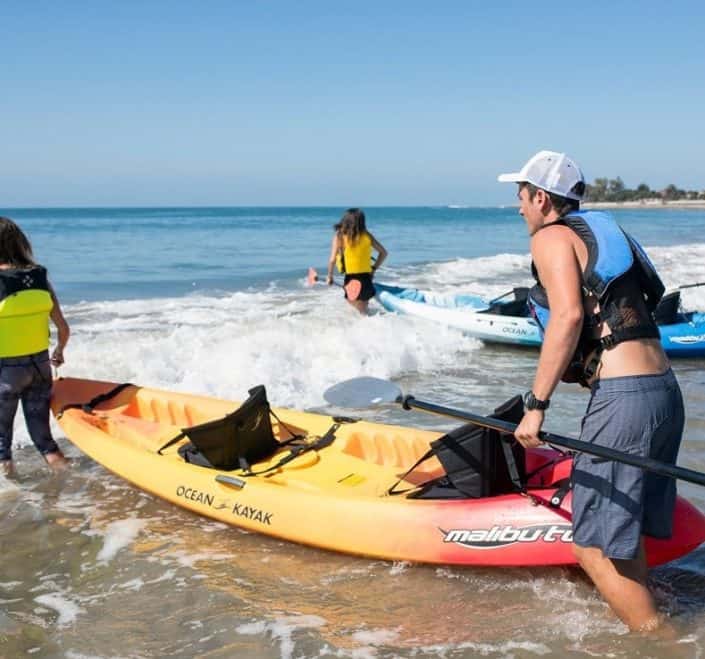 Weighing only 63 pounds, the Ocean Kayak Malibu Two is extremely easy to carry.
It has two carrying handles at the bow and stern to carry it to and from the water. The handles are not very high-quality, but I guess for a recreational boat that's to be expected.
You also have two side handles to help you load and unload your kayak on top of your car or SUV.
Fortunately, you won't need a kayak cart to carry your boat to and from the water. Even if you're paddling solo, you can simply drag the boat since it has a skid plate that protects the hull.
Malibu Two Ocean Kayak – Features and Accessories
Unlike many recreational kayaks, the Malibu Two doesn't come with a free paddle.
It also doesn't have any cup holder, so you'll have to place your water bottle at your feet.
It also has very limited storage space, with straps on the bow, stern, and center. These straps aren't as good as the bungee cords on the Malibu Two XL version. Why? Because they're too short to secure a big cooler, among other things.
Ocean Kayaks has included three spots where you can drill to have dry hatches. However, since they took the time to include these spots I wonder why they didn't simply put dry hatches in there directly.
Finally, the Ocean Kayak Malibu Two XL has two paddle holders (one for each paddler) so that you can sit back and relax on the water. These are perfect to take a break from paddling and maybe drink and eat without worrying about your paddle floating away from you.
Fishing Ease (Malibu Two XL Angler Review)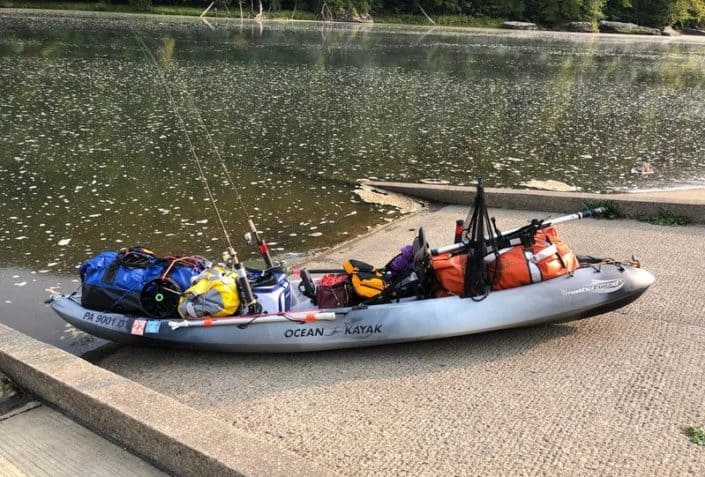 This section is for the Ocean Kayak Malibu Two XL Angler.
I'll start by saying the XL Angler has the exact same hull as the Malibu Two XL.
As such, it is just as stable, as fast, and tracks the same.
The seats are also the same, and the open storage space is also the same.
That said, it does have a center dry hatch where you can put some fishing gear.
It also has four deck mounts and two Scotty rod holders.
Like the Malibu Two XL, it has two paddle holders which are incredibly important for hands-free fishing.
Overall, this is a pretty cheap tandem fishing kayak, so don't expect it to have as many features as more expensive tandem fishing kayaks.
Who is the Ocean Kayak Malibu Two for?

As you may have guessed by now, the Ocean Kayak Malibu Two is made for recreational summer trips.
It will do just fine on calm water, and it will allow you to have fun with your partner or kids.
It's also very versatile, which means you can use it solo on some weekends if you feel like it.
As such, this is a perfect boat to take on holiday or to leave at your summer house.
Ocean Kayak Malibu Two Alternatives
Ocean Kayak Malibu Two XL

The Malibu Two XL is fairly similar to the Malibu Two.
However, it is 1 foot and a half longer, which means it will be faster and track better.
It also has a 500 lb weight capacity, which is great for big guys or to go camping.
For tall guys, the Malibu Two XL will be infinitely more comfortable as it will provide more legroom.
It also has two paddle holders which means you can stop paddling and take a break on the water to eat or drink something.
Overall, considering the small price difference, I think the Malibu Two XL is a better value than the standard version.
Brooklyn Kayak TK122U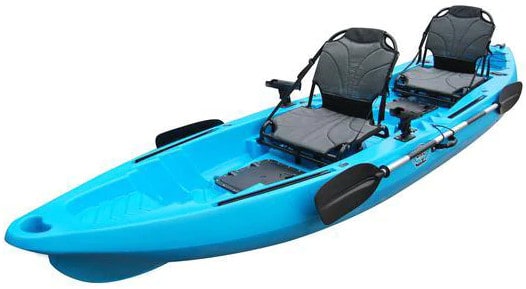 The BCK TK122 is very similar to the Malibu Two XL Angler.
As such, it will cost a bit more than the standard version of the Malibu Two.
It has a huge 770 lb weight capacity, which also makes it incredibly stable, even for big guys.
It has two watertight hatches, four flush-mounted rod holders, and two paddle holders.
It also includes two free aluminum paddles.
Overall, the BCK TK122K is more expensive but gives you a lot more features than the Ocean Kayak Malibu.
Perception Rambler 13.5

The Rambler 13.5 is heavier than the Malibu Two XL at 78 lb.
It also has a slightly bigger weight capacity of 450 lb.
You can also use it as a tandem, solo, or three-person kayak (to carry a pet or child). That said, you need to buy 4 extra deck loops to use it a solo kayak, which may be a problem if they're out of stock.
However, I've found the seats to not be as comfortable.
The Rambler is also slower than the Malibu Two XL, and it doesn't have paddle holders.
Overall, I wasn't impressed with its performance and I much prefer the Malibu Two XL.
Ocean Kayak Malibu 2 – Wrapping It Up
Overall, it's no surprise why the Ocean Kayak Malibu Two is so popular among kayak guiding companies.
With its impressive stability, decent speed, and tracking, this makes it one of the best kayaks for beginners.
If you plan on paddling for fun with your better half and children, I think the Ocean Kayak Malibu Two XL is the best bang for your buck.
The only downside is that because it's so popular, the Malibu Two tends to be out of stock during the summer months…

So if it's already unavailable when you read this review, then I'm sorry. You'll have to wait until next year to get your hands on one.