Just because you can't buy a high-end kayak doesn't mean that you have to settle for a subpar paddling experience.
Some of the best budget kayaks can compete with their more expensive counterparts no matter what sort of conditions you want to paddle.
In this article, we'll discuss some of the best cheap kayaks for a variety of situations depending on water conditions and what they're made of.
Whether you're looking for the most basic inflatable or need a more intricate touring or whitewater model, we'll help you make the right decision and steer you toward the best inexpensive kayak in your chosen field.
Best Cheap Kayaks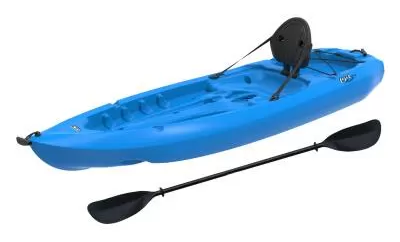 Measuring just eight-feet long, the Lifetime Lotus is one of the easiest kayaks to transport regardless of your vehicle.
Despite the small size, the Lotus 80 doesn't feel cramped thanks to an adjustable seat and multiple footrests.
Cost savings do make this a stripped-down model, however. The stubby hull and sit-on-top design limit the boat's performance.
Tracking and speed is reduced in anything but calm conditions. It's a fine playboat but should never be taken anywhere with the potential for poor weather.
Comes with self-bailing scupper holes for cockpit and tankwell storage area
A paddle is included with the purchase from most retailers
Stripped-down version for price efficiency means it lacks some features (no skeg, rudder, scupper plugs)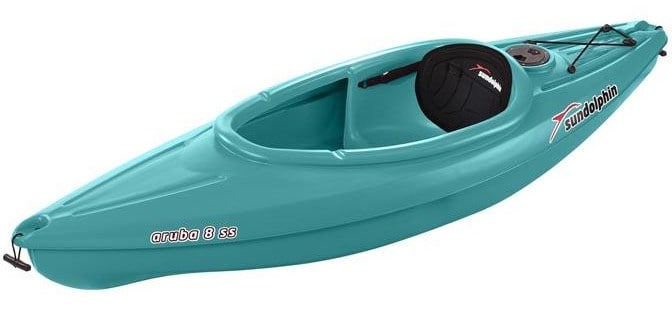 In many ways, the Aruba 8 is the sit-in version of the Lifetime Daylite. Checking in at 8-feet long and weighing just 27 pounds makes moving the Aruba from place to place a breeze.
Once on the water, the design focuses on stability and tip resistance making it a good introduction for beginners.
Despite the short stature and stability, the boat has a streamlined, recreational design that gives it a respectable top speed.
Despite these improvements, the Aruba 8 won't respond well in rough water. You should avoid large open water crossings or high wind environments.
Stature limits it to calm water
Adjustable foot pedals
Easy to transport and move on your own
Small size makes it uncomfortable for tall paddlers
Read our full Sun Dolphin Aruba 8 review.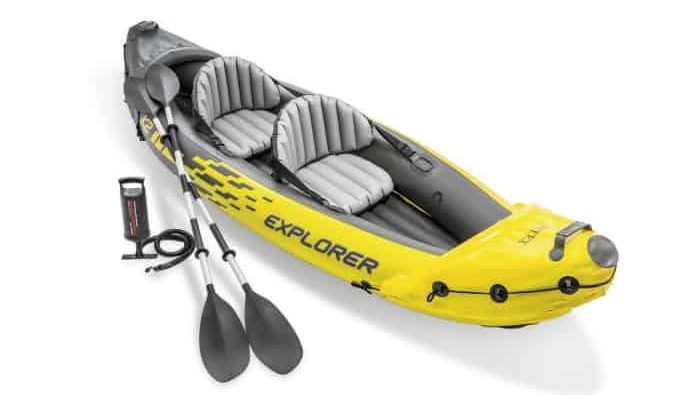 Easy to store and simple to set-up, the Intex Explorer removes a lot of logistics from kayak ownership.
A pair of paddles are included from most retailers and this coupled with impressive stability means it's a good choice for tandem paddlers of all experience levels.
It can handle minor chop should a breeze pick up, but I don't think I'd take it in anything bigger than a mid-sized lake.
But since you won't find much in the way of storage options, there isn't much temptation to attempt ambitious crossings.
Easy assembly thanks to the included pump
Fantastic stability when inflated properly
Durable for an inflatable but still more vulnerable than a hard-sided boat
Read our full Intex Explorer K2 kayak review.

Touring kayaks are usually longer to maximize speed. But despite being one of the shortest ocean kayaks, the Perception Carolina 12.0 maintains a good top speed thanks to its narrow hull design.
As an added bonus, the compact design makes it one of the easiest boats in its class to transport and store.
There's enough storage space for weekend trips and stability and performance are good enough to handle many waterways.
Wide cockpit for easy entrance and exit
More technical paddling and tight turns are challenging
Adjustable seat keeps you comfortable all-day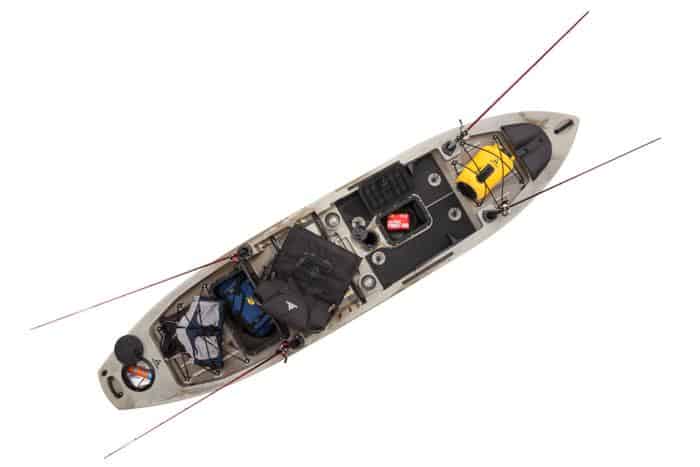 The customization options that are common in the angling kayak world are omitted from the Ascend model. Outside of two rod holders, there's no gear tracks or other accessories. In addition, the 350-pound weight capacity may limit the amount of gear some paddlers can take.
One of the most cost-efficient hard-sided angling kayaks
On the heavy side for a single kayak at 77 pounds
Adjustable, comfortable seat
Read our full Ascend 12T Fishing Kayak review.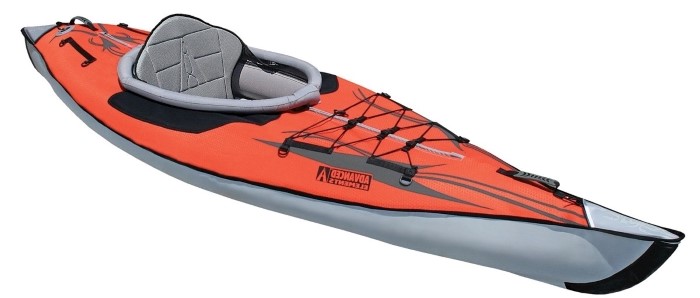 Your first attempt at inflating the Advanced Frame will likely include some frustration. But once you've got the hang of the different nozzles and tubes, it handles ocean conditions like a charm.
With an included aluminum frame it feels more like a hard-sided kayak than an inflatable.
Performance and speed also compete with its hard-sided brethren while storage and transportation remain infinitely simpler.
One of the top-performing inflatable kayaks available
Can handle similar water conditions to hard-sided sea kayaks
Assembly involves multiple gaskets with a learning curve
Read our full Advanced Elements Advanced Frame review.
Best Cheap Kayak For Beginners: Sea Eagle 370

Providing flexibility and stability, the Sea Eagle 370 makes for the perfect cheap kayak for newcomers.
It handles well with one or two paddlers and roomy enough to include a midsize canine paddling companion.
The impressive stability is thanks to a rigid I-beam construction design that makes it sturdy regardless of the paddlers' experience.
Like most boats in the recreational class, the performance is not the best. But it should do fine in most calm lakes and easy-going rivers.
has an extra thick and forgiving fabric exterior for any accidental bumps or drops.
A svelte 32 pounds making it one of the lighter tandem kayaks.
Easy storage and transportation with easy set-up with intuitive inflation instructions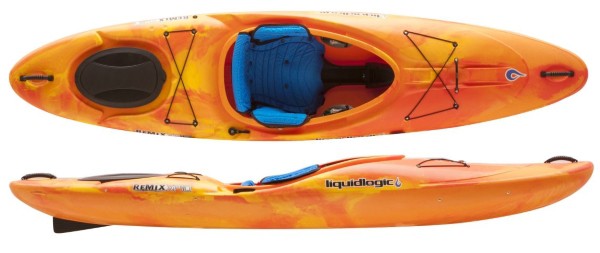 While most river or whitewater kayaks are limited in where they can be paddled, the Remix XP10 has a little more versatility.
This is due to the included skeg that improves tracking and makes calm water paddling easier.
If you want to learn how to roll, it's a great kayak to practice in.
Focus on stability limits it on more difficult rivers
Watertight stern storage hatch
Roomy cockpit
How To Choose The Best Cheap Kayak For Your Needs
Where Do You Plan on Paddling?
The first question you need to answer is where you plan on doing the majority of your paddling. Most kayaks are designed for specific waterways and conditions.
While some models are more versatile than others, it's especially important to determine what conditions you may experience.
Whitewater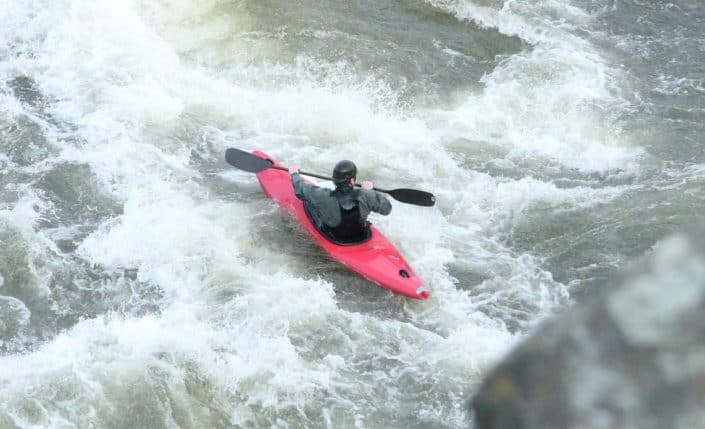 Short and stout, whitewater kayaks have superb maneuverability. This allows them to make tight turns and squeeze through challenging rapids and over disturbed water.
More advanced models can be tippy to allow for easy rolling and recoveries which is commonplace in whitewater.
Durability for most whitewater boats is near the top of the class to deal with potential high-velocity collisions with river debris and exposed rocks.
Their short keels lead to a low top speed and a lack of storage space both open-air and waterproof. This makes them a highly specialized kayak that doesn't perform well outside of river travel.
Lake & Sea Touring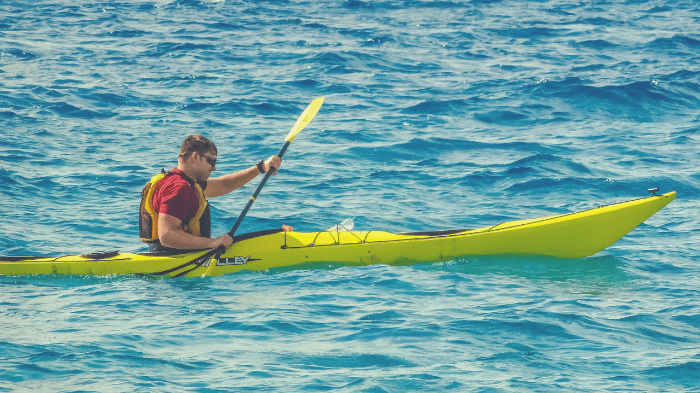 Touring boats are the antithesis of whitewater. They have long narrow hulls and elongated keels.
Resistant to wind and chop, they're designed to maintain their course regardless of the water conditions. To improve tracking and maneuverability, many have rudders installed that are controlled via foot pedals.
Abundant storage space is usually highlighted by watertight hatches in the bow and stern.
Durability varies by company and design. Plenty of plastic hulled touring boats are available, but the shape and molds of the plastic can limit storage space and the extra weight can slow you down.
You'll find higher-end touring kayaks are usually made of more expensive, fragile, and lighter material.
Recreational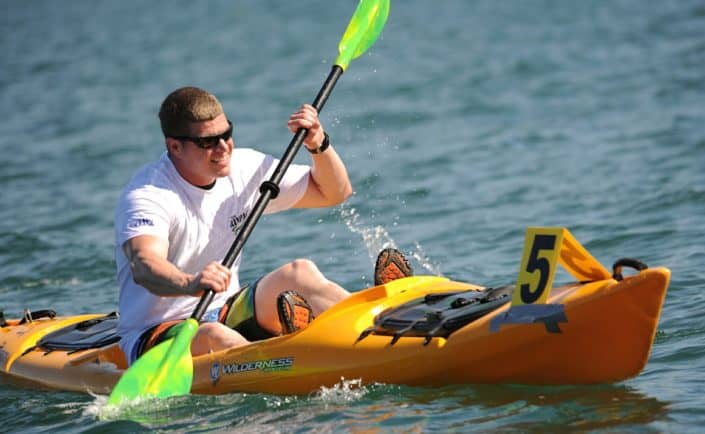 The classic, entry-level kayak. Recreational boats are often inflatables or shorter plastic kayaks. Cheap, light, and easy to transport, it's important to find a brand and model that is still well made.
Recreational boats are almost always limited to calm water either on ponds, lakes, or low-intensity rivers. They're built to be as stable as possible but lack substantial storage space. Most have an unimpressive top speed.
Fishing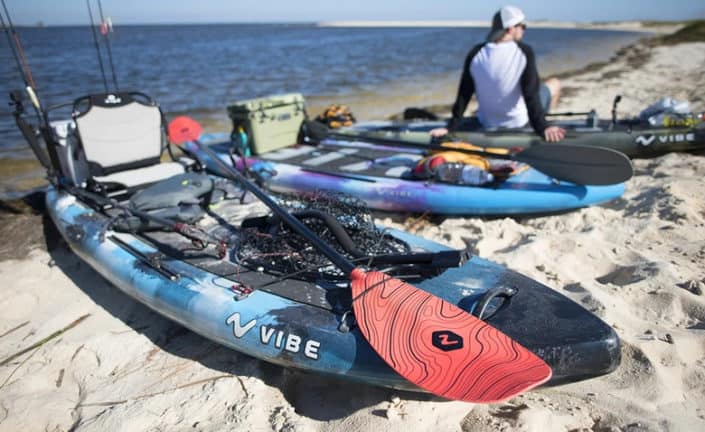 Angling kayaks tend to be wider to allow the paddler to deal with any unexpected movements or surprises that come with a fish on the line. Some are so stable it's possible to stand and cast without tipping over!
Most fishing models are made of durable plastic-like polyethylene though some of the cheaper ones are inflatable. Adjustable seats are common with high and low settings.
Customization options have become popular in more expensive models. Most angling kayaks come with flush-mounted rod holders to keep your poles in place.
Depending on the model and quality, angling kayaks can fill any number of categories. Some have a large enough load capacity to allow for multi-day paddles.
Others are responsive enough for small rapids and others have the stability and tracking to take on open water.
Sit-In vs Sit-On-Top
The biggest difference between the two designs is the paddler's position.
Sit-in kayaks have a defined "cockpit" that you sit in. Usually, there's some sort of molded seat resting on the top of the kayak's hull with your feet beneath the deck.
Sit-in boats usually incorporate a spray skirt, a flexible and water-resistant accessory that stretches around the cockpit and limits the amount of water that enters the boat. The ability to add a skirt makes them the preferred kayak type for cold or rough water paddling.
The lower center of gravity increases how stable a sit-in feels. This allows them to have a more streamlined design for efficient paddling.
Some of these cockpits can feel cramped and getting in and out of a sit-in is more challenging since there's less room for your legs to move.
Sit-on-top boats give you the whole deck to operate from. They tend to sit higher in the water which can make you feel less stable in choppy water. To counteract this, sit-on-top boats have a wider base and sometimes "pontoon" style hulls to maximize stability.
There's no way to apply a spray skirt so you're at the mercy of the waves and current weather conditions.
Inflatable vs Hard-Sided Kayaks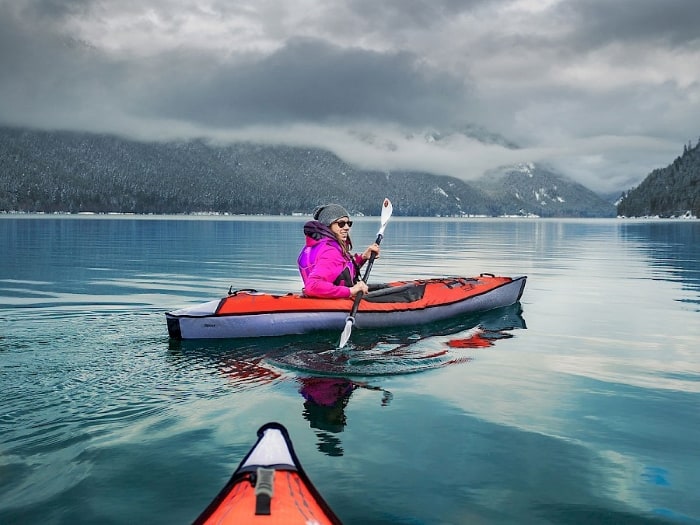 In recent years, inflatable kayak technology has made substantial improvements making the old reputation that they're flimsy and fragile outdated.
Many higher-end inflatables now come with aluminum frame I-beams that make them tougher and more responsive. But since their structural integrity is still at the mercy of air pressure, they will never have the rigidity, durability, or performance of hard-sided kayaks.
With these shortcomings, most inflatables are designed for newcomers and casual paddlers that are looking for a relaxed paddle on calm, placid waters. They're easily blown off course in choppy water or windy conditions.
Hard-sided kayaks are more versatile and you can find models for all kayak categories from recreational to whitewater and expedition.
Higher-end boats with a focus on performance are made of fiberglass, marine-grade plywood, or kevlar. Most of these are for multi-day or "touring" trips where speed and efficiency is valued.
Tandem vs Single Kayaks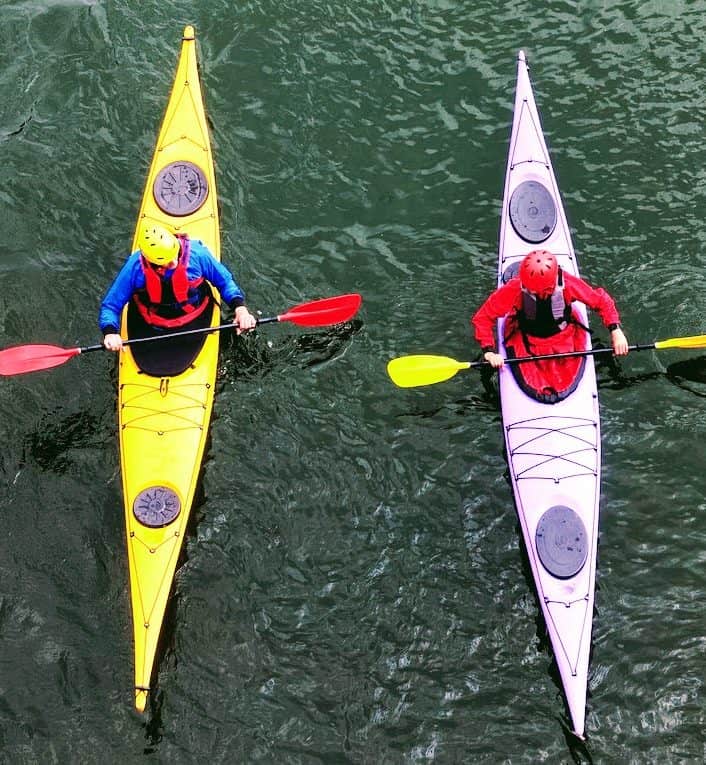 Kayaks that accommodate single and multiple paddlers can be found in all kayaking categories and both inflatable and hard-sided. Some recreational, inflatable tandems can be paddled by a single person with minimal trouble.
Hard-sided doubles that are made of plastic can be very heavy. The longer keel does mean that once up to speed, doubles tend to be faster than singles with better tracking but less maneuverability.
Conclusion
While none of the kayaks on this list will give you top-end performance, their price compared to how they paddle makes them plenty efficient.
Thanks to its versatility and ability to handle almost any waterway, the Advanced Elements Advanced Frame checks in as my favorite cheap kayak. Once you have a handle on the assembly, it's a dream to paddle.
Perception's Carolina 12.0 and the Intex Explorer K2 are other versatile designs and deserve mention as runner ups.
Do you have a favorite cheap model? What's your experience with these boats been like? Let us know in the comments below.