In only 7 years since its founding in 2013, Vibe has managed to become one of the best producers of fishing and recreational kayaks. Of Vibe's seven fishing models, the Sea Ghost 130 is one of the newest ones.
It includes a handful of upgrades and improvements over its ancestor, the Vibe Sea Ghost 110.
After a big revamp in 2019, the new Vibe Sea Ghost 130 sports a larger weight capacity, better performance in choppy water, and a customizable central console.
After taking a close look in my Vibe Sea Ghost 130 review, I found this hard-sided fishing kayak to be a versatile and reliable angling platform.
Along with excellent stability, it has one of the most comfortable kayak seats I've ever sat in. Add in the 550-pound weight capacity and ample storage space, and you have a kayak that's great for an afternoon on the lake or more ambitious multi-day adventures.
Pros:
Great customization options including a central console where you can install a fishfinder
Dry bags line the central console and bow hatch
Can handle oceans, lakes, and rivers
Cons:
Heavy for a single kayak at 75 pounds
Slow-moving in calm water conditions
Things to Consider Before Buying a Vibe Sea Ghost 130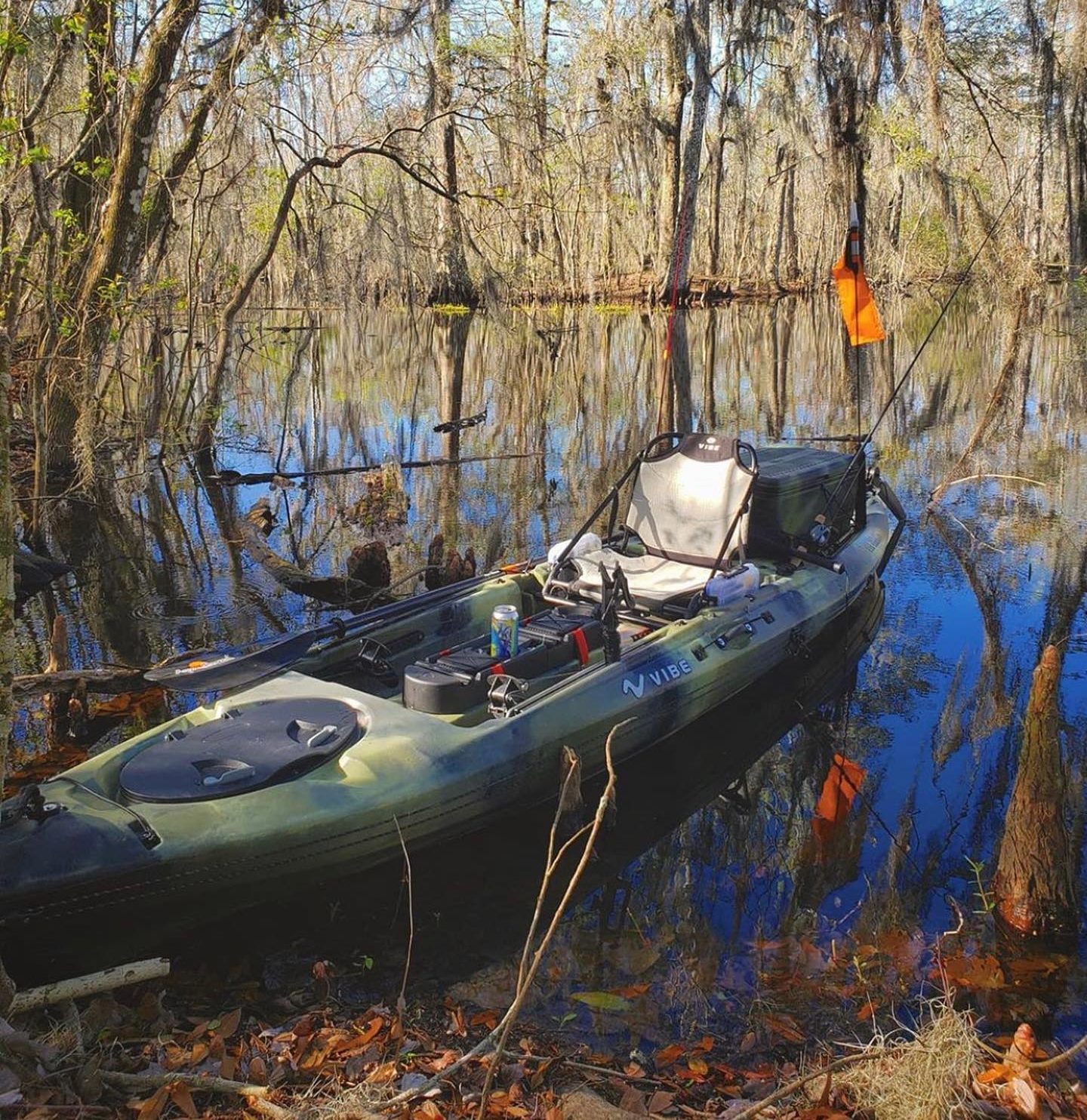 While it is possible to fish from any kayak, fishing kayaks come with specific accessories that make it much easier. Most come with special paddle holders so you can have your hands free while you fish. And many have special customization options to hold your rod and other gear.
Knowing what sort of water conditions you want to fish in will help narrow your search. Fortunately, the Vibe Sea Ghost 130 is capable of handling a wide range of water conditions from lakes to energetic rivers and protected ocean environments.
The durable plastic hull does make it heavy and requires more storage space. Be sure you have a protected area like a garage, shed, or protected shelter to store when not in use.
Because of its open cockpit, it's best to limit usage to warm excursions where water splashing into the cockpit won't be a problem.
Those that fish in cold-weather regions can look to other options like the Wilderness Systems Tsunami 125.
Vibe Sea Ghost 130 Specifications
Length: 13 feet
Width: 33 inches
Weight: 75 pounds
Load Capacity: 550 pounds
Vibe sea Ghost 130 Design
Material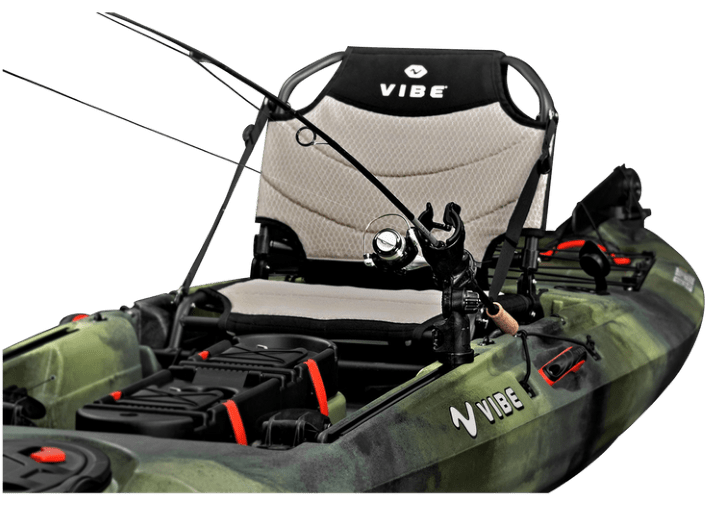 The Sea Ghost 130 is made of a durable plastic called polyethylene, the preferred material for kayaks in this price range. Resistant to abrasions and scratches, the hull can handle drops and most collisions.
Speed
The Sea Ghost 130's stable design allows it to maintain decent speed in windy or wavy conditions. I'm a cautious paddler, especially on the ocean and always keep an eye on the weather. So I appreciate a boat that doesn't lose much speed when the weather turns.
However, the boat's weight means that it is comparatively slow in calm conditions. As someone who likes to fish a wide area, I did find myself working harder to get from place to place.
If safety in rough water is your biggest priority, this is a great kayak. But if you plan on doing a lot of paddling to get to your favorite fishing spot, the extra time may be frustrating.
Maneuverability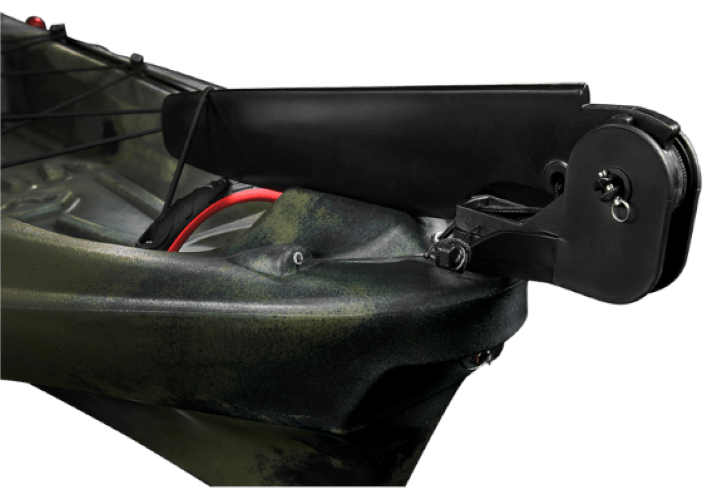 One of my favorite features is the Sea Ghost 130's built-in rudder. This was a pleasant surprise as most comparable angler kayaks don't include one with your purchase.
The foot operated rudder gives the Sea Ghost 130 a solid turn radius. Should you decide the rudder isn't for you, it's easily removed.
Comfort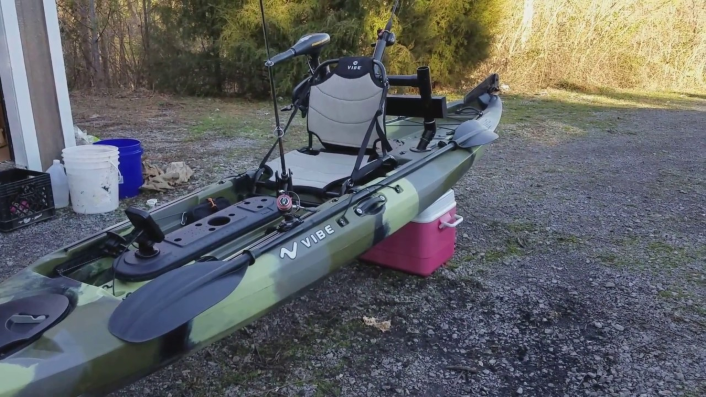 I've experienced my share of poorly designed and uncomfortable kayak seats. I consider myself tolerant of cramped seats and ambivalent towards models with extra padding and similar features. But I must admit, the Sea Ghost 130 has one of the comfiest seats I've ever experienced.
Appropriately christened the "hero seat", the design has great support and a mesh covering that will keep you cool and dries quickly.
The seat has adjustable settings that can be set high or low depending on your height while easy-to-adjust straps control the stiffness. It can even be folded if that's your preference.
Stability & Tracking
The aforementioned rudder makes this a reliable boat that tracks well in crosswinds and strong tides. It also handles well without the rudder and you may find that it tracks fine without it in calm conditions.
The Sea Ghost 130's wide hull makes this a stable boat that beginners will appreciate. When you're reeling in the big one, having a stable platform underneath as you reach for the net is invaluable.
On calm days, braver paddlers may even feel confident enough to try casting while standing.
Durability
Like most plastic kayaks, the Sea Ghost 130's polyethylene hull can absorb most scraps, drops and collisions.
Don't look at that as a Get Out of Jail Free card. Paddlers should exercise caution not to ram too hard into rocks or other obstacles regardless of their boat's material. You can also increase the lifespan of your boat by carrying it to the water in lieu of dragging it.
Use the same attentiveness when you're coming into rocky beaches or landing in heavy surf. While the tough plastic hull can take a beating, multiple hard crashes will eventually weaken the polyethylene's structural integrity.
Portability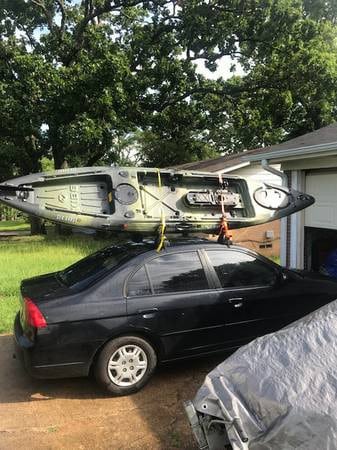 To get such a wide, stable, and durable kayak means you have to sacrifice something. In this case the Sea Ghost 130 checks in at a hefty 75 pounds. This coupled with the 13-foot hull makes it a tough carry on your own.
The burden is somewhat lessened by the four handles along the side that make it easier to carry with a group. A skid plate or similar hull protection would be useful and allow it to be dragged over more surfaces.
Vibe Sea Ghost 130 Accessories
The included rudder is a big bonus, but that's not all you get. It also comes with ten scuppers that make draining the kayak easy. The big bonus is the included scupper plugs which keep water out in wavy conditions.
The big sturdy design gives it a mammoth weight capacity. Able to hold 550 pounds, the Sea Ghost 130 can hold a paddler, their gear, and all the fish they can catch. This makes it great if you plan on doing multi-day trips.
Vibe Sea Ghost 130 Kayak Fishing Ease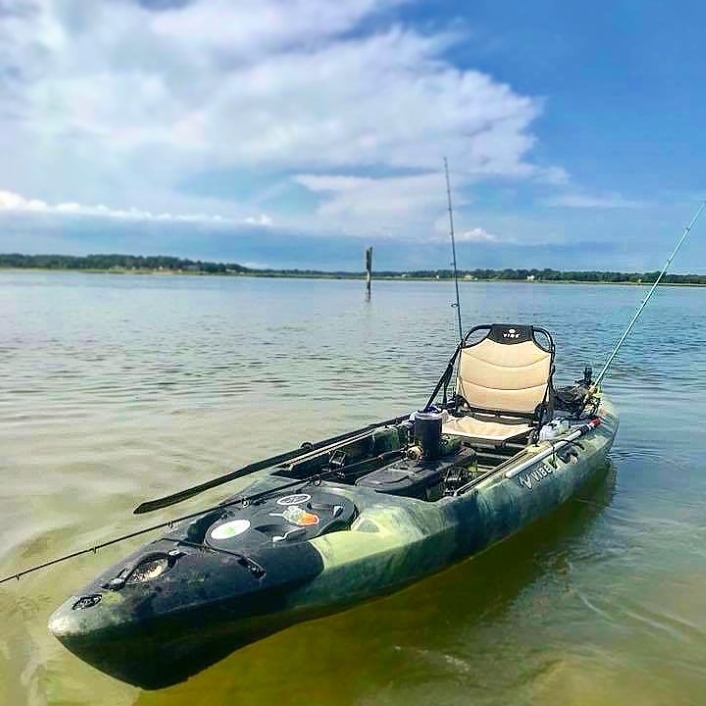 The wide stable design makes for easy fishing in all kinds of conditions and the rudder minimizes drifting in waves and strong tides.
I love how much storage space there is. Beneath the central console are two compartments complete with dry bags for storing any gear you want at an arm's reach. On top of the console is a pair of gear tracks where you can mount a variety of fishing gear including a fish finder.
A spacious watertight bow hatch is great for storing overnight gear. There's another 8-inch watertight hatch behind the seat that's accessible while paddling.
The Sea Ghost 130 also comes with two rod holders which are great when you need a break from casting or while dealing with your catch. The holders can be capped to keep water out of them when not in use. I did find that over time these caps started to weaken and water began to leak in.
Four gear tracks (two on each side) are built into the hull. Various mounts can be installed on the tracks to hold different types of equipment from fishing rods to cameras.
Vibe Kayaks Sea Ghost 130 Value
For all the customization options, the inclusion of a rudder, and the scuppers, the Sea Ghost 130 remains reasonably priced. This combined with its versatility on oceans, lakes, and rivers, makes it a good choice if you're looking to fish in different environments. 
The open cockpit and sit-on-top design does make you vulnerable to any water that splashes aboard as you fish. Because of this, the Sea Ghost 130 is somewhat limited to warm water fishing expeditions. Unless you're adequately outfitted with a wet suit or heavy-duty rain gear I wouldn't take it on chilly water trips.
Vibe Kayak Sea Ghost 130 Testimonials
I spent some time looking online for other folks who'd purchased this kayak to see if they were as impressed with the central console and built-in rudder as I was. Most of the Vibe Sea Ghost 130 reviews were positive with plenty of love for the comfy seat.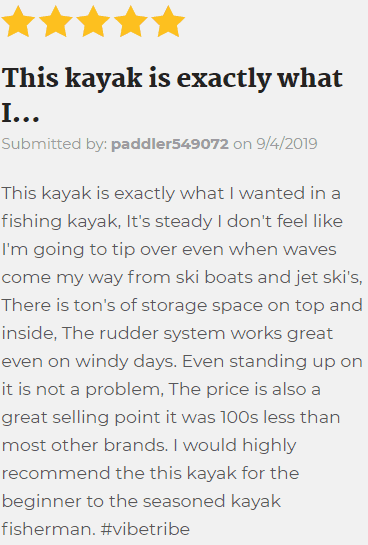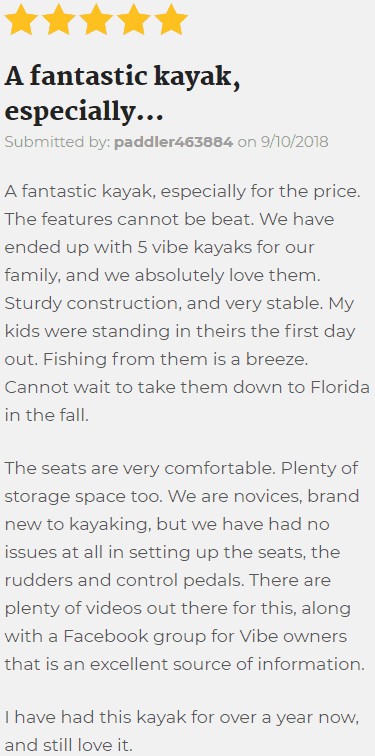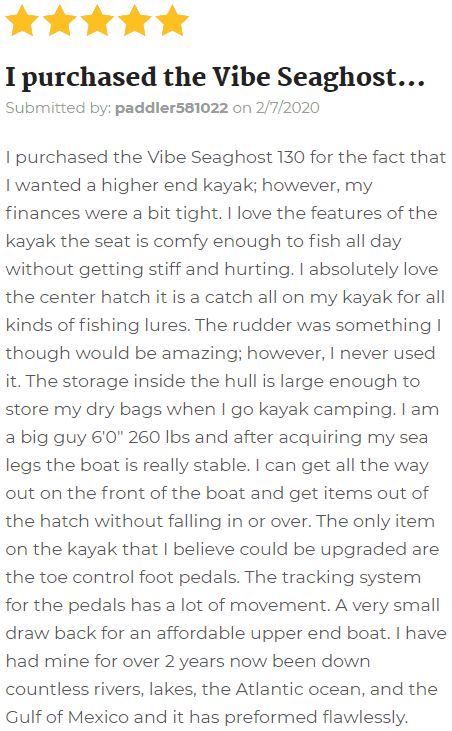 Vibe Sea Ghost 130 Alternatives
You can find a wide variety of angler kayaks on the market. Whether you're looking for a budget kayak for fly fishing or one with a lot of bells and whistles, chances are you can find what you're looking for. Here are three of my favorite alternatives to the Sea Ghost 130.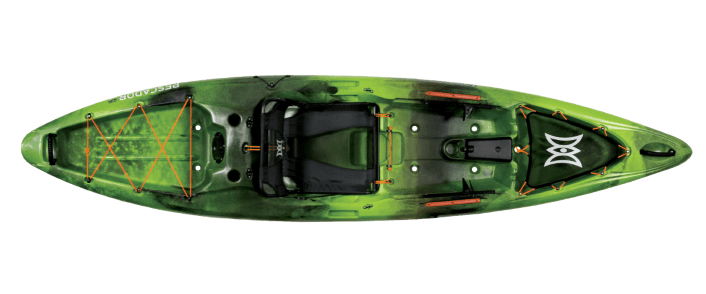 A foot shorter and 11 pounds lighter, the Perception Pescador Pro 120 can still handle oceans and rivers alike. Its notoriously comfy chair has also drawn many positive reviews.
While being lighter is a plus, the weight capacity is severely diminished, topping out at 375 pounds which makes it more of a day trip vessel. The accessory mount options let you customize your fishing set-up.
On the water it performs a lot like the Sea Ghost 130 with comparable maneuverability and stability. Since it's lighter, it moves a little faster in calm water conditions while still able to handle rough water.
Versatile design with comparable stability and maneuverability
Different mounts and gear tracks allow for a lot of customization
No watertight hatch or central console
Read our full Perception Pescador Pro 120 review.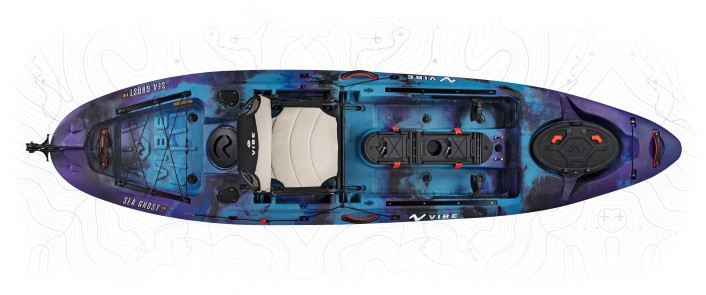 Vibe Sea Ghost 110 vs 130: The Sea Ghost 110 is a full two feet shorter and checks in 13 pounds lighter. Despite being shorter and lighter, the Sea Ghost 110 can still accommodate up to 550 pounds.
You'll find the same "hero seat" that makes Vibe kayaks some of the most comfortable on the market. A rudder is included with your purchase and it is sometimes cheaper than its newer, flashier relative.
But it doesn't perform as well. It lacks the Sea Ghost 130's maneuverability and the rudder can be more of a hindrance than a benefit in calm conditions.
Impressive load capacity for its size
Same comfortable "hero" seat as the Sea Ghost 130
Lack of maneuverability can be an issue in some situations
Read our full Vibe Sea Ghost 110 review.
Pelican Catch 120

The wide hull and open deck of the Pelican Catch 120 give you plenty of room to operate. The hull is designed similar to that of a pontoon boat and gives it top-notch stability that even lets you stand up with little difficulty.
This wide design diminishes the boat's speed. While more stable than the Sea Ghost 130, it is noticeably slower. Because of its slower pace and smaller 400-pound weight capacity, I feel it's better as a day trip kayak.
While you can customize the Catch 120 to your liking, there is no handy central console or way to attach a fish finder.
Great stability allows you to stand and cast
Comfortable, adjustable seat
Slow speed and small weight capacity make it more for day trips
Read our full review of the Pelican Catch 120.
Vibe Sea Ghost 130 Review – Conclusion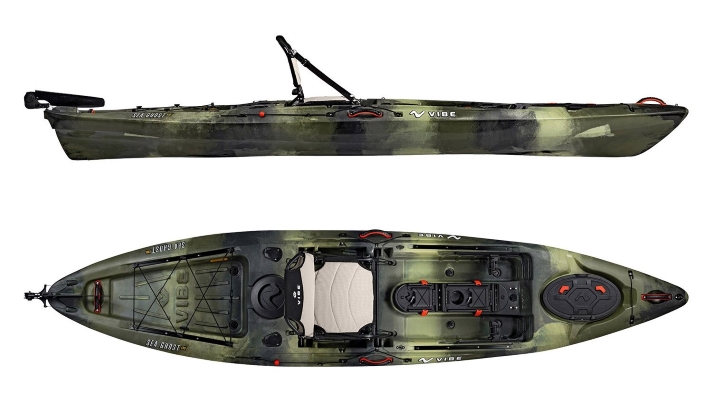 If you plan on fishing a variety of waterways, the Sea Ghost 130 is one of the most customizable angling kayaks available.
I love the creative central console where you can install a fishfinder. The four gear tracks allow for limitless combinations.
It's a well-thought-out kayak with intuitive additions such as the drybag layered hatches. Getting the rudder and scuppers included is terrific value.
With all the accessories, the 75-pound carry to the water feels like a decent trade-off. And while it doesn't move as fast as I'd like in good conditions, I like how it performs in rough water.