No matter how serious you take your fishing, having the proper, customizable gear can be the difference between coming home with dinner and coming home empty-handed.
Since its founding in 2013, Vibe has been developing kayaks for a variety of situations including seven dedicated to angling.
After my Vibe Sea Ghost 110 review, I was impressed with its weight capacity, ample storage space, and clever central console that gives you a myriad of customization options. This makes the Sea Ghost 110 a tough, reliable fishing kayak.
Along with the excellent stability, it has one of the most comfortable kayak seats I've ever sat in. Whether you're out for a day or a long weekend, the seat will keep you comfy no matter how long you want to fish.
Pros:
Excellent stability makes it a good choice for beginners
Great customization options including the ability to install a fishfinder on the central console
Four different dedicated storage spaces
Cons:
A heavier boat which makes it harder to transport and slower in calm water.
Rudder doesn't help much with tracking in calm conditions
Things to Consider Before Buying a Vibe Sea Ghost 110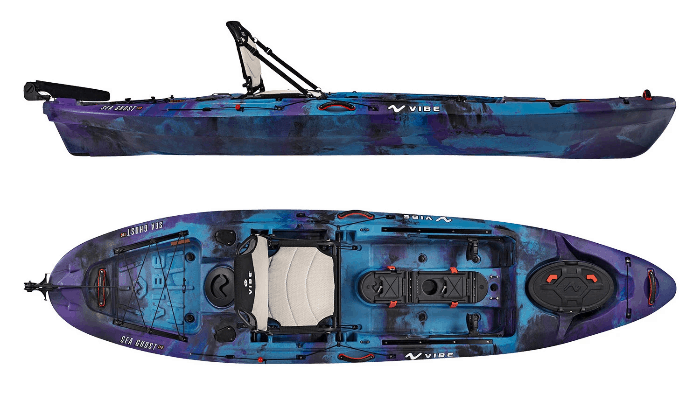 You can fish from any kayak. But specialized fishing kayaks like the Sea Ghost 110 come with several features that make your life simpler. Gear mounts allow you to attach different types of equipment and specialized paddle holders secure your paddle so you can have your hands free.
At eleven feet and 62 pounds, the Vibe Sea Ghost can be a challenge to move and store. A roof rack or similar apparatus will need to be installed on top of your car for transport.
Check your home storage space situation. Make sure you have ample room, preferably covered and protected, to house your kayak when not in use.
Because of its open cockpit, it's best to limit usage to warm excursions where water splashing into the cockpit won't be a problem.
Those that fish in cold-weather regions can look to other options like the Wilderness Systems Tsunami 125.
Vibe Sea Ghost 110 Specifications
Length: 11 feet
Width: 33 inches
Weight: 62 pounds
Load Capacity: 425 pounds
Vibe sea Ghost 110 Design
Material
The Sea Ghost 110 is made of a plastic called polyethylene. Cheap and durable, polyethylene is the most common kayak material in this price range. Heavier than fiberglass or kevlar boats, plastic is more forgiving and can withstand accidental drops or bumps.
You may be able to drag your Vibe Sea Ghost 110 over sandy or small rocky beaches but I'd try to avoid this whenever possible. When moving over boulders or uneven surfaces, I always carry a kayak of this weight with a partner.
Speed
The design and rudder help the Sea Ghost 110 maintain speed over rough water.
While I appreciate any boat that helps me get out of trouble fast, this kayak doesn't move as fast as its competitors on calm water. If you're like me and you like to fish a large area, the extra travel time required may be frustrating.
Maneuverability
The rudder helps the Sea Ghost 110 regardless of water conditions but is most useful in choppy water.
While the rudder can help with turning in calmer situations, it isn't as responsive as I'd like. The performance in rough water is exemplary, but I wish it handled better in calm water.
Comfort

I wouldn't say Vibe has perfected the kayak seat, but they're pretty darn close. Appropriately labeled the "hero" seat, it has great support and a mesh covering that wicks water and dries fast.
There's a range of adjustable settings. The "hero" can be raised higher or lower depending on the length of your legs. And the easy to adjust straps control how stiff it is.
If you still can't find a position that satisfies you, no worries. It can be folded down if you'd prefer to paddle without it.
Stability & Tracking
The wide hull and polyethylene material make this one of the most stable kayaks on the market. After some practice, many can even fish from a standing position, which I find to be more comfortable and effective.
The Sea Ghost 110 tracks fine in most conditions with or without the rudder. For beginners, I'd recommend always paddling with the rudder in the water as this will help you keep a straight line while you work on your paddle stroke.
Durability
The Sea Ghost 110's polyethylene hull can absorb most scraps, drops and collisions.
Despite this durability, paddlers should still be as careful as possible both on the water and when carrying it. Come into beaches carefully when you can and avoid ramming into rocks and submerged obstacles. Any kayak will start to show wear and tear after enough collisions.
That said, plastic kayaks are the most forgiving and durable on the market and they're great for those that have to transport their boat to the water or are learning the fine points of kayak ownership.
Portability
To get such a wide, stable, and durable kayak means you have to sacrifice something. In this case, the Sea Ghost 110 checks in at a hefty 62 pounds. At eleven feet long, it is a little easier to carry solo than longer kayaks. But I'd still recommend carrying it with another person whenever possible.
Vibe has tried to make carrying easier by installing four handles along the hull.
I do wish they had installed a skid plate or similar feature on the keel to increase the durability for when I do have to drag it alone.
Vibe Sea Ghost 110 Accessories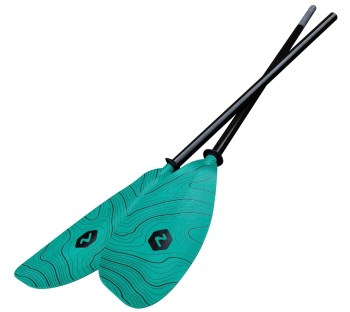 The Sea Ghost 110 is designed with 10 scuppers to help drain water while paddling. In rough water, you'll want to use the included scupper plugs to keep you dry.
Convenient paddle holders are incorporated into the boat so you can always have your hands free without worrying that your paddle is floating away.
To top it off, the Sea Ghost 110 comes with the Vibe Evolve Paddle. While not good enough for professional kayakers, this paddle is great for beginners. It is durable, responsive and has an aluminum shaft. This kind of paddle would normally set you back $100 or so.
Vibe Sea Ghost 110 Kayak Fishing Ease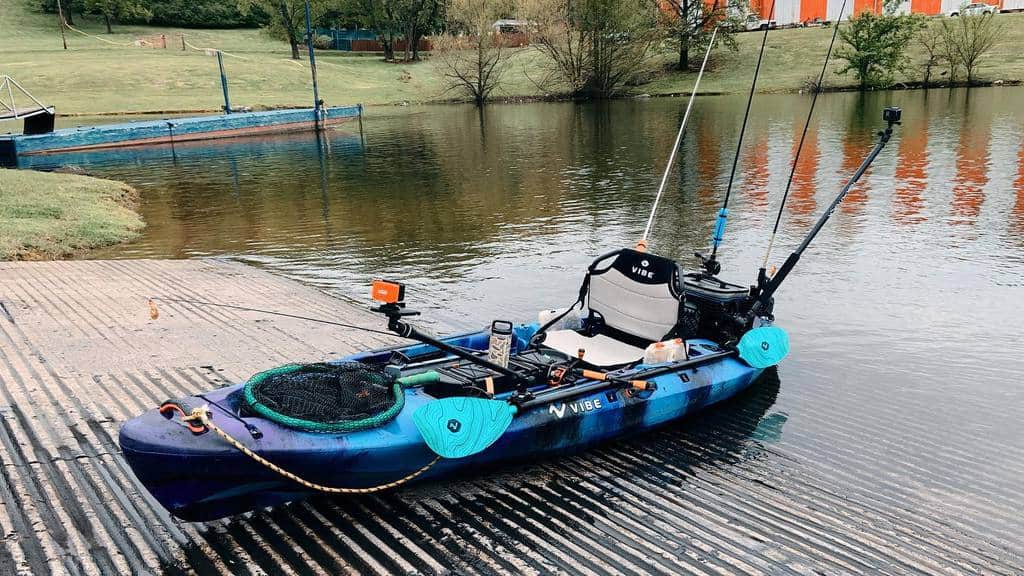 The Sea Ghost 110 has plenty of accessories to make your angling adventures successful. In addition to tracking and maneuverability, the rudder also prevents you from drifting when fishing on rivers or in tidally-influenced areas.
A pair of rod holders are included so you can bring a spare rod and keep them secure during travel.
Four fully customizable gear tracks are strategically placed along the hull. Various mounts can be installed on these to hold a range of equipment from cameras to fishing tackle.
In the cockpit is my favorite accessory. Here you'll find a central console that can be customized to your liking. It can even be set up to hold any standard fishfinder.
To go along with all the custom options, the boat has ample storage space. The bow has a roomy 20-inch hatch complete with a bag insert and locking mechanism to help keep water out. Tackle holders complete with bungee cords can be found on either side of the seat to hold extra bait and keep gear in place.
In the stern is a smaller six-inch hatch with a similar bow design. This is useful for holding personal effects or other materials you want to keep dry. The stern is outfitted as a big open-air storage space complete with bungee cords to hold gear in place.
Vibe Sea Ghost 110 Value
The reasonable price, array of custom gear tracks, and awesome central console makes the Sea Ghost 110 a cost-efficient purchase. I like getting the paddle included as well as the scupper plugs which many companies don't offer with their boats.
With a load capacity of 425 pounds, it can't carry as much as some angling kayaks. But the smart angler will find they can still safely and efficiently pack their gear for multi-day excursions and have plenty of room for their catch.
Sea Ghost 110 Testimonials
I spent some time online looking for owner reviews of the Sea Ghost 110. The majority of reviewers seemed to be happy with their selection.
Many praised the included paddle and appreciated the storage, central gear console, and myriad of storage options.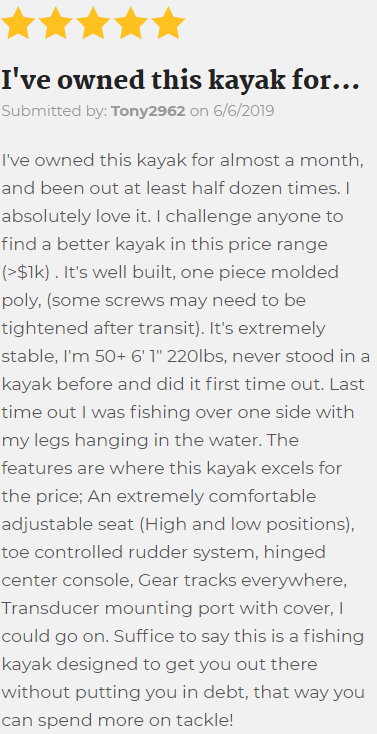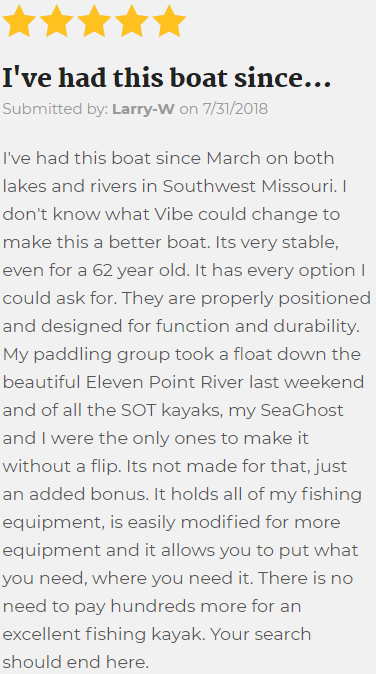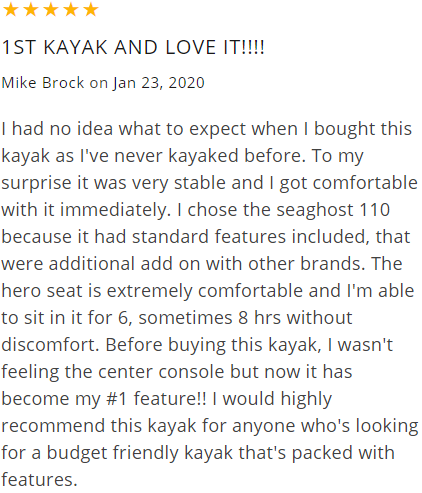 Vibe Sea Ghost 110 Kayak Alternatives
There's a lot of different fishing kayaks on the market. Whether you're looking for a budget option or one with a lot of bells and whistles, chances are you can find what you're looking for. Here are three of my favorite alternatives to the Sea Ghost 110.
Perception Pescador Pro 120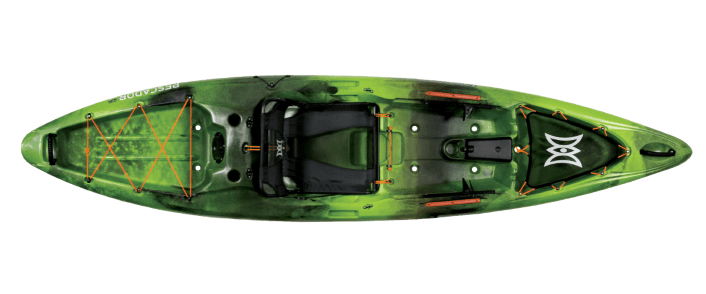 Deals for Pescador Pro 120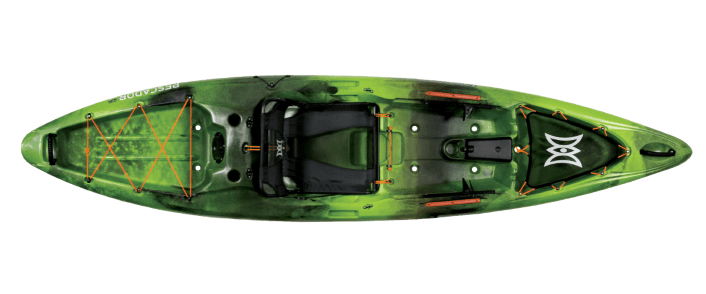 A foot longer but approximately the same weight, the Perception Pescador Pro 120 is quicker than the Sea Ghost 110. Plenty of accessory mount options are included and the comfy chair design has earned positive reviews.
But despite the longer hull, the weight capacity is limited to 375 pounds, 50 pounds lighter than the Sea Ghost 110. While you could try to cram all your overnight gear into it, I view it more as a day boat.
It does have impressive maneuverability, able to handle both rivers and oceans. While I wouldn't say it's as solid as the Sea Ghost 110 in rough water, it has good stability and can handle a range of conditions.
Smaller weight capacity may limit trip length
No watertight hatch or central console
Versatile design with comparable stability and maneuverability
Read our full review of the Pescador Pro 12.0.
Vibe Sea Ghost 130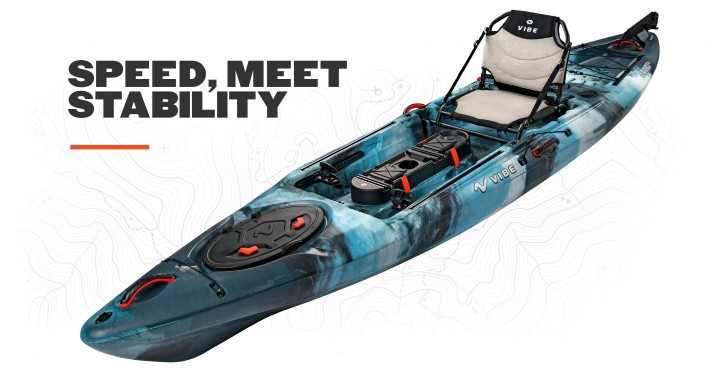 The big brother of the Sea Ghost 110, the Sea Ghost 130 comes with all the custom gear tracks and the central console that Vibe is known for. Not to worry, the comfy "hero" seat has made the journey too.
Longer and heavier, this thing is a tank, able to hold an impressive 550 pounds. The 2019 version comes with a more watertight bow hatch and the boat's whole performance level has been upgraded. The biggest improvement comes in calm water where the Sea Ghost 130 is faster and more maneuverable than its predecessor.
Customization that Vibe is known for with four gear tracks and central console.
Heavier than the Vibe Sea Ghost 110
Still lacks the speed of other company's angling kayaks
Click here to read our full review of the Vibe Sea Ghost 130.
Pelican Catch 120

The pontoon-style hull makes the Pelican Catch 120 one of the most stable angling kayaks on the market. Standing up is a breeze in this vessel and you can cast with confidence from most positions. It has a wide hull and more open deck than Vibe's models which gives you plenty of room to operate.
But the wide hull hinders the Catch 120's speed. This slower pace combined with the 400-pound weight capacity puts it in a bit of a no man's land between day trips and longer journeys.
While you can customize the Catch 120 to your liking, there is no handy central console or way to attach a fish finder.
Great stability allows you to stand and cast
Comfortable, adjustable seat
Slow speeder and smaller weight capacity make multi-day trips more challenging
Read our full review of The Catch 120.
Vibe Sea Ghost 110 – Conclusion
The Sea Ghost 110 isn't without its warts. But for the price and all the custom options, it makes for a fine fishing kayak.
I wish it performed better in calm water conditions when I want to do most of my fishing, but the central console with the ability to install a fishfinder is an innovative design. This combined with the comfy seat makes for a great day on the water.
Included accessories like the paddle and scupper plugs are nice perks.
For those looking for a cheaper alternative to the Vibe Sea Ghost 130, look no further than the older Sea Ghost 110.