Of all the features to look at when selecting a kayak, finding the most stable kayak may be the most important.
Today we're going to highlight this important feature with a focus on finding the most stable kayak for fishing.
Whether you're looking for a sit-in or tandem or ocean-going vessel, you'll find the most stable fishing kayak for you below.
These stable kayaks will help you stand and cast without falling over, which I'm sure you'll admit is pretty important.
Let's get started!
7 Most Stable Fishing Kayaks

The Pescador Pro 12 derives its stability from a wide 32" hull that, when coupled with the twelve-foot keel, makes it one of the most stable boats on the market.
The additional surface area does slow the boat down and wouldn't be my choice if you're trying to get anywhere fast. But maneuverability is above average and the tracking is reliable enough that I feel good taking it onto protected saltwater.
The adjustable, camp chair seat has drawn rave reviews. Accessory mount options allow anglers to customize the fishing set-up to their liking.
A heavy boat weighing 64-pounds
A reassuring combination of maneuverability and stability
Comfortable seat that has drawn rave reviews
Full review of the Pescador Pro 12.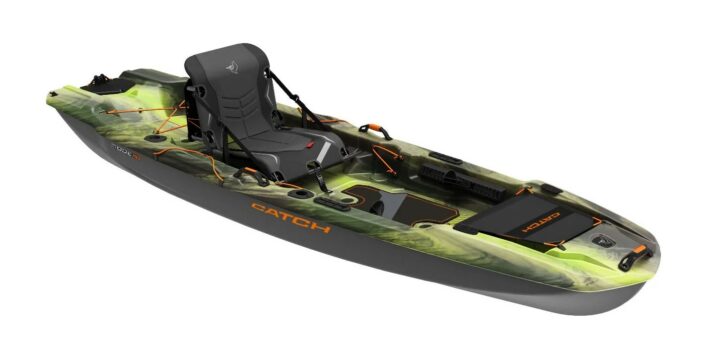 There's a lot of fishing kayaks out there that label themselves as "stand-up." But the Pelican Catch Mode 110 is one of the few where I feel confident standing regardless of the water's condition.
It feels so stable underfoot that even in small ocean waves you can feel good about casting from a standing position. I wouldn't take it too far from shore in those conditions though as the tracking and maneuverability can suffer if the water gets too rough.
There are some nice customization options to make up for it including the ability to install a GPS or fishfinder. 
(Pro tip: if you can spend a little bit more, consider getting the Pelican Getaway HDII instead. You get the same amazing stability, but with a pedal drive that helps you move much faster and stay in place easily in windy conditions).
A heavier model weighing 69 pounds when empty
Enough storage space and load capacity for overnight journeys
Accessory eyelets enable extra accessories or fishfinder to be installed

Most pedal kayaks are inherently stable as they're bigger, wider, and bulkier than traditional kayak designs. But the Sportsman 120 PDL from Old Town is the most stable of them all.
Maneuvering is made easier by two steering handles for added flexibility and the boat comes filled with customization options like a transducer mount, four rod holders, and a big open-air stern hatch secured with bungee cords.
The load capacity is just right for a boat of this magnitude at 500 pounds, but you should know it's pretty heavy at 116 pounds. Still, this boat should satisfy most anglers and opens up the possibility of more ambitious multi-day excursions.
Finally, while pedal kayaks are much more expensive than standard kayaks, the Sportsman 120 PDL actually provides great value at under $3K whereas comparable Hobie kayaks cost $4K+.
Easy to maneuver through shallow water
More expensive than standard fishing kayaks
Good 500 lb weight capacity
Full review of the Sportsman 120 PDL.
4. Most Stable 10-Foot Fishing Kayak: Old Town Vapor 10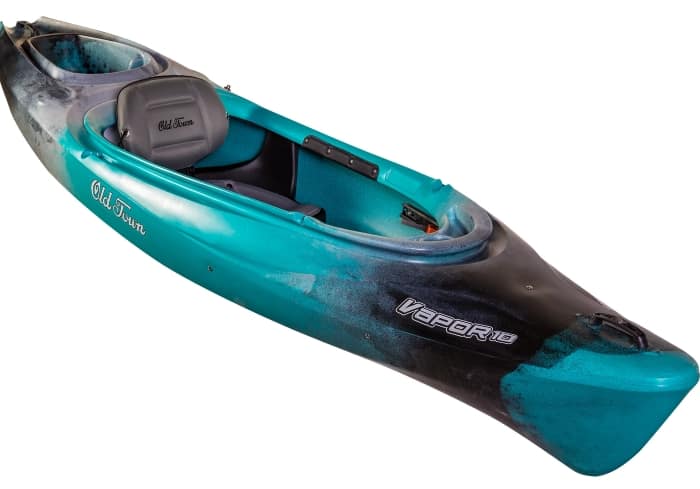 There aren't many ten-foot kayaks that I'd trust to handle ocean conditions, but the Vapor 10 from Old Town is one of them.
While I don't think I'd trust it in serious surf or ocean swells, it has the stability and reliability to handle protected bays and most lakes and non-whitewater rivers.
The cockpit has enough room for most paddlers to get in and out safely while the comfy seat, thigh braces, and adjustable foot pegs keep you comfortable no longer how long you're out.
It weighs only 47 pounds and can handle up to 325 pounds giving it a nice weight-to-storage capacity ratio.
Sit-in design provides more protection from the elements
Lacks the customization options of other fishing kayaks
Stability comes without sacrificing speed
Read our full Old Town Vapor 10 review.
5. Most Stable Sit-In Fishing Kayak: Loon 126 Angler
With a streamlined design, this newer model from Bonafide is swift and tracks well with the ability to handle ocean paddling.
Don't let the tapered hull fool you, this is one stable and reliable fishing platform that you can feel comfortable standing up in to cast as long as the water isn't too choppy.
While many sit-in kayaks feel cramped and uncomfortable, this boat has a mammoth cockpit that will accommodate most paddlers comfortably.
In addition to the eye-catching speed, this boat tracks really well.
Not flush with customization options, but there are two rod holders
Comfortable stadium-style seat
One of the faster boats on this list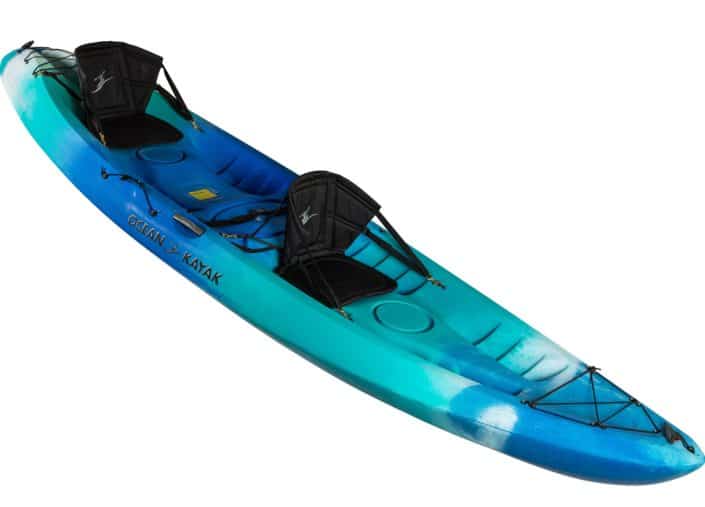 A big boat with roomy cockpits and space for a smaller third passenger, the Malibu Two Tandem from Ocean Kayak is the perfect fishing platform for families.
Like all plastic kayaks, the Malibu is a tough, durable boat made all the more solid thanks to the installed skid plate so it can withstand bumps or short drags along the beach.
At just 57 pounds, it's one of the lighter and easier tandems to carry.
While there's a lot of natural storage space, the one place the Malibu Two falls short is a lack of custom fishing options or rod holders. But the stability, space, and on-water performance are so impressive I'm willing to look past this shortcoming.
Lifetime warranty
Room for up to three passengers
Can be paddled solo or tandem
Doesn't have the custom options of other fishing kayaks
7. Most Stable Ocean Fishing Kayak: BKC UH-TK181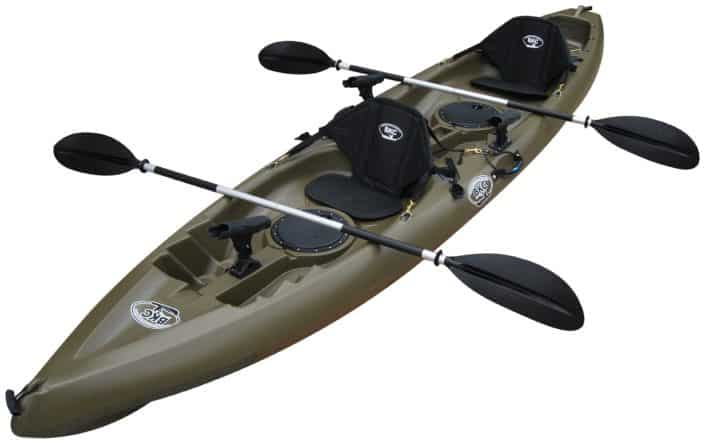 A tandem model, this is the perfect kayak if both paddlers want to fish. With an incredible seven rod holders built into the hull, both anglers can fish to their heart's content.
It's a big boat with a 34-inch beam that uses its large deck to ensure that you have a ton of storage space including two watertight consoles in front of each seat.
Newcomers may find that it has a bit of a learning curve, but after a little practice, the UH-TK181 tracks well enough to handle most ocean conditions.
Can handle choppy waters well
Seat attachments can be fragile
5-year warranty
Sit-on-top limits it to warmer waters
How to Choose the Most Stable Fishing Kayak
Are You an Experienced or Beginner Angler?
If you're a relative novice in either fishing or kayaking, it may be tempting to buy the most high-end boat you can afford.
But I'd recommend against this.
There are plenty of stable, feature-rich kayaks that can be found for a relatively low cost that will give you a taste for the sport without a big financial investment.
If you find you really like kayak fishing, you can always trade-in your cheaper boat and upgrade.
There are a lot of mid-range fishing kayaks available that should satisfy most casual anglers.
More expensive and newer boats like the Loon 126 Angler combine stability with a better top speed while the Pelican Catch Mode 110 gives you all the customization options in a smaller and cheaper package.
If you've already been out a few times and know that your boat will get a lot of use, it's hard to compete with a pedal kayak like the Hobie Mirage Outback, although it is prohibitively more expensive and harder to transport.
Dimensions (Widest Fishing Kayak)
Just looking at a boat's "specifications" will give you a good idea of how the boat should perform.
Longer keels generally equate to a faster boat while wider beams correlate to better stability.
Hull types can vary from model to model including pontoon designs while sit-in kayaks have a more tapered shape. I'd recommend going with a flat hull which serves as a good middle ground between stability and paddling efficiency.
Storage Capacity
Most boats come with dedicated storage space in the bow and stern.
I prefer kayaks in which at least one of these spaces has watertight storage. This is especially important if you live in a rainy environment or plan on paddling in water where waves may slosh over the hull.
Make sure your boat has the deck space for all your fishing gear. Preferably there will be a small console or pockets accessible from your seat so you can reach your lures and tackle box easily.
Check the boat's load capacity on its specifications page. This refers to the amount of weight the boat can safely handle. Remember that this includes the paddler(s) weight as well. Overloading a kayak can make it sit lower in the water and be sluggish, less maneuverable, and more susceptible to capsizing.
Short or Long Trips
The longer the trip, the faster you'll want your boat to be to cut down on travel time.
Longer trips also require more storage capacity and it can take some practice to learn how to pack efficiently.
If you plan on being in your kayak for an extended period, make sure the seat is comfortable and adjustable with enough lumbar support that you won't stiffen up.
Your boat should also have either multiple footwells or adjustable foot pegs. These allow you to brace against the kayak which will ease the stress on your back while also making your paddle stroke more efficient.
Other Features
In recent years the fishing kayak industry has started to outfit their boats with more and more custom features.
Today most boats allow you to customize to your exact specification and bring along a depth sounder, fish finder, or GoPro.
Cheaper, entry-level kayaks often come with a few bonus accessories like free paddles or a pump if it's an inflatable.
Pedal vs. Paddle Kayaks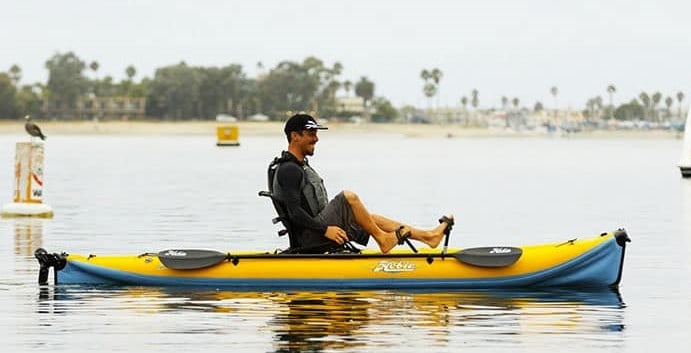 Pedal kayaks represent the high-end of the kayak world. These boats are propelled with a pedal drive system similar to a bicycle.
This gives you better top speed and you won't tire as quickly. Steering is controlled with a small joystick and leaves you free to cast while moving without compromising your maneuverability.
These boats are larger, heavier, and more expensive than traditional kayaks, and can require a lot of storage space and a large vehicle to move around.
Be prepared to do more maintenance with these boats too as the pedal drive systems will require proper lubrication and occasional part replacement.
Tandem or Single
If you think you'll be doing a lot of your paddling with another person, it may be worth investing in a tandem kayak instead of two singles.
Tandem kayaks tend to be longer and wider than singles, making them more stable and harder to tip over. The longer keel also gives them a faster top speed if the two paddlers are paddling in sync.
While they are heavier, I find storing and transporting a tandem is simpler than two singles and a tandem fits better on top of a car.
Some tandems, especially cheaper ones, are designed to be paddled either solo or tandem, giving you even more flexibility. This isn't the case with all tandems however so make sure that your tandem is compatible before paddling on your own.
Color Choice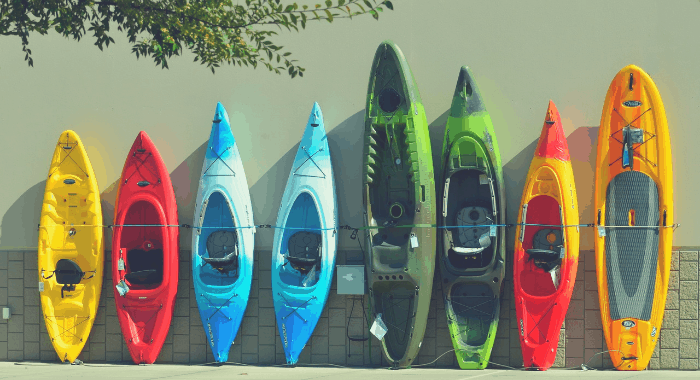 This is mostly cosmetic and many kayaks come with multiple color options.
If I have the choice, I tend to go with a boat that is brightly colored so it stands out on the water. This makes me more visible to passing vessels and easier to avoid.
In the event of an emergency, a brighter color will also be easier for search and rescue crews to locate.
Most Stable Kayak – FAQ
What Is the Widest Fishing Kayak?
The widest fishing kayak is the Pelican Catch Mode 110. With a 34.5″-wide hull, this is the most stable fishing kayak on a budget. It's wide and stable enough to stand and cast, with a very comfortable seat. The only downside is that you won't be breaking any speed records.
Are Wide Fishing Kayaks More Stable?
Yes, a wide fishing kayak is generally more stable than a narrower boat. The only downside is that the wider the kayak, the slower it will be. If you want a wide fishing kayak and don't care about speed, the Pelican Catch Mode 110 is a good budget option.
What Is the Most Stable Kayak?
The most stable kayak is the Perception Pescador Pro 12. This boat allows you to stand & cast and move around the boat without feeling unstable. The good news is that it's quite fast for such a stable kayak.
What Is the Best Stand Up Fishing Kayak?
Again, the best stand-up fishing kayak is the Pelican Catch Mode 110. This kayak has amazing stability and allows you to stand and cast even if you weigh over 300 lb.
If you have a higher budget, the actual best stand-up fishing kayak is the Sportsman 120 PDL. The Sportsman 120 takes stability to the next level, and it even let me stand on the nose of the kayak without flipping when I took it for a test.
Besides, this stable kayak boasts a 500 lb capacity, which means that even big guys can feel comfortable standing and casting. To be honest, I don't think it's even possible to flip this boat, even if you try your hardest.
Most Stable Fishing Kayak – Conclusion
It's hard to enjoy a day on the water if you feel like you're about to tip over.
Any of the kayaks above should give you the confidence to focus on your fishing without having to worry about a wobbly boat.
But my favorite has to be the Pescador Pro 12 thanks to its impressive top speed and the ability to safely stand up.
If price isn't an issue, it's hard to top a pedal kayak like the Sportsman 120 PDL with its combination of speed, the ability to cast on the move, and the abundance of customization options.
What's your most memorable kayak fishing experience? Share your stories and fishing photos with us in the comments below.