The only thing that can make reeling in the big one more special is sharing the experience with someone. Fortunately, there's no shortage of high-quality tandem fishing kayaks on the open market.
In the article, we'll talk about some of the best 2-person fishing kayaks, breaking down their strengths and weaknesses so you can get out there and bring home dinner.
Whether you're in the market for a high-end boat or just looking for something to take to the local lake, we'll give you the best tandem fishing kayak in numerous categories so you're sure to find the perfect model for you.
Best Tandem Fishing Kayaks in 2023

With a solid PVC fabric exterior, the Excursion Pro is one of the most durable inflatable kayaks.
Set-up and take-down are simple and intuitive thanks to the high-pressure valves while storage and transportation are easy and worry-free.
It comes with several features usually not found in an inflatable kayak including a pair of rod holders and a well designed mounting bracket where you can install a fish finder or GPS.
400-pound weight capacity
Comes with two paddles and a pump
Easy storage
Included features are a great bang for your buck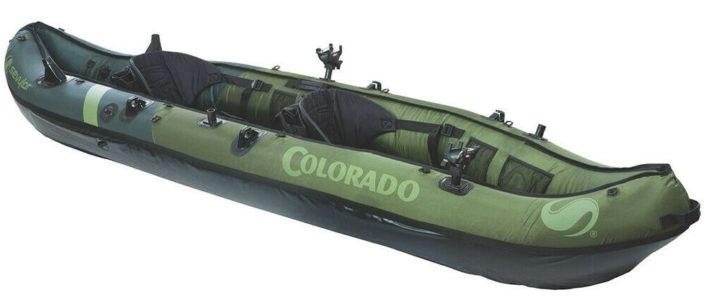 Another tough, well-made inflatable is the Colorado 2-person from Sevylor Coleman.
While it doesn't have quite as many features as the Intex Excursion, you'll still find a pair of rod and paddle holders.
A trolling motor can be easily installed and it's this accessory that really sets it above other inflatables.
Storage is tough to come by in an inflatable, but the Colorado does have some open-air storage built into the design with mesh storage pockets.
Inflation is a piece of cake and the air tubes are airtight and leak-proof with proper maintenance.
Versatility for fishing trips
Capable of longer trips with trolling motor
Rod holders and other accessories may get in the way while paddling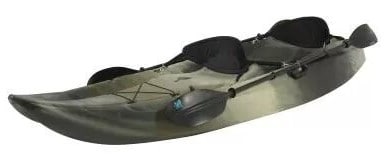 You get a lot for your money with this tandem from Lifetime.
Stability is a priority and the flat bottom design makes for a solid paddling platform whether you're fishing or in transit.
Padded backrests and multiple footrests keep you comfortable no matter how long you're out.
For fishing, there are three rod holders but no gear tracks or mounts for a fish finder or GPS. Storage is a little lacking with just a six-inch storage hatch located in the stern
Large 500-pound weight capacity
Minimal storage space
Two paddles included
One of the cheapest hard-sided tandems
Best Value Tandem Fishing Kayak: BKC TK219 12.2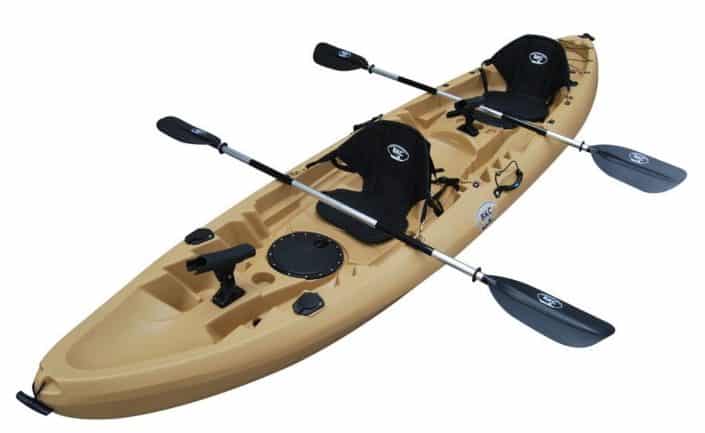 Able to carry up to three passengers and measuring 12 and a half feet long, the BKC TK219 feels criminally underpriced.
The 34-inch beam keeps you stable in minimum chop and provides a confident ride regardless of your experience level.
There's a good amount of storage space and the fishing rod mounts are designed to let you troll while you paddle.
Maneuverability and tracking is sometimes subpar
Can be paddled solo
Two paddles included
Best 2-Person Fishing Kayak Overall: Vibe Skipjack 120T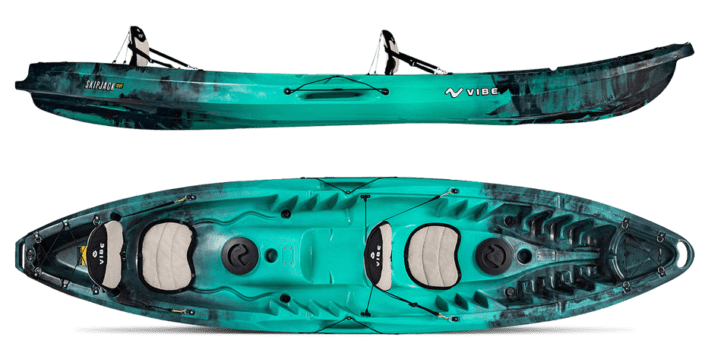 A beast of a kayak, the Vibe Skipjack has a spacious deck with plenty of room for both paddlers.
A smaller seat has been installed in the middle that will fit a child or a well behaved medium-sized dog. All that space does make it on the heavy side (72 pounds).
For fishing, there are two rod holders strategically placed as well as four mount locations to further customize your fishing adventure.
Two watertight storage hatches, a spacious deck well, and a load capacity of 500 pounds makes the Skipjack a versatile vessel capable of multi-day trips.
Two paddles included
Lots of storage space
Great customization that Vibe is known for
One of the more ambitious designs, the Point 65 can be easily disassembled into three parts.
It can be repurposed using two parts into a solo kayak giving you maximum flexibility. It's like getting two kayaks in one!
The load capacity when in the single configuration is a little light at 300 pounds but it should be capable of single-day trips nonetheless.
There's not much in the way of custom fishing options and no watertight storage space due to the unique design.
But it provides maximum flexibility for those that want to paddle solo and tandem.
Clever snap apart design
Can be a solo or tandem kayak
Minimal storage space

Like the Skipjack, the Elkton's Tandem measures over 12 feet long with room for a smaller third person or dog.
A pair of tank wells in the bow and stern gives you plenty of open-air storage. For watertight storage, there are smaller compartments directly in front of each seat.
Yet despite the length and storage, this tandem is significantly lighter than similar models, weighing just 60 pounds when empty.
Of course all that storage capacity doesn't mean much if the boat has a small load capacity. Luckily the Tandem 12.2 has a mammoth 650-pound load capacity to fit your camping gear easily.
It's the boat for you if you're looking to do long trips on lakes or mellow rivers.
Cost-effective kayak for longer trips
Paddles included
Seats can be uncomfortable for some paddlers
Two rod holders but no gear mounts

The cream of the angling kayak crop is the pedal kayaks and one of the best is Hobie's Mirage Compass Duo.
The hefty price tag is worth it when you consider what you're getting.
The well-crafted pedal design provides impressive cruising speed and keeps your hands free to cast or troll as you move.
Minimal drag means the Mirage is silent as it cruises over the water and won't startle fish the way a paddle kayak will.
Custom options and comfortable seats round out this jewel of a kayak if you're willing to break out the checkbook.
Spendy
Pedal drive system requires frequent maintenance
Fast and stable
High level of performance
How To Choose The Best Tandem Fishing Kayak
Experience Level
As a newcomer, you probably won't be sure how much you'll enjoy kayak fishing. If you're just getting your kayak career started, it may be best to go with a cheaper kayak.
Many of these "entry-level" boats, including the inflatable models above, are designed with a focus on stability that beginners will appreciate.
If you take to the sport and find you love it, there are plenty of good mid-range fishing kayaks you can upgrade to like the Vibe Skipjack Tandem. If your budget is a little tighter but you'd prefer a hard-sided boat, Lifetime's Tandem gives you a competitive boat, albeit with fewer of the custom options.
So impressive is Vibe's line of boats, that I'd include their Skipjack at the high end of hard-sided boats while the Hobie Mirage Compass Duo usually comes with a substantial financial investment.
As great as these boats are, I'd recommend the pedal models only to experienced paddlers who know that they'll be using them often enough to get their money's worth.
Do You Want to Use it Solo?
In some cases, it's nice to have the flexibility to use your tandem fishing kayak on your own.
It's important to keep in mind that tandem kayaks can be difficult to paddle on your own. The boat will be underpowered and harder to turn.
But some tandem boats are designed to be paddled both solo or tandem. If you want that versatility, make sure that the boat's specifications are meant to handle that. Many inflatable and entry-level tandems are meant to be paddled solo or tandem too.
Weight & Storage Capacity
Weight or "load" capacity refers to how much the boat can safely carry. Bear in mind that the load capacity includes the paddler's weight as well when you're doing your research.
Overloading a boat will cause it to sit lower in the water than it's designed. This will make it less responsive, unstable, and susceptible to capsizing.
Not all storage space is created equally. Most angling kayaks have large open storage spaces in either the bow or storage where gear can be secured with deck bungees.
These are good places to store tackle boxes or coolers. Water sensitive gear should be kept in dry bags if they'll be stored here.
Enclosed watertight storage varies a lot between companies and models. Some only have small circular hatches in front of the seats that will fit personal items and fishing tackle.
If you plan on doing longer trips, I'd recommend a model that has watertight storage in either the bow or stern to ensure your tent, sleeping bag, and other gear stays as dry as possible.
Trip Length
How long you can be out will depend on a combination of your boat's load capacity, storage space, and how efficiently you can pack.
If you see yourself as more of a day paddler with the occasional overnight trip, you can get away with a smaller boat with lower load capacity and storage space.
If you plan on being out longer, it's worth looking at a boat that can carry more gear. If your trip will require you to cover several miles, pick a boat with a comfortable and adjustable seat.
You may have to sacrifice some stability, but it's also worth selecting a more streamlined boat for more efficient paddling and tracking.
Extra Fishing Features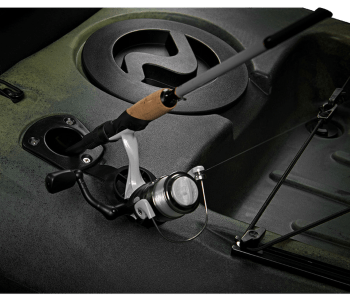 In recent years angling kayaks have started to add more and more customization options to help you outfit your boat.
Gone are the days where all you would get is a couple of rod holders and nothing else. Depending on what sort of fishing you want to do, make sure your boat is capable of bringing along everything you'll want.
Trolling motors can be installed on some models which can be a substitute for a more expensive pedal drive system. Tracking skegs or rudders on other boats help you maintain your course and boost maneuverability.
But it's the fishing accessories that catch the eye. Referred to as "accessory mounts," "gear mounts," or "gear tracks" depending on the company, they allow you to install any number of gadgets from a GPS or fish finder, to a GoPro, spare lures, or a kayak anchor.
Inflatable vs Hard-Sided 2-Person Fishing Kayak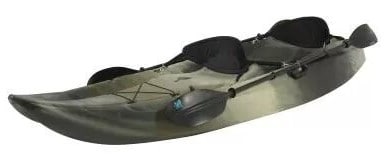 The durability and performance gap between inflatable and hard-sided kayaks has gotten smaller in recent years.
Inflatables are made of tough fabric that is more resistant to punctures than you would guess but still requires you to be more careful.
Stability can be similar to hard-sided boats although you won't get the same performance as you would with a hard-sided.
If you live in a small apartment or have limited storage space, an inflatable may be the way to go. They can be stored in a closet when not in use and transportation is much simpler without the need for a roof rack, tie-downs, or trailer.
Hard-sided kayaks have more storage space and better top speed. If you want to do longer or more ambitious trips, it's best to go with a hard-sided model.
Color Choice
Multiple color palettes are usually available for most kayak models.
Whatever you choose, make sure it's bright and catches the eye so it can be located easier in the event of an emergency.
When filing your travel plans, make sure to include the make and color of your boat.
Best Tandem Fishing kayaks – FAQ
Can 1 person use a 2-person kayak?
Yes, 1 person can use a 2-person kayak. While it's true that the 2-person kayak will be slower if you're paddling alone, you will also have more room for some extra gear. The stability will also be improved.
Is it safe to use a double kayak?
Yes, using a double kayak is very safe as tandem kayaks are generally wider and longer than single kayaks. This means that the risk of capsizing is lower.
Are 2-Person Fishing Kayaks more stable?
Yes, 2-person fishing kayaks are more stable than single kayaks. This is why people who want to stand and cast, or heavy people, might prefer to go with a 2-person fishing kayak. However, a 1-person kayak designed for stability or for big guys would still perform better overall.
Best Tandem Fishing Kayak – Conclusion
There are enough quality tandem fishing kayaks that you can find a good one no matter where on the price range you're browsing.
In my opinion, Vibe's Skipjack Tandem provides the best combination of features and performance for its price. Despite being on the heavy side I love how it paddles and all the custom options make it a lot of fun to fish from.
With all the storage options, I also like the Elkton Outdoor Tandem, especially if you see yourself going out for several days.
What do you think or our list? Did we leave out one of your favorites? Share your stories about the one that got away or suggestions in the comments below.