I had to wait a full year before getting my hands on this boat…
But I'm finally ready to write this Old Town Sportsman Bigwater PDL 132 review.
Below, I'll tell you what the Bigwater PDL is great at, and what could be improved.
[Spoiler Alert: The Bigwater PDL 132 is a hell of a boat. It's super fast, efficient, maneuverable, comfortable, and has great fishability. Tons of storage space, no durability issues… one of the best pedal kayaks under $3500]
Things to Consider Before Buying a Pedal Kayak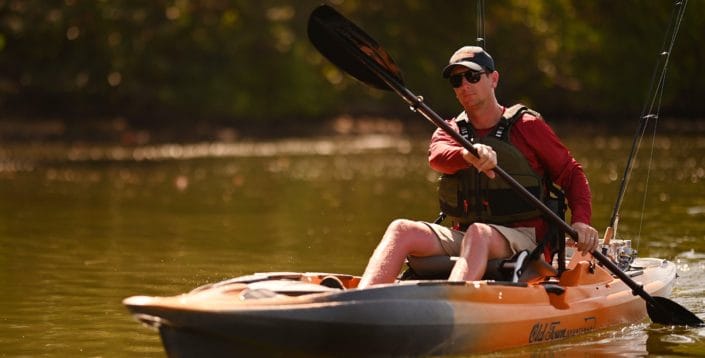 I'll start with the obvious: pedal kayaks aren't cheap. The cheapest tend to sell for $2K-$3K, while Hobie's sell for $4K-$6K.
Now that's out of the way, let's talk about pedal kayaks from a more practical standpoint.
First of all, you'll probably have to invest in a cart or landing gear because these boats are really heavy, especially when fully loaded.
Second, you'd better have a truck because loading it on top of a car or SUV is a challenge unless there's two of you.
Apart from that, pedal kayaks tend to have great stability, and you can generally stand and cast easily.
They also go faster than their paddle counterparts, and being able to reverse pedal to stop a fish from dragging you down is a great feature.
Pedal kayaks are extremely durable, so they will last a lifetime. Chances are you'll outgrow your first pedal kayak and invest in a better one down the road, but they're very easy to sell on the second-hand market.
Old Town Bigwater 132 PDL Specifications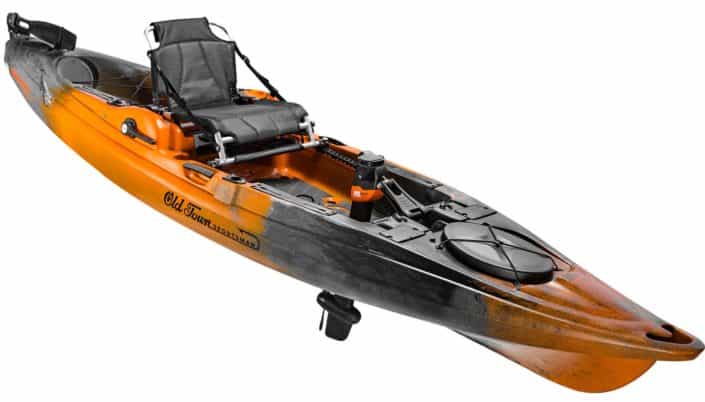 Length: 13 ft 2 in
Width: 36 in
Weight: 95 lb / Assembled 122 lb
Weight Capacity: 500 lb
Old Town Bigwater 132 PDL Design
Material
Like most high-end pedal kayaks, the Old Town Sportsman Bigwater PDL 132 is made of single-layer polyethylene.
This material is virtually indestructible and makes the hull shock-proof and accident-proof.
You'll never make a dent in the hull, much less break it even while speeding at 4 mph toward a rock. (I'd recommend not trying this, though, as you'd most certainly hurt yourself)
Another good side of polyethylene is that you can drag the boat over sandy or rocky beaches without damaging it too much. You could never do that with a fiberglass kayak, for instance.
Finally, it requires very little maintenance. Just keep it out of the sun to avoid plastic warping, and you're good to go.
Speed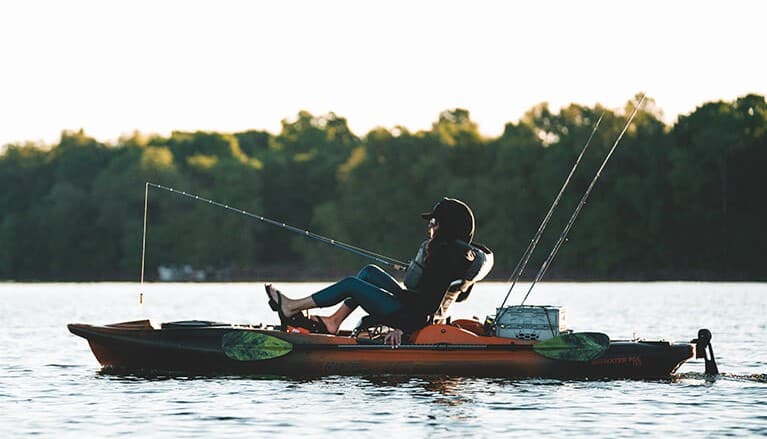 The Bigwater PDL 132 is designed with speed in mind, which is part of the reason why it's not as stable as the Sportsman 120 (more on that below).
Aside from having the most efficient pedal drive system on the market, it's also quite long at 13 ft 2 which helps go faster without more effort.
I personally have a cruising speed of 4mph with this boat, although I remember going a bit slower at first.
As a comparison, 4mph is the top speed of my Autopilot 136 (which is a motorized kayak), but it can only sustain that speed for 2 hours.
Maneuverability
The Sportsman Bigwater PDL 132 has amazing maneuverability.
And I mean it.
Not only can you turn on a dime, but the instant reverse is also great when you hook a big fish and you don't want it to tow you out under that cover − you can immediately start pulling back on it.
It also goes forward instantly, so you can chase down offshore schools of fish even if you were at a complete stop.
Even against strong currents, I've never had any problems (unlike with my Pelican Catch 110 HD II where I sometimes have to use the paddle).
The only kayak I have which turns faster is the Hobie PA 360. But that's it.
Comfort
The Element seat is super comfortable. It drains well and is adjustable forward and backward.
If you're a tall guy, you'll find out that the seat is too low.
I'm 6ft tall and I had to buy Navarre seat risers so that I could pedal more comfortably. It's not a deal-breaker but definitely something you should know before getting on the water for 8 hours.
The seat is wide enough that big guys won't feel any discomfort though.
All in all, I've had some long fishing days on this boat (8+ hours) and never felt any pain or discomfort.
No signs of wearing out either yet.
Stability and Tracking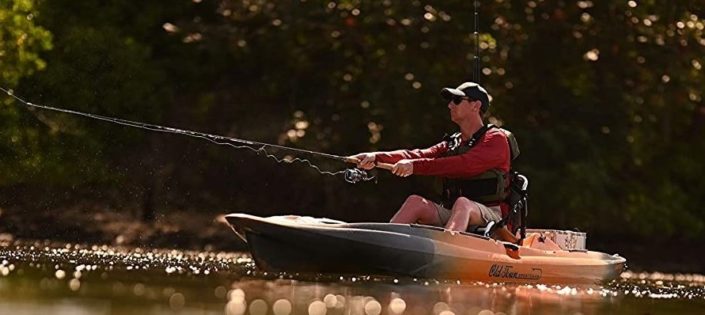 Now that's where it gets a bit tricky.
The seated stability is great, that's for sure. You won't ever feel unstable even in the worst conditions (even in huge boat traffic with 3-foot wakes I wasn't close to tipping at all).
But when it comes to standing on your kayak… well, you'll have to get the hang of it.
While you can stand and cast, the Bigwater PDL 132 isn't nearly as stable as the Sportsman 120 (if you read my review, you'll know I stood on the nose of that one and didn't even fall…).
Before I got it, I saw a friend literally fall overboard when reaching for his paddle that came unclipped. I didn't understand at the time, being on my ultra-stable Sportsman 120.
But now that I have the Bigwater, I understand why he fell.
Particularly if you're a big guy, I suggest being cautious and not leaning too much to the right or the left. You can stand and cast, but you'll fall if you're overzealous. (Also watch out for those submerged logs!)
That said, the cockpit is pretty spacious for standing, so once you get the hang of it you should be all right.
Regarding tracking, I have no quibbles with my Bigwater. It tracks pretty well and I know some people who've decided to change the rudder for a Navarre one, but honestly the original Old Town rudder is good enough for me.
What I love about the rudder though is that it has a knob on the rudder control that allows you to lock it in place.
This is huge to keep straight with a lot of wind or strong currents, and I'd love to have this feature on my Autopilot, as it has happened some times that the rudder keeps moving uncontrollably to one side or the other and it's just hell.
Durability
The pedal drive is covered by a five-year warranty, although I doubt you'll have much use for it. Old Town is famous for making reliable pedal drives (unlike Pelican), and I haven't heard any complaints.
Even if you hit a rock at 4mph you won't break the drive, it will just pop up and you'll only have to replace the lock which costs a few bucks.
Also, the hull literally has a lifetime warranty, so that corroborates what I was telling you earlier about it being virtually indestructible.
Transportability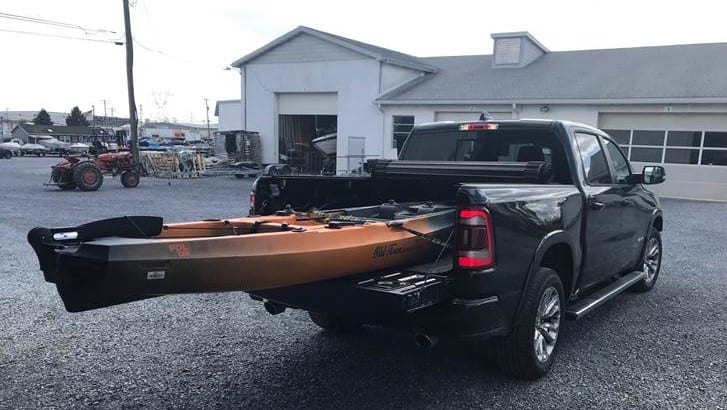 The Old Town Sportsman Bigwater 132 PDL is much more transportable than the Autopilot.
At only 96 lb unloaded, you could carry it to the water by hand if you're a big guy.
However, for most guys, I'd say you probably want to invest in a trailer or Boonebox landing gear.
Besides, if you're not a big guy then loading it on the top of your car or SUV won't be an easy feat (unless someone helps you, of course).
For tandem carries, the Bigwater PDL 132 has molded-in handles on the bow and stern. It also has one handle on each side to help you load (and unload) it in the bed of your truck.
Pedal Drive
As mentioned above, the pedal drive on the Bigwater PDL 132 is very efficient.
You'll be able to go fast and it's very responsive.
You can set it up in 5 seconds, and you can easily park it in the front of the boat in shallow water.
In vegetation, this boat won't perform as well as the Autopilot, though. The motor really makes a difference in being able to cut through the vegetation whereas your legs can't.
Old Town Bigwater 132 PDL Fishing Ease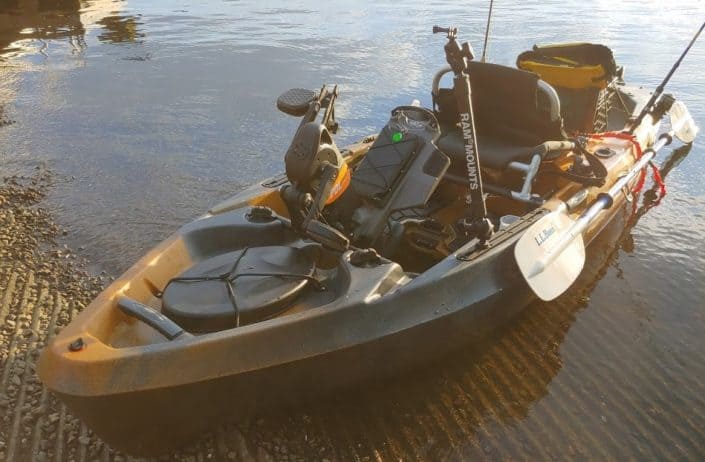 For fishing, this boat has great riggability.
I like the huge bow hatch where you can put a ton of gear, dry bags, etc. with a built-in battery holder compartment.
I also love the clever dry box on the pedal drive to store your wallet, phone, car keys, gloves, cap… and even a spare prop in case I break a blade.
The storage space under the seat is just crazy. You can put soft plastics, bait, tackle right under you.
And then there's another, bigger storage space underneath the seat to fit a bigger 3700 tackle box, and another hull access to store a battery.
The rear tankwell storage is quite big. Not as big as on my Autopilot 136, but still big enough to fit a black box with 8 rod holders and a cooler.
You have three flush-mounted hod holders. One front-facing rod holder and two rear-facing rod holders. It's good enough, although I would have liked a fourth rod holder like on the Autopilot.
As expected, you have two tracks on each side to mount all your fishing gear. The two generously-sized pockets on each side are great to put some more stuff.
Then you have a cup holder, a convenient paddle holder, and the rudder control is on the left hand, with the handy knob mentioned above.
Obviously, the cockpit has deck pads all over so you don't slip and anything that you drop won't resonate and scare all the fish.
There are two mounting plates behind the pedal drive to mount a camera or fishfinder. You also have a spot at the back for a power pole mount. As well as 2 tracks behind the seat where I put my Tactacam for instance.
If you go fishing in spots with lots of shallow water areas, then the Bigwater PDL is much better than the Autopilot. You won't be able to pedal it in shallow water, but at least you don't have all the extra weight of the motor, the battery, and the hull of the Autopilot slowing you down when you're paddling.
Who is the Sportsman Bigwater PDL 132 suited for?

You've probably understood by now, but the Bigwater PDL 132 is meant for serious kayak anglers.
It's got great speed and maneuverability but is less stable than a Sportsman 120.
The reason it's less stable has actually got to do with the fact it's made for saltwater − and you need that rocking motion to reduce the waves' impact. (Also consider getting the best saltwater rod and reel combo)
For big and tall guys, the Bigwater is super comfortable and has plenty of legroom if you're 6 ft 3+.
For the price, it's really great value. I consider it one of the best pedal kayaks under $3000, on par with the Sportsman 120 which gives more stability but less speed and less storage space.
I feel that for the price, the pedal drive is much better, and it has more (and better-designed) features than its competitors in the same price range.
One huge downside is that it tends to sell out super fast. I literally had to wait a whole year before getting my hands on it because I couldn't find it anywhere.
Old Town Bigwater 132 PDL Alternatives
Want to know how the Sportsman Bigwater PDL compares to other great pedal kayaks? Here are some alternatives.
Old Town Predator PDL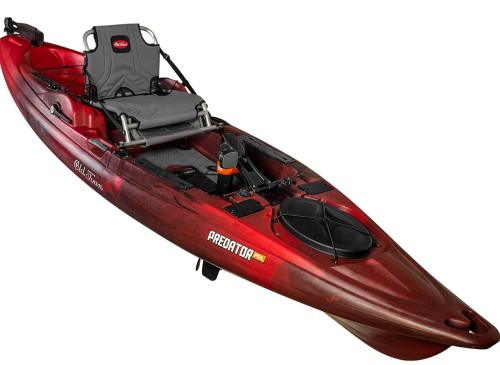 The Old Town Predator PDL is actually the older version of the Bigwater.
It's mainly the same with fewer features, so if you can get your hands on a second-hand Predator I'd say it's worth it.
The hull is the same, the pedal drive is the same, but the seat on the Bigwater is slightly more comfortable.
Overall, there isn't much difference between the two, so if you can get any one of these, just go for it.
Read my detailed review of the Old Town Predator PDL
Old Town Sportsman PDL 120

We've talked about the Sportsman PDL 120 several times in this article already.
The Sportsman 120 is almost impossible to flip. I literally stood on the nose of the boat and it didn't flip.
The pedal drive is also great, seat comfort is great…
It's a little slower than the Bigwater because it's shorter as well.
As such, it's also a bit more maneuverable, and it has less storage space.
Overall, the Sportsman 120 is a fantastic boat, but I consider the Bigwater 132 to be even better.
If you want to know more, you can read my full Sportsman 120 PDL review here.
Hobie Mirage Outback

Obviously you can't write a pedal kayak review without mentioning the golden standard − Hobie Mirage Outback.
First of all, the Hobie Mirage Outback has a much lower weight capacity of 425 lb. So if you're big and tall, plus you carry all your gear, plus the fish you're planning to catch… then it might not be ideal.
That said, the Mirage Outback has a better pedal drive, is more maneuverable, and slightly faster than the Bigwater.
I love the horizontal storage for rods, which I miss on my Old Town pedal kayaks.
Apart from that, it costs about twice as much, and honestly, I don't think it's worth it. I bought my Hobie long before all these new pedal kayaks existed, but now I feel like they're overpriced.
Old Town Bigwater 132 PDL – Final Thoughts
Overall, if you're a serious angler and you like to bring a ton of gear…
Or if you're a big and tall guy…
Or if you go saltwater fishing frequently…
Then I'd say the Bigwater PDL 132 is really hard to beat at this price point.
If you have a bigger budget and you don't plan on going to shallow waters, then the Autopilot 136 is definitely more fun.
But if you're going to get in shallow waters from time to time, or you're looking for a pedal kayak under $3000, then if I were you I'd grab the Bigwater.
Remember it tends to sell out pretty quickly so if I were you I'd make a decision as soon as possible.