Coming from higher-end pedal kayaks such as the Hobie Mirage Outback or Old Town Sportsman 120, I must say I expected this Pelican pedal kayak to be terrible.
But it turns out for the price, it performed remarkably well.
In this Pelican Catch 110 Hydryve II review, I'll tell you what I liked about this Pelican pedal kayak, and what I found to be lacking.
[Spoiler alert: For the price, I think the Catch 110 HDII is impossible to beat. And I'd feel comfortable using it for years on the water]
Pelican Pedal Kayak – Things to Consider before Buying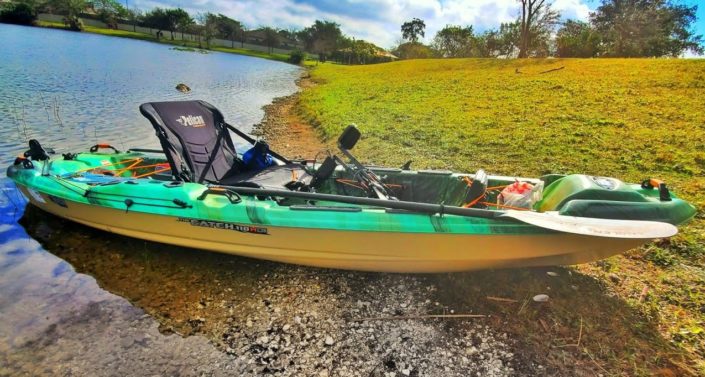 If you're on the fence about getting your first pedal kayak, then I suggest you do.
There's simply no comparison, even compared to a high-end paddle kayak, to the amount of fun you can get on the water.
That said, there are a few things you should know.
First of all, pedal kayaks tend to be heavier than paddle ones, so you'll have to be either strong or invest in a kayak cart or Boonebox landing gear.
Second, and you probably know that already, pedal kayaks are much more expensive than traditional kayaks.
To give you an idea, the Vibe Sea Ghost 130 which is an amazing fishing kayak is worth around $1K, whereas a comparable pedal kayak like the Sportsman 120 is worth $2K+. And I'm not even talking about Hobie kayaks which are sold at $4K+.
That said, the Pelican Catch 110 Hydryve II will only cost about $1200-$1500, so if you can afford it, then I'd say go for it.
Pelican Pedal Kayak Specifications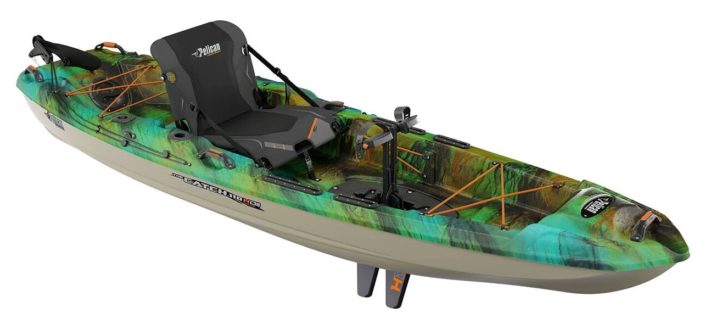 Length: 126 in
Width: 34 in
Weight: 67 lb
Load Capacity: 350 lb
Pelican Pedal Kayak Design
Material
The Pelican Catch 110 HDII is made of very durable material − high molecular weight polyethylene.
This material is common for most pedal kayaks, even for the most expensive ones, as it has the benefits of making your boat virtually indestructible.
It will withstand collisions, rocks, tree branches, and almost anything you throw at it.
Of course, the tradeoff is it won't be as fast as a fiberglass kayak − but with a pedal kayak speed is hardly ever an issue, and I'd take durability over speed any single day.
Speed
Speaking of speed, I must say I'm quite impressed with how well the Pelican Catch 110 HD2 performs in that regard.

Given its small size (10 ft 6 in), I was expecting to get a top speed of 4 mph or less.
But it turns out I can coax 5 mph out of it if I really need to. Although I couldn't sustain that speed for longer than 20 minutes.
I suspect this has to do with its incredibly light weight at only 67 lb (a full 30 lb lighter than my Sportsman 120, for instance).
So don't expect to go as fast as a Hobie, but for this price, I'd say it's pretty darn fast.
Maneuverability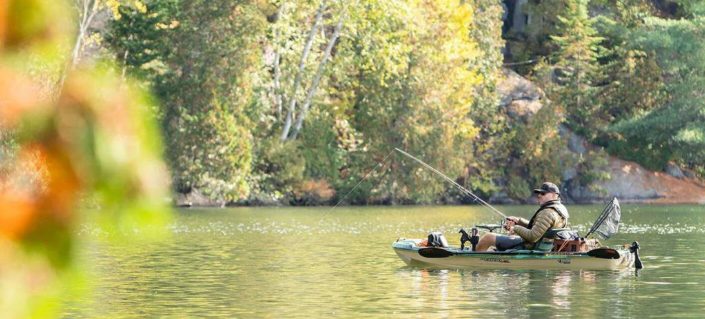 Now that's an area where the Pelican Catch 110 Hydryve II is definitely subpar.
If you're on a flat lake, then yes, you can turn within about 25 feet or so, no problem.
But if you're against any kind of current and you need to get out of there fast, then you're in trouble. In these cases, I generally have to grab my paddle to turn quickly.
That's honestly a big letdown considering the boat is super light and short − it should be more maneuverable.
Comfort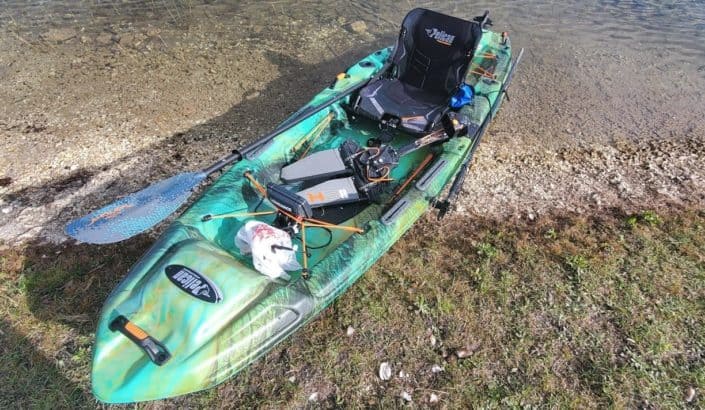 So I was really pleasantly surprised with how comfortable the seat is.
Honestly, considering the Catch 110 HDII is almost twice as cheap as my Old Town Sportsman 120, and four times as cheap as my Hobie Outback… I was expecting to feel TERRIBLE in that seat.
But it turned out to be pretty decent. Sure it's not as comfortable as my Hobie's, but honestly… I could go kayak fishing for hours without any pain or discomfort, so that's a big win for me.
I was also afraid I'd feel cramped because the seat can't be adjusted forward and backward like on my other pedal kayaks. But actually, you can adjust the pedals so that they're closer or further away, so it turned out pretty comfortable overall.
The seat is held in place by a strap, so it's actually pretty easy to set up and remove. I don't really need this, but for people brave enough to try to stand and cast… then why not?
On a side note − I do have a complaint with this seat, and it's that I had to replace 3 (!) bolts on it. It was easy but still, that shouldn't happen. I guess at that price point worse things could happen though.
Stability and Tracking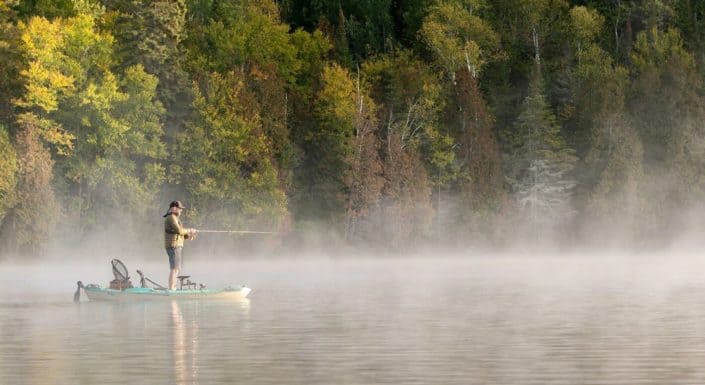 Now again, that's an area where you can see the difference between this cheap Pelican pedal kayak, and other high-end pedal kayaks.
First of all, if you want to stand and cast − forget it.
Yes, I know… I'm sure some people will say it's doable, and if you stand this and that way, and you don't go too fast, and there's no wind, and… you know the drill.
The truth is this boat wasn't made for standing and casting, and it's clear from the moment you even try to stand up.
I stand and cast all the time in my Hobie or Sportsman 120, and I never felt tippy, much less like I'd go overboard.
But as soon as I stood up in this Pelican Catch 110 HDII, I immediately sat back down. It was awfully unstable.
So, stability, on a scale of 1 to 10? Probably 4 or 5.
Next, what about tracking?
Well, in this regard I don't have any quibbles with the Catch 110 Hydryve II. As long as you use the rudder, then it tracks just fine.
Pedal Drive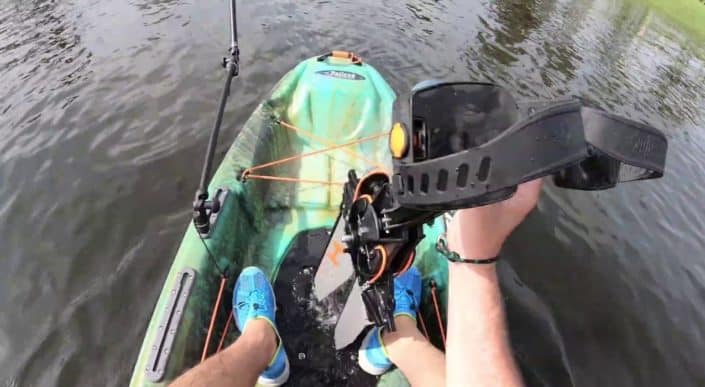 As I said before, I was quite wary of the pedal drive on this boat. I thought for the price it'd be terrible.
In fact, I found the pedals very stiff at first which made pedaling very hard.
But then I found out you can actually adjust them (by loosening the 6 bolts where the orange cables run to), so they work much better now.
I have to hand it to them, Pelican improved the pedal drive quite significantly over the first version of the Catch 110 HD.
This pedal drive 2.0 is much smoother and I haven't heard complaints about it breaking (which was a common issue on the old one). One caveat is it doesn't do reverse pedaling though.
Word of advice: Be sure to take the drive out in shallow water or else it could easily break. I wish there was a safety system like on my Sportsman 120 where the lock breaks off and the drive is automatically released in case of impact.
When it comes to setup… Putting the pedal system in place takes literally 2 seconds, just put it in, press on the two locks, and that's it. Same to remove it.
And there's a nice touch for people who like to kayak barefoot − the pedals are actually "reversible". What I mean by that is that on one side they're perfect for bare feet, whereas on the other side they have a harsher texture for boots.
Durability

Now I'll be honest − the Pelican Catch 110 HDII does have some durability issues.
It's not nearly as well-built as high-end pedal kayaks, and I know a few people who've had issues right from the start.
As I said, I had to replace 3 bolts on my seat. Then a friend's pedals were actually kind of "peeling" so he had to ask for a replacement. And I know someone else whose pedal fins broke out of the blue after 4 months of normal use.
So I'd definitely say Pelican could improve the durability of this model.
That said, there's a huge counterargument to that − Pelican customer service is so far (2023) excellent.
Those friends I told you about? They got their replacement parts for free in a week or two. And the one whose pedal fins broke off actually got a new pedal drive (so now he has a backup one just in case).
That's pretty unheard of even with brands like Hobie and Old Town, so I'd say that's a huge advantage that Pelican has at the moment. It's nice to see a brand with great customer service like it used to be in the good ol' days.
Just to show you what I mean by "excellent customer service", I found a YouTube video that says it all.
So all in all, although durability is an issue, I'd say you should be 100% covered against any problems thanks to Pelican's stellar customer service. That makes the Catch 110 HD2 a lot more buyable in my opinion.
Portability
The Pelican Catch 110 Hydryve II is incredibly easy to carry.
It's by far the lightest, most portable pedal kayak I've had to date.
At only 67 lb, anyone can carry it to and from the water without even needing Boonebox landing gear or cart.
It has two handles on the stern and one on the bow. Although I prefer "T-handles" which are more comfortable, these are definitely good enough.
One quibble I have with it is that it only has a handle on one side of the boat. So depending on how you put it in the bed of the truck, it might be a bit of a hassle taking it out of there. (Happened to me the first time. Won't happen again.)
Pelican Pedal Kayak Features and Accessories
The Pelican Catch 110 Hydryve II is already cheap enough that it won't come with any extra goodies like a paddle or something.
That said, I know that sometimes you can actually get a good deal and it does include a Pelican carbon fiber paddle, which is definitely nice.
I couldn't get my hands on any such deal, though.
Also, I would have liked an actual paddle holder on this boat. The only paddle holder is a bungee cord on the side which if I'm honest isn't great. I much prefer a real paddle holder like on my Hobie.
Pelican Catch 110 HD2 Fishing Ease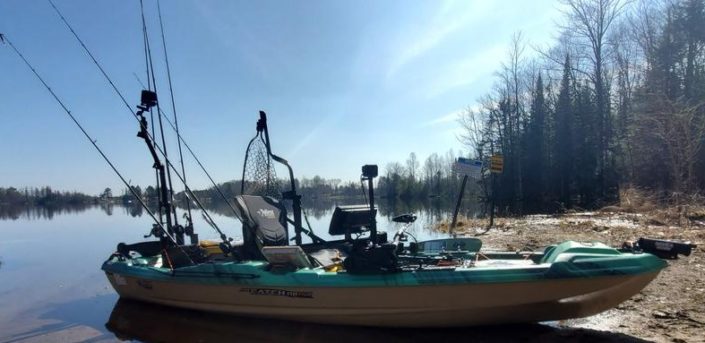 OK, now for the part you've all been waiting for… *drumrolls*.
At this price range, I must admit the Catch 110 HD2 has great fishability.
It has two accessory rails on each side of the boat to mount your fishing gear and accessories.
Three flush-mounted rod holders that are easy to access, two facing backward and one facing forward.
The rear tankwell isn't the biggest I've seen, but it's wide enough for a milk crate with 2 extra rod holders, a bottle of water, a backpack… and there's also a small dry hatch at the back which I haven't used yet.
The front tankwell is quite small, but there's enough storage to put a cooler and the bungee cords will hold it down.
Also, I'd like to remind you this is a light boat. Therefore it has a weight capacity of only 350 lb (about 100 lb less than on my Sportsman 120 after taking the boat weight into account).
The seat has a pouch behind it where you can put a tackle box or baits. It also has another pocket right behind your back to put some cushion for extra lumbar support. And there's another front pocket to put even more gear.
There's no cup holder, although there are some bungee cords on each side in front of the seat to put your cup, a bottle, or even a tackle box.
Lastly, the Catch 110 HDII is pretty good at staying dry and the longer rudder control is easier to handle than the one that was on the first version of this boat.
Who is the Pelican Catch 110 HDII for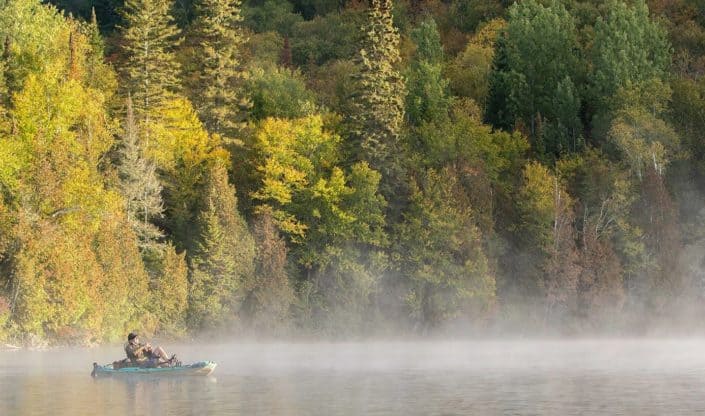 I think by now it's pretty obvious who this boat is for.
If you want a cheap pedal kayak that will still be faster and more fun than a high-end paddle fishing kayak…
With great customer service in case you have any problems (which always happens more often on cheap products)…
That won't break your back and is super easy to carry…
Then the Catch 110 Hydryve II is really hard to beat.
If money is not an issue… then by all means get the $4K+ Hobie Mirage Outback.
But if you have to save for months to buy the boat… then just save yourself the $3K and take the missus on holiday.
Pelican Catch 110 Hydryve II Alternatives
Pelican Catch 130 Hydryve II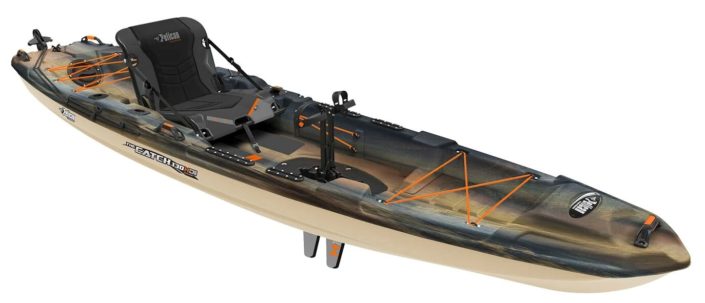 As the name suggests, the Catch 130 HDII is simply the longer brother of the Catch 110 HD2.
As such, it is more stable, faster, and also heavier.
It also has more storage capacity for longer trips.
Apart from that? Well, honestly not much…
The seat is the same, the pedal drive is the same, the rudder is the same… and everything else is the same.
Unless you're really tall, like 6ft3+… then I think the Catch 110 is good enough.
Old Town Sportsman 106 PDL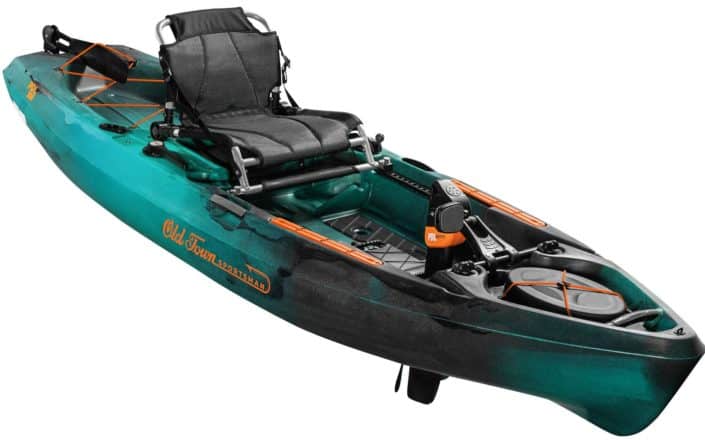 The Old Town Sportsman 106 PDL is about the same length as the Catch 110 HDII, but it costs about twice as much.
Of course, what this means is you'll get better everything.
The seat is more comfortable and adjustable.
It goes a little faster and it turns great.
I haven't heard of any issues like on Pelican boats, but at the same time, I don't really know how good their customer service is.
And last but not least − you can actually stand and cast in this baby. Without ever feeling tippy. You can even stand on the nose and not fall (true story).
On the flip side, it's also much heavier at 107 lb.
Oh, and did I mention, much more expensive?
Read my full review of the Sportsman 106 PDL
Hobie Mirage Outback

Of course, no pedal kayak review would be complete without comparing it to the gold standard: Hobie.
The Hobie Mirage Outback is a beast of a kayak, and just much better at everything.
From speed to maneuverability to comfort… with excellent stability to stand and cast…
And a price tag that would scare even the most passionate angler.
If you've got the extra $3K to put into your pedal boat, then get the Hobie Outback.
But if you don't, then just get the perfectly fine Catch 110 HD2 and maybe take your lady on vacation.
Read my full Hobie Outback review.
Pelican Pedal Kayak – Wrapping Up
I think by now it's clear what the Pelican Catch 110 Hydryve II is capable of, and what it isn't.
If this will be your first pedal kayak, then I'm sure you'll have a ton of fun on the water.
Nothing beats a pedal kayak, not even high-end paddle fishing kayaks.
And even though it's one of the cheapest pedal kayaks out there, it still gets the credit for being much better than I thought.
One caveat though − it does tend to get out of stock. So I wouldn't hesitate too long before getting one (particularly as we approach the summer, these babies tend not to get back in stock until the following year).