A fishing kayak with motor offers tremendous freedom and the ability to explore and traverse greater distances.
As the best motorized kayaks tend to be more expensive, it's important you do your research, especially if you're planning on doing long fishing trips.
In this article, we'll break down the best motorized kayak for you.
While we'll cover these models for all uses, we'll pay special attention to recommending the best motorized fishing kayak.
fishing kayak with motor – Best Motorized Kayaks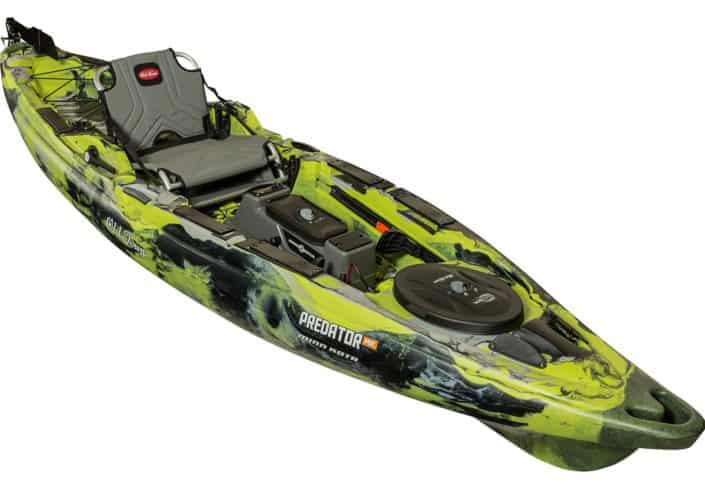 Chock full of features and handy accessories, the Predator MK from Old Town is worthy of its place atop the motorized kayak pantheon.
Like most motorized kayaks, the Predator is a wide and stable boat with a huge 600-pound weight capacity.
Stand-assist straps give you the confidence to stand and cast in most water conditions.
Paddle rests, paddle holders, six scupper holes, and a removable mounting plate highlight the extra features you'll wonder how you ever lived without.
Built-in Trolling motor
Foot-controlled rudder system
Large stern tank-well is accessible from the water
Multiple USB charge ports
Sonor mounting plate
Read our full Predator MK review.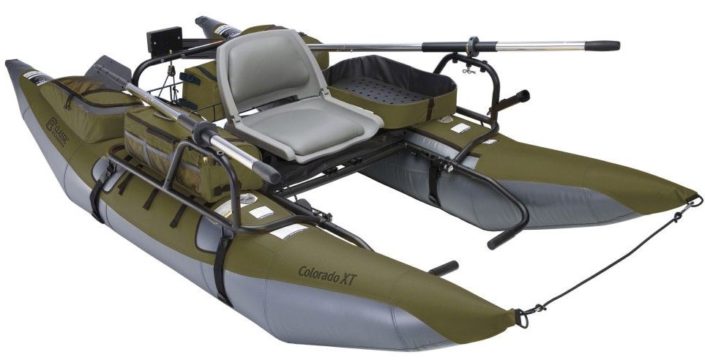 It may not look like a kayak, but the high performance of the Colorado XT demands to be included on this list.
The boat is orientated to operate more like a rowboat than a kayak with two paddles to go along with the motor mount.
While the trolling motor mount itself is fine, the storage area for the battery pack is right behind the seat, so if the battery is too heavy you may find the boat feels unbalanced.
This can make steering a little awkward, but people have found a simple way to move the mount to a more comfortable position.
The design does mean that there are heaps of storage space and it's tough enough to handle any number of conditions including open ocean paddling.
Easy to assemble and take down
Transportation wheel for easy launch
Tons of storage options

A fishing kayak able to handle any situation, the Radar 115 gives you three methods of propulsion: pedal, paddle, and engine.
This redundancy gives me a lot of peace of mind on the water and the confidence that no matter what happens I'll be able to reach shore safely.
There are two sizes available, both of which are compatible with Wilderness' Helix MD motor drive system.
Switching between the engine and pedal power is as simple as lifting one up and locking the other in place.
With an average speed of six miles an hour with the engine and a lot of storage space, the Radar 115 combines speed, stability, and a roomy deck to satisfy the most voracious angler.
Easy to switch between pedal and engine power
Gear rails for customization
Trolling motor weighs just 15 pounds
Read our complete Wilderness Systems Radar 115 review.

Like the Radar 15, the Pro Angler 14 from Hobie Mirage can be propelled by foot pedals, paddle, or outboard.
This big beefy fishing kayak can be paddled in all kinds of conditions and is at home on lakes, rivers, and the open ocean.
The pedal system allows you to move in reverse to help maintain your position when facing into the wind or upstream. The wide deck allows you to store up to 8 fishing rods.
For customization, the Pro Angler 14 has what Hobie calls an H-rail, a unique mounting system where you can outfit your boat to your precise specifications.
Add in a comfortable and adjustable seat with plenty of lumbar support and this is a boat you'll never want to get out of.
Weighs almost 150 pounds
Only room for one paddler
Integrated dual-control steering
Read our full review of the great Pro Angler 14.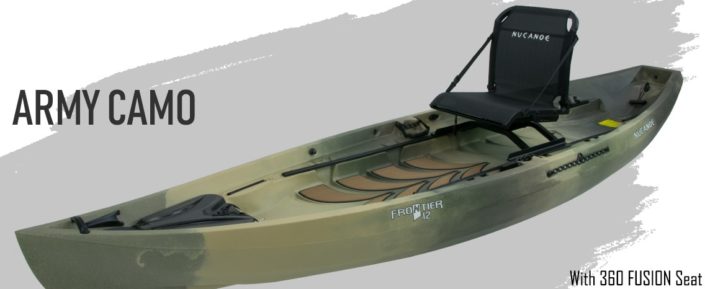 A hybrid design that combines the best of kayak, canoe, and paddleboard, the NuCanoe Frontier 12 cares little how you categorize it.
It's too busy building a platform with multiple electric motor mount locations in the bow and stern.
Stern transom mounts can be easily controlled from the seat, while bow mounts can be controlled by a handheld remote.
But in a class of huge weight capacities, the Frontier 12 stands above them all with a mammoth 650-pound weight capacity that makes it great not just for fishing but extended trips and even hunting.
Biggest weight capacity in its class
Minn Kota and Riptide trolling motors recommended
Plenty of room for electric motor's battery pack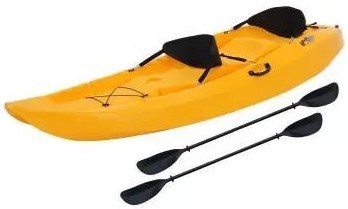 While it may not have the features or on-water performance of other motorized fishing kayaks, the Angler 100 is available for a fraction of the price.
The big deck has room for two paddlers and one smaller passenger making it a great boat for families and couples.
The weight capacity is a little lower at 500-pounds, but that's still more than enough for most fishermen.
The seats are comfortable and multiple footrests can accommodate paddlers of all shapes or sizes.
Outside of a couple of paddle holders, you won't find any way to install a fish finder or GPS, but for the price, it's the cheapest hard-sided kayak I feel good about mounting an engine on.
Not much in the way of custom options
Large stern transom for mounting a kayak motor
Can hold up to three people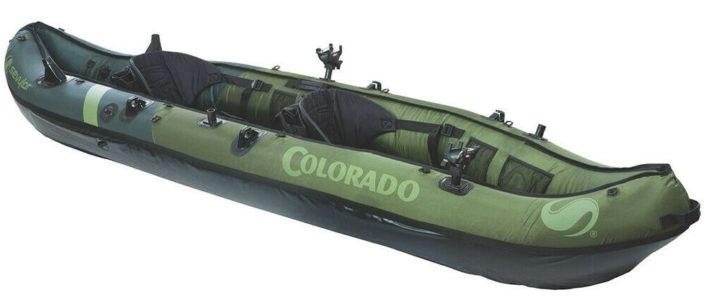 You won't find a cheaper motorized fishing kayak than the Sevylor Coleman Colorado.
Built with tough nylon material, this two-person kayak from Sevylor Coleman is one of the most durable inflatable kayaks.
It's made of multiple air chambers, so even in the event of a leak, you can count on it to get you back to shore.
It's tough to customize an inflatable, but Sevylor Coleman has found a few clever ways like sewing mesh pockets onto the hull's interior for gear storage and multiple adjustable rod holders for hands-free fishing.
Impressive 470-pound load capacity for an inflatable
Room to fit two people comfortably
Limited to lakes and non-whitewater rivers
How to Choose the Best Motorized Kayak
Are You an Experienced or Beginner Angler?
Operating a motorized fishing kayak can be very different from a traditional paddle design.
If you've never operated a kayak motor before, I'd recommend taking some time to practice in a controlled environment like a calm, mellow lake before taking it into more challenging conditions.
High-end fishing kayaks suited for a motor can also be prohibitively expensive. And that's even before you purchase the actual trolling or electric motor.
If you're new to kayak angling and aren't sure how much paddling or fishing you'll want to do, it may be prudent to choose one of the cheaper kayaks on this list like the Lifetime Angler 100 first before committing to a more expensive, high-performing boat.
Do You Want to Stand Up?
While most motorized fishing kayaks are built with a seat that sits higher than traditional boats, passionate kayak anglers will tell you there's no substitute for being able to stand and cast.
This gives you a better vantage point of the water making it easier to spot fish and get better distance on your cast.
Check with the manufacturer before purchasing to see if they recommend standing in their model.
Some are meant to be stable enough that standing in choppy water is safe while others may recommend standing only in ideal, calm conditions.
Look for features like stand assist straps or dedicated standing decks with tacky surfaces that will make it easier.
Storage Capacity
If your boat can house a trolling motor, chances are it will have more storage capacity than you could ever need.
A common set-up with these kayaks is to have a large stern "tank-well" storage area where gear like tackle boxes or coolers can be secured with bungee cords.
In the bow, there's often a watertight bow hatch that can hold less gear but protects it from the elements.
If you plan on doing multi-day trips, I'd recommend finding a motorized kayak with at least some watertight storage to protect your gear from the elements. Nothing ruins a camping trip faster than a wet sleeping bag.
Check the specifications of your boat and see what the load capacity is. This number refers to the amount of weight in pounds the motorized kayak can safely carry. Remember this number includes the weight of the motor and paddler(s).
Short or Long Trips
If you're looking for a kayak with a motor, you should be able to do some longer trips.
Look to see how fast the motorized kayak is rated to go when under power to get some idea of how long your projected trips will take.
In addition to making sure you have the necessary storage space as we discussed above, having a comfortable seat can be the difference between a memorable trip and one that leaves you with a knot in your back.
If you can, sit in your fishing kayak before you purchase it to make sure that it feels comfortable.
Select a boat with a seat that is padded on both the back and bottom with adjustable straps.
Foot pedals are great for bracing and can take a lot of the stress off your back. Like your seatback, make sure these can be easily adjusted too.
fishing kayak with motor – Other Features
This is where higher-end, more expensive motorized kayaks separate themselves from their cheaper counterparts.
Especially if you plan on doing some fishing, select a boat that has multiple rod holders and preferably a paddle holder so that everything stays securely in place when not in use.
The best motorized kayaks all have some sort of adaptor that allows you to customize your boat.
Whether you want to mount a Go-Pro, fish finder, store extra fishing gear, or even install a depth sounder, many have tracks, sliders, or gear mounts that make this possible.
Inflatable vs Hard-Sided fishing kayak with motor
In many cases, inflatable kayaks are tougher and more durable than their reputation suggests thanks to their puncture-resistant nylon construction.
Inflatables provide the convenience of easy storage and transportation.
They can be stored in a closet and fit in the trunk of any vehicle.
They do require a bit more set-up time and access to a pump before you can get on the water, but in most cases, this is easy and intuitive.
Hard-sided boats can be heavy, with many motor-compatible boats pushing 150 pounds.
But their rigidity makes them more stable and capable of faster speeds while performing much better in dynamic water conditions.
Tandem vs Single fishing kayaks with motor
This depends on how much tandem paddling you see yourself doing.
Storing and transporting one tandem kayak is simpler than two singles, but in many cases, a tandem cannot be paddled by just one paddler.
While many of the motorized kayaks on this list are quite large, only a few can accommodate a second paddler.
But you'll probably need at least two people to carry them to and from the water.
motorized kayak Color Choice
Many kayaks, especially hard-sided boats come in a range of colors for you to choose from.
If I have the option, I lean toward a bright color scheme so I stand out on the water and am easier for bigger vessels to spot.
In the event of an emergency, this will also make it easier for search and rescue crews to locate me.
fishing kayak with motor – Conclusion
The speed of a motorized fishing kayak allows you to explore your local watersheds in ways you just can't in a traditional kayak.
At the top of the list are two models. The Old Town Predator MK is filled with extra features and top-of-the-line performance and you have a boat that you'll love whether you're fishing or just enjoying the weather.
The Hobie Mirage is equally impressive with a well-designed pedal system and open-water capabilities that more than makes up for its heavy weight.
What do you think of our list? Did we leave your favorite model out? Let us know in the comments below.