With the stability that rivals a bass boat, good top speed, and the exceptional spot-lock feature…
This kayak truly is in a class of its own.
In this Old Town Sportsman Autopilot 136 review, I'll tell you what I love about this kayak. I'll also tell you what could be improved.
But most importantly, I'll give you extra tips to make sure you don't get stranded in the middle of the water.
Now, let's get to the meat of it.
[Spoiler Alert: The Autopilot 136 is simply the best fishing kayak you can get. Period. If money is not an issue, I'd get one without thinking twice. And if you're a tournament angler and you still don't own one… then thank you. We need underperformers like you to feel good about ourselves ;)]
Things to Consider before Buying a Motorized Kayak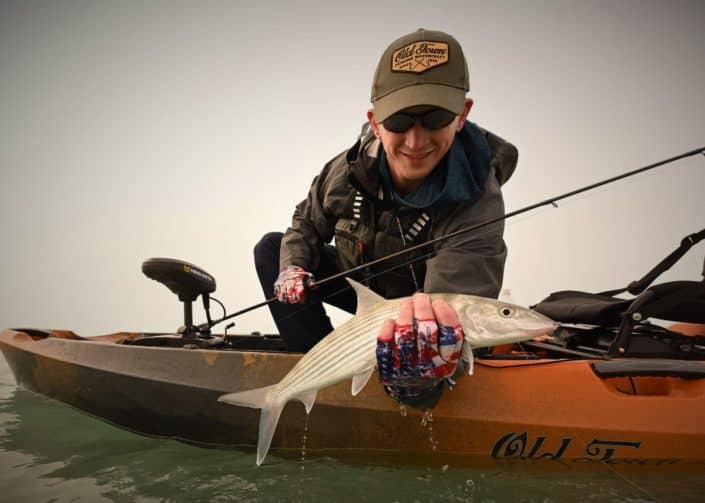 If you've never bought a fishing kayak before, then you should know motorized kayaks are the cream of the crop.
Their price tag does match their features, though.
They also tend to be super heavy and forget about loading the kayak on top of your car. You need to put it in the bed of your truck, or even get a proper trailer.
It's worth mentioning these are extremely durable boats that will last a lifetime with little maintenance.
That said, always bring a paddle with you in case the battery goes dead. It will happen at some point when you're feeling adventurous and covering 15+ miles. No battery will handle that much. And the boat has a convenient paddle holder so it won't get in the way.
Also, this kayak is considered a motorized boat. As such, you'll probably have to register it. Please check your state laws.
All in all, if money is not an issue and you want the absolute best fishing kayak out there… then a motorized kayak is hard to beat. And the Autopilot 136 is simply the best in this category.
Old Town Sportsman Autopilot 136 Specifications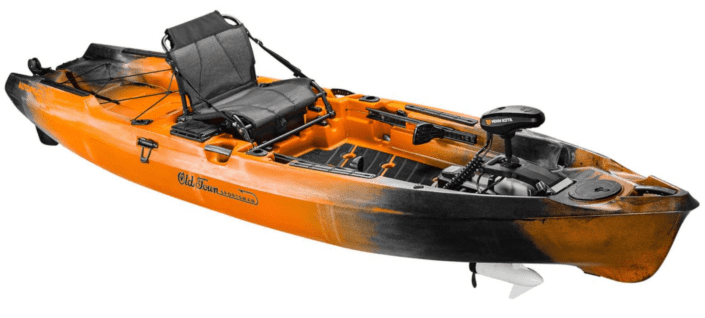 Length: 13 ft 6 in
Width: 37 in
Weight: 158 lb with motor (200+ with fishing gear)
Weight Capacity: 660 lb / 427 lb usable
Old Town Sportsman Autopilot 136 Design
Material

The Old Town Sportsman Autopilot 136 is made of tough single-layer polyethylene.
This material is quite common on pedal and motorized kayaks as it's virtually indestructible.
Don't worry about collisions, hitting rocks, or anything − the hull can take a beating.
Speed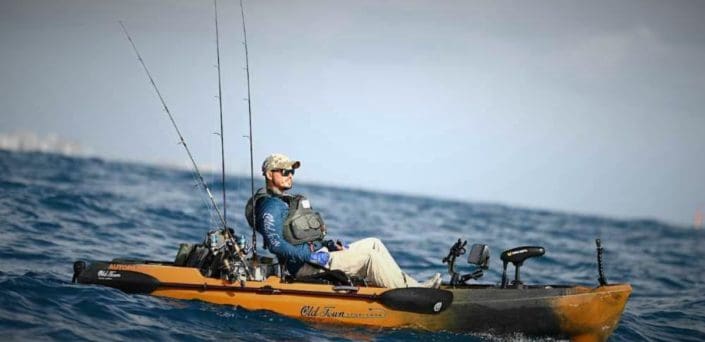 While not as fast as my Hobie PA 14 when I'm pedaling like crazy, the difference is the motor can actually sustain that effort for much longer than I ever could.
It reaches a top speed of 4.2 mph with no wind, which is much faster than my "cruising" speed of 3 mph on my Hobie. Great to get to your first fishing spot quickly.
Although if you want to cover more ground I'd recommend sticking to a more conservative 3 mph as the battery will last longer.
[On a side note, remember that the faster you go the less distance you'll be able to coax out of the battery. As an example, going at only 2.2mph (speed setting 4) allows you to cover up to 37 miles, whereas at max speed setting (4.2 mph) you'll be limited to a max of 12 miles. And that's without taking the "spot-lock" battery drain into account, especially on windy days the motor will be working a lot more than you'd think.]
Maneuverability
There are no words for this. Maneuverability on the Sportsman Autopilot 136 is simply unmatched.
You can turn by using the waterproof remote and the XL rudder at the same time, so if you push both to the right you can do a 360 turn within 10 feet or so.
Also, unlike many pedal kayaks, you steer the rudder with your feet. Hands-free steering is huge as an angler. I have a Hobie and other pedal kayaks with hand steering, and if you're cranking or you need to flip, or anything like that, you can't steer while standing. With this system, you can actually steer while standing.
By the way, the hand rudder control on this boat is only to deploy the rudder. It doesn't steer the kayak.
Comfort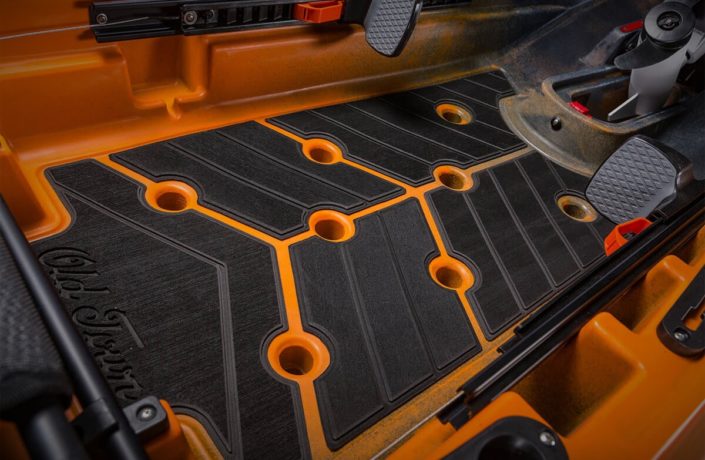 The seat on the Old Town Sportsman Autopilot 136 is amazingly comfortable.
I'd say it's quite similar to the seat on my Hobie PA 14.
You can fish for hours without ever having back pain. And so far it hasn't worn out a bit, so it seems pretty durable.
Of course, the seat can be adjusted to sit higher or lower.
Also, it's quite wide which is super important for big guys.
Another advantage is that, unlike most kayaks, the seat is not so much at the back of the boat. They've put it more forward, which means that when you're going fast you're not flooding the back of the kayak.
Regarding the footpegs, they're adjustable so you'll be very comfortable even if you're a big and tall paddler.
Finally, the cockpit is huge. Even though the motor is forward and not at the back, you still have a ton of space to walk on the deck. It has a lot more space than most pedal kayaks.
Stability and Tracking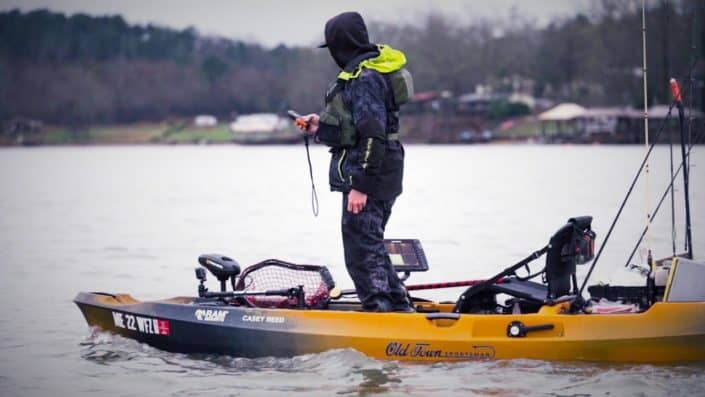 The Old Town Sportsman Autopilot 136 is incredibly stable.
It's on par with the Native Watercraft Titan 12, and a lot more stable than my Hobie PA 14 (which is already a stable boat).
I'd say it's almost like fishing off a bass boat, that's just how ridiculously stable it is.
To state the obvious, of course, you can stand and cast in this kayak. You can even walk all around the cockpit without ever feeling tippy.
I like how they put 8 scuppers in the cockpit so that you can walk around in there and it doesn't flex as much, which is particularly useful for heavy paddlers. Also if you do hit a big wave then the water will drain much faster.
The kayak is more than stable enough for open water fishing, even in big waves.
Oh, and of course, it's got non-flip EVA foam deck pads all over the cockpit to avoid slipping.
Tracking is excellent as well with the rudder and the remote control with which you can easily set your course.
Talking about the rudder, don't forget to untie it first before getting on the water! Or else you won't be able to deploy it because of the safety cord.
Word of advice: Check the rudder cables on the stern once a month as the screws have a tendency to work themselves out. And if you're by yourself on the water and this happens, this can become a huge problem if it's windy and you're left with no rudder.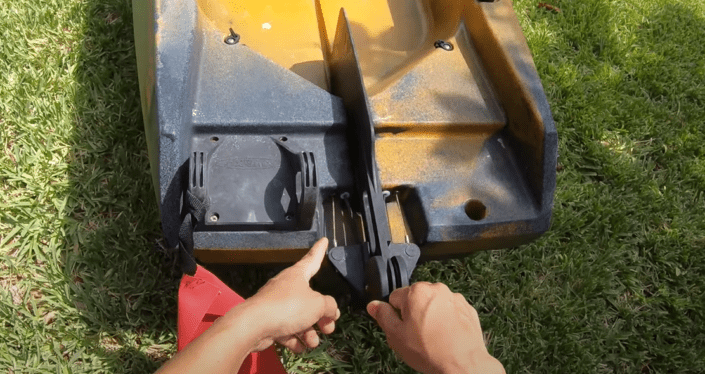 Durability
Honestly, there's not much to say about durability regarding the Sportsman Autopilot 136.
This is a beast of a kayak and the Ultrex motor is one of the best out there, so… I doubt you could damage anything.
Even if you hit a rock at full speed, the motor will simply kick off to avoid any damage, and the kill switch will shut it down instantly.
One cool detail most people don't know is that if you hit a stump and it catches your prop, it won't kill your prop but it breaks the pin. Well, there's a spare pin right on the kill switch that's tied to your life jacket.
Portability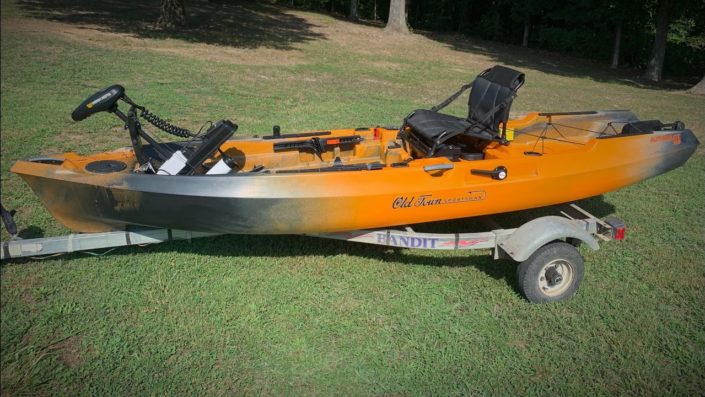 Well obviously you need to compromise somewhere, so portability is what's been sacrificed for all the amazing features the Autopilot 136 has.
At 156 lb (with motor), it's just way too heavy to carry by hand. And it gets even worse once you put all your fishing gear in there (I get up to 200 lb fully loaded).
Needless to say, you need to invest in a kayak cart or Boonebox landing gear (def my favorite way of carrying the kayak).
I like the two molded-in handles at the stern which help load (and unload) the kayak into the bed of my truck.
There's also a handle on the bow and two handles on the sides which always come in handy.
Minn Kota Ultrex Motor
Now there's so much to say about this motor… I don't know where to start.
Honestly, having an Ultrex motor already built-in into a kayak is so much better than installing a trolling motor yourself.
The motor is powered by a 12V battery that fits under the seat. I recommend investing in a 100 amp lithium battery because it will allow you to cover more distance than a lead-acid battery. Think about it − do you want the battery to die on you in the middle of a fishing tournament just to save a few bucks?
Weighing only 24 pounds, the motor is quite light and very easy to set up. It can be done in 10 seconds, and it just latches right in.
In terms of safety, the motor has a kill switch (mentioned above) that also has a cord to fix to your PFD for added safety. In case you fall, the motor will be shut off, avoiding injuries. Also, you won't have to try and swim to reach your boat going in the opposite direction at 4 miles per hour…
(By the way, a motor kill-switch is a requirement for most kayak bass fishing tournaments. Just thought I'd mention this)
You can deploy the motor or pull it off by simply using the lever on your left hand. Make sure you hear the "beep" that signals that the motor is locked in and ready to use.
And now for the most interesting feature…
The spot-lock system.
There are so many things to say about this wonderful system.
Basically, you just press the "lock" button on the remote control, and the motor will just keep you in place based on your GPS. This is truly a game-changer, no more fighting against the waves, the wind, boat traffic, etc.
You won't have to paddle or pedal − you can just lock your position and focus on fishing.
Having a motor is already a huge advantage in kayak fishing tournaments, but with the added spot-lock system… it gets so much better.
Now to be able to use the motor you have to be in 1.5ft-2ft deep water, which is about the same as with a pedal drive.
Finally, in heavy vegetation this kayak will perform much better than a typical pedal kayak, simply because the motor has more power than your legs to rip through some of the vegetation.
By the way, if you don't want to use the motor, it actually has some cover so you can paddle the kayak and there won't be a hole in the hull where the motor would be. Although I'm not sure who would want to paddle such a heavy kayak.
[Side note: While the motor doesn't require special maintenance, I'd recommend rinsing it after use, especially on saltwater. Also, lubricating the shaft with a water-resistant lubricant will make your experience smoother in the long run.]
Old Town Autopilot 136 Fishing Ease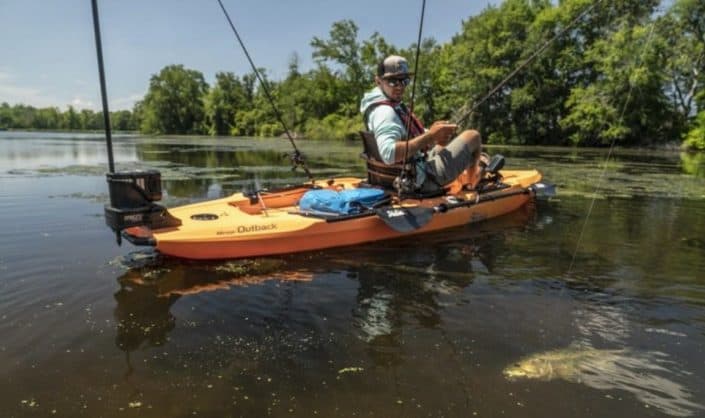 As mentioned before, the amazing stability coupled with the spot-lock system makes for unmatched fishability.
This is hands-down the best kayak you could ever fish with. Period.
In terms of storage, it has a mammoth 427 lb usable weight capacity.
The rear tankwell storage is the biggest I've ever seen. You can easily put a black pack with 8 fishing rods, your safety flag, a cooler, and additional fishing gear… and you'll still have some space left.
The boat is already set up so that you can put your power pole on either side, no drilling required. I personally put my Tactacam on the other side.
When it comes to measuring fish, the cockpit is wide enough that you can put a net (in case the fish tries to escape) and your catch board.
There's also a 6″ waterproof hatch at the front which mainly serves to get access to the wiring of your electronics. But you could definitely put something else in there.
Of course, there are rails on each side to mount all your fishing accessories, and a universal transducer mount for a fish finder (perfectly suited to Humminbird fish finders. For other brands, it might not be a perfect fit).
You've got 4 flush-mounted hod holders − two at the front and two at the back.
You also have 2 cup holders, and a nice waterproof lockable case on your right hand to keep your phone, car keys, GoPro battery…
There are three molded-in pockets on your right side and one on your left side to store your tackle, bait, etc. You also have an open area for extra storage on the left of the seat.
And finally, the boat stays really dry even in big waves. I love the deep cockpit because in a powerboat you're punching the waves. If you have low gunnels you'll have water coming in constantly.
My only quibble is that in bad weather the cup holder will fill with water… not a deal-breaker though.
Who is the Sportsman Autopilot 136 For
I think you've understood by now − the Autopilot 136 is made for serious anglers.
For tournament anglers, it's simply a no-brainer.
And even if you don't go to tournaments but you want the best gear out there…
Then the Autopilot 136 is hard to beat.
The price does match the quality you're getting. So if this is your first fishing kayak… maybe find a cheaper model and work your way up over time.
In terms of value… honestly, it's just great.
Considering the Ultrex motor alone costs $2800-$3200. For an extra $1K you get it all built-in in a 13 ft 6 top-of-the-line kayak that can even go in saltwater with no problem.
Old Town Sportsman Autopilot 136 Alternatives
While there are no real alternatives to the Sportsman Autopilot 136 (it truly is in a class of its own), I'll try to do my best to include some other models worth considering.
Hobie Pro Angler 14

As you probably know the Hobie PA 14 is the best pedal kayak out there.
Unlike the Autopilot's motor, this means you'll have to use your legs to go forward.
Rest assured the pedal drive is very smooth, and pedaling is relatively effortless. You won't go as fast as with a motorized kayak, but you're not limited to the battery duration either.
Being a pedal kayak also makes it lighter (although not that much) and quieter.
You don't get the spot-lock feature, but you can always reverse pedal to stay in place. Although that means you'll have to stay seated in such cases.
Of course, the Hobie PA 14 is super stable and you can stand and cast without issue.
It's also one of the fastest pedal kayaks out there, so definitely worth considering if you're not fond of motors.
Fast, durable, stable pedal kayak
No spot-lock system
Less suited for tournaments
Read my full review of the Hobie PA 14.
Wilderness Systems A.T.A.K 140 with Helix MD Motor Drive

The ATAK 140 can be fitted with a Helix MD Motor Drive if you want to.
Like the Autopilot, it's a pretty big boat with tons of storage space.
It's quite fast and stable enough to stand and cast.
The Helix MD Motor Drive is not nearly as good as the Ultrex, but it gets the job done.
Unfortunately, it doesn't have any spot-lock feature which really kills the deal for me.
If you're on a tight budget, then why not. Otherwise, it just pales in comparison to the Autopilot.
Big, tons of storage space
Fast and stable
No spot-lock
The motor isn't great
Old Town Sportsman Autopilot 120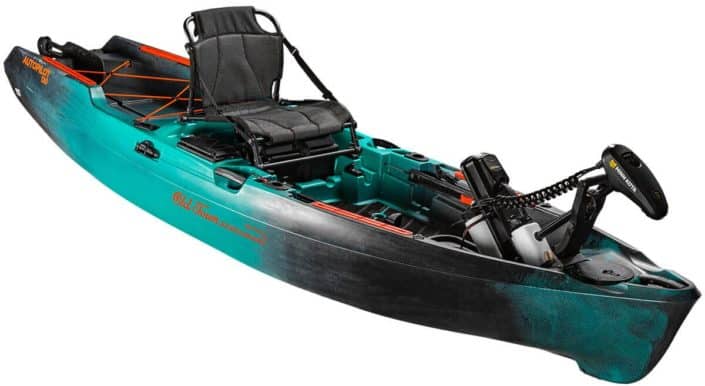 As the name suggests, the Sportsman Autopilot 120 is the little brother of the Autopilot 136.
Apart from obvious differences such as reduced storage space and worse tracking…
The Autopilot 120 is actually a bit more stable than the 136, you can turn around on the cockpit and it doesn't even feel tippy.
You can also get around 0.5 extra mph out of it at top speed, so that's something to consider.
It's obviously a bit lighter but anyway it's still way too heavy to carry by hand so… it doesn't really matter.
If you kayak in vegetation, then the Autopilot 120 will perform much worse because of its short length.
If you're not sure whether to buy the Autopilot 120 or 136, I'd say it depends mainly on how much gear you want to carry. If you're a minimalist, then the 120 will do the job just fine. But if you like having tons of gear, then you can't beat the Autopilot 136.
Faster, shorter
Best for minimalist anglers
Subpar in vegetation
Old Town Autopilot 136 – Wrapping it Up
By now you should know the Sportsman Autopilot 136 is an amazing fishing kayak.
If you're a tournament angler, then just don't think twice and get this beast of a kayak.
For all of you who don't go to tournaments though, it all depends on your budget.
If you can afford it, then this is hands-down the best motorized kayak you can ever get.
You'll have a ton of fun on the water and you'll be the envy of all other kayak anglers.
These days this is pretty much the only boat I use every time I go out. I still have my Hobie PA 14 for when I want a workout or on super calm days to enjoy the silence, but that's about it.