With so many kayak companies sprouting up, it can be a slog sifting through them all to find the right boat for you.
But we've done the legwork for you and are taking a look at our favorite kayaks from Lifetime.
With a focus on cost-effective and durable models, Lifetime's boats are great for weekend outings or for first-timers.
In this article, we'll go in detail on the best Lifetime kayaks. Whether you're searching for a boat for you, your child, or a tandem, you'll find them all highlighted in our Lifetime kayak reviews below.
In a nutshell:
Lifetime Kayak Reviews
Best Lifetime Sit-On-Top Kayak: Lotus 80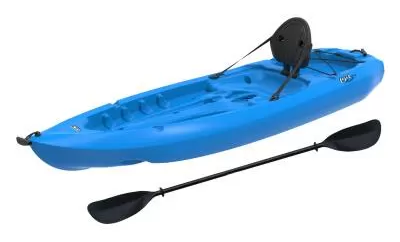 Deals for the Lotus 80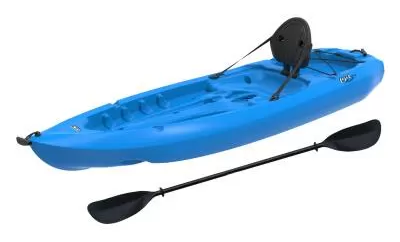 Sometimes there's nothing wrong with the simplest design.
The Lifetime Lotus 80 won't blow you away, but this eight-foot kayak is light, portable, maneuverable, and a lot of fun to paddle.
The short keel means it doesn't have the speed or tracking to handle anything outside of a gentle breeze and very mild chop, but it's more than enough if your plans are to go out for the afternoon on the local lake.
Despite its small stature, it's comfortable for paddlers of all shapes and sizes thanks to the ergonomic and adjustable chair with multiple foot braces.
Checks in at just 38 pounds
No dry storage
Cost-effective and easy to transport
Paddle included
Best Lifetime Sit-In Kayak: Payette 98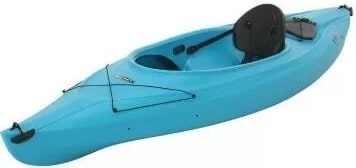 One of the cheaper sit-in kayaks, the Lifetime Payette 98 is a little slimmer than Lifetime's sit-on-top designs giving you a more efficient top speed.
At less than ten feet long, however, tracking can be an issue with wind and waves playing havoc and limiting it to lakes, mellow rivers, or quick runs along the ocean shoreline.
I do like the chine rails and the flat bottom which makes it plenty stable and a good introduction to sit-in kayaks that can sometimes feel "tippier" the first few times out.
Tracking issues limit where it can be used
Paddle holder on the starboard hull
Roomy cockpit with multiple footrest positions
Most Comfortable Lifetime Fishing Kayak: Teton Angler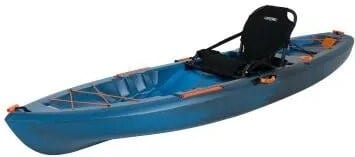 An entry-level design with a reasonable price, the Lifetime Teton Angler makes its bones as one of the most comfortable kayaks in a category filled with cushy seats.
The entire seat frame is adjustable and well-padded which, when added with the multiple foot rests, makes it the most comfortable Lifetime kayak available.
For fishing, you'll find a pair of flush-mounted rod holders and two 12" accessory mount tracks where you can outfit your boat to your precise specifications.
Like many angling kayaks it's also supremely stable, though I don't think I'd be comfortable trying to stand and cast from it.
Scupper plugs not included
Two large open-air "tankwell" storage areas
One of the cheaper fishing kayaks with customization options
Best Lifetime Tandem Kayak: Kokanee 106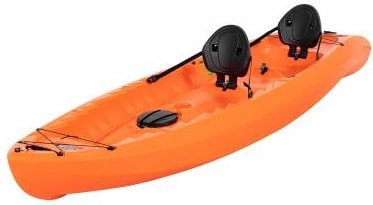 One of the cheapest hard-sided recreational tandems, the Lifetime Kokanee 106 has a wide 36" hull to give you and your paddle partner plenty of stability.
Most of the ten-and-a-half-foot keel has been dedicated to the cockpit so there's plenty of room to move around and even enough space for a small third passenger.
At 76 pounds, it can be tough to carry and isn't made any easier with just one carry handle in the bow. A small finger groove is built into the stern but when the boat is wet it can be slippery.
Can be paddled solo or tandem
Two hatches for additional storage
Slow top speed for a tandem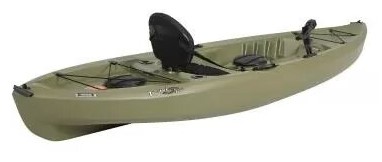 One of the most popular recreational fishing kayaks, the Lifetime Angler 100 merges stability and durability.
The 31-inch beam has been coupled with chine rails to create a fantastic paddling platform that can absorb the quick shifts in body weight that come with a fish on the line.
It has a decent keel length for this category (10-feet) so you can coax a respectable top speed out of it despite the wider hull.
There isn't much in the way of customization options, but you do get three rod holders. Two are on the sides and the third is installed in front of the cockpit for easy access while paddling or fishing.
Pro tip: for roughly $50 more, you can also get the Tamarack Pro 103 which includes adjustable footpegs, 12″ tracks to mount your fishing gear, plus a more comfortable stadium seat.
Great stability
Load capacity of 275 pounds
No bulkheads in dry storage hatches
Paddle included
Read our full Lifetime Tamarack Angler 100 review.
Best Lifetime Kayak for Kids: Wave 60 Youth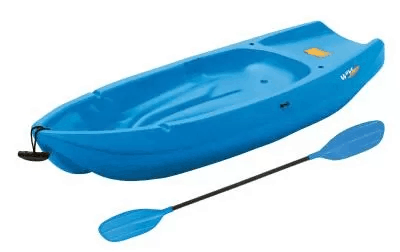 The perfect introductory kayak for the younger members of your family.
The Lifetime Wave 60 is made of the same tough and durable polyethylene plastic as Lifetime's larger models which ensures it will last long after your kids have outgrown it.
The onus has been placed on stability with additional chine rails installed to keep it upright.
It's not a boat that should be taken into any sort of challenging water and is best served on calm, mellow lakes where young paddlers can stay close to shore.
If you want to paddle more dynamic waterways, look at investing in a double where young paddlers can ride in the bow without compromising stability.
Cheap and responsive enough as an entry-level kayak
Paddle included
Small size means children will outgrow it quickly
Performance limits it to near-shore lake paddling
Types of Kayaks Lifetime is Known For
Lifetime has made a name for themselves by producing reliable and stable kayaks. Their boats are made of tough blow-molded polyethylene plastic with UV protection.
The majority of their boats are entry-level or recreational models that are best on lakes or calm rivers. They lack the storage capacity for longer trips and can struggle to stay on course in windy or strong tidal conditions.
This along with their reasonable price, make them good for most day outings.
You can find models tailored to more specific activities including bigger and spacious tandem kayaks, boats designed for kids, and some of the cheaper fishing kayak designs.
How to Choose the Right Lifetime Kayak
Where Do You Plan on Paddling?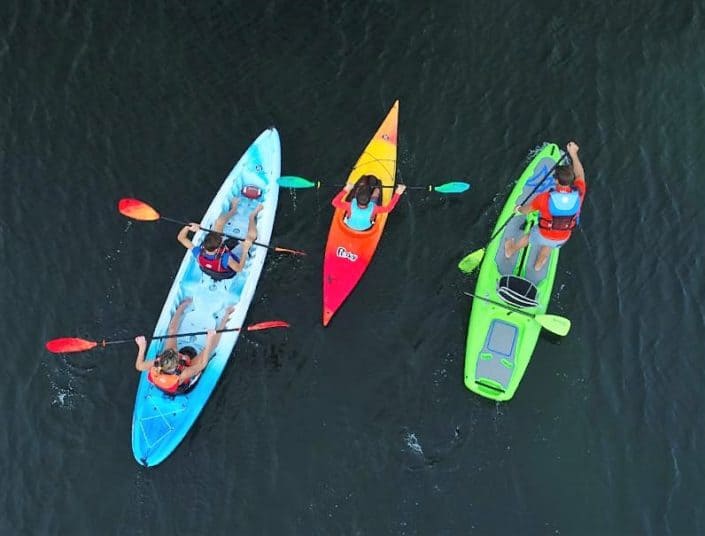 The first question you must answer when shopping for a kayak is where you see yourself using it.
Kayaks have specialized designs, and while there is some crossover, some models can be dangerous if taken into the wrong conditions.
If you're considering a Lifetime kayak, you plan on spending most of your time on calm lakes and rivers where "recreational" kayaks are right at home.
For open water, "touring," sea kayaks provide a longer keel that will track better in poor conditions and many come with a rudder to improve maneuverability. These boats are usually sit-in kayaks to protect you from the elements and provide plenty of dry storage space.
Whitewater boats look somewhat similar to recreational kayaks with shorter keels. They're more streamlined with less stability so that they can roll and recover easily.
Sit-In Vs Sit-On-Top Lifetime Kayaks
Sit-in boats have a defined cockpit that encloses your legs and lower torso.
A spray skirt can be wrapped around the cockpit's perimeter to provide further protection against waves and rain.
This makes them the preferable kayak for paddlers in cold weather climates.
Sit-On-Top kayaks encompass most recreational and fishing models.
With no defined cockpit, you have a lot more room to stretch out and shift while you paddle.
Since there's no protection from the elements they're best suited for day trips or warm weather environments.
To provide a little bit of protection, the seat in a sit-on-top is placed higher above the water to keep at least some of the waves off you.
This raises your center of gravity which can make a kayak feel tippy. To counteract this, sit-on-tops have a wider hull to provide more stability.
Solo or Tandem Lifetime Kayak
Single kayaks provide more flexibility and freedom for paddlers.
A tandem requires you and your paddle partner to paddle in sync to maintain tracking and prevent your paddles from hitting which can take some practice.
Thanks to the extra paddle and a longer keel, tandems tend to be faster and more stable than a single.
Transportation can also be easier since a roof rack will only need to hold one kayak.
Single Kayaks obviously allow you to go out on your own if you wish and tend to be more maneuverable, though with a lower top speed.
If you plan on doing more ambitious, longer trips, two singles can usually hold more gear than a tandem.
Some tandems have the ability to be paddled by one or two people.
Longer tandems will be sluggish and unresponsive if there's just one person aboard, but this is more common with touring kayaks. Check the specifications of your tandem before paddling your lake kayak on your own.
Lifetime Kayaks – Extra Features
Many entry-level and recreational kayaks come with some of the basic necessities to get you started.
An included paddle is a common feature for these boats and many of Lifetime's recreational and children's models come with one.
Inflatable kayaks often include a carry bag to make transportation easier and a foot pump to help with inflating.
Many sit-on-top kayaks have scupper hulls built into the hull to allow any water that enters the cockpit to drain. Depending on the conditions, it may be prudent to have these holes blocked and scupper plugs are sometimes included.
In recent years, kayaks designed specifically for fishing have entered something of an arm's race to see who can outfit their boat with the most angling gear.
Multiple rod holders are standard issue, and some designs are stable enough to let you stand and cast.
Accessory mounts or "gear tracks" may allow you to install any number of features such as extra rod holders, a GoPro, or even fish finders and depth sounders. The number of available mounts is usually listed on the kayak's specifications page or in the description.
Lifetime Kayaks Vs Other Brands
There are several other kayak brands that specialize in recreational and fishing kayaks. Many of these use plastic for their hulls, but there are some companies that sell inflatables.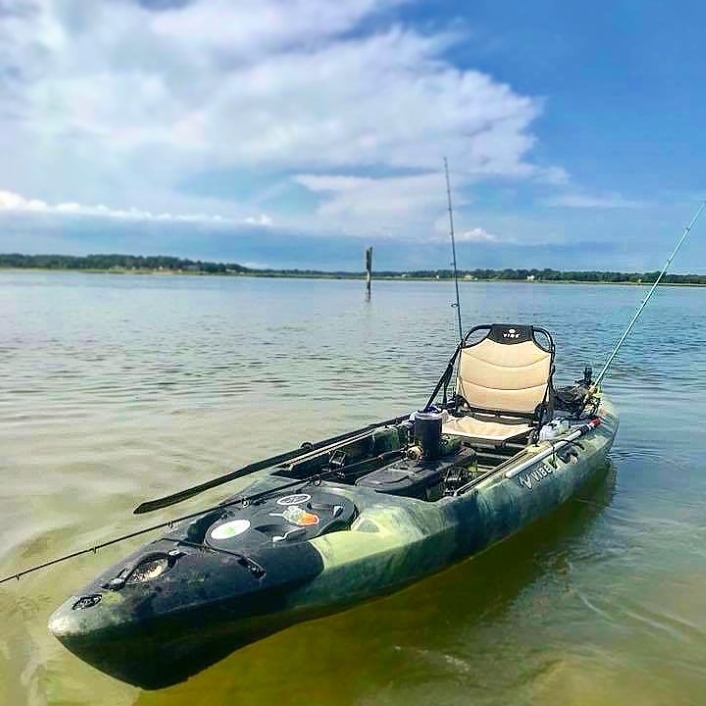 Pelican Kayaks
Pelican kayaks produce a wider range of kayaks that can handle some more challenging water conditions.
They also offer recreational and fishing kayaks and their fishing models are known as some of the most stable on the market.
They do tend to be a little more expensive than Lifetime's boats.
Perception Kayaks
Perception kayaks share a lot of similarities with Pelican.
Perception builds both sit-in and sit-on-top kayaks with models that can cover recreational, fishing, and touring.
Child-sized boats are also available and they offer a wide variety of products in all four categories.
Sun Dolphin Kayaks
Sun Dolphin is another company that focuses on cost-effective and easy to transport kayaks.
Their products range from short recreational models to more intricate fishing designs.
The company also designs and builds paddleboards, canoes, and pedal boats as well as replacement parts for all of their products.
Vibe Kayaks
If your main desire is to fish and you have a little extra cash, Vibe kayaks may be the company for you.
While they're one of the newer brands, Vibe has quickly made a name for themselves with their big and feature-rich fishing kayaks.
Customization options abound and their Sea Ghost line has found the perfect sweet spot between speed and stability.
Sea Eagle & Intex Kayaks
No storage space for a hard-sided kayak?
Sea Eagle and Intex build stable and easy-to-set-up inflatable kayaks that are available at a reduced price.
You won't get the same performance you would out of a hard-sided kayak, but these two companies are churning out reliable and easy-to-paddle models that are perfect for calm water paddling.
Lifetime Kayak Reviews – FAQ
Does Lifetime Make Good Kayaks?
Yes, Lifetime makes good kayaks that are cheap and good enough for beginners. If you can't spend $500 or more on one of the best sit-on-top kayaks, then Lifetime kayaks will do.
How Long Do Lifetime Kayaks Last?
Lifetime kayaks can last at least 10 years or longer as long as you take good care of them. To help them last longer, remember to keep them out of the sun when not in use, and avoid unnecessary drags on sandy or rocky beaches.
What Material Is the Lifetime Kayak Made Of?
Lifetime kayaks are typically made from high-density polyethylene, which is the most common material among cheap kayaks because of its great durability and light weight.
Lifetime Kayak Reviews – Conclusion
For casual and durable kayaks, Lifetime has a diverse lineup of models to meet your needs.
I know the Tamarack is labeled as a fishing kayak, but I'd argue it's good for a variety of activities and the stability makes it great for first-time paddlers too.
While the Kokanee 106 is a pain to carry, on the water it makes for another stable model, and having all the legroom is great for paddlers of all sizes.
What do you think of our list? Did your favorite Lifetime kayak make the cut? Who got snubbed? Let us know in the comments below.