Looking for the best sit-on-top kayak?
Narrowing down the best of the best can be a time-consuming experience. I'm here to give you back that precious time, by presenting my top five best sit-on-top kayaks.

Your personal favorite will depend on your needs and preferences, but I hope this list includes one that catches your fancy.
Let's check them out!
The Best Sit-On-Top Kayaks: Detailed Reviews
1. Best Sit-on-top kayak Overall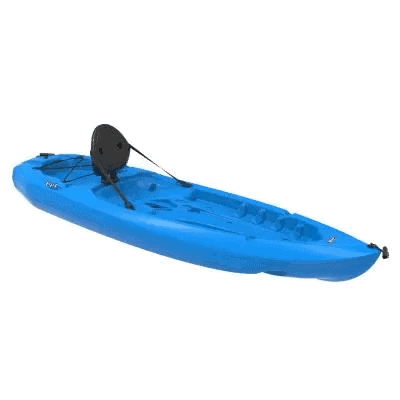 This bright blue sit-on-top kayak weighs only 38 pounds and has an outstanding weight limit of 250 pounds. It includes a single paddle, which is far more convenient than buying the kayak and paddle separately.
It is eight feet long and can fit inside of most SUVs. It also features a nifty carrying handle for loading and unloading. With four footrest positions, it can accommodate a wide range of body types. The seatback is adjustable as well, ensuring the continued comfort of the kayaker.
When you're ready to coast along the water and briefly retire from paddling, a built-in paddle cradle will hold your paddle safely afloat. This cradle is a fantastic way to give your arms a rest.
Regarding storage, there isn't any watertight hatch, but the rear does offer plenty of space with a laced bungee cord to keep your belongings secure. Also, you can store items along the unused footrest portion.
The thick polyethylene construction stands up to harsh and unexpected environments, such as large rocks or thick weeds. Overall, this is an excellent choice for beginners looking for a soothing and serene first experience.
2. Best Sit-On-Top Kayak for fishing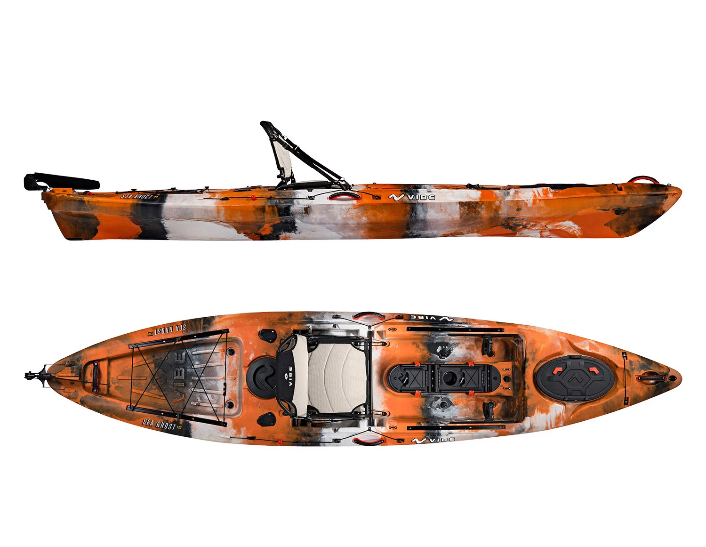 For the avid fisherman with a score to settle, this may be the kayak you've been looking for.
Available in five camouflage-friendly patterns, this kayak is built for the wild man in us all. With a length of 13 feet and weighing in at 75 pounds, it is one of the sturdiest sit-on-top kayaks on the market.
Anglers can appreciate its superior weight limit of 550 pounds, and the astounding amount of storage options for your gear. It is also one of the most stable fishing kayaks, which means that you can stand upright without fear of flipping over.
The length of the craft ensures that it can move quickly across the water. Keeping your arms from getting tired is vital when fishing, and the Sea Ghost seems to understand this. With its toe-controlled rudder system, you can paddle with less effort in windy conditions.
A magnetic tackle tray keeps your equipment stable and within reach. The watertight console storage space includes waterproof cargo bags. In addition to the console area, there are additional storage areas at the rear and front of the kayak.
With two fishing rod holders and two paddle parks, you can maximize your catch ratio. If you choose to install a fishfinder onto the universal mount, the likelihood of making a record catch only increases.
Comfort is important. An adjustable ventilated seat, a cup holder, multiple foot braces, and gripped carrying handles all make the experience of using this kayak incredibly ergonomic. And should your kayak flip unexpectedly, it quickly drains itself once righted via a series of scupper holes.
If you want to know more, feel free to check our full review of the Vibe Sea Ghost 130.
3. best lightweight sit-on-top kayak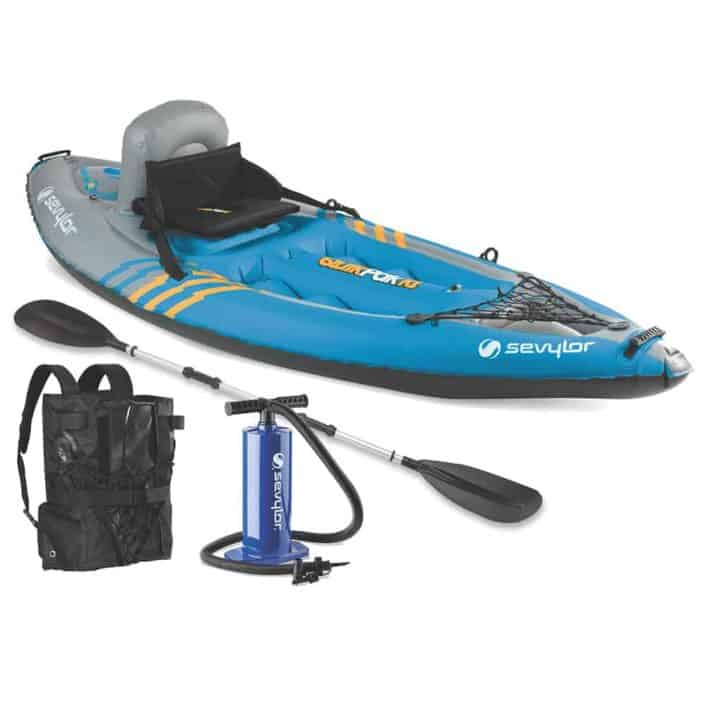 Those who own sedans or compact vehicles often find themselves frustrated when attempting to go camping, kayaking, or canoeing. The weight, length, and width of your outdoor gear can be impossible to manage with a small vehicle.
For kayakers, there is an attractive solution in the form of this inflatable kayak.
The entire watercraft, when deflated, fits inside of the included backpack. This backpack becomes the kayak's seat. In total, you will only need 5 minutes to turn this chunk of PVC plastic into a working kayak.
When inflated, this kayak features three footrests, a shallow front storage area replete with bungee cord lacing, and a cup holder. While it's not appropriate for rough waters, it is perfect for calm lakes or slow-flowing rivers and springs.
A thick tarpaulin bottom and multiple air chambers protect you from punctures, scrapes, and tears. Those looking for something simple, light, and easy to set up need look no further.
4. best budget sit-on-top kayak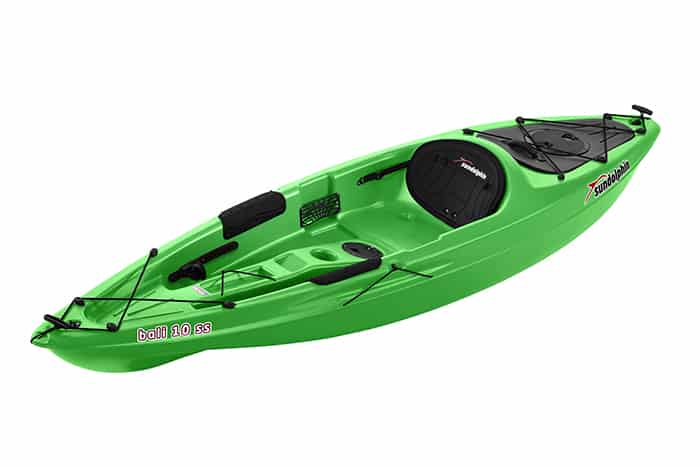 Beginners and experienced kayakers alike can find something they like about this kayak.
Available in six bright, solid colors, the Bali 10 SS is highly visible. This feature isn't ideal for anglers, but it is perfect for nearly all other parties. In an emergency, it's essential to be visible to rescuers. Fortunately, visibility is not a problem for the Bali SS.
At ten feet long, and with a weight capacity of 395 pounds, an average adult can comfortably kayak with all their gear in tow. Enclosed rear storage space can keep your equipment safe and dry, even if you flip over. The front end of the kayak features a smaller storage area that is secured by laced bungee cords.
You can even use the included portable accessory carrier for additional storage. It tethers to the rear of the kayak and floats along behind you as you travel.
The adjustable footrest ensures that kayakers of all heights can rest comfortably. The interior of the kayak features padded areas for your thighs and a cup holder for your favorite beverage.
The carrying handles have an excellent padded grip, making it easy to pull the kayak to or from shore. And because this kayak weighs only 44 pounds, it is easy to lift and transport, regardless of your fitness level.
The paddle rest is built-in and is a great way to relax your muscles for a bit.
5. best 10-foot sit-on-top fishing kayak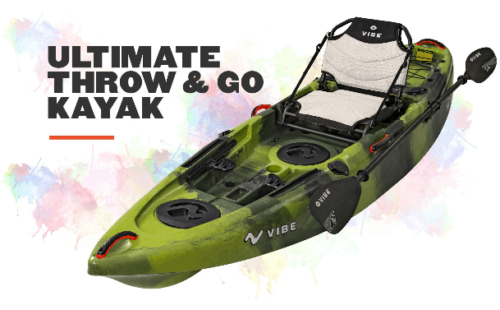 When you're going fishing, there are quite a few pieces of gear to bring along with you. Those hoping to keep things simple will appreciate the design of the Yellowfin 100.
This kayak tracks smoothly and is easy to guide and maneuver. Although it is ten feet long, it glides through the water as gently and quickly as more substantial, longer kayaks. With a weight limit of 375 pounds, you can bring quite a lot of tackle, bait, and equipment along for the ride.
You can maximize your efficiency by taking advantage of the four fishing rod holders, fishfinder mount, and customizable top-loading gear tracks.
With two sealed storage compartments and a large open-air rear storage spot, you'll feel confident about storing your gear and your catches safely and efficiently. The improved stability and slip-resistant deck surface allows you to stand upright while casting or reeling.
The seat is well ventilated and has two upright positions. The cup holder is ergonomically located and designed and ensures you're never too far away from a sweet, refreshing sip of something. An adjustable foot brace system makes settling into the kayak an enjoyable experience.
This kayak is ideal for the avid angler with a desire to keep things as simple as possible, without lessening their experience out on the water.
Sit-On-Top Kayaks: Detailed Guide
There is something intrinsically serene and relaxing about kayaking. The feeling of taking to the water and leaving the chaos and noise of the daily grind behind you is intensely freeing.
Sit-on-top kayaks provide this magical experience, in a way that is unique to their design. If you're searching for the best sit-on-top kayak, you should first know its advantages and inconvenients compared to a sit-in kayak.
What Is A Sit-On-Top Kayak?
Many kayaks are sit-in kayaks, meaning they feature an internal chamber to sit within. These kayaks house your lower half while allowing your torso and arms to remain free to paddle.
A sit-on-top kayak does not have this interior space for your body. When you're ready to slide off into the river and explore, you only need to sit on top of the kayak and begin paddling!
Why Choose A Sit-On-Top Kayak?
The reasons to choose a sit-on-top kayak are numerous. They're lightweight, easy to launch and land, and can help you stay fresh and comfy on scorching summer days.
However, there are a few things that sit-on-top kayaks cannot do. It's essential to keep these advantages and disadvantages in mind before coming to a final decision.
Ease Of Use
Let's face it. Getting in and out of a standard sit-in kayak can be a frustrating experience.
It's easy to lose your balance and end up in the water while attempting to enter or exit a sit-in kayak. This balancing act isn't the best way to start kayaking, even if it does make a good story for friends and family.
Sit-on-top kayaks are far more comfortable to board. You don't have to squeeze your legs into a cockpit and get the spray skirt adequately adjusted. All you must do is hold on to the sides of the kayak and sit down.
Because sit-on-top kayaks are so easy to use, nearly every age group can comfortably use one. This feature makes sit-on-top kayaks one of the most ubiquitous watercrafts available.
Airflow
Sit-on-top kayaks are great for hot, humid days. They don't enclose any part of your body. This feature allows air to flow freely across your skin as you travel, reducing sweat and discomfort.
Anyone who experiences heat rash and chafing when exposed to moisture for an extended period of time knows how painful and uncomfortable sit-in kayaks can become. With a sit-on-top kayak, this intense buildup never occurs. There's plenty of room in which to move around, and fresh air can reach every inch of skin.
You even have the freedom to take a quick dip! This cooling ability is an absolute must for summer afternoons on your favorite lake or river.
Freedom Of Movement
Claustrophobia, the fear of being enclosed in a small space, is no joke. Research suggests that approximately 12.5% of all Americans will have this phobia at some point in their lives.
Many adults will outright avoid activities that could trigger this fear. The traditional kayak is a sit-in kayak, and this design has proven to be off-putting for those with claustrophobia. Many people have avoided learning how to kayak for this reason.
Everyone should have an equal opportunity to experience the wonder and the beauty of the natural world. Sit-on-top kayaks greatly diminish the fear of claustrophobia – instead of being inside of the craft, you are on top of it.
This freedom of movement is critical for those who suffer from fear of enclosed spaces. Sit-on-top kayaks allow people to experience nature without the overwhelming fear of being trapped.
Precautions To Keep In Mind
Although sit-on-top kayaks have several desirable features, they also have a few drawbacks.
Their main strength is actually also their main inconvenient—complete exposure to the elements. Enjoying a warm, sunny day on your kayak is definitely a great way to spend the day, but being caught in a storm on a chilly day is a good way to ruin your love for the sport.
Proper preparation is the best way to offset these consequences. Here are a few tips to keep your kayaking experience fun and painless, no matter the weather.
Bring sunscreen. If you're going out during the summer, always pack plenty of sunscreen. Even if the forecast predicts overcast, or cloudy weather, bring UV protection.
Pack extra/waterproof clothing. Want to go kayaking on a chilly winter morning? Dress appropriately, with warm clothing. Keep a spare outfit inside of a waterproof bag or container and bring it with you. Should you fall off your kayak, you will be able to change into warm, dry clothing quickly.
Avoid using your kayak during bad weather. Heavy rain and wind make kayaking extremely difficult, especially if you are without any enclosure. It is far better to cancel plans and reschedule your kayaking.
How To Re-Enter A Flipped Sit-On-Top Kayak
Learning how to re-enter your kayak if you flip is very important if you want to have a smooth experience.
It's quite an easy thing to do with a sit-on-top kayak, as opposed to a sit-in kayak, but I recommend watching the video below to understand how to do it easily.
Sit-On-Top Kayaks: FAQ
What is the best rated sit-on-top kayak?
The best rated sit-on-top kayak is the Lifetime Lotus. This cheap kayak is perfect for recreational purposes, with a good mix of speed, comfort, and stability.
What is the best sit-on-top tandem kayak?
The best sit-on-top tandem kayak is the Malibu 2 (XL). Indeed, this is one of the most stable recreational kayaks while still having pretty good top speed.
Are sit-on-top kayaks better than sit-in?
Yes, sit-on-top kayaks are better than sit-in kayaks for recreational use during the warmer months. Sit-in kayaks are for year-round kayakers who need protection from the elements.
Best Sit-On-Top Kayak – My Personal Favorite
With so many fantastic options to choose from, it certainly wasn't easy to choose my favorite. And it's important to remember that my opinion on the matter may differ vastly from yours, depending on individual preferences and specific needs.
For me, the best sit-on-top kayak is the Lifetime Lotus. It is affordable, rugged, and easy to use. Though it may not come in a wide range of colors or designs, it does precisely what it was designed to do. It keeps you dry, safe, and comfortable.
Sure, it's not very fast. But nature must be enjoyed slowly, without pressure. The rat race is better left behind when taking to the water, and this means slowing down and enjoying the world around you. This kayak allows you to do just that.
It's so easy to use; children can quickly learn how to paddle it along calm rivers or lakes. The lightweight design and shorter length are ideal for smaller vehicles and individuals of all fitness levels. Should you encounter unexpected circumstances, this kayak can take a fair beating without breaking apart.
If you're an angler, a Vibe kayak may be a more appropriate choice. But for the recreational kayaker, I found that the Lifetime Lotus satisfies the most necessary kayaking needs!