There's no reason to break the bank on your first kayak.
Why spend a lot of money if you're not sure how much you'll use it? Luckily there are many recreational and fishing kayaks that can be had for a reasonable price from Sun Dolphin.
In this article, we'll take a look at some Sun Dolphin kayaks in a variety of categories. So whether you need a sit-in or sit-on-top, fishing, or recreational, you'll find the best Sun Dolphin kayak for your below.
Sun Dolphin Kayaks
Best Sit-In Kayak: Sun Dolphin Aruba 10

At ten feet in length, the Aruba 10 is long enough to maintain its course despite the wide hull.
The spacious cockpit makes it a good choice for your first sit-in kayak and it's one of the easiest of these designs to get in and out of.
The seatback is padded and adjustable, and though I wish the seat bottom was similarly padded, I do like the multiple foot braces.
While it tracks better than many kayaks of this size and make, I still wouldn't trust it on difficult waterways where tide or current can pull you and alter course.
But as an introduction to sit-in models, it's a great cost-effective choice that's easy to transport and paddle.
Dry stern storage hatch
No padded seat bottom
Large cockpit
Read our full Sun Dolphin Aruba 10 review.
Best Sit-On-Top Kayak: Sun Dolphin Bali 10 sS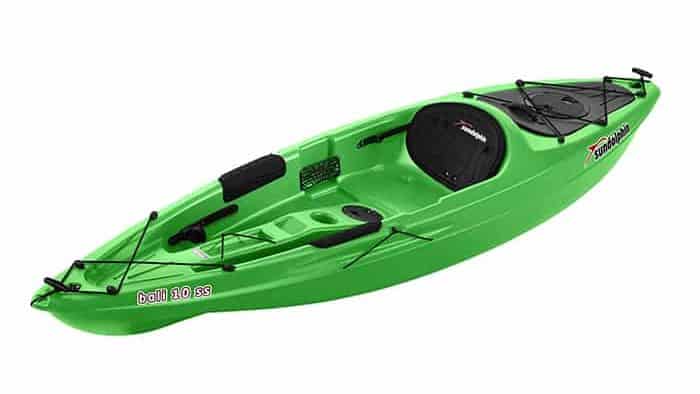 Heavily influenced by popular sit-on-top fishing kayaks, the Bali 10 has tons of room and is a stable paddling platform.
There's ample dry storage space thanks to a large watertight stern hatch and a smaller central console accessible from the seat which is a great place to house personal items. Open-air storage can be found under bungee cords stretched across the bow.
Even more storage can be created thanks to Sun Dolphin's intuitive Portable Accessory Compartment (PAC) that can be installed on the stern. The PAC can be towed behind the kayak giving you room for additional gear or a cold drink or two.
Tons of storage space and options
Big open cockpit
No protection from the elements, performance limits it to warm lakes and rivers
Best Fishing Kayak: Sun Dolphin Journey 10 sS

One of the lightest fishing kayaks on the market, the Journey 10 ss checks in at a svelte 44 pounds making it easy for solo paddlers to move and transport on their own.
On the water, there are two fishing rod holders, one in the cockpit and another in the stern.
While there aren't the customization options of more expensive angling kayaks, I find the port-side paddle holder indispensable.
For storage, you'll find a lot of the same features including the PAC system which does a great job of keeping your catch cool. Add in the central console and big stern hatch and you have enough space for even the most ambitious day kayaking trips.
Best on lakes and rivers
Lots of storage, two rod holders, and a paddle holder
No padding on the seat
Drink holder
Read our full Sun Dolphin Journey 10 SS review.
Best Sit-In Fishing Kayak: Sun Dolphin Excursion 10

Like the Aruba, the Excursion 10 has a big cockpit for paddlers of all shapes and sizes.
Tracking and stability are impressive and the Excursion can handle most lakes and rivers that don't involve rapids.
For fishing, there are two flush-mounted rod holders behind the seat and another swivel holder that's accessible from the cockpit.
Storage is similar to other Sun Dolphin designs with bungee cords on the bow and a watertight stern hatch. The PAC system has been implemented into this kayak too for additional storage.
Big 395 pound load capacity
12 feet long for improved tracking
Adjustable padded seat with thigh braces
Best Kayak for Lakes & Rivers: Sun Dolphin Phoenix 10.4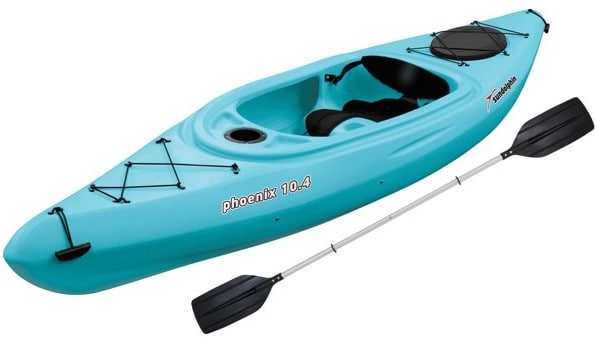 Another roomy sit-in with adjustable footrests, the Phoenix 10.4 shines as the best lake and river kayak for a company that specializes in them.
Providing a little more speed than some of the other kayaks on this list, it doesn't sacrifice maneuverability and makes it one of the more high performing Sun Dolphin boats.
I do wish the load capacity was a little bigger than its 250 pounds, but for most trips around a nearby lake or day trips down a river it should be more than adequate.
Oddly shaped scupper holes makes it hard to find plugs that fit
Adjustable footrests and backrests
Big, open cockpit
Best Lightweight Kayak: Sun Dolphin Aruba 8 sS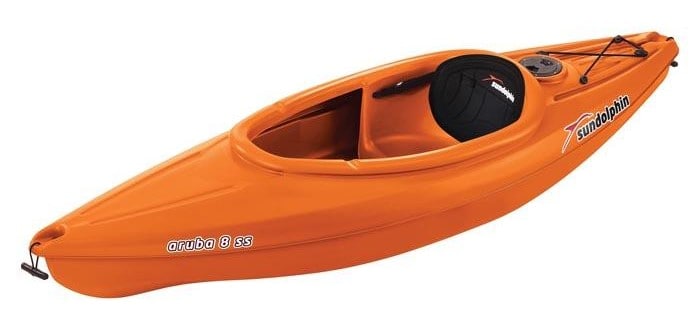 With a stable design that newcomers will covet and weighing just 27-pounds, the Aruba 8 is a great lightweight kayak for those just starting out or who have limited storage space at home.
Since it's such a small sit-in, it can be tough to get in and out of and some paddlers may favor the Aruba for its wider cockpit.
It's maneuverable and responsive which makes it fun to paddle. But the short keel really works against it in the speed department and makes it one of the slower kayaks from Sun Dolphin.
Narrow cockpit
Small 260-pound load capacity
Great maneuverability for beginners
Read our full Sun Dolphin Aruba 8 review.
Types of Kayaks Sun Dolphin is Known For
If you're an experienced paddler looking for a boat that you can take into new or challenging water, then Sun Dolphin probably isn't for you.
But if you consider yourself a relative novice to the sport or want a boat you can get to the local lake on your own, you can probably find the right lake kayak for you.
Sun Dolphin's boats are great entry-level boats with tough, forgiving plastic molded hulls that are difficult to damage. They place a focus on stability so that newcomers can feel confident on the water and since their boats have short keels compared to many kayaks, they're easy to handle and steer.
Sun Dolphin also offers a couple of specific designs for fishing. These can be sit-in or sit-on-top like their recreational boats but include some more storage space as well as rod holders to help get you and your gear on the water. They don't have the custom options many other fishing kayaks have, but it's hard to quibble with the overall price and quality of Sun Dolphin's products.
How to Choose the Right Sun Dolphin Kayak
Where You Plan on Paddling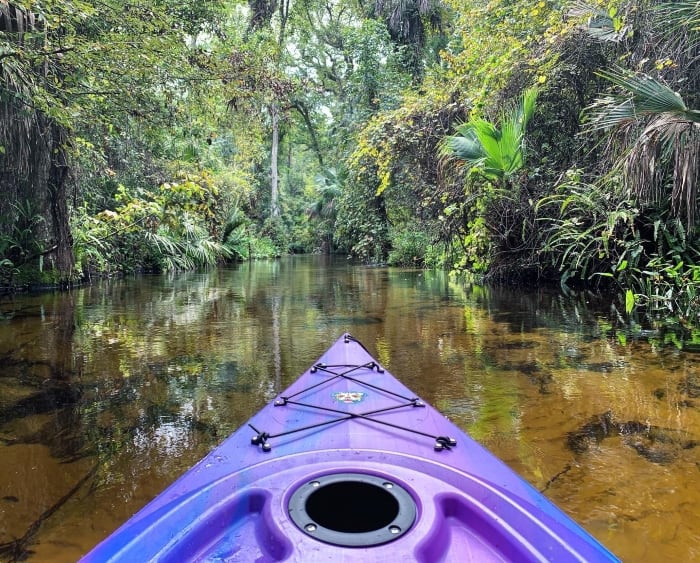 The first question you need to answer when you start kayak shopping is what bodies of water you plan on paddling.
There are several different types of kayaks with unique keels and hull shapes and lengths that are meant to handle varied types of water conditions from whitewater to long ocean crossings.
For Sun Dolphin's kayaks, you should plan on just paddling calm and protected waterways such as smaller lakes and mellow lakes. Calm days on secluded bays may be able to accommodate Sun Dolphin's models but I'd recommend extreme caution when you're exposed to either wind, tide, or current as these boats don't have the tracking or speed to get you out of trouble.
Kayak Fishing
While you can fish from any kayak, angling kayaks have specific features that make it much easier. The biggest of these are the included rod holders that keep your poles in place when you need both hands to paddle.
Once at your fishing hole, larger storage spaces that are accessible from the cockpit house your lures and spare gear without having to go to shore. Many kayak boats are built to be extra stable to handle the inevitable shifting and lunging that comes with a big fish on the line.
Higher-end models come filled with other features such as the ability to install a fishfinder or other custom features and the most expensive even have paddles so you can have your hands free to cast while in motion.
Sit-In vs Sit-On-Top Dolphin Kayak
The two main kayak design types. Sit-in boats have a "cockpit" the paddler sits in. The compartment can be more cramped with less room for the paddler's legs. They do provide more protection from the elements though, especially if a sprayskirt is wrapped around the cockpit's perimeter to keep out wind and waves.
Since your center of gravity is low to the water, sit-in kayaks can be more streamlined and narrower without risk of tipping over. This makes them the preferred design for those that value speed or are planning on being out for several days.
Sit-On-Top kayaks have a wide-open deck which makes getting in and out of these kayaks easier. While they may have foot braces, many don't have thigh braces. They offer little to no protection from the weather or waves so they do best in warm climates where splashing water or rain won't be an inconvenience.
To provide some protection, the seats are placed higher above the water line to avoid waves. This gives them a higher center of gravity though, so to compensate, they're built wider and bulkier so they have the same stability. It does slow them down however and makes them better as recreational or fishing boats where speed isn't as important.
Extra Features
Sometimes you can find kayaks for sale that are offering extra features that are included with your purchase.
The most common included goodie for entry-level kayaks is a paddle. They tend not to be high-end models but are durable enough to get you started without risk of them breaking.
Sit-On-Top boats are often designed with scupper holes so any water that splashes onto the deck can drain. In some conditions, it's best to block these holes with scupper plugs and some sit-on-top kayaks include these with the boat.
Inflatable kayaks often come with a carry bag and some will throw in a portable pump to make set-ups easier.
Sun Dolphin Kayaks vs Other Kayak Brands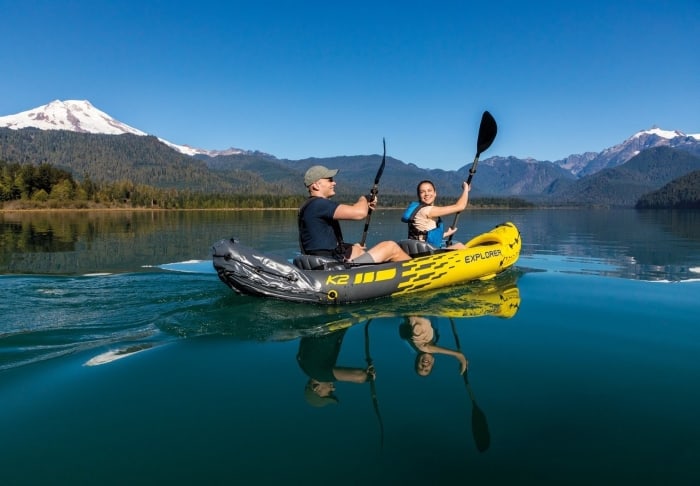 Pelican
Featuring more expensive and higher performing boats, Pelican also has boats that fall into the recreational and fishing categories with their fishing boats receiving special praise for their stability.
In addition, they design more intricate and higher-performing kayaks that are meant for touring and can be out for multiple days in more challenging conditions.
Lifetime
A company that shares a lot of similarities with Sun Dolphin, Lifetime's kayaks are strictly for recreation and fishing on protected lakes and rivers. They're another cheap and easy to paddle and transport company that are good options for your first kayak.
Perception
Like Pelican, Perception builds a wider range of kayaks with multiple designs in each category. You can find several recreational, angling, and touring models, they even have designs specifically for children.
Vibe
While many of the company's on this list focus on diversity, Vibe has decided to focus on nothing but fishing kayaks. It was a good choice and Vibe has developed several impressive models filled with custom features while blending stability and speed in their durable hulls.
Sevylor-Coleman
Some of the cheapest kayaks you can find come from Sevylor Coleman, and that's not always a good thing. Many of their designs are inflatables and many reviewers have questioned the strength and durability of their fabric. Performance is not always impressive, so if you're going the inflatable route, it's better to check out Intex or Sea Eagle.
Intex & Sea Eagle
Two more impressive inflatable companies, it makes sense to put these two together as they build cheap, easy to transport and maneuverable designs for both solo or tandem paddlers. They're limited to lakes and rivers but are fun to paddle and tougher than most inflatables making them great introductory boats for a fraction of the cost.
Sun Dolphin Kayaks – Conclusion
For your first kayak, you want something stable and cost-efficient and Sun Dolphin provides both while providing a fun, maneuverable paddling platform.
I love the Aruba 10 as an introductory sit-in kayak and the Phoenix 10.4 shines in most freshwater scenarios.
What do you think of our list? What's your favorite Sun Dolphin model? Let us know in the comments below.