For more than fifty years, the Canadian-based kayak company Pelican has been designing and developing a diverse range of self-powered watercraft.
Most of their boats fall into the "recreational" category. These kayaks are designed to provide maximum stability and maneuverability making them good options for inexperienced and casual paddlers.
You can also find cost-efficient and high-end angling kayaks that have the same commitment to stability while also providing customization options.
In these Pelican kayak reviews, we'll give an overview of all of these categories along with Pelican's small collection of higher-performing models. You'll also find our favorite Pelican kayak in each category and how they stack up to the competition.
Best Pelican Kayaks
Best Pelican Kayak for Beginners: Maxim 100x

Thanks to a multi-chine hull, the Maxim 100x has the stability that newcomers crave. While the boat is solid underneath, nervous paddlers may find the boat's primary stability a little tippy at first, especially if there's a little wind.
Speaking of wind, the Maxim is best served on calm water as wind or tide easily pushes it off course and makes tracking hard.
Fully adjustable back and foot rests along with seat cushions
Weighs 39 pounds and only ten feet long for easy transport
The streamlined design makes it faster than most recreational kayaks
Best Budget Fishing Kayak: Mustang 100

Most angling kayaks are heavy and unwieldy, but the Mustang 100 is just 39 pounds and ten feet long.
Like most angling kayaks the hull is built for stability but it still tracks well for its relatively narrow length.
Unlike more expensive fishing boats, there are no customization options outside of a couple of rod holders.
Molded footrests and seat back for superior comfort
Watertight bow storage hatch and open-air stern storage space secured with bungee cords
Open cockpit and small size limits it to calm waters and mellow rivers
Best Sit-On-Top Pelican Kayak for Fishing: Catch 120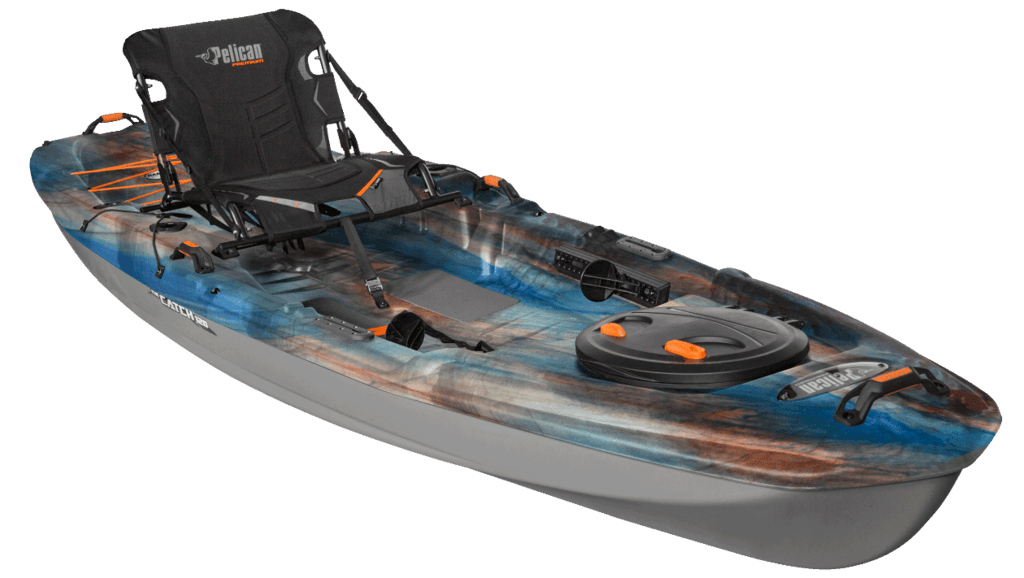 In a category dominated by stable boats, the Catch 120 may be the most stable angling kayak on the market.
Some of the customization options are included, such as an accessory "eyelet" that lets you install a fishfinder.
Comfy and adjustable seat with two height settings
400-pound load capacity
Wide keel and weighs 69-pounds which makes it hard to transport. Difficult to fit in some truck beds
Read our full Pelican Catch 120 Review.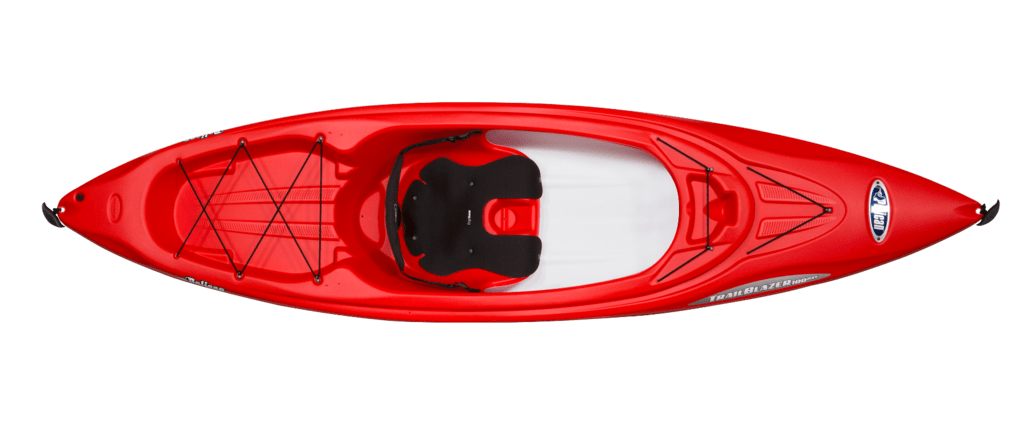 With a weight of less than 40 pounds and shorter than ten-feet, the Trailblazer 100 NXT can be carried solo by some paddlers.
The short keel gives it great maneuverability and makes it responsive and fun to paddle. Many paddlers are happy with the stability which also makes it a good choice for newcomers.
No skeg built into the design which hampers tracking and makes it susceptible to wind and waves
Little storage space
Sit-inside design lets you use a spray skirt
Read our full Trailblazer 100 Review.

With a big 500-pound weight capacity, the River Gorge 130 Tandem is the new, upgraded version of the Sentinel 130. It is a big burly vessel able to handle two paddlers and their gear.
Like most tandem boats, it's wide and stable. Measuring 13 feet long it's not too long for a tandem and the 73-pound weight should be manageable for most paddle partners.
Four accessory eyelets are a nice addition that allows for customization that's usually reserved for angling kayaks.
Deck bungee storage hatches but are not watertight
Multi-chine hull design provides plenty of stability and surprising maneuverability
Foam cushion seating makes for a comfortable ride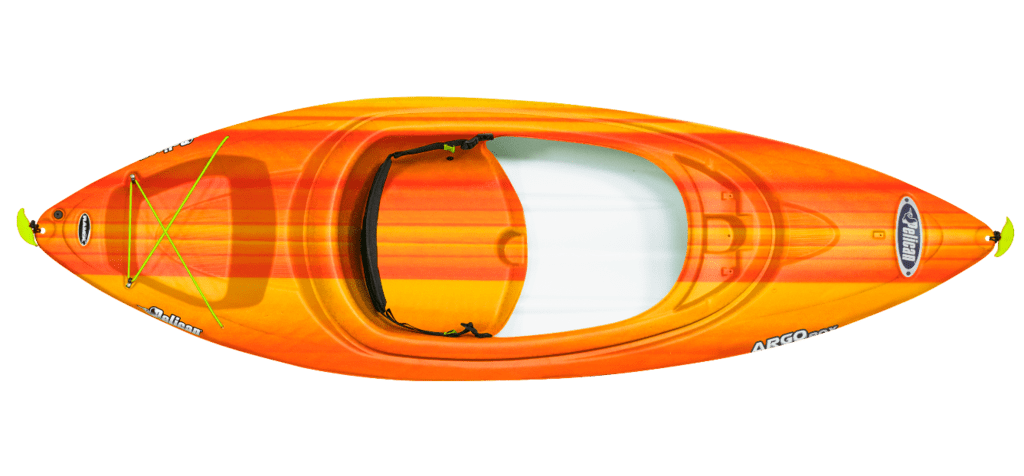 The Argo 100XR looks like a scaled-down sit-inside kayak measuring 120 inches.
As you'd expect, stability is the name of the game and a multi-chine hull makes it a solid platform for little kayakers.
A big cockpit makes it easy to get in and out and there's a tankwell-style storage area behind the seat secured with bungee cords.
Weighs just 42 pounds
Focus on stability limits the boat's overall performance. Should be used exclusively on small lakes, ponds, and slow-moving rivers
Padded backrest
Best High-Performance Sit-Inside Pelican Kayak: Sprint 100XR

A responsive boat that practiced paddlers will love to take through tight turns with great control.
With a ten-foot-long keel, the Sprint 100 has good tracking for straight line paddling and a decent top speed.
For those that want to track their speed and distance via GPS, a shaded "smartphone holder" is a nice touch that protects your devices.
Maintains solid primary stability
More responsive to paddler's movement for tighter turns and greater control
Cockpit "windshield" provides some protection from splashing
No watertight storage space
Types of Pelican Kayaks
Fishing
Designed with stability in mind, fishing models are wide and sturdy vessels giving you plenty of room to operate.
Stability in some models is good enough to allow you to stand and cast safely. Custom options are common that allow you to outfit your fishing platform to your heart's content.
Recreational
Accessible, lighter, and easy to use, recreational designs are built for those looking for a casual, easy-going day on the water.
They're not designed for peak performance and are easily blown off course in winds and choppy seas. Recreational boats are usually cheaper and a good introduction to kayaking.
Tandem
Available in both sit-in and sit-on-top models, tandem kayaks are usually faster and better tracking thanks to the longer keel.
The added weight and length does make transportation and storing more challenging.
Kids
The width and weight of traditional kayaks can make it hard for children to paddle.
To fill this void, Pelican has developed a series of kayaks tailored specifically for young paddlers.
These kid kayaks are substantially shorter, which makes them maneuverable and easy to handle.
A premium has been placed on stability for safety purposes. Though not high performing, they provide a fine introduction to the sport.
Performance
Designed to be faster and more efficient, Pelican's "premium" kayaks are for those looking to maximize their boat's performance.
While the stability may not feel as solid as recreational or fishing models, this makes them more responsive to the paddler's movements which enhances their responsiveness.
These designs are generally more expensive than recreational models and are best for those that are experienced and passionate about their kayaking.
Choosing the Best Pelican Kayak Models
Where You Plan on Paddling
The most important question to take into account is where you see yourself doing the majority of your kayaking.
Cheaper, recreational style kayaks perform well in calm and protected waters. But many of these can be blown off course or become outright dangerous in choppy water.
If you plan on paddling exclusively on mellow and protected waterways, you can get away with a cheaper model.
But if you want more versatility, consider purchasing a higher-end and better performing Pelican kayak.
Sit-In Vs. Sit-On-Top Pelican Kayak
There are some pros and cons to these two design types. Sit-in kayaks have a defined "cockpit" with the paddler sitting inside the boat.
This keeps your center of gravity lower and enhances stability. A spray skirt can be used which is wrapped around the cockpit's perimeter to keep rain or splashing waves from flooding the cockpit.
Sit-on-top models have more room and are easier to get in and out of since there's no defined cockpit. If you value legroom or have limited mobility, this design will be more comfortable.
Since you're sitting higher above the water, sit-on-top models are usually wider to improve stability. They're best used in warm water environments since there's no way to protect yourself from rain or splashing water.
Single or 2-Person Pelican Kayak
While it is possible to paddle a tandem by yourself, the experience can be physically demanding and frustrating.
Tandems are longer and heavier and can be almost impossible to carry on your own.
If you foresee that you will want to do a combination of solo and tandem paddling, it may be better to purchase two singles for more flexibility.
Extra Features
Depending on the model, design, and preferred activity, many Pelican kayaks come with extra features tailored to a specific activity.
Some entry-level boats come with some of the basic gear like a paddle. Inflatable kayaks usually come with a pump and a carrying bag.
Fishing kayaks are known for a host of accessories that make angling easier. Look for a kayak that has multiple rod holders and a paddle holder to keep your gear secure. "Gear tracks" allow you to customize your kayak.
Many sit-on kayaks have scupper holes. This allows water to enter the boat but also drain, preventing the boat from swamping. In rough water, it's preferable to block these holes with scupper plugs.
Pelican Vs. Other Kayak Brands
Intex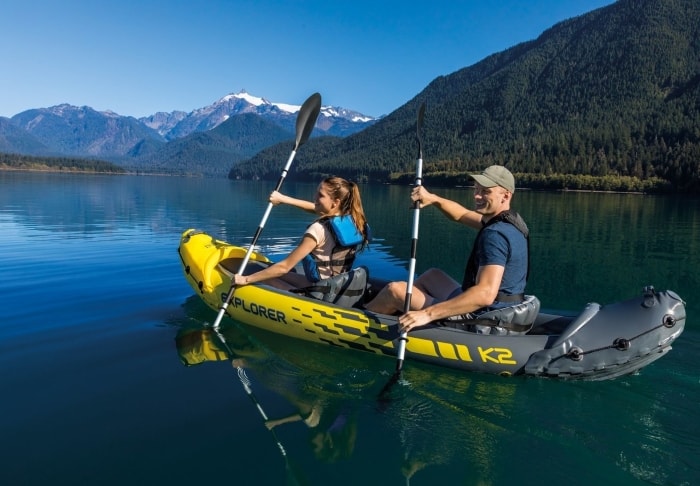 Producing inflatable kayaks, Intex's designs are primarily for newcomers and casual paddlers.
While inflatable kayaks aren't as tippy or fragile as their reputation, their performance suffers outside of perfect, calm conditions.
They're more cost-efficient and storage and transportation are infinitely simpler since the boats can be broken down and stored in a closet. Both single and tandem kayaks are available.
Sea Eagle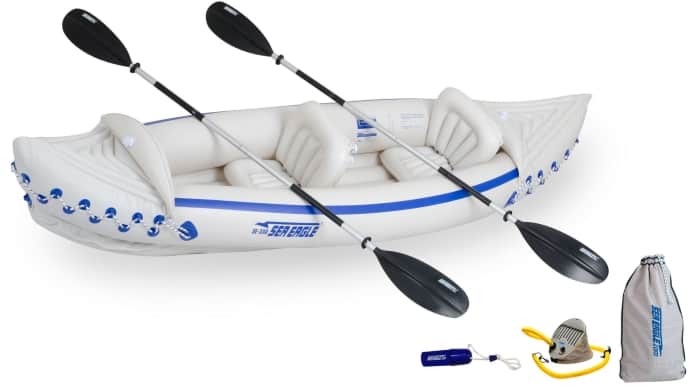 Sea Eagle is another brand that focuses on inflatable kayaks, canoes, and stand-up paddleboards.
Their vessels tend to run a little more expensive than Intex's models, but you get a higher-performing kayak with better tracking and similar durability.
They should still be limited to lakes and gentle rivers though and a lack of storage space makes them suitable for day paddles only.
They also make inflatable angling kayaks that fill a similar, cost-efficient void in the fishing kayak market.
Sun Dolphin

Offering a variety of hard-sided recreational and angling kayaks, Sun Dolphin shares many similarities with Pelican.
They don't have a "high performing" category for those seeking a more expensive kayak capable of multi-day trips.
Many of their recreational boats have shorter keels with a focus on stability which limits their tracking and storage capability.
Lifetime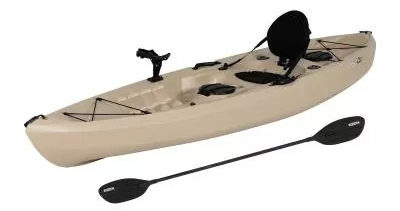 Another kayak brand that features plastic hulled vessels, Lifetime offers everything from youth and recreational boats to angling kayaks.
Their angling kayaks offer many of the same customization options of other companies and they seem focused on creating portable and lightweight designs.
Seat design and comfort does seem lacking and the weight capacity of some models feels on the light side which may limit the length and accessibility for some paddlers
Vibe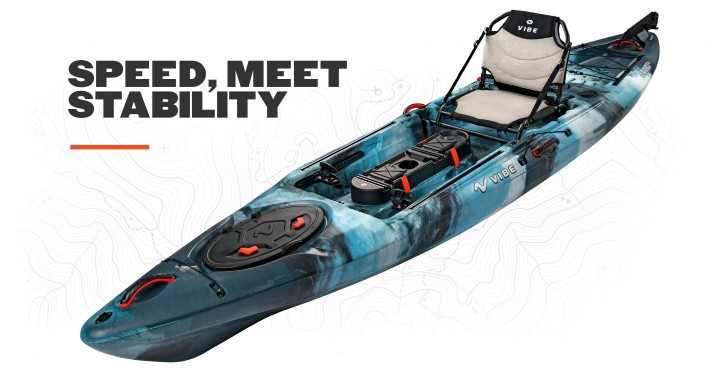 Vibe Kayaks does one thing and does it well: fishing.
Their kayaks are known for their stability and mammoth load capacities that allow for multi-day trips.
With one of the most comfortable kayak seats on the market and a host of customization options, anglers can fish to their heart's content.
They are more expensive and heavier thanks to their wide hulls and plastic material which makes transportation challenging.
But on the water, they're great angling kayaks that can double as recreational craft when your line's not in the water.
Sevylor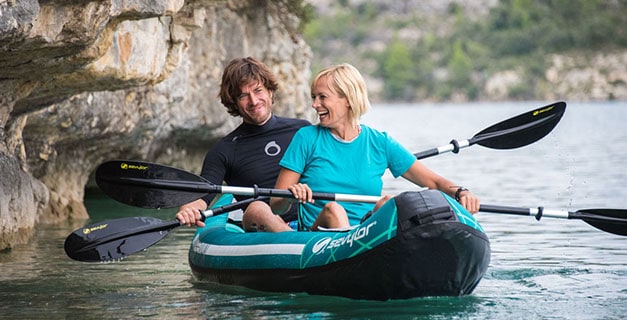 A company focused on inflatable kayak designs, Sevylor is one of the oldest inflatable kayak brands today.
They offer affordable kayaks that aren't high-performing and there are complaints about their boats' durability.
But they're very cheap, simple boats that are easy to transport and give paddlers a chance to get their feet wet and used to the water as long as it takes place on placid waters.
Best Pelican Kayaks – Conclusion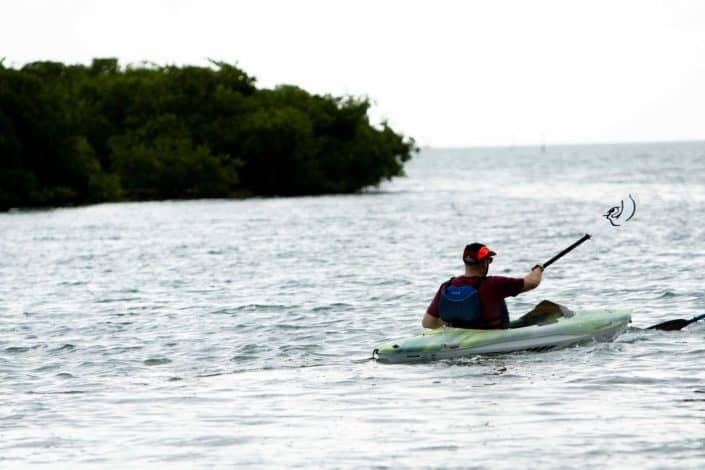 With such a diverse collection of kayaks, it's hard to pick the best overall Pelican kayak.
I love the Sprint 106XP for overall performance and speed if you have some paddling experience and don't mind a tippier ride.
If you're looking for a durable and stable recreational or fishing kayak more capable than an inflatable model, Pelican has several to choose from.
The Trailblazer 100NXT and Pelican 120 with their accessibility and beginner-friendly designs featuring top-notch stability and impressive maneuverability are capable boats in their own right.
Do you have a favorite Pelican model? What's your experience with their boats been like? Let us know in the comments below.