To write this Pelican Mustang 100X kayak review, I've spent the past few weeks testing it on the water.
After testing everything from tracking to speed to actual storage space (in real conditions), I came away quite happy with this kayak.
For the price, it's the fastest fishing kayak I've ever tried. It's also very stable and tracks great.
For a sit-in kayak, you also get enough storage space and I like the well-designed dashboard.
Overall, if you want a great beginner fishing kayak, you really can't go wrong with the Pelican Mustang 100X kayak.
Pelican Mustang 100X – Things to Consider Before Buying

Unlike its sit-on-top siblings, the Pelican Mustang 100X has a closed cockpit, which means you'll have less room to put your fishing gear.
Additionally, your seat will be at water level, instead of being higher up like on most sit-on-tops. This will help you paddle faster, but you might see fewer fish as a result.
If you find that you'd prefer a sit-on-top fishing kayak, consider the Lifetime Tamarack 100 or the more expensive Vibe Sea Ghost 130.
Pelican Mustang 100X Kayak Specifications
Length: 10 feet
Width: 29 inches
Cockpit Dimensions: 25 x 47 inches
Weight: 39 pounds
Load Capacity: 300 pounds
Pelican Mustang 100X Kayak Design
Material
The Pelican Mustang 100X is made of an almost indestructible plastic called polyethylene. As we've mentioned in previous articles, this material is perfect for recreational boats as it can handle on-water collisions and accidental drops.
You only need basic maintenance to keep your Mustang 100X for a long time.
Speed
Because of its reduced length, the Pelican Mustang 100X is a relatively slow boat made for short day trips.
It will be perfect for recreational use, but don't expect to paddle with friends who own longer, 140-inches+ kayaks as you'll fall behind easily.
That said, the Mustang 100X is one of the fastest kayaks I've tried in its category (short, recreational boats)
Maneuverability
What was a disadvantage for speed turns into an advantage for maneuverability.
Thanks to its short keel, the Pelican Mustang 100X is able to turn swiftly and therefore perfect for narrow rivers and tight corners.
Unfortunately, the Mustang 100X doesn't come with a rudder, even though it's always possible to install one yourself.
Comfort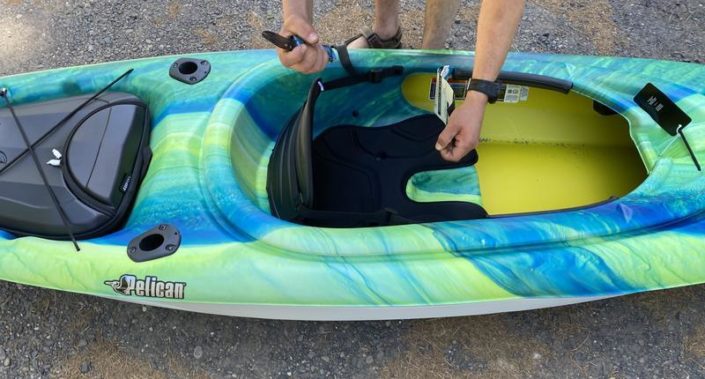 A kayak won't do you much good if you have a cheap plastic seat digging into your back all day. Luckily, the Mustang 100x is equipped with a well-padded seat.
The back is ergonomically designed and has excellent support for paddlers of all shapes and sizes. It can easily be adjusted back and forth, even on the water if you need to shift your paddling position.
Pelican has even included knee pads on this boat, which is quite unusual. These knee pads help cushion your knees (which are pressed against the cockpit for better maneuverability), and the Mustang 100X is one of a handful of boats to be equipped with those.
Finally, it boasts adjustable footrests to be comfortable for hours, even though this is a pretty common feature in this price range.
Stability & Tracking
The Pelican Mustang 100X has excellent primary and secondary stability thanks to its twin-arched multi-chine hull.
You won't capsize with this boat, and you'll feel incredibly stable when casting or reeling in your catch.
When it comes to tracking, the Mustang 100X is really good even without a rudder. Because of its hull shape, you'll find it will go straighter than your typical recreational kayak. It's perfect for beginners so that you don't constantly turn from one side to the other because of poor technique.
That said, this kayak is made for protected waterways, and you shouldn't take it on open water where winds and waves could be dangerous.
Also, DO NOT STAND. I didn't think anyone would want to stand in a sit-in kayak, but from stories I've heard, I feel it's my duty to warn you just in case. If you stand, you'll fall.
Durability
The Mustang 100x will last for years and handle almost any water collisions and accidental drops.
That said, I'd still recommend caution when coming into rocky beaches as you could always be very unlucky and dent the hull.
The polyethylene hull can take a beating, so dragging your boat to the water won't break it. However, it will scratch the hull and reduce performance over time. So your best bet is to always try and carry your kayak instead of dragging it.
To avoid warping or weakening of the hull, always try to store your kayak out of direct sunlight when not in use.
Portability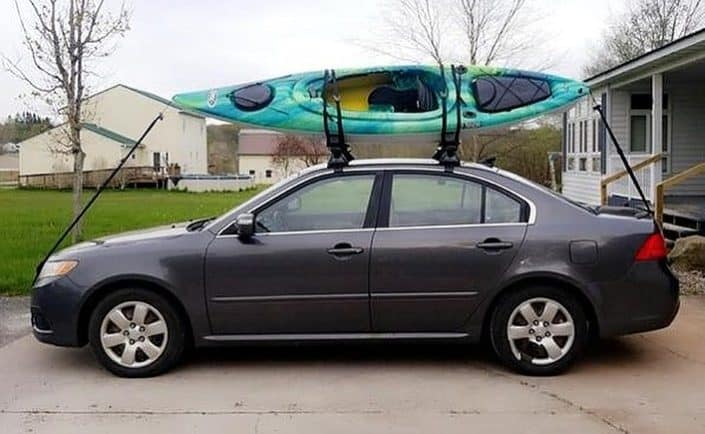 At 39 pounds, the Mustang 100X is one of the lightest fishing kayaks out there.
Most people can carry it over the shoulder for short distances, and loading it on top of your car should be easy. It may even fit in the back of your pick-up truck.
For tandem carries, the handles on the stern and bow are as easy as it gets.
Pelican Mustang 100X Features & Accessories
Unfortunately, the Mustang 100X isn't equipped with a paddle holder. You can still put your paddle under the bungee cords at the front of the boat, but I'd have preferred a proper paddle holder.
As with most kayaks in this mid-range category, you don't get a free paddle as is the case with entry-level kayaks. It's not a big loss as these free paddles are generally terrible and you're better off buying a better one.
However, the Mustang 100X has a nice bottle holder as well as a more unusual phone holder at the cockpit.
Pelican Mustang 100X Kayak Fishing Ease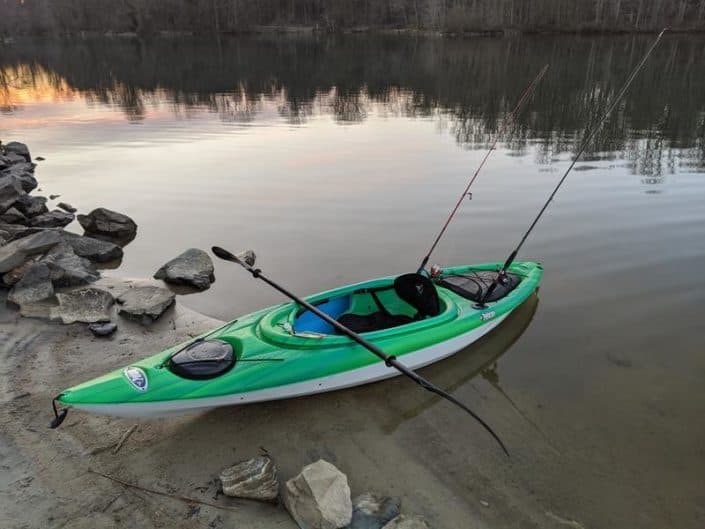 Sit-in kayaks are bound to have fewer fishing accessories than their sit-on-top counterparts, simply because there is less deck space.
However, Perception has done its best and included a couple of mounts around the dashboard. This will help you customize your kayak to your liking.
Whether you want to install a GPS, a GoPro, or a fishfinder, it can be done without taking a drill to your new kayak.
You'll find two flush-mounted rod holders behind the seat, which is quite standard for a fishing kayak.
As expected on a short, light boat like this one, it doesn't have as much storage space as bigger boats such as the Sea Ghost 130. But it does have an open-air "tank well" storage area in the stern, with bungee cords to secure your gear.
Something quite amazing for an angling kayak is that it offers a removable storage compartment if you need to keep some stuff dry. If you don't need to keep any gear in there, you can remove the compartment and place anything in its place (tackle box, fishing crate, cooler bag…).
Besides, you can also keep some gear in the cockpit itself, but obviously, it depends on how long your legs are.
Pelican 100X Kayak Value
The Pelican Mustang 100X immediately stands out for people looking for a faster kayak that's more protected from the elements than its sit-on-top counterparts.
It's a well-built angling kayak that has pretty good customization options with the custom dashboard and well-placed rod holders.
If you want more bang for your buck − it's the best sit-in fishing kayak I've tried at this price range.
Finally, I also got one for the wife, as she can go paddle around effortlessly in a boat that's pretty much made for her height. Besides, she can even fit a golf umbrella in the fishing poles to get a bit of shade (no kidding).
Pelican Mustang 100X Kayak Alternatives

The Aruba 10 is slightly cheaper than the Pelican Mustang 100X, must it's mainly for recreational use. This means you won't get any rod holders on this one.
To be honest, the only thing the Aruba 10 is better at than the Mustang 100X is price.
But because of the lower price, the seat is nowhere near as comfortable, and chances are your back will hurt and your hips will tighten up if you use it for a few hours.
I found it to be a little slower, and it also doesn't track as well as the Mustang 100X.
But overall, if you're looking for a cheaper boat and you don't need a good seat or rod holders, this might be an option.
Tends to be cheaper
The seat isn't as comfortable
Slower and doesn't track as well
Read our full review of the Aruba 10.

With a list price of $100 cheaper than the Mustang 100X, the Trailblazer 100NXT is pretty similar in terms of speed, stability, and comfort.
It boasts the same comfortable seat and knee pads, so you can paddle for hours without issues.
The big downside though is that it lacks rod holders, so this can be a bit of a pain if you plan to go fishing with it. It also lacks the removable storage which I've come to like on my Mustang 100X.
It's 3 pounds lighter than the Mustang 100X, and as such it has a lower load capacity of 275 pounds.
Overall, if you're looking to buy a Pelican Mustang 100X for recreational use, the Trailblazer 100NXT is probably more suited to the job, and much cheaper.
Better for recreational use, cheaper & lighter
No rod holders, no removable storage
Lower load capacity
Read our Pelican Trailblazer 100NXT review.
Pelican Maxim 100X

The Pelican Maxim 100X is faster than any of the kayaks above.
Because of that, it also has less primary stability, which means it can feel tippier when there's a little wind.
Additionally, the Maxim 100X doesn't track as well as the Mustang, so if your technique isn't perfect you could get tired very quickly.
Finally, this is also a recreational model, so it doesn't come with rod holders.
Faster on calm water
No rod holders
Not suited for wind or tide
Pelican Mustang 100X Kayak Review – Conclusion
The Pelican Mustang 100X is a great sit-in fishing kayak for beginner anglers.
If you're looking for a budget option to be protected from the elements, with good maneuverability and speed, look no further.
If you want to buy a Mustang 100X for recreational use, I'd advise considering the cheaper Trailblazer 100NXT instead.