For paddlers dipping their toes into the world of kayaking, it can be hard not to experience sticker shock when they see the price on some kayaks. Luckily there's a whole sub-category of recreational kayaks that are cheaper, lighter, and user-friendly.
Hailing from Michigan, Sun Dolphin has been crafting human-powered watercraft since 1982. Today they offer everything from recreational and fishing kayaks to stand up paddleboards, canoes, and paddle boats.
After my Sun Dolphin Aruba 10 review, I was pleased to find that this is a well-made recreational model.
While it's easy to quibble with some of its shortcomings like its small weight capacity and uncomfortable seat, I love how maneuverable it is and how much work Sun Dolphin has done to boost the speed as much as they can.
Pros:
A price-efficient model that gets you on the water cheap
The lightweight and small size makes it one of the easiest hard-sided kayaks to transport
The foot pegs can accommodate paddlers of various heights
Cons:
The seat could be more comfortable
Struggles to track in windy conditions and gets blown off course when you stop paddling
Despite the curved bow, it's still not a very fast kayak
Things to Consider Before Buying a Sun Dolphin Aruba 10 SS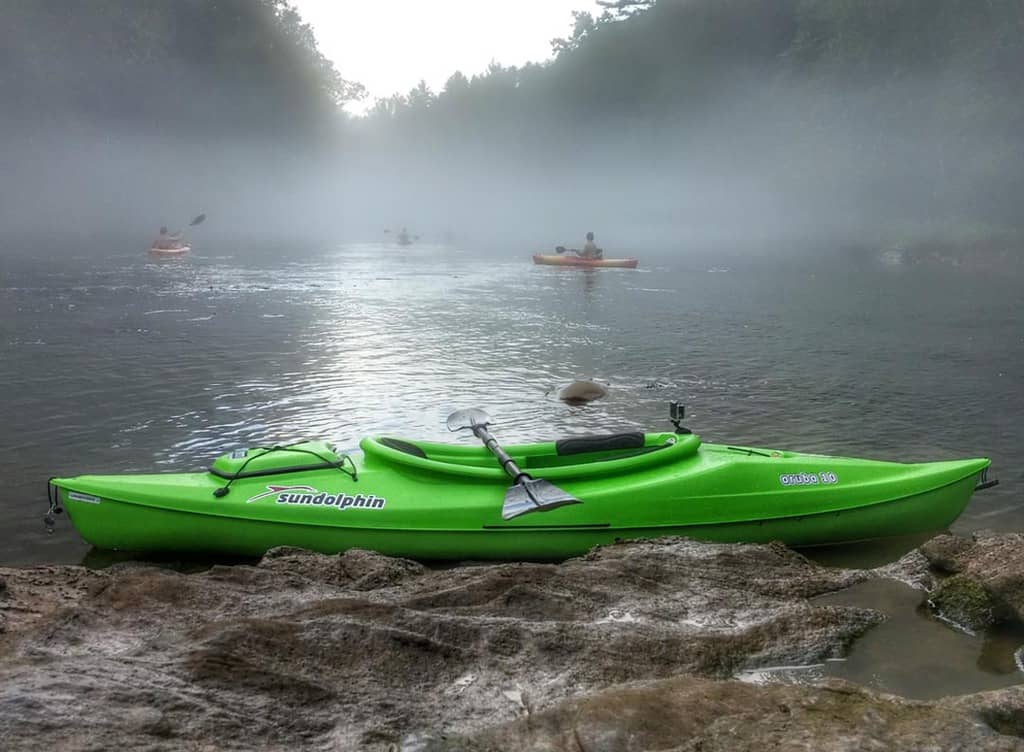 As light and small as the Sun Dolphin Aruba 10 is compared to others, it doesn't have many storage compartments for a ten-foot kayak. Before you purchase, make sure you have a good spot to keep it. Preferably this is a protected area where the boat will be out of the sun and rain when not in use.
If you can't carry it to the water, make sure your vehicle can safely transport it. Putting a kayak on a car without a proper roof rack can be dangerous to you and your fellow motorists.
While it performs well on flat water, the boat lacks a ton of storage space, speed, or tracking to handle multi-day trips and dynamic ocean conditions.
If you're looking for a recreational kayak that can handle a bit more weather, consider a better performing, albeit more expensive model like the Old Town Sorrento 106sk.
Specifications
Length: 10 feet
Width: 29 inches
Cockpit Dimensions: 35 x 17 inches
Weight: 40 pounds
Load Capacity: 250 pounds
Design
Material

Like many entry-level kayaks, the Sun Dolphin Aruba 10 SS is made of high-density polyethylene. This durable plastic is designed to absorb most collisions, drops, or mistakes you make as you learn the fine points of kayaking.
While tougher than many other materials such as marine grade plywood, fiberglass, or inflatables, the Aruba 10 is one of the flimsier plastic kayaks. While it's still tough, Sun Dolphin has sacrificed some of their durability to create as light and portable a model as possible.
Exercise caution with your Aruba 10 to ensure a long life for your boat. The more bumps or scrapes you put it through the more the plastic will begin to slough off the hull weakening the frame and decreasing your boat's speed.
Performance
The wide hull combined with the flat bottom is not made to win any sprints or marathons. While the curved bow and stern make it a little more hydrodynamic than it would appear, paddlers in a hurry will be disappointed with its performance.
You may find traveling in a group to be frustrating and chances are you'll be paddling harder than you'd like trying to keep up.
Maneuverability
What the Aruba 10 SS lacks in speed, it makes up for with one of the tightest turn radiuses of any kayak. Beginners will appreciate being able to make sharp turns with just a couple of paddle strokes. More experienced paddlers will feel like they're paddling a sports car as they weave around the lake.
Comfort
Cost-effective boats usually have to cut corners in a few places to remain economically priced. Unfortunately, a comfortable seat tends to be one of the first casualties.
The Aruba 10's seat is a basic plastic design with little padding to speak of. While you may not mind if you're only out for an hour or so, don't be surprised if your back starts to ache and hips tighten up if you use it consistently. You can make life a little easier by investing in some cheap foam padding which helps a little.
It's not all doom and gloom. The Aruba 10 SS has adjustable foot braces that help accommodate a wide range of paddlers. One noteworthy mention is that the pegs can be hard to adjust on the water as the boat can feel tippy while you bend forward to change them. It's best to make all your adjustments before launching.
The spacious cockpit makes it an easy boat to get in and out of. The only drawback to this is that water has a bigger hole to swamp the kayak in rough water situations.
Stability & Tracking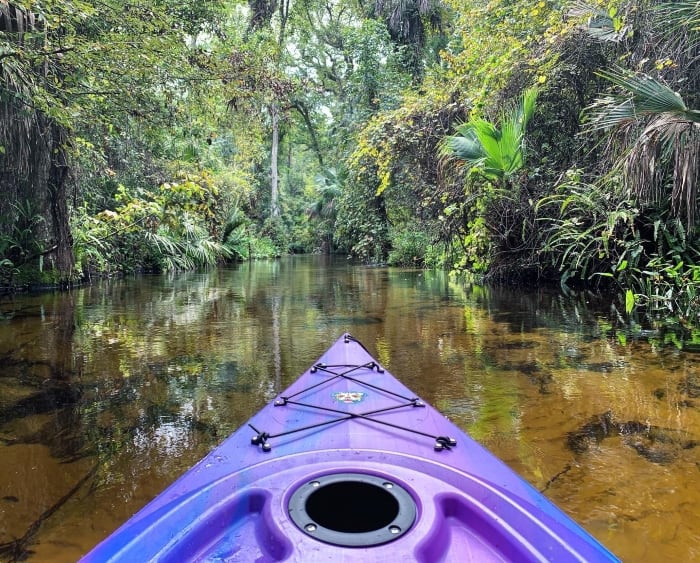 The flat bottom design enhances stability and will give beginners confidence when they climb into an Aruba 10 for the first time. The seat is set just above the hull giving you a low center of gravity and ample room for error on the water.
Such short boats are difficult to keep on track. Longer keels cut through the water better and aren't blown off course by wind or waves. Sun Dolphin has tried to mitigate this by giving the Aruba 10 SS a curved bow which does help to an extent. Nonetheless, it's difficult to provide good tracking in a boat of this size.
Durability
Being made of plastic makes the Aruba 10 a tough boat. But sacrificing some of the hull's integrity for a lighter design does have some drawbacks.
The upside is it can handle the majority of on-water collisions. Practicing good habits when moving the boat to and from the water will ensure a long life for your boat.
Always carry your kayak to and from the water. This may mean enlisting someone's help if the boat is too heavy. Be careful coming into shore particularly if paddling in the surf or approaching a rocky beach.
Portability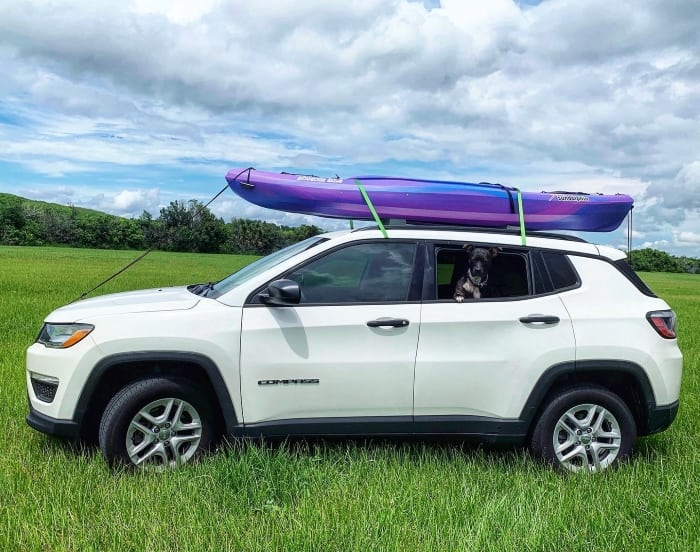 At 40 pounds, this is one of the lightest hard-sided kayaks on the market. Some will be able to carry it solo and the handholds located on the bow and stern make tandem carries easy.
Despite the lightweight design and short keel, I'd still recommend some sort of roof rack if you need to transport your kayak via car to the water. I love that it's light enough that I can transport it via a bike trailer.
Features & Accessories
A small covered hatch is located behind the seat, allowing you to bring along a little bit of gear and protect it from the elements. But it's not enough to hold an expedition's worth of supplies. This coupled with the small weight capacity makes it better suited for day excursions.
There's a basic water bottle holder in the cockpit but no deck bungees to keep gear close at hand while paddling.
There is a nice bungee cord further along the bow to hold your paddle. I love boats with this addition, especially when I'm entering or exiting as I don't have to worry about my paddle floating away while I focus on my balance.
Value
While not a world-class kayak by any stretch, the Aruba 10 is perfectly serviceable. The top-notch maneuverability is headline-grabbing and Sun Dolphin has done what they can to coax as much tracking and speed as they can out of this ten-foot kayak.
But the seat is far from comfortable and while I appreciate the stability, the lack of speed and small weight capacity limits the boat's versatility. There's also no included goodies like a paddle that you sometimes get with entry-level kayaks.
Testimonials
I spent some time reading the reviews of other folks who've paddled an Aruba 10 SS and the general consensus seems to be a positive one. The uncomfortable seat was a common theme as was difficulty with its tracking. But reviewers appreciated the foot pegs, stability, and lightweight design.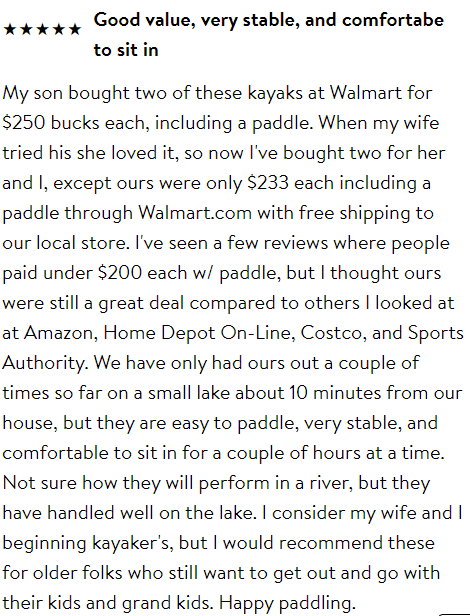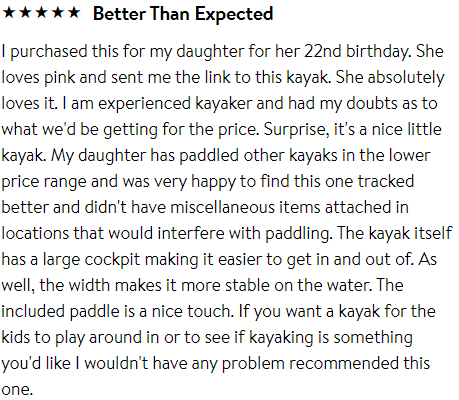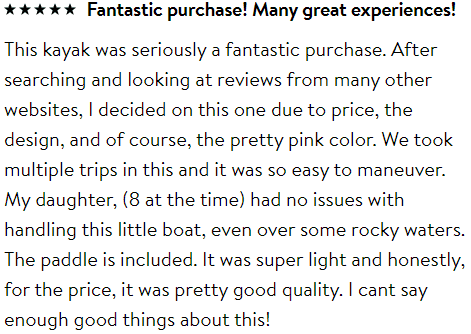 Alternatives
There's no shortage of makes, models, and designs in the field of recreational kayaks. If you're looking for something on the higher or lower end of the financial scale, here are three of my favorite alternatives to Sun Dolphin's Aruba 10.
Pelican Trailblazer 100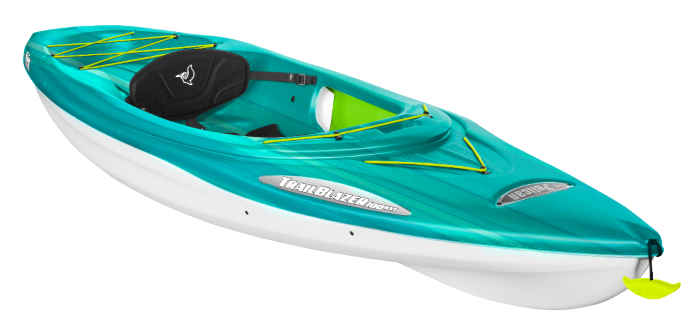 Very similar in design and performance to the Aruba 10, the Pelican Trailblazer 100 is a short, sturdy, and durable entry-level kayak.
It boasts a slightly higher load capacity of 275 pounds and actually checks in two pounds lighter than the Aruba 10. It has the same hull length but lacks the upturned bow and stern design so it struggles even more if you try to pick up speed and doesn't glide very well.
But with a stern storage hatch, cupholder, and bungee webbing to hold your paddle, it provides similar performance for a slightly cheaper price tag from most retailers.
Slightly higher load capacity
Similar performance but a little cheaper from most places
Wide hull slows it down
Read our full review of the Pelican Trailblazer 100.
Intex Challenger K1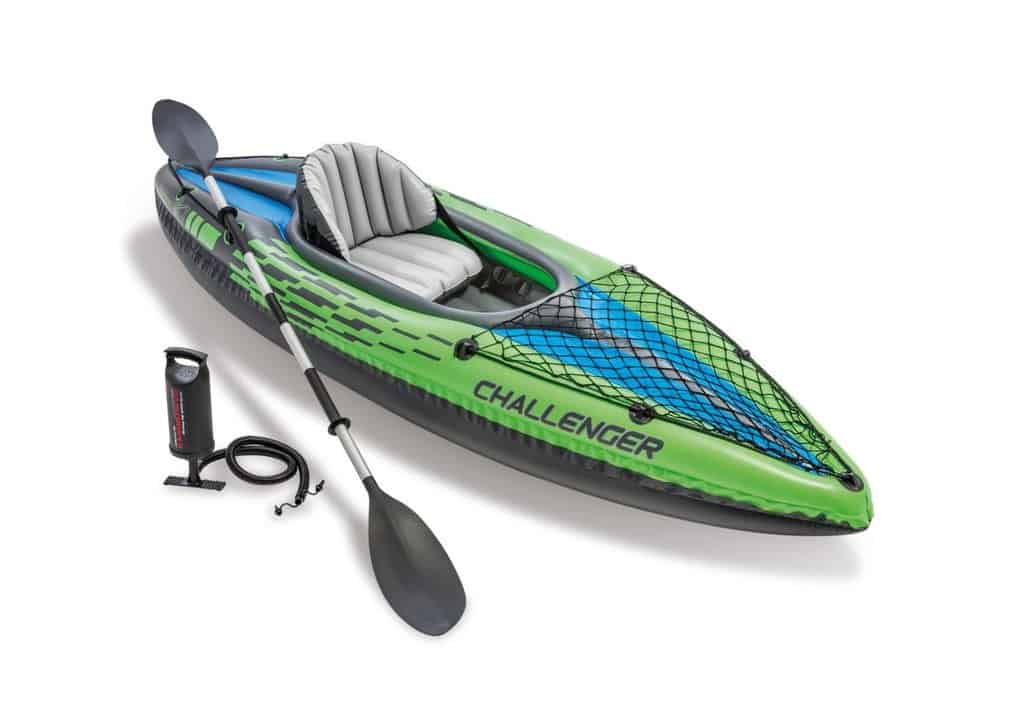 If you're looking for an even cheaper recreational option, there are plenty of inflatable kayak designs to choose from. While not as flimsy as their unearned reputation would suggest, the inflatable Intex Challenger K1 does require more caution when carrying to and from the water.
You'll also need to inflate and deflate between uses which adds a little bit of prep time, but the process is simple. As expected from the cheapest kayak, it will struggle in any sort of wind and waves but provides the same stability and decent maneuverability as its hard-sided counterparts.
A pump and paddle are also included which makes it a good all-in-one starter kit for the beginning kayaker.
Terrific price with included goodies like a paddle and air pump
Easy set-up and minimal storage space
Falters in wind and waves, even on lakes and calm rivers
Lacks storage space or the ability to install a spray skirt
Read our full review of the Intex Challenger K1.
Future Beach Fusion 124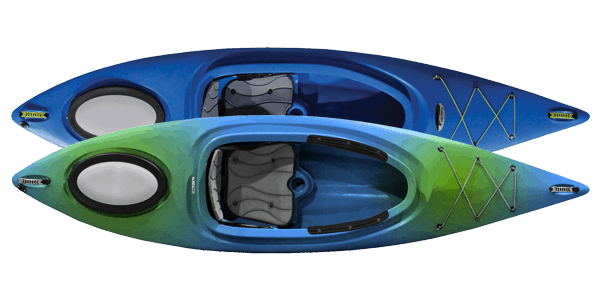 A little beefier than the Aruba 10, the Future Beach Fusion 124 is able to carry up to 300 pounds. The stern hatch is watertight which makes it better suited for longer trips. The luxury means it does come at a higher price point than the Trailblazer 100 and the Aruba 10.
The wide cockpit brings similar pros and cons. It's easy to enter but water spills into the seat in rough water. It does seem to handle the chop a little better which makes it more capable on rivers. The v-shaped hull design brings a little more speed to the table too.
But make no mistake, this is still a kayak designed strictly for recreational purposes and has no business in serious weather. The chair has drawn similar criticisms for being uncomfortable. Some users have gone as far as to call it a "spine buster."
Watertight storage space
Better tracking and overall performance in rough water
Uncomfortable seat limits how long you'll want to sit in it
Conclusion
The Aruba 10 isn't going to knock your socks off. She's not the fastest or most durable of the recreational kayaks. But I love the top-notch maneuverability which will do wonders for any frustration beginners feel.
Having a stern hatch and paddle holder are nice additions, and the foot pegs allow it to fit paddlers of various heights.
The seat isn't comfortable, but this seems to be a problem that plagues most recreational kayak designs.
Chances are you won't be paddling the Aruba 10 enough to notice the shortfalls and instead will just enjoy the finer qualities before moving on to a higher-performing boat or just taking it out on occasion.
To find out more about the Aruba 10 and the other kayaks available from Sun Dolphin, visit their website.