For 40 years, Intex has been producing inflatable products from swimming pools to kayaks. In my Intex Challenger K1 review, I found that their kayak performed impressively for its minuscule price tag and serves as an excellent introduction.
Similar in performance to other beginner kayaks like the Sea Eagle 370 and larger Intex Challenger K2, the Intex Challenger K1 is one of the cheapest kayaks on the market. Included with the purchase is everything you need to get started including a foot pump, repair kit, 3-piece paddle, and inflatable seat.
The durable design focuses on stability so you'll feel comfortable pushing off from shore for the first time. The easy set-up and comfy seat enhances the experience and means more time on the water and less time troubleshooting.
Whether you want to become a more experienced paddler or are just looking for a fun afternoon on the lake, the Intex Challenger K1 is a cost-effective and user-friendly model.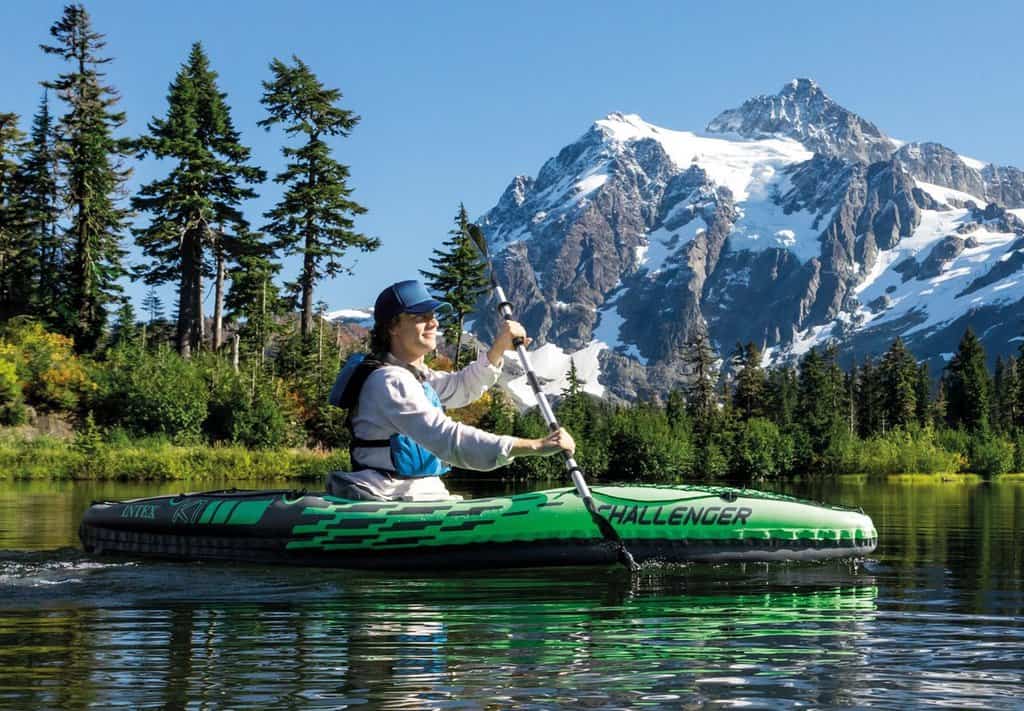 Pros:
One of the most cost-effective kayaks available
Stable design is great for beginners
Quick setup and take-down
Cons:
Some performance issues in rough water make it best on lakes and mellow rivers
Things to Consider Before Buying an Intex Challenger K1
Buying your first kayak can be challenging. With so many makes, models, and designs it can be hard to know what will work best for you. Designed as a recreational kayak, this model sports all the basic features and accessories for casual and first-time kayak owners.
Since it's meant for day use, the kayak lacks the storage capacity and performance capabilities for multi-day trips. Instead the Intex Challenger K1 performs best on recreational day trips. Because of this, it's preferable to use this budget kayak close to shore on calm, predictable waters where there's a minimal chance of running into bad weather.
Those who plan on paddling on more challenging waterways such as ocean crossings or rough rivers should look for a more versatile high-performance model. A range of more durable kayaks with better tracking capabilities like Advanced Elements' Advanced Frame are safer in more challenging conditions.
Specifications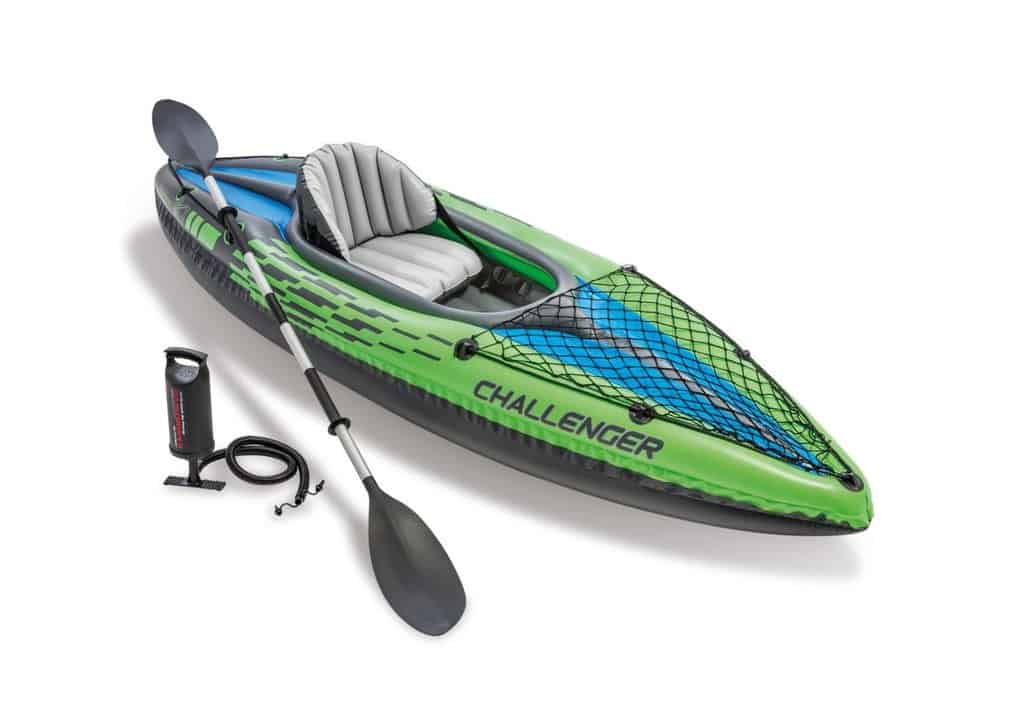 Length: 9 feet
Width: 2 feet 6 inches
Weight: 23.9 pounds
Load Capacity: 220 pounds
Design
Material
The Intex Challenger K1 is made of PVC (polyvinyl chloride), the standard material for most inflatable kayaks. This fabric is known for its flexibility and durability, able to sustain any accidental drops or nicks on submerged objects like rocks or branches.
Speed
With a focus on stability, the Intex Challenger K1 won't be breaking any speed records. But that's typical of most inflatable kayaks which don't glide as efficiently as hard-sided models. The focus is more on recreation and fun than trying to cover serious distances.
On calm days this kayak thrives. Any serious water crossings with the potential for changing weather is not recommended. It isn't quick enough to get out of trouble.
Maneuverability
For day trips, this budget kayak should handle anything lakes and small rivers can throw at it. That said it wouldn't be my first choice for an obstacle course. Tight turns can be difficult and paddling on fast-moving rivers is a challenge.
As long as your goal remains to have fun and learn the basics of kayaking, this model will serve just fine.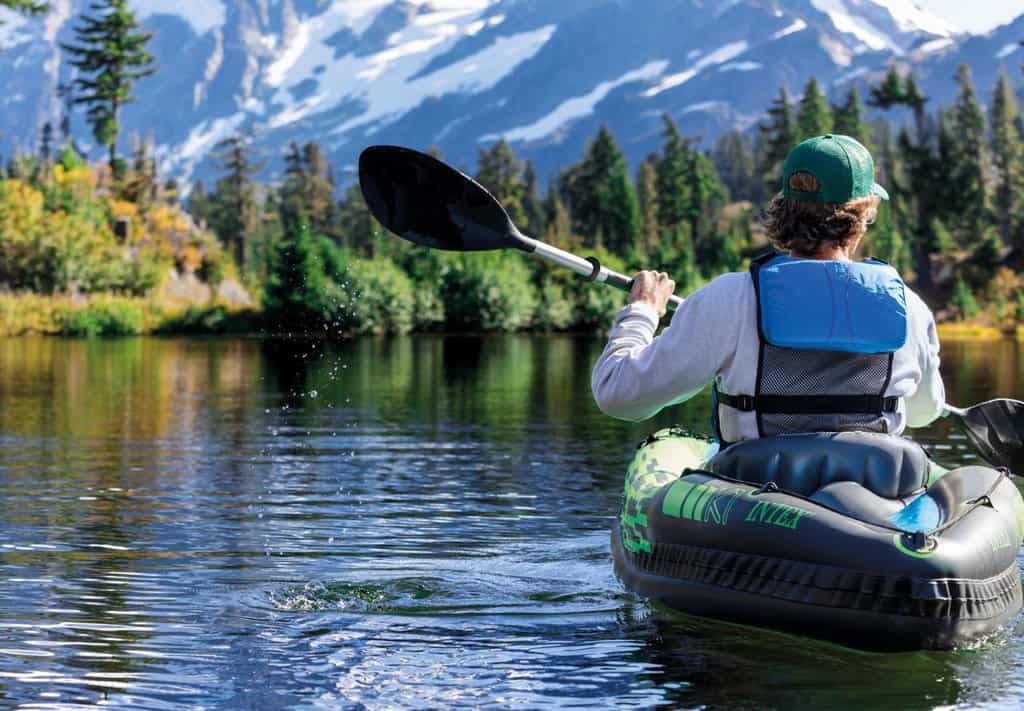 Comfort
The inflatable seat is fully adjustable and feels comfortable whether you're out for an hour or all day. The simple webbing straps allow the seat to be modified either on land or mid-paddle.
The wide cockpit allows for easy entrance and exit for young and old paddlers alike. In the event of a capsize (unlikely with how stable it is), the kayak is self-bailing and buoyant, making recoveries easy.
Stability and Tracking
Stability is the most important feature to look for in your first kayak. Kayaks naturally feel a little wobbly on the water, especially for novices who may overcompensate and fidget more than most. The Intex Challenger K1 has excellent primary stability which mitigates rocking and keeps the boat centered.
The floor has an I-beam construction that makes this a stable and user-friendly boat. Running horizontally along the kayak, the inflated beam provides rigidity when the boat flexes and bends. In time, you may find it possible to even carefully stand up.
A removable skeg is included which helps the kayak track in mild wind and chop. Performance diminishes in rough conditions and it can be blown off course in breezy scenarios.
Durability
The welded PVC fabric will hold up as long as it's treated carefully. Always carry, never drag inflatable kayaks whether inflated or not.
The kayak is made up of different "tubes" that are inflated independently. Should a tube be punctured or begin to leak while on the water, this will help the kayak remain buoyant until you're able to reach the shore.
All kayaks, regardless of what material they're made of, require some maintenance. The Intex Challenger K1 comes with a repair kit so you can do basic repairs yourself. Watch for leaks around seams and nozzles and be careful not to over-inflate, a common mistake for beginners. This can cause the PVC fabric to weaken and increase the likelihood of damage.
If you're interested in taking your canine companion paddling, it's stable and durable enough to accommodate them. Just note that due to the boat's small size, larger dogs won't fit.
Portability
At 23.9 pounds the K1 is one of the lightest inflatables on the market and comes with a tote-style bag for storage and carrying.
Requiring 1-3 PSI, the boat inflates fast and gets you from the car to the water in less than ten minutes. All the valves are easy to access and simple to operate with the included pump.
Deflating is as simple as opening the valves and rolling the deflated kayak up. If possible make sure your kayak is completely dry before storing.
Features and Accessories
Skeg
The kayak can be paddled with or without the included skeg. From a performance perspective I highly recommend always using the skeg to improve tracking.
This is important from a safety perspective. Even on calm lakes, weather can change with little warning and the skeg can be the difference between reaching shore and an uncomfortable paddle to safety.
Storage Capacity
One of my favorite features. The Intex Challenger K1 mimics hard-sided, expedition kayaks with a bungee style netting that covers the top of the bow. This is great to hold day trip items like spare shoes, water bottles, and snacks.
If you have items that need to stay dry, there's more storage space in the bow in front of your feet.
Paddle Holders
The Intex Challenger K1 does not come with paddle holders.
Included Accessories
One of the reasons this budget kayak is so great for first-timers is your purchase comes with all the necessities besides a life jacket. A pump, inflatable seat, footrest, repair kit, carry bag, and paddle are all included.
The paddle is fine for getting your feet wet. Those that plan on doing a lot of paddling may want to invest in a higher-quality and better performing model.
The foot pump is durable and works well. It should last as long as the kayak.
While nothing special, the repair kit will do a fine job with small or minor repairs.
Value
I'll be honest, I wasn't sure what to expect at such an economic price. But as one of the cheapest kayaks out there, it's a great choice for individuals and families to get the feel of kayaking. The durability and overall performance for the cost is impressive.
I wish the paddle felt a little more sturdy. But getting so many accessories included is hard to quibble with. For those looking to upgrade, good paddles can be found at a reasonable price.
The Intex Challenger K1 can handle most casual recreational paddles and the ease of storage and transportation are huge pluses.
Enthusiastic newcomers who discover a passion for paddling may outgrow this introductory kayak fast. If so, look to upgrade to a higher-performing, albeit more expensive model.
Testimonials
Wondering if others were as impressed with the Intex Challenger K1 as I was, I searched the internet for reviews and feedback. The majority of the reviews I found were positive. Many praised its simple set-up, light weight, and the all-in-one convenience of the included paddle and pump.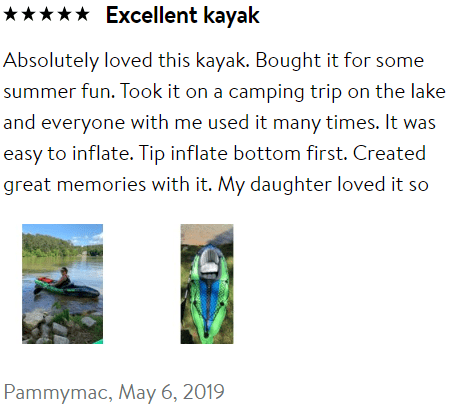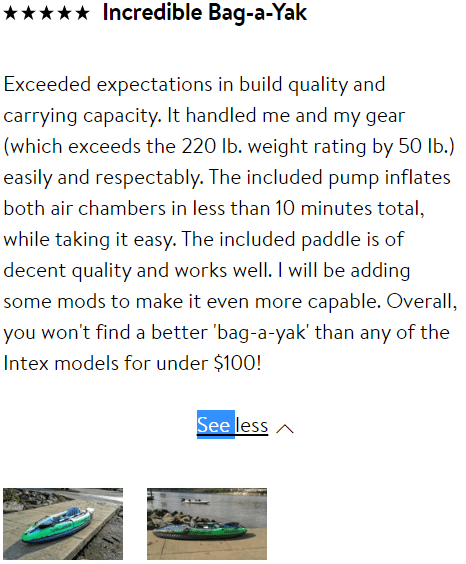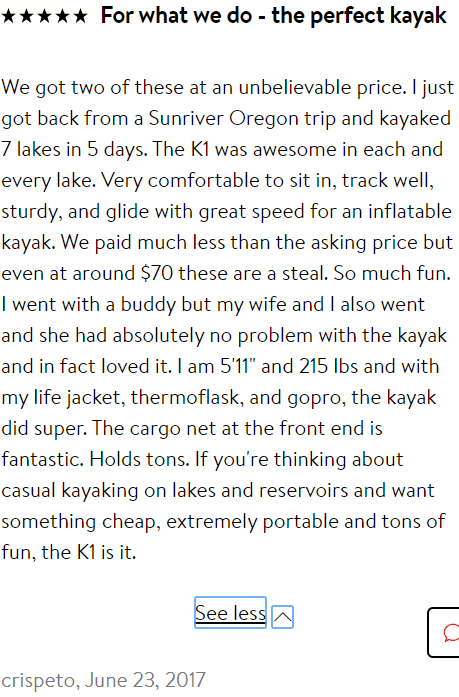 Alternatives
With their portability and cost-effectiveness, there are many inflatable kayaks designed for beginners.
Intex Explorer K2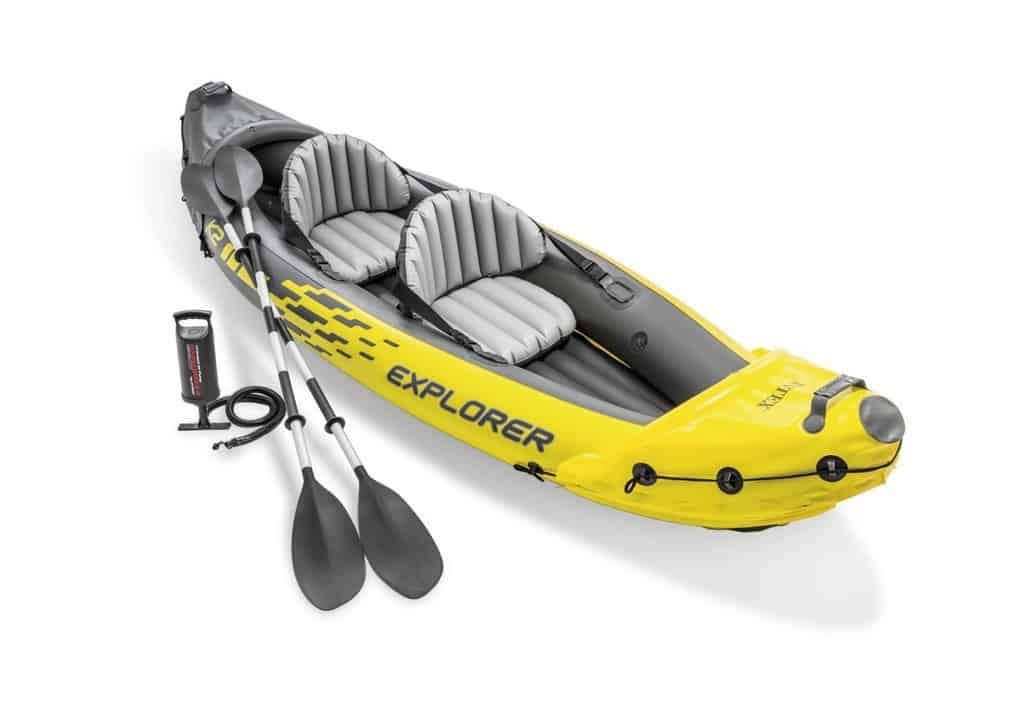 For those looking for a cheap, introductory tandem (two-person) kayak, look no further than the K1's sister model, the Intex Explorer K2. This inflatable is great for those looking for a cooperative kayaking experience. The larger model comes with many of the same features as the Intex Challenger K1 including pump, carry bag, skeg, and two paddles.
The Explorer K2 has the same I-beam construction making it a stable and rigid paddling platform. Weighing just 30.9 pounds and with a weight capacity of 400 pounds, this kayak makes a good tandem for most couples or a parent and child.
Lightweight and comfortable
Same user-friend set-up and stability as the Intex Challenger K1
Includes all the necessary accessories to get started
Read our full Intex Explorer K2 Kayak Review.
Sea Eagle 370

A more expensive, higher-end option is the Sea Eagle 370. Able to be paddled solo or tandem, the 370 boasts great stability and durability with better maneuverability than Intex's K1 and K2. Similarly to Intex's boats, it struggles in wind and waves. The tracking, while better, is still not exemplary.
It makes a good alternative if you have a wider price range and are willing to invest more in your first kayak.
Despite the improved maneuverability and tandem capability. The Sea Eagle remains relatively light at 32 pounds allowing many solo paddlers to move and transport the Sea Eagle on their own.
More expensive
One of the lightest tandem kayaks available
Increased maneuverability and storage capacity
Can be paddled solo or tandem
Advanced Elements Advanced Frame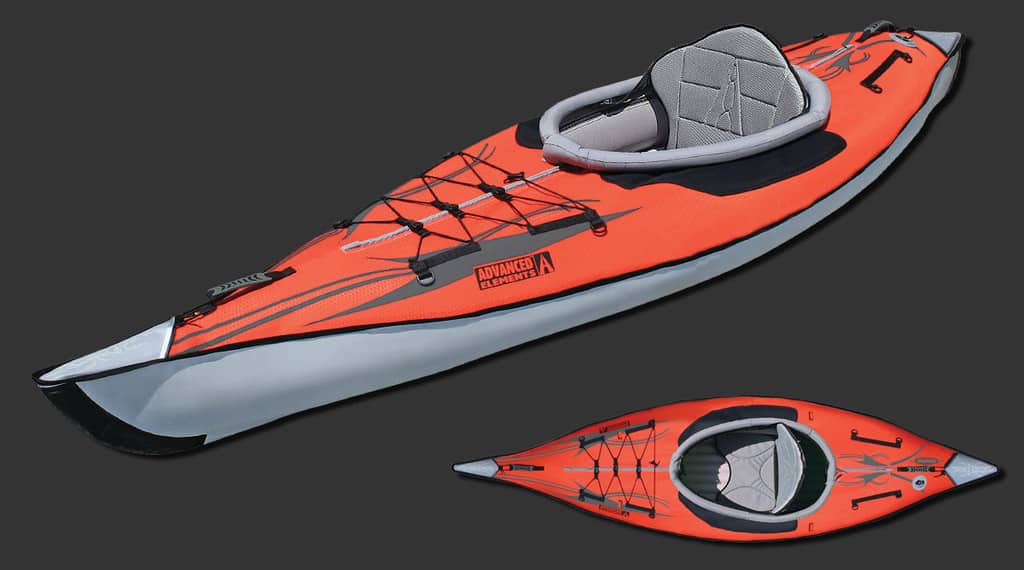 I'd be remiss if I didn't mention one of my favorite inflatables on the market, Advanced Elements' Advanced Frame. More challenging to transport than the aforementioned options, the set-up has a higher learning curve with more individual and hard to reach air tubes.
But once on the water it handles spectacularly, tracking well in wind and waves thanks to a sturdy and durable aluminum frame. It draws rave reviews for its comfortable seat that makes long paddles and crossings more enjoyable. It is the most expensive on the list at ~$500, though that's still reasonable for such a versatile and reliable inflatable kayak.
Capable of handling rough water and ocean paddling
Steeper learning curve as far as set-up and disassembly
Fast for an inflatable, can rival some hard-sided kayaks for speed
Read our full Advanced Frame Kayak Review.
Conclusion
As an introductory kayak, the Intex Challenger K1 is cost-effective, portable, and stable. I love the rigid I-beam construction and durability of the tough fabric exterior. The inclusion of a pump and paddle are great values and the ease of setup can help with any intimidation you feel the first time you head to your local lake.
With proper treatment, the Intex Challenger K1 is a kayak that can be enjoyed by a wide range of age groups looking to start their paddle career. For more, check out Intex's official website for pricing and availability.