There's something to be said about having the right tool for the job. Why break the bank when the simpler and cheaper option will do? If you're looking for a kayak that can handle your weekend outings to the local lake, consider the Pelican Trailblazer 100 NXT.
The Canadian-based company Pelican has been producing a range of kayaks for over 50 years. In addition to recreational kayaks like the Trailblazer 100 NXT, you can also find quality angling and expedition models.
After my Pelican Trailblazer 100 NXT kayak review, I came away happy with its overall performance on mellow and calm water. While not capable of multi-day outings or able to handle rough water conditions, it has impressive maneuverability and the sort of stability you expect from a recreational kayak.
Pros:
A price-efficient model that gets you on the water for cheap
Lightweight and small size makes it one of the easiest hard-sided kayaks to transport
Cons:
The seat could be more comfortable
Struggles to track in windy conditions and gets blown off course when you stop paddling
Things To Consider Before Buying a Pelican Trailblazer 100 NXT

With so many types of kayaks available on the open market, it's important to select the proper model. While the Pelican Trailblazer 100 NXT will suit many needs, it should be limited to calm water paddles in a protected setting. This is not a boat designed for water conditions that have the potential for bad weather.
If you're looking for a recreational kayak that can handle a bit more weather, consider a better performing, albeit more expensive model like the Old Town Sorrento 106sk.
Although it is one of the more easily transported hard-sided kayaks, the Trailblazer 100 is still ten feet long and requires dedicated storage space, preferably with protection from the sun and rain.
The Pelican Trailblazer 100 is a sit-in kayak that can be outfitted with a spray skirt. This will keep any waves or rain from falling into the cockpit.
Pelican Trailblazer 100 NXT Kayak Specifications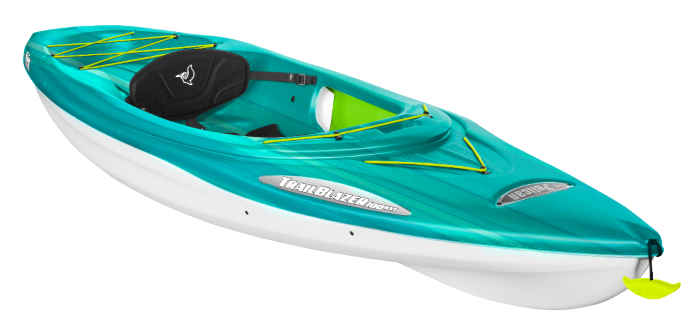 Length: 10 feet
Width: 28 inches
Cockpit Dimensions: 23.5 inches
Weight: 38 pounds
Load Capacity: 275 pounds
Pelican Trailblazer 100 NXT Kayak Design
Material
Most hard-sided kayaks in the recreational category are made of a cheap and durable plastic called polyethylene. The Trailblazer 100 NXT is made of a similar plastic exclusive to Pelican called Ram-X.
The material has similar durability, able to handle most drops, bumps, and on-water collisions. Should the hull become warped after a violent impact, it will regain its original shape after a short period of time.
Speed
As an entry-level model, the Pelican Trailblazer 100 won't be winning any drag races. That should be fine for this kayak's intended purpose on low-key lakes and rivers. I wouldn't attempt any long trips since the going would be slow. Consider another lake kayak for camping trips.
The same can be said if paddling in a group. Chances are you'll be working hard to keep up if your fellow paddlers are sporting boats with a longer or narrower hull.
Maneuverability
The short keel is forgiving and responsive. The Trailblazer 100 NXT is capable of sharp turns and more experienced paddlers will be surprised at how tight they can get it to maneuver when they integrate their hips.
In rougher water, the boat's overall performance diminishes and the responsiveness decreases noticeably.
Comfort
Kayak seats always seem to be a mixed bag. I'll give Pelican credit, the Trailblazer 100's seat isn't that bad. There's some padding in the seat and the backrest provides some modicum of support. For an hour or two I think it's fine, but being in that seat for several hours isn't appealing.
Stability & Tracking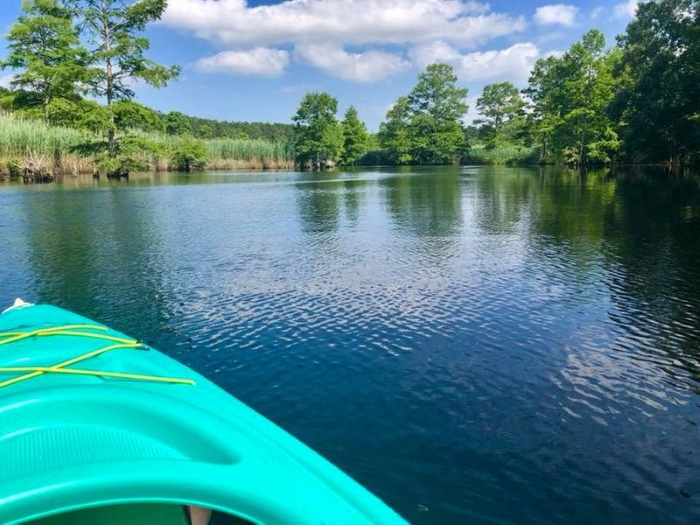 Like many entry-level boats, the Trailblazer 100 NXT has gone out of its way to provide as much stability as possible. The 28-inch wide hull keeps you upright and comfortable in most recreational settings.
The boat's hull sits low in the water and the wide base gives you a solid center of gravity that makes tipping a challenge. Some have managed to bring their well-behaved small or medium-sized canine companions on the water with them.
Even in minor chop, I was pleasantly surprised by how solid it felt underneath. But there's no skeg or rudder implemented into the Trailblazer 100 so the paddler is on their own to maintain their course and direction. If you stop paddling while in the wind or waves, the boat has a tendency to drift.
The wide cockpit does get you in a bit of trouble. If waves do pop up water can quickly fill the seat.
Durability
The hard plastic hull can take a pounding. But that doesn't mean that you should be careless with it. Any kayak, regardless of the material it's made of, will show signs of wear and tear if you treat it poorly.
To ensure a long life from your kayak, always carry your kayak to water's edge in lieu of dragging it. On the water watch for submerged rocks or branches that can scrape and scratch the hull. Approach beaches carefully, especially when the water is rough, and aim for soft landings.
Portability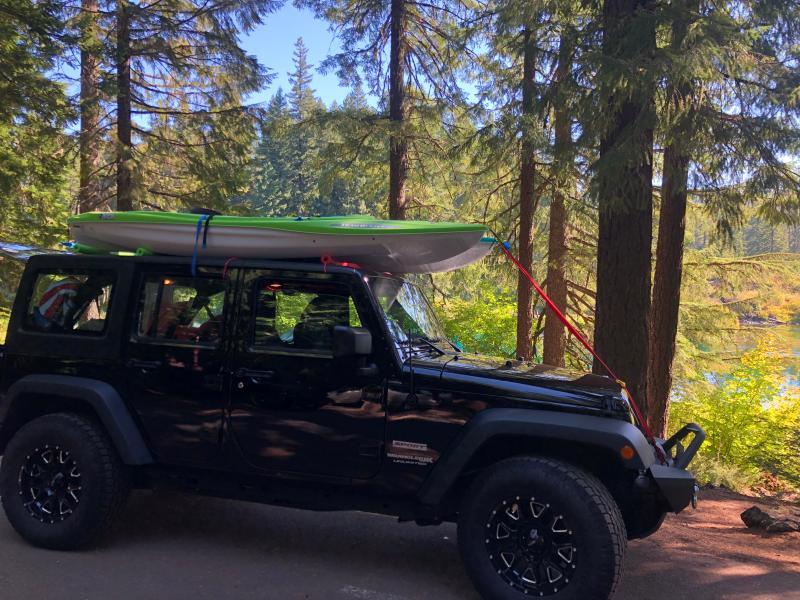 While many single kayaks are 15 feet long or more, the Trailblazer 100's short frame makes it easier to load and transport. I'd still recommend some sort of roof rack if you have to drive to your paddle spot, but 10 feet is much easier to fit on most vehicles.
The same can be said for the weight. At 38 pounds, this is a boat many can safely carry on their own over short distances. Handles are installed on the bow and stern to help with two-person carries.
Pelican Trailblazer Kayak Features & Accessories
I've never seen a kayak with so many different color options. You have your choice of ten different color palettes with the Trailblazer 100.
The adjustable foot braces make life easier and more comfortable for a variety of leg lengths and help compensate for the somewhat uncomfortable chair.
For storage, there's a closed hatch located in the stern, though it isn't waterproof. Bungee cords are installed in front of the seat to hold any items you want access to while paddling. There's even a bottle holder to keep your favorite beverage close at hand. Remember to always drink and paddle responsibly.
Another bungee cord can be used to keep your paddle secure when you want your hands free or need to take a break.
Pelican Trailblazer 100 NXT Kayak Value
While more expensive than many inflatable recreational kayaks, you get a better-performing boat with some included storage space. Plus, you don't have to worry about inflating and deflating at the end of every outing.
Unlike some kayaks in the recreational field, there aren't any included accessories with your purchase, like a paddle. There's no way to incorporate a second paddler into the Pelican Trailblazer 100 NXT.
I also wish that a skeg or rudder had been included. While not always necessary, I find them useful especially with paddlers that are just getting started and may need help keeping the boat tracking straight.
But it's definitely a step up from a maneuverability standpoint which can mean a less frustrating afternoon on the water as you learn the finer points of paddling.
Pelican Trailblazer 100 NXT Kayak Alternatives
There's no shortage of makes, models, and designs in the field of recreational kayaks. If you're looking for something on the higher or lower end of the financial scale, here are three of my favorite alternatives to the Pelican Trailblazer 100.
Sun Dolphin Aruba 10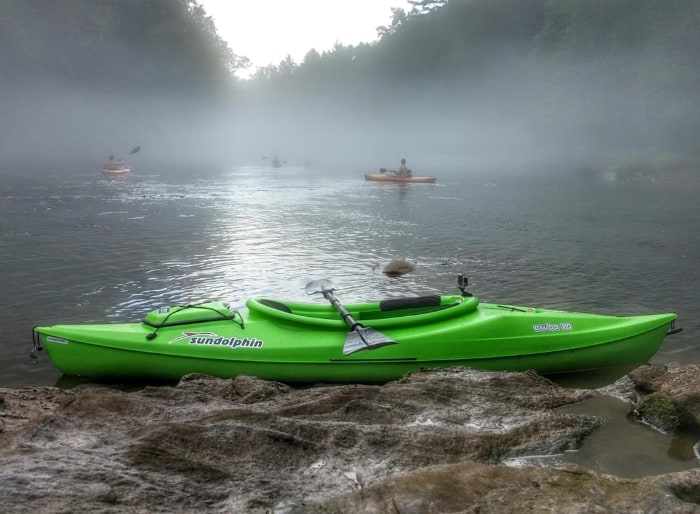 Priced a little more expensively from some retailers, the Sun Dolphin Aruba 10 is a nine-and-a-half-foot recreational kayak.
In many ways, it mimics the Pelican Trailblazer 100 with an expansive cockpit, impressive maneuverability, and lightweight design (40 pounds). You'll also find a similar bow hatch and a seat that consumers say could be improved. It does have a slightly lower load capacity, able to carry 250 pounds compared to the Trailblazer's 275.
So why is it more expensive? While still a stable boat, the hull has a more V-shaped design which cuts down on water resistance and increases the Aruba's speed.
More expensive with similar features
Lacks storage capacity
The seat could be more comfortable
The hull design makes it faster despite being shorter
Read our full review of the Sun Dolphin Aruba 10.
Future Beach Fusion 124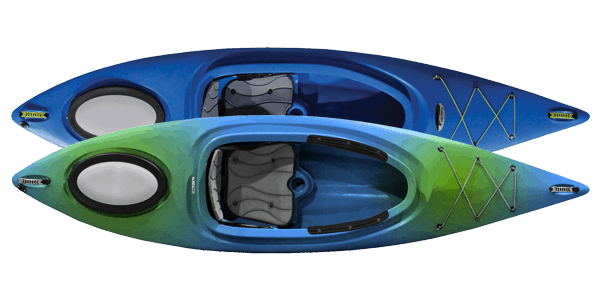 Another entry-level kayak designed with stability in mind. Able to carry 300 pounds, the Future Beach Fusion 124 sports a watertight stern hatch which makes it better suited for longer trips. The luxury means it does come at a higher price point than the Trailblazer 100 and the Aruba 10.
The wide cockpit causes similar challenges with water spilling into the seat in rough water. It does seem to handle the chop a little better which makes it more capable on rivers. A v-shaped hull design brings a little more speed to the table too.
It's definitely still a recreational kayak that has no business in serious weather. It's drawn similar criticism for its uncomfortable chair with some users going as far as to call it a "spine buster."
Watertight storage space
Better tracking and overall performance in rough water
Uncomfortable seat limits how long you'll want to sit in it
Intex Challenger K1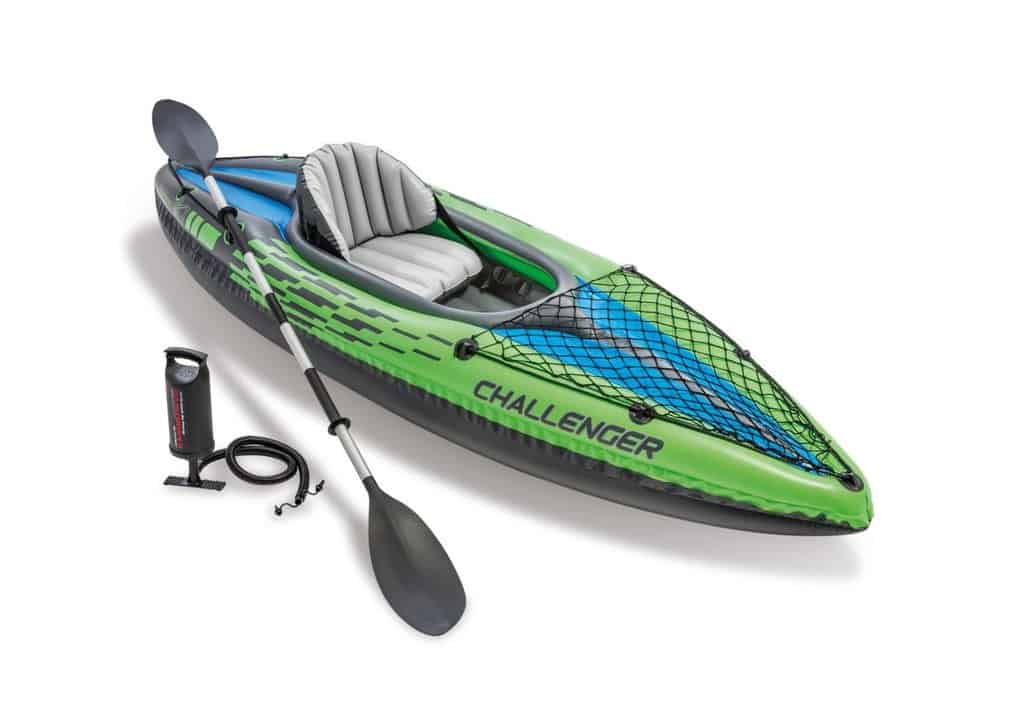 The cheapest of the alternative options, the Intex Challenger K1 is an inflatable. This makes it more cost-efficient but it does hamper the boat's overall performance.
It remains focused on providing a stable and user-friendly design and some casual beginners may flock to it for its price efficiency and included accessories such as the paddle and air pump.
It lacks the durability of a hard-sided boat. While I wouldn't call it flimsy, you should exercise more caution with inflatables to ensure they stay in good shape.
While it tracks fine in calm water conditions, wind or waves will quickly wreak havoc with the boat's maneuverability, tracking, and speed.
Terrific price with included goodies like a paddle and air pump
Easy set-up and minimal storage space
Falters in wind and waves, even on lakes and calm rivers
Lacks storage space or the ability to install a spray skirt
Read our full review of the Intex Challenger K1.
Pelican Trailblazer 100 NXT Kayak Review - Conclusion
As a recreational kayak for the casual weekend warrior, the Pelican Trailblazer 100 gets the job done. It's a maneuverable and stable platform that is a joy to paddle regardless of experience level.
While lacking some of the included goodies of other recreational models and no installed skeg, the cost efficiency, light weight, and portability make it one of the best budget hard-sided kayaks on the market.