Not all of us have the luxury of living next to saltwater. But that doesn't mean there aren't prime fishing opportunities nearby.
Whether you're looking for dinner or just love to feel the line go tight, you'll find some of the best river fishing kayaks on the market below.
We've broken down our favorite models into multiple categories so you'll find the perfect boat for you regardless of your budget.
5 Best River Fishing Kayaks in 2023

For the price, the Tarpon 100 comes chock full of fishing features.
First and foremost are the four sets of rails running along the sides. This allows you to install any number of custom fishing features from GPS devices, fish finders, rod holders, or kayak anchors.
Two of the three storage compartments are covered, though they're both pretty small. The large stern compartment is open-air, but thanks to the bungee cords stretched across it, you can stuff quite a bit of gear in without worrying about it getting loose.
While a stable boat, I don't think it's sturdy enough to allow you to stand and cast without running the risk of tipping over.
Accessory rails for tons of customization opportunities
325-pound load capacity should be enough for overnight trips
Narrower hull improves speed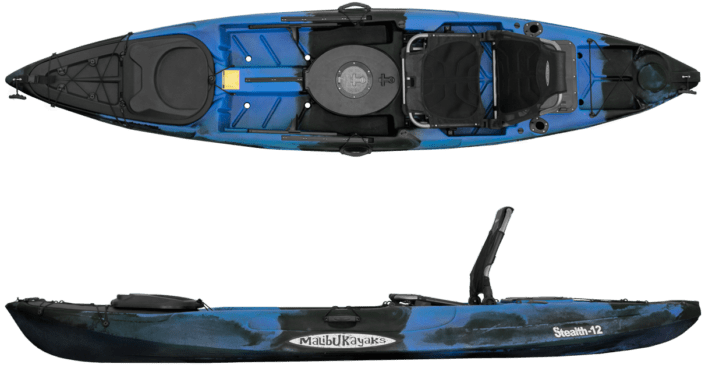 A big and sturdy kayak, the Malibu Stealth paddles like a battleship. Measuring 12 feet, four inches long, it tracks well and can handle more turbulent conditions.
It's stable enough to safely stand and cast from, giving you a huge advantage with the distance and accuracy of your casts. Four rod holders are available, two in front of the seat and another two in the stern.
For storage, there's a big watertight bow hatch and another open-air storage space in the stern to help you make the most of the boat's 450-pound load capacity.
But my favorite feature is the "live tank bait" storage area in front of the seat allowing you to keep either your bait or your catch fresh however long you're on the water.
No padded seat included
Adjustable foot track system
Lots of storage space
Stable enough to stand and cast from
3. Best Small fishing Kayak for rivers: Vibe Skipjack 90

Lightweight with a short keel, the Skipjack 90 from Vibe Kayaks handles like a sports car and can fit in the back of some larger SUVs.
Maneuverability is top-notch, a necessity on narrow and fast-moving rivers. Most boats this size struggle to track, but the high chined hull of the Skipjack 90 does a great job of keeping her on course in more inclement conditions.
For storage, there's a large watertight bow hatch and an open-air "tank-well" in the stern secured with bungee cords. Another convenient watertight hatch has been installed in the cockpit, the perfect spot to store valuables and personal items.
A paddle holder provides convenience when you need your hands free for your fishing rod. Four fishing rod holders and a universal mounting point allow you to outfit your Skipjack 90 to your precise specifications.
Lots of storage space
Great tracking for a short keeled boat
Lots of customization options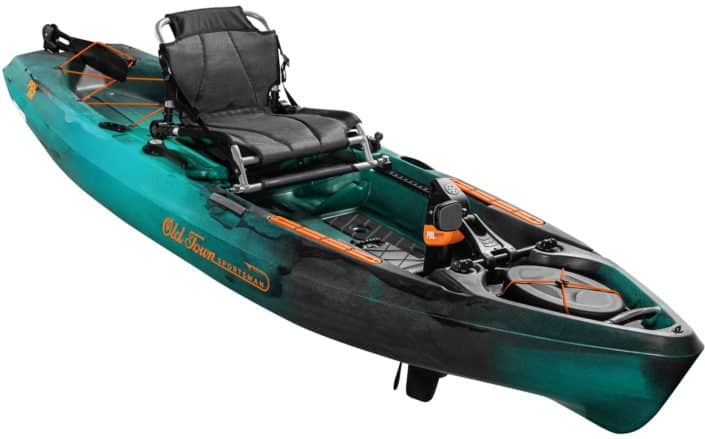 Most pedal kayaks are long and can feel a little bulky when maneuvering through tight quarters.
But at just ten and a half feet long, the Sportsman 106 from Old Town does a good job of managing the tighter turns and shallower conditions on the river.
There's plenty of specific angling accessories included such as the two rod holders and the space to store your poles horizontally.
Some users have found the tracking to be subpar, but this deficiency is mitigated on most rivers.
The seat can only be adjusted between two positions as opposed to being on a sliding scale that some paddlers may not find comfortable.
Great stability
Easy to remove pedal drive system for shallow water
Large stern tank-well and watertight bow hatch
Read our full review of the Sportsman 106 PDL.

Easily the most cost-effective kayak on this list, the Sun Dolphin Journey 10 is lightweight and should be easy for most solo paddlers to transport on their own.
It weighs just 41 pounds and the short 9-foot, 6-inch keel is responsive and handles nicely when pivoting around sharp river bends.
For fishing, there are three rod holders, two flush-mounted and another on a swivel in front of the cockpit. There isn't much in the way of custom options besides that but there is a large watertight stern hatch. I do wish the load capacity was a little bigger than 250 pounds.
One performance issue worth mentioning is the short keel and the lack of a rudder means that it can be blown off course on fast-moving rivers or on windy days.
One of the lightest and shortest fishing kayaks for easier transportation and storage
Impressive maneuverability to get in and out of tight spots
Poor tracking makes it susceptible to wind, tide, and currents
Oddly designed scupper holes and no scupper plugs included
Read our full review of the Sun Dolphin Journey 10.
How to Choose the Best River Fishing Kayak
Are You an Experienced or Beginner Angler?
If you're just getting started, it may be surprising to discover that kayaks represent a sizable financial investment.
If you're unsure of how much you'll be kayaking or your interest is more recreational, choosing a cheaper, lower performing like the Sun Dolphin Journey 10 may be a smart choice.
If you find you love the sport or you've done some paddling or fishing in the past, there are plenty of mid-sized fishing kayaks on the market to choose from. Whether you're looking for a faster boat or a more stable one with lots of customization options, there's a boat in this price range for you.
My favorite of these would be the Vibe Skipjack 90 for its combination of stability, speed, and tracking despite the shorter keel.
If you've got a bigger budget or you're an experienced and passionate kayak fisherperson, there's nothing like a high-end pedal kayak like the Old Town Topwater 106 PDL. With incredible stability and a great top speed, it represents the best of the fishing kayak world.
Dimensions
You can get a pretty good idea of how a boat will perform by simply looking at a kayak's specifications.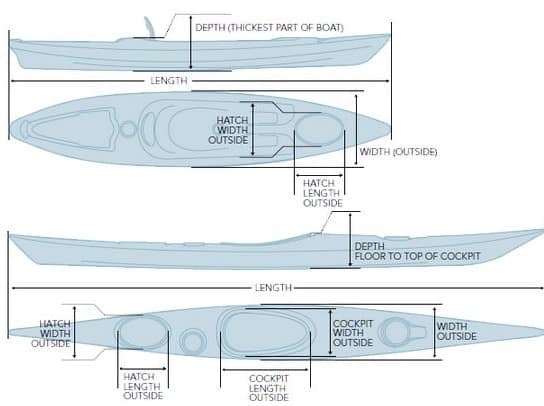 Longer keeled boats are usually faster. They also track better and are better at staying on course in windy conditions or if the water is choppy.
Shorter boats tend to be more maneuverable and responsive, making them better in tight quarters or for those looking to practice or just have fun.
Boats with wider beams provide better stability and are best for beginners or if you're just looking for a recreational kayak.
Storage Capacity
Most fishing kayaks come with large storage hatches in the bow and the stern. I recommend looking for a model that has an additional storage spot that's accessible from the seat to store personal effects and fishing tackle.
Check the boat's load capacity on its specifications page. This refers to the amount of weight a boat can safely carry. Bear in mind that this includes your weight as well as your gear. Overloading a boat can cause it to sit lower in the water, be sluggish, and more likely to capsize.
Short or Long river fishing Trips
If you plan on doing multi-day trips or covering large distances, it's worth sacrificing a little stability for a slimmer hulled boat with a better top speed to cut down on your travel time.
Make sure that your boat has enough storage space to carry your gear, and for camping equipment, I like to have at least one watertight storage compartment to keep my sleeping bag dry.
Lastly, make sure you have a comfortable and adjustable seat with proper padding. Few things make for a more miserable day on the water than an uncomfortable seat.
Other Features
What sets angling kayaks apart are the customizable features that make them easier to fish from.
The most important of these are rod holders that keep your fishing poles secure while traveling. I prefer boats that have additional customization options like gear tracks or accessory rails that let you install your own fish finder, additional rod holders, and other items to maximize your fishing potential.
Paddle vs Pedal river fishing Kayaks
A newer edition to the diverse world of kayaks, pedal models tend to be bigger and more expensive than their paddling counterparts.
Instead of being propelled by a paddle, pedal kayaks operate more like a bike with a pedal drive system. This means you won't tire as fast and can move faster by utilizing the larger muscles in your legs.
These extra features do make them more expensive and transporting them can be challenging as many of them eclipse 100 pounds. Additional maintenance may also be required to keep the pedal drive system functioning, especially if you use it in saltwater.
Choppy or Calm water
For river travel, not all boats are meant to handle rough rivers that include rapids. Check the boat's specifications before taking it into rough water.
A boat's tracking refers to how well the kayak stays on course. Fast-moving water, wind, rapids, or tide can knock you off your course and turn you sideways to the elements. In most cases, a long keel with a narrower width will improve your tracking, though a rudder can also help you handle choppier conditions.
Do You Want to Stand and Cast?
Being able to stand and cast can be a huge advantage when kayak fishing. It allows you to get better distance and accuracy on your casts and improve your ability to see schools of fish swimming by.
Shorter kayaks provide more maneuverability but they lack the stability and deck space to let you stand without risk of capsizing. Wider and longer boats usually equate to a safer and more stable platform.
Most manufacturers will let you know if their boat is safe to stand and cast from, but it's important to know that not all stand-up boats are created equal. Some are only safe to stand in if the water is calm while others can handle a standing angler in choppy conditions.
Tandem vs. Single river fishing kayaks
If you plan on doing most of your paddling with a partner, it may be worth looking at a tandem instead of purchasing two singles.
Depending on the make and model, a tandem may be more cost-effective, and transporting by vehicle is easier. A lot of recreational and fishing tandems can be paddled by both one or two people providing more flexibility. Of course, trying to move a heavier tandem on your own can be problematic.
If you're looking to maximize storage space, you can generally fit more gear into two singles.
Color Choice
For the most part, this is a cosmetic choice on your part and many models come with multiple color options.
If I have the option, I like to choose a bright color that stands out on the water so I'm easier for passing motorized boats to spot.
River Fishing Kayaks – FAQ
What size kayak is best for river fishing?
Short, 10-12 ft kayaks are the best for river fishing, because they provide more maneuverability than longer kayaks. At the same time, they also provide more stability for fishing than 8 ft kayaks which are typically suited for whitewater and not really for fishing.
What type of kayak is best for a fisherman?
A sit-on-top kayak is better for a fisherman, as it provides more stability, comfort, and a higher vantage point to see the fish. Since it's an open cockpit, you also have more accessible storage to keep your fishing gear.
What is the best Jackson kayak for river fishing?
The best Jackson kayak for river fishing is the Coosa HD. This Jackson fishing kayak is very maneuverable, fast, and can handle class III whitewater. The hull can also withstand rocky rivers – even though you should always be careful.
Best River fishing kayaks − Conclusion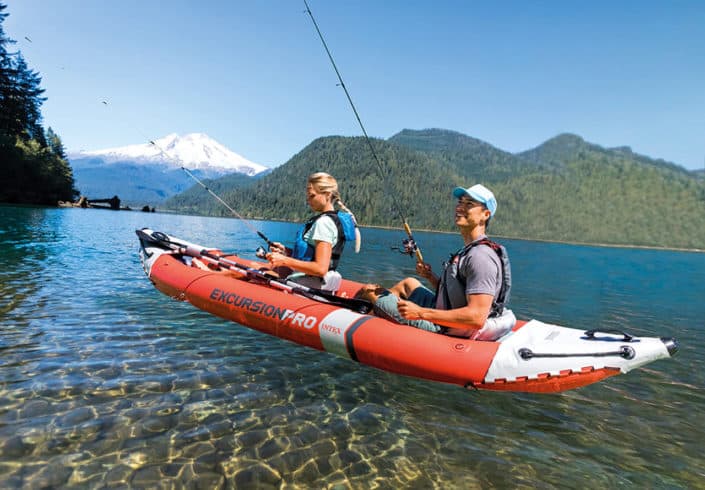 Whether you plan on paddling on small streams or big winding rivers, there's plenty of fishing kayaks that are up to the job. For me, two kayaks really stand out from my review.
Vibe's Skipjack 90 has crammed an incredible amount into such a small boat with fantastic tracking and maneuverability despite being just nine-feet long.
Malibu's Stealth Fish and Dive design sits on the other end of the spectrum with fantastic stability that allows you to stand and cast without fear.
What do you think of our list? What are some of your favorite kayak models to fish from? Let us know in the comments below.