After taking this boat on a couple of trips on the water, I must say I was impressed to see how it performed for such a cheap kayak.
In this Pelican Getaway 110 HDII review, I'll tell you exactly who it's for, and what it lacks.
Read on to learn my honest opinion.
[Spoiler Alert: The Getaway 110 HDII is a huge improvement over the first version. It has great stability, speed, and tracking for small people. For recreational purposes, it has incredible value and is impossible to beat. For big and tall guys… please don't buy this boat. It's not for you]
Things to Consider before Buying a Pelican Getaway 110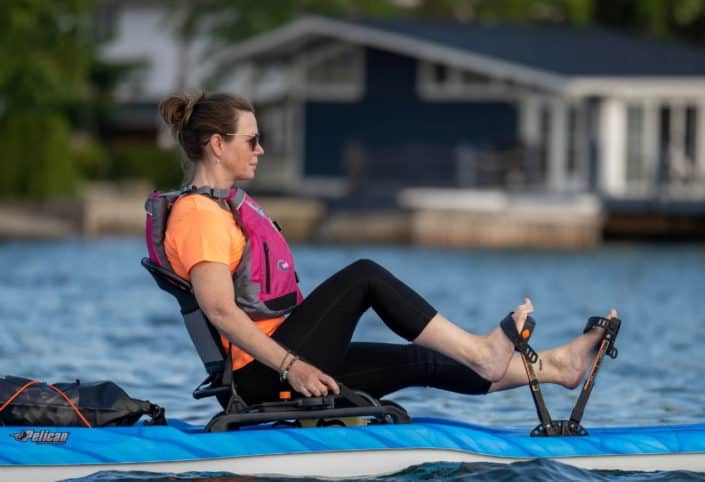 Pedal kayaks used to be prohibitively expensive for beginners, but Pelican has changed the game.
With the Getaway 110 RDII retailing for around $1100, it's a really good choice for people who can't or don't want to paddle.
Also, pedal kayaks are a game-changer for anglers since you can get your rod holder ready before reaching the fish.
Case in point, the other day I was chasing some jacks, and they were going really fast. If I had to paddle up to them, then kept my paddle out of the way, and then took my rod holder… it would have been too late.
Also, in wind or current, you can gently pedal to stay in place, which you can't do with a paddle unless you mount an anchor.
All that said, please remember to keep your kayak out of the sun when not in use. UV rays can warp the hull over time, and your kayak will be rendered unusable.
Pelican Getaway 110 Specifications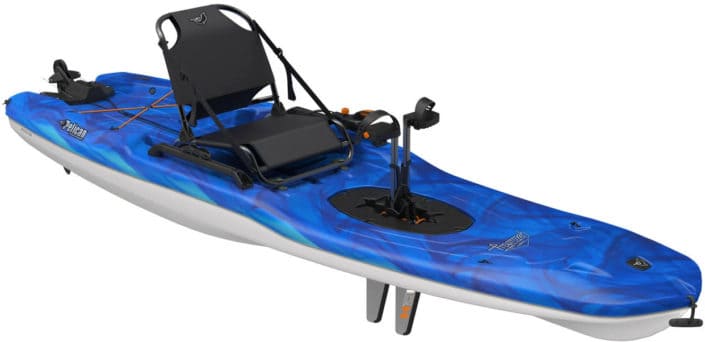 Length: 10 ft 5 in
Width: 33 in
Weight: 59 lb
Load Capacity: 300 lb
Pelican Getaway 110 HDII Pedal Kayak Design
Material
Like most pedal kayaks, the Pelican Getaway 110 HD2 is made of polyethylene.
This makes it virtually indestructible. The hull will withstand on-water collisions, submerged tree branches, and rocks.
Being a thermoformed (and not rotomolded) kayak means it's lighter and will have better floatation, which makes it more stable and better for shallow water.
Contrary to what some beginners think, thermoformed kayaks are just as durable as rotomolded ones.
Speed
Being so short, I was amazed by the speed of the Pelican Getaway HDII.

With the pedal drive, this kayak really flies. I can get a comfortable cruising speed of 3.5 mph, which is fast enough for recreational purposes.
Even with the paddle, you'll see this boat is very responsive and it will take you through shallow water super easily. Much better than heavier boats like my Old Town or Hobie.
Maneuverability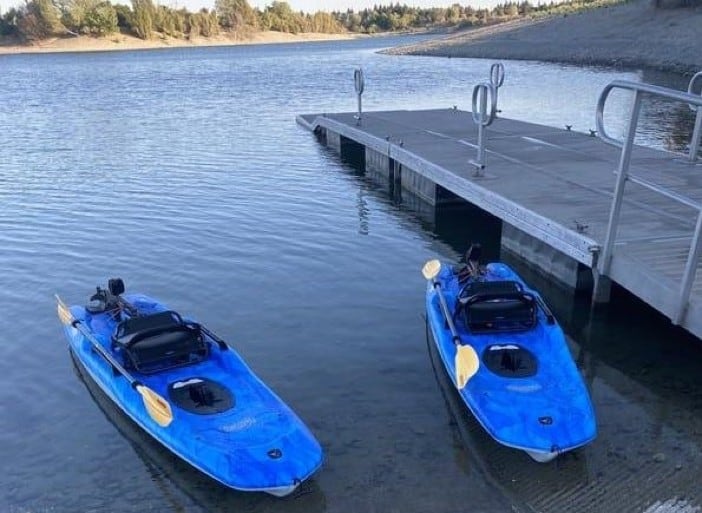 The Getaway HD2 steers really well with the included rudder and its short length.
You won't have any problems taking it on narrow rivers and avoiding obstacles.
It's very responsive when you paddle it as well.
Regarding the rudder control, one nice detail is you can mount it on either side (left or right) as it mounts directly onto the gear tracks.
Comfort
The Pelican Getaway HD2 is one of the cheapest pedal kayaks out there, which means it doesn't come with a premium seat unlike on the Old Town pedal kayaks.
However, the seat is still pretty comfortable and quick-drying. For the price, I find it quite good even for longs days on the water.
The seat has two pockets at the back so you can fit tackle trays, sandwiches, or anything else.
Unfortunately, the seat cannot adjust forward and back, and it can't be put in a higher sitting position either. Therefore, the Pelican Getaway 110 HDII isn't recommended for tall guys.
That said, you can easily adjust the pedals to get them closer or farther away from you, so that compensates for the lack of adjustability of the seat.
Finally, you can easily recline the seatback on the water by using the straps on each side. The seat also doubles as a camping chair, but it isn't as comfortable as my Old Town seat at it's much lower to the ground.
A nice touch is the pedals are reversible so you can use them barefoot on one side and with boots on the other side.
Stability and Tracking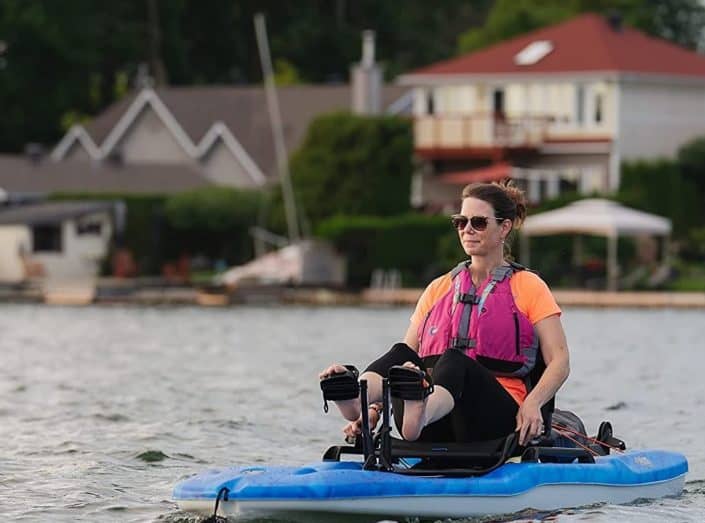 For small guys, you'll find the Getaway HDII is actually very stable thanks to the flat bottom.
You could stand on it without flipping as long as you weigh less than 170 lb.
If you want to go for a swim, getting back on the boat is ridiculously easy, much easier than on any other sit-on-top kayak because of the hybrid SUP design.
As mentioned before, the Pelican Getaway HD2 comes with a rudder that's very easy to install.

This makes the boat track really well even in windy conditions. Of course, remember this is a recreational boat and not a touring kayak. So avoid taking it on open water, and stay close to the shore.
My only quibble is there is no way to deploy the rudder from the sitting position, you have to do it by hand before getting on the water. But I guess that's what you can expect on such a cheap kayak.
Durability
As mentioned before, the Pelican Getaway 110 HD2 is a very durable boat.
The hull is virtually indestructible and covered by Pelican's 5-year warranty. 5 years is really short considering premium manufacturers such as Old Town offer a lifetime warranty on the hull.
The pedal drive is only covered for a year, but Pelican customer service is really great during that first year.
If you ever have any issues with your boat, Pelican will send you replacement parts and then some. Check the video below to see what I mean.
Portability
The Pelican Getaway 110 HD2 is incredibly light and portable.
Skinny guys and girls won't have any problems loading it on top of their SUV.
Taking it to and from the water is also a breeze. Although I would have liked a skid plate to be able to drag it without damaging the hull.
There's one handle at the bow and two molded-in handles at the stern. However, there are no side handles so it's not great for loading and unloading.
Pedal Drive
Pelican has really improved their pedal drive on this boat.
Their first version was bad and used to have a lot of problems.
But on this 2nd version of the pedal drive, I haven't heard any complaints so far.
It's very smooth and you can actually adjust it so that it's more "horizontal" in shallow water instead of vertical.
However, please loosen the orange cables before going on the water. They come really tight out of the factory, which makes it almost impossible to pedal.
Once you loosen the cables, the boat will fly.
The pedal drive literally takes two seconds to put in or remove, but I wish it had a safety feature in case of collision.
Unlike on my Sportsman 120, if you hit something, the prop will probably break. Therefore, be very cautious and take the drive out in shallow water.
Unfortunately, the Pelican Pedal System does not come with a reverse feature. For fishing, this means it won't be as good as Old Town or Hobie kayaks.
Pelican Getaway 110 Storage and Extra Features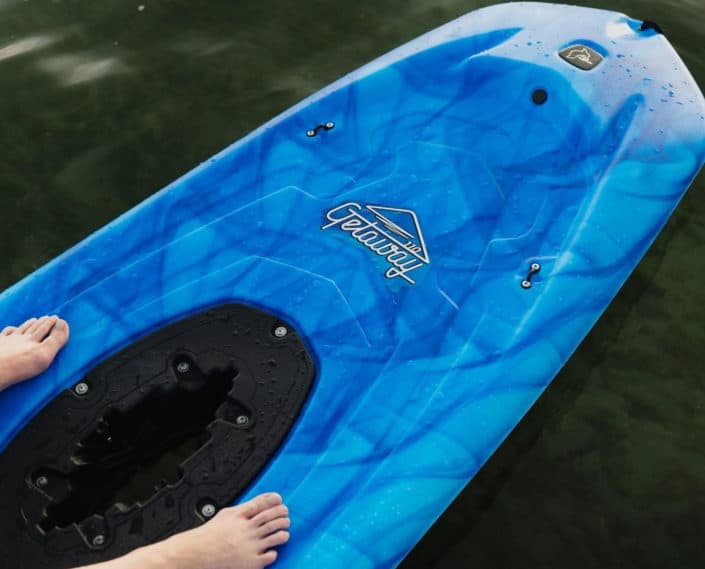 The Pelican Getaway 110 HDII has a ton of open deck space at the front where you could put your dog, some gear, or even a paddle holder.
It also has a big rear tankwell storage with bungees where you can fit a milk crate. However, unlike on longer boats, you can't put more than that in there.
It has no dry hatch whatsoever, so be sure to bring along a dry bag for your phone and car keys.
Unlike many recreational kayaks, it doesn't include a free paddle, so you'll have to buy one yourself. Never go out without a paddle, as the pedal fins could break and you'd be stranded on the water.
Pelican Getaway 110 Pedal Kayak Fishing Ease
I'd like to start by saying the Getaway 110 HDII is a recreational kayak and not a fishing kayak per se.
However, it still has some features that could make fishing quite easy with this boat, albeit more bare-bones than premium fishing kayaks like the Sportsman 120.
For starters, it has gear tracks on each side to mount a fish finder, GoPro, rod holders, etc.
It has no paddle holder, but you could easily put one at the front if you wanted to.
While it doesn't have any rod holders per se, there is some indentation at the front to store two rods horizontally.
It has two cup holders but no pockets for tackle trays or soft plastics.
Finally, I wouldn't recommend standing and casting in this boat unless you're an experienced paddler. It's definitely not as stable as the Sportsman 120.
That said, for small guys it is still more stable than the similarly-priced Catch 110 HDII, so standing is definitely doable.
Who is the Pelican Getaway 110 HDII suited for?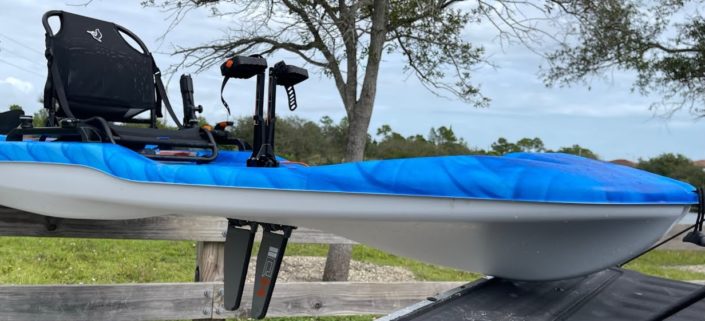 As you may have understood by now, the Getaway 110 HD2 is made for beginners.
For recreational kayaking or kayak fishing, you get a pedal kayak for a fraction of the price.
If you're on a budget, the Getaway HD2 is probably the cheapest pedal kayak out there.
I like the good stability, speed, and comfort for such a cheap boat.
Overall, I'd say it's a really good value for beginners.
Big guys beware: This kayak isn't for you. If you weigh over 200 pounds, I'd suggest looking into higher-end kayaks such as the Sportsman 120.
Pelican Getaway 110 Alternatives
While the Pelican Getaway 110 HDII is a cheap boat, there are other pedal-drive kayaks out there. Here are some alternatives you might want to consider.
Hobie Lynx

The Hobie Lynx is one of the cheapest Hobie kayaks, and it also has a kayak-SUP hybrid design.
That said, it is still more than twice the price of the Getaway 110 HD2.
If you can afford it, the Hobie adds important features and refinement.
For me, the reverse feature is a must. Also, having kick-up fins means they won't break if you hit something.
Unlike the Pelican, the rudder can be easily deployed from the sitting position, which is great when you're going in weeds as they tend to catch on rudders.
Regarding specs, it's 7 inches longer, 3 inches wider, and has a 50 lb extra weight capacity. However, it is 4 pounds lighter than the Getaway.
This means it will still be very portable, but faster and more stable than the Getaway.
Finally, you sit much higher and the seat is more comfortable.
For fishing, there are gear tracks but no rod holders – so it's pretty bare-bones like the Getaway HD2.
Old Town Sportsman 120 PDL

If you read my reviews, you know I'm a fan of the Sportsman 120 PDL.
For around $2000, you get a fantastic pedal kayak with all the fishing features you would need.
For recreational purposes, the Sportsman 120 PDL is probably overkill.
But for avid anglers, you really get bang for your buck with the included rod holders, amazing stability and comfort for big and tall guys, huge storage space, great speed, etc.
Overall, if you're a kayak angler and you can afford it, the Sportsman 120 PDL is the best value among high-end pedal kayaks.
Read my detailed Sportsman 120 PDL review.
Pelican Catch 110 HDII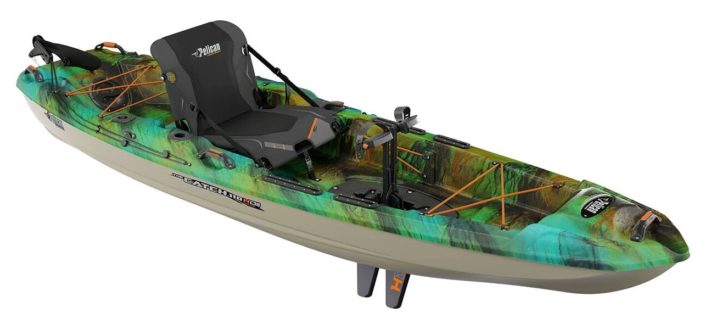 The Catch 110HDII is very similar to the Getaway HD2, and it's only slightly more expensive.
It has a higher weight capacity of 350 lb, which means it's suitable for bigger guys up to 200 lb.
For fishing, it has three flush-mounted rod holders with a bigger rear tankwell storage than the Getaway.
However, it's definitely less stable than the Getaway, and I wouldn't dream of standing on this boat.
Overall, if you're looking for a more "fishing-ready" kayak that's still very cheap, and you don't need to stand, then the Catch 110 HDII is a good alternative.
Read my full review of the Catch 110 HDII.
Pelican getaway 110 HDII – Wrapping It Up
By now, I think it's pretty clear who the Pelican Getaway 110 HDII is for.
For recreational kayakers that can't or don't want to paddle, it's amazing how cheap Pelican has made this pedal kayak.
It will take you to lots of places at a good speed, with great stability for small people.
For recreational anglers that don't mind the lack of fishing features, the Getaway is pretty good and you can always upgrade to a higher-end boat later down the road.
The only downside is the Getaway is often out of stock.
If it's unavailable when you read this article, I'm sorry but you'll have to wait until next year.