Here's the thing: even if a big chair is supposed to have a 300 lb capacity, you're probably worried that it will fail on you.
Which, if I'm being honest, is quite likely.
So in this article, I'll talk about the best beach chairs for big guys. The ones that won't break even if you're 350 lb or bigger.
And yes, they're quite comfortable and they come with a couple of handy features like cup holders.
Let's get started.
5 Best Beach Chairs for Big Guys
1. Best 600 lb Beach Chair for Big Guys: Ozark Trail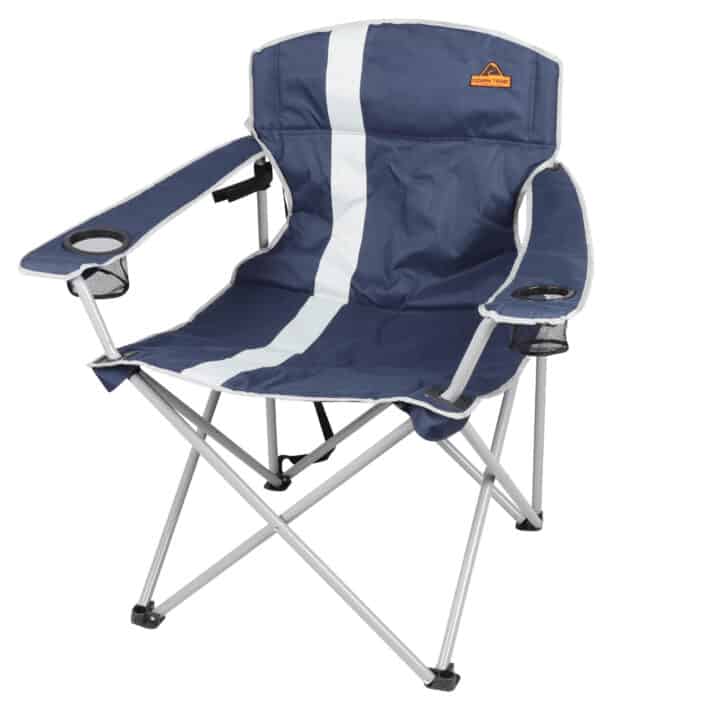 A 300 lb beach chair isn't enough for you?
In this case, I'm sure the Ozark Trail will be just fine.
With a staggering 600 lb capacity, this beach chair can accommodate any big guy without trouble.
In terms of durability, the chair is made with a quad-folding steel frame. This does make it slightly heavier than other chairs at 10.5 lb, but it's quite compact while folded in.
Which brings us to the next point: the carry bag. This is a typical, sturdy chair backpack that can also store a few bottles and some snacks.
Also, speaking about extra features, the Ozark Trail has 2 cup holders as well as an umbrella holder for those days when you need a bit of shade.
All in all, considering this beach chair is often sold at under $40, it provides great value in my opinion.
2. Best 450 lb Beach Chair for Big Guys: Alpha Camp Oversized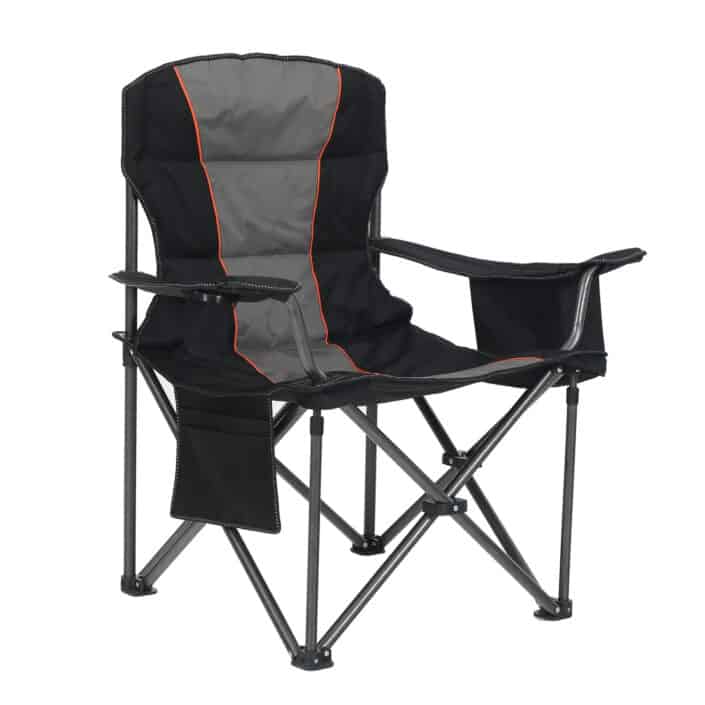 With a 450 lb capacity, the Alpha Camp is still as durable as the Ozark Trail.
Its main benefit is that it has improved back support, as well as a small insulated pocket on the left side to keep your beer cool or anything else.
It is a bit heavier (14.5 lb) and more cumbersome than the Ozark Trail though, but I still find it easy to carry with the shoulder strap.
Just one thing to keep in mind is that the seat height is higher than standard beach chairs. This will be very comfortable for tall guys and it also makes it easier to get in and out of. However, small people under 5'5 might find that their feet don't touch the ground.
Finally, this beach chair can also be used as a camping chair as the overall structure provides great stability. It won't slip or feel unstable.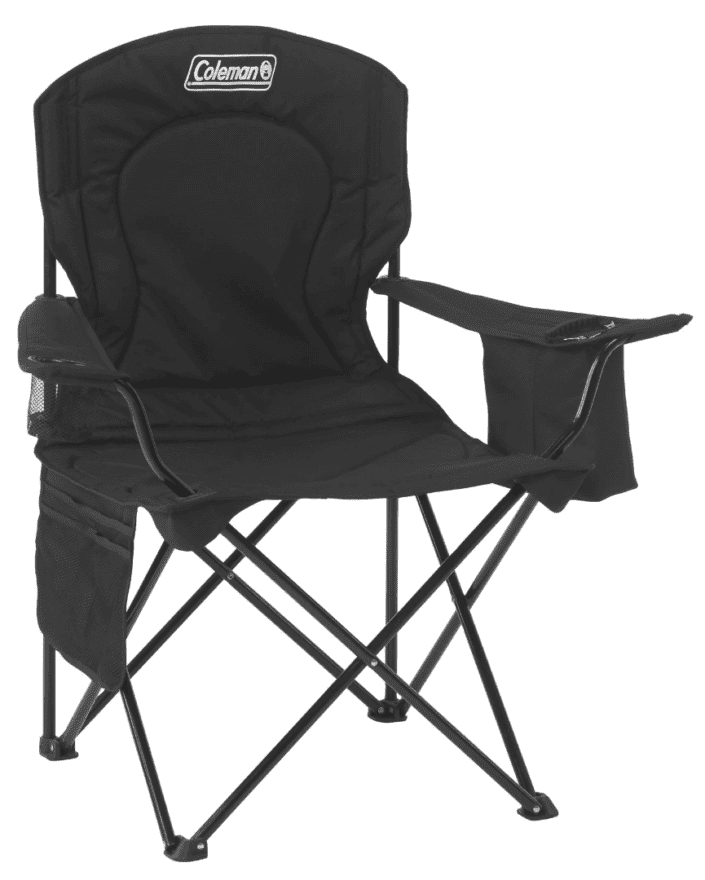 Right off the bat, the Coleman Quad Chair is only for "big-ish" guys, as it can only withstand 325 lb.
However, the good news is that the weight capacity is real (eg. you won't break it if you weigh 325 lb, unlike other chairs that overestimate the weight capacity).
But more importantly, this is the cheapest beach chair for big guys. And it still provides a good level of comfort, as well as a 4-can cooler.
The lower weight capacity also allows it to be lighter than other beach chairs, at just 8.3 lb. This makes it easier to carry for women and smaller men.
In short: the Coleman Chair is a great budget option for 300 lb men and women.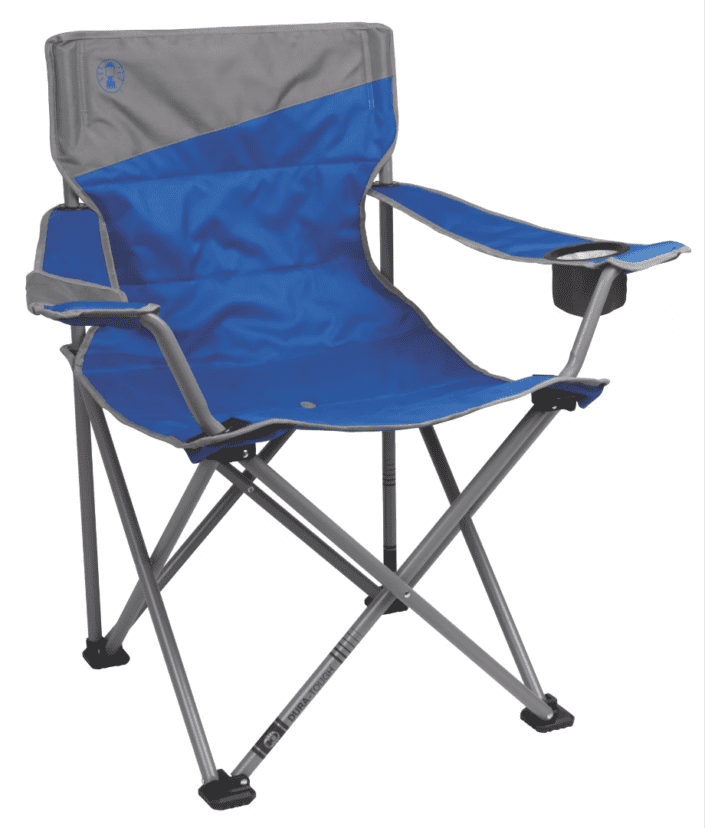 Want a chair that's comfortable enough to use on the beach, and portable enough to take with you camping?
In this case, the Coleman Big-N-Tall may prove useful. Like the Ozark Trail, this chair has a 600 lb capacity, a steel frame, and the durability that comes with it.
Like the Alpha Camp Oversized, the seat height is quite high, which makes it comfortable to get in and out of even if you're 6'6 tall.
As usual, you get a cup holder, but no insulated pouch. You do get a water-resistant cell phone sleeve in case it starts raining, though.
The only downside is that I've found the Ozark Trail's carry bag to be much sturdier and more comfortable, so I wish Coleman would improve that.
But apart from that, this is a great (yet affordable) camping chair for big guys.
5. Absolute Best Beach & Camping Chair for Heavy People: Yeti Trailhead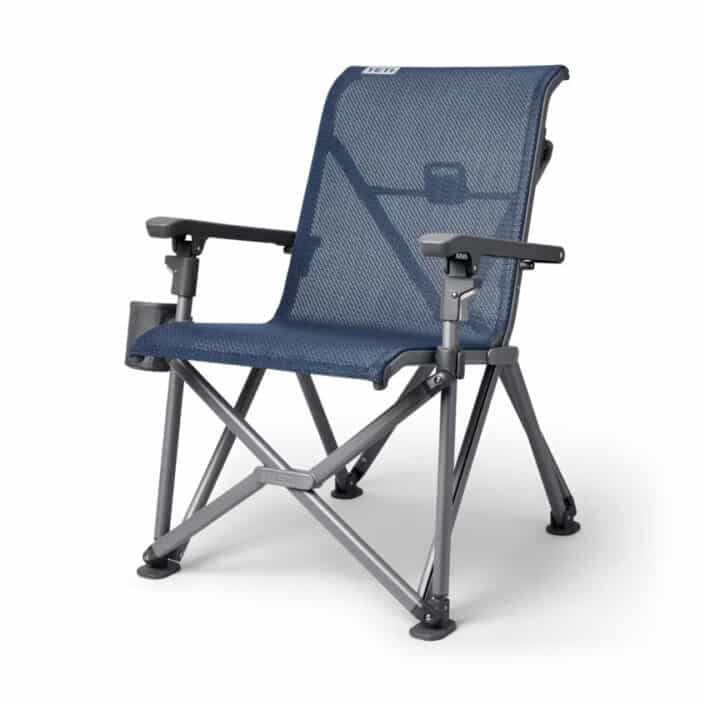 Yeti's chairs are known for their absolute durability and supreme comfort.
However, they do come at a steep price tag.
If you want to make a long-term investment, then it doesn't get better than the Yeti Trailhead. Used as a beach chair or as a camping chair, it can easily withstand 500 lb.
For the price, you get almost the same level of comfort as you would on your couch, thanks to the Flexgrid fabric.
As expected at this price range, the chair also won't have any chipping paint or disintegrating fabric even if it's kept under the sun 365 days a year.
Obviously, the carry bag is also one of the sturdiest and most comfortable I've ever had, and it makes carrying the 13.3 lb chair a breeze.
All in all, if you can afford it, there's just no better beach/camping chair for big guys.
Buying Guide: How to Choose a Beach Chair for Plus-Size People
Overall Durability
When buying a beach chair for big guys, you want to make sure the frame is made of high-quality materials. Preferably stainless steel or aluminum.
The same goes for the fabric. As you can imagine, the cheaper beach chairs often have cheap fabric that will only last for a few months. On the other hand, luxury chairs like the Yeti Trailhead will last for years while still looking brand new.
Weight Limit
That's a bit obvious, but make sure to pick a beach chair with a high enough weight limit, even if you pack on a few pounds.
As such, a good rule of thumb would be to pick a chair with a capacity of at least 50 lb more than your current weight.
Portability
Most beach chairs in this article offer great portability, being compact, relatively lightweight, and coming with a carry bag.
That said, it's true that some of them are easier to carry than others, and we've found the Ozark Trail to be the second best after the (more expensive) Yeti Trailhead.
Extra Features
Not all camping chairs provide the same features. Some offer two cup holders, others offer an insulated pouch, while the Coleman Big-N-Tall also provides a waterproof sleeve for your phone.
Just take a quick look at these extra features when you buy the chair to make sure they'll fit with your intended use.
Reclining Angles
Most beach chairs for big guys only have 2 positions: upright and reclined. However, some more expensive chairs can be fully adjusted, which makes them slightly more customizable. Overall, I think this is a small detail that shouldn't come before the other ones mentioned above.
Best Beach Chairs for Big Guys: Conclusion
In short, the best beach chair for big guys is the Ozark Trail. With a 600 lb capacity, it's still lighter than most other chairs, and pretty durable.
The only beach chair that is better in every aspect is the Yeti Trailhead, but it generally sells at a much higher price point.
Anyway, the choice is yours!