If you've read my other Old Town kayak reviews, you know I love their boats. And the Sportsman 120 is no exception.riv
In this Old Town Sportsman 120 kayak review, I'll tell you what I like and what could be improved.
[Spoiler Alert: the Sportsman 120 is a great kayak. Incredibly stable to stand and cast for big guys up to 300 lb. Fast and maneuverable enough for rivers. Tons of storage space, great fishability, and great value.]
Things to Consider Before Buying an Old Town Sportsman Kayak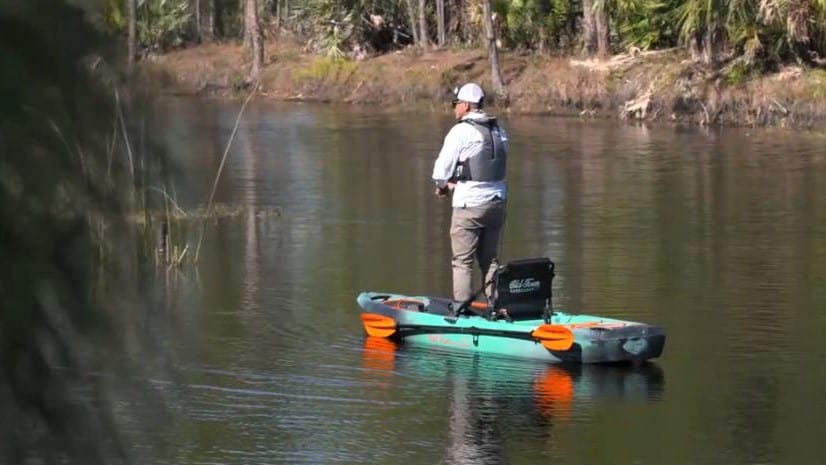 If this is your first fishing kayak, you should think about where you plan on going fishing.
For narrow rivers and fast-moving waters, you'll need a different boat than for calm lakes and ponds.
Also, you'll have to think about your budget. For around $2000, you can get pedal kayaks which will be faster and great to fish with your hands-free.
Whereas for around $1000, you can get a great paddle kayak such as the Old Town Sportsman 120.
Also, if you plan on loading your kayak on an SUV, make sure you have help or are pretty strong. At 85 lb, it won't be a piece of cake.
Finally, remember to keep your kayak out of the sun when not in use. Otherwise, the UV rays might warp the hull over time.
Old Town Sportsman 120 Specifications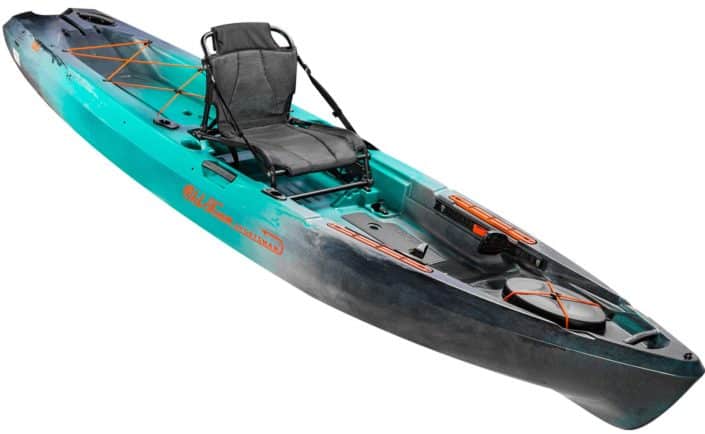 Length: 12 ft
Width: 33.5 in
Weight: 85 lb
Load Capacity: 500 lb
Old Town Sportsman 120 Design
Material
Like most high-end fishing kayaks, the Sportsman 120 is made of single-layer polyethylene.
This material is virtually indestructible. It will withstand collisions, submerged tree branches, rocks, and anything you throw at it.
Speed
Despite its huge stability, the Sportsman 120 is a very fast fishing kayak.
This is because they managed to make it quite narrow, and the double-U hull helps make it faster as well.
I have a cruising speed of 3 mph with this kayak, which is really good considering how amazingly stable it is (more on that below).
Maneuverability
Same as speed, I was impressed by how well the Sportsman 120 steers.
You can easily take it on narrow rivers and turn on a dime.
Of course, I wouldn't recommend it for class 3 rivers, but anything up to class 2 will be OK.
I find it's very easy to quickly get out of currents or avoid obstacles.
Comfort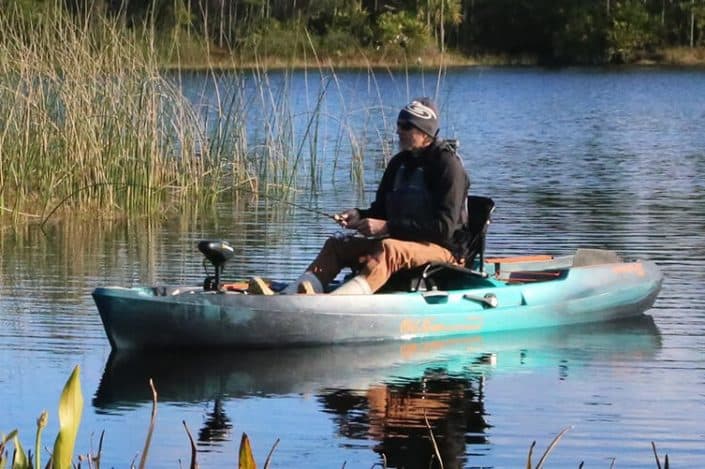 If you've read my other Old Town kayak reviews, you know they provide supreme comfort.

The Sportsman 120 is no exception, with its comfortable, wide seat. It can be adjusted to a high or low sitting position − the low sitting position is about 6" off the deck, while the high sitting position is about 8".
The footpegs are very sturdy and comfortable, and I love how easy they are to adjust with one hand.
Regarding the cockpit, you've got a ton of room to stand and cast, and put some gear for easy access.
For tall guys, this kayak is very comfortable up to 6"4 tall. Above that, I'm not so sure.
Stability and Tracking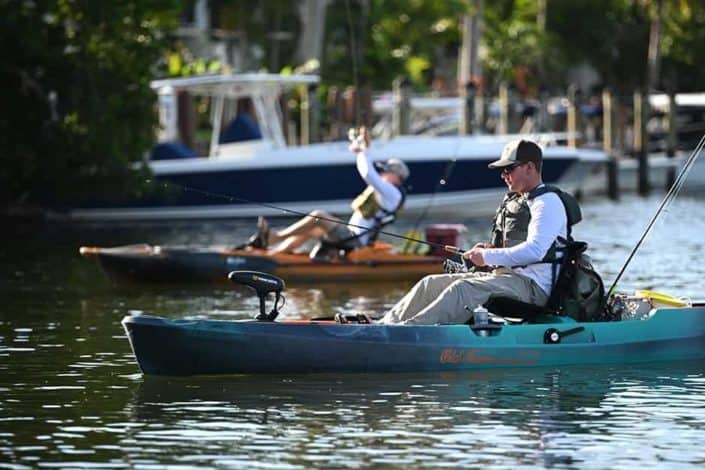 If you've read my Sportsman 120 PDL review (which is the pedal version of this boat), then you'll be pleased to know the stability is the same.
In short, it is amazingly stable and almost impossible to flip.
I've even tried standing on the nose (in a swimming pool) to see if it would flip − and it didn't. I went all the way to the front and back without flipping.
Leaning on one side or the other won't feel unstable either.
Overall, the Sportsman 120 has been built for stability and you can feel it.
For big guys up to 300 lb, the Sportsman 120 will allow you to stand and cast without ever feeling tippy.
Regarding tracking, I must say it's quite good despite the lack of a rudder. The double-U hull really helps track with ease.
In strong winds it will definitely be subpar, and I'd install a rudder in that case. But for rivers with slow-moving currents, it tracks well enough as is.
Durability
As mentioned above, the hull is virtually indestructible.
And even if you managed to break it, Old Town's lifetime hull warranty is the best in the industry.
This kayak doesn't come with a pedal drive, so there's not much else that could break.
I've never heard any complaints about the seat or hatch acting up, so overall, it's a very durable boat.
Transportability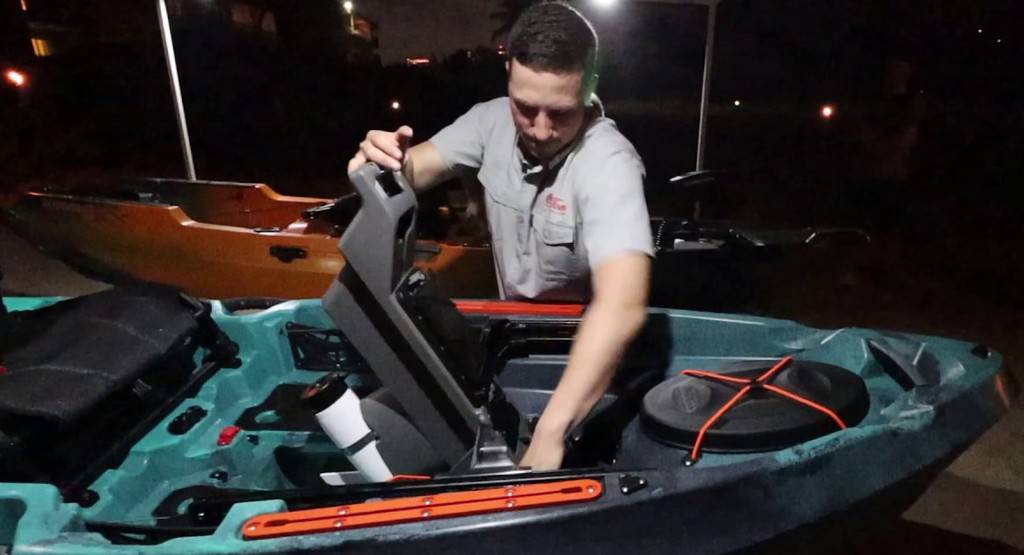 Like most fishing kayaks, the Sportsman 120 is quite heavy at 83 pounds.
Skinny guys may have a hard time loading it on their SUV, so they'll probably need a trailer or a pickup truck.
Carrying it to and from the water should be easy since it has a replaceable skid plate. You can drag it on the sand or rocks without damaging the hull.
In case you're planning on carrying it over long distances, I'd suggest getting a kayak cart or landing gear. The kayak cart can be kept in the rear tankwell storage easily.
It has one bow handle to get it out of the water easily, two side handles for easy loading/unloading, and one stern handle. The stern handle is off-positioned so that you can install a rudder if you need one.
Old Town Sportsman 120 Kayak Fishing Ease
Like most Old Town kayaks, the Sportsman 120 offers great fishability.
It has gear tracks on each side to mount your fishfinder, GoPro, extra rod holders, etc.
It comes with three flush-mounted rod holders: one forward-facing rod holder and two rear-facing ones.
The cockpit is huge to stand and move around, and it's covered by some padding to avoid slipping and to avoid making noise if something falls.
Regarding storage, there's a small dry hatch at the front, but it's not easily accessible on the water.
It has a huge rear tankwell storage that can fit a milk crate, a medium cooler, and your kayak cart or extra gear.
There's tons of storage space under the seat for tackle boxes, as well as rod stagers for horizontal rod storage. I generally keep 2 rods in there and they don't get in the way.
As expected, there's a universal transducer mount at the front.
For big guys, it comes with a stand-up strap to help you stand and sit back down.
It has two molded-in cup holders and a paddle clip on the left side for hands-free fishing.
As mentioned before, even big guys can stand and cast without feeling unstable. It also paddles pretty well from a standing position.
Overall, the Sportsman 120 is a premium kayak with tons of fishing features. My only quibble is I would have liked gear tracks in the back as well.
Who Is This Old Town fishing Kayak for?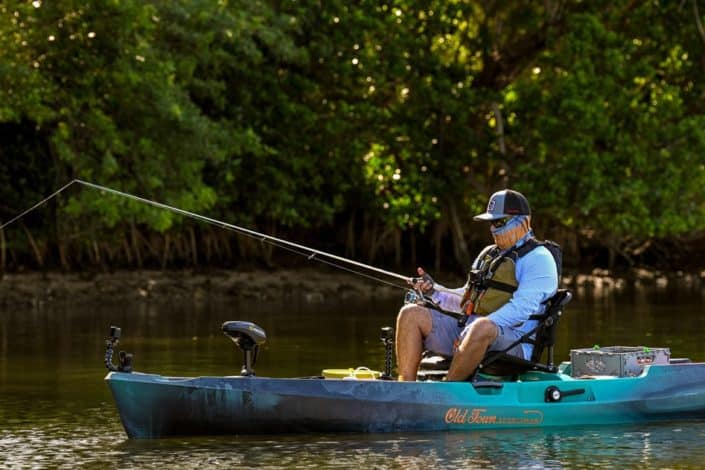 As you may have guessed by now, the Sportsman 120 is a premium fishing kayak.
If you're looking for a paddle kayak with tons of fishing features, a huge weight capacity, and tons of storage space, then the Sportsman 120 fits the bill.
Compared to the Sportsman 120 PDL, this one is not only cheaper but also better for the flats where you don't have the depth to use the propeller drive.
Overall, if you're looking for an ultra-stable but fast fishing platform for rivers or lakes, the Sportsman 120 is really hard to beat. Particularly at this price range.
Old Town Sportsman 120 Alternatives
Old Town Topwater 120

The Topwater 120 is actually the older version of the Sportsman 120.
As such, it shares many of the great features of the Sportsman, but you can generally find it for cheaper on the second-hand market.
It does come with a less comfortable seat, but apart from that, there's not much difference.
However, the Topwater is sold out everywhere, so I'd recommend getting the newer Sportsman instead.
Bonafide SS127

The Bonafide SS127 is probably the most stable fishing kayak ever.
If you're over 300 lb and the Sportsman 120 feels unstable to you, then the SS127 is for you.
Its supreme stability does mean that it's slower than the Sportsman 120. I get around 2.5 mph on average.
The front dry hatch is easily accessible on the water, and the rear tankwell storage is just as big as on the Sportsman 120.
It has front and rear gear tracks, and overall the same great fishability as the Sportsman.
In short, if you're over 300 lb and you want stability, then the Bonafide SS127 is what you need.
Read my Bonafide SS127 review.
Old Town Sportsman 106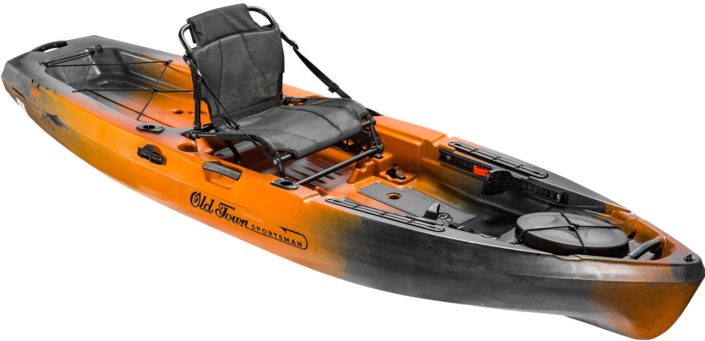 The little brother of the Sportsman 120, the Sportsman 106 is a strong contender.
It has great fishability with the same features as the Sportsman 120.
However, it has smaller storage areas and a lower weight capacity of 440 lb.
It's still extremely stable, maneuverable, and fast enough.
For a light kayak that's easy to throw and go, the Sportsman 106 fits the bill.
Overall, if you prefer a light, maneuverable boat, the Sportsman 106 is hard to beat.
But if you need more speed, better tracking, and tons of storage space, the Sportsman 120 is better suited.
Read my detailed Old Town Sportsman 106 review.
Old Town Sportsman 120 – Wrapping It Up
Overall, the Sportsman 120 is my favorite paddle fishing kayak.
It has incredible stability to stand and cast, but it doesn't sacrifice speed.
Maneuverability and tracking are good enough for rivers and calm lakes, and I love the huge storage space.
For beginners who don't want to invest in an expensive pedal kayak, or for flat waters, the Sportsman 120 is really hard to beat.
The only downside is it's often out of stock. By the time you read this article, it might already be unavailable.
Unfortunately, you'll have to wait until next year to get one…