We may not like it, but we almost always have to make sure we're getting the most for our hard-earned money.
That's especially important when investing in an expensive piece of equipment like a kayak.
Luckily for you, we've done the hard part for you and put together what we think is the best kayak for the money.
So whether you're looking for a day boat or something more ambitious, your next bargain is waiting for you below.
Best Kayaks for the Money

I'm a sucker for fast kayaks, and as one of the longest recreational sit-on-top kayaks, the 11.5-foot-long Perception Access provides surprising speed for a boat in its class.
The additional length also gives the paddler plenty of room to operate, though the seat isn't as comfortable as some competitors.
For storage, there's lots of open-air space that can be secured with bungees and even room for a medium-sized dog.
Stable and easy to maneuver, it's at home on lakes and mellow rivers but I'd discourage you from taking it into windy or inclement conditions.
Integrated fishing rod holders
Replaceable skid plate increases durability
Molded, high backed seat and leg braces
Best Pedal Kayak for the Money: BKC-UH-PK11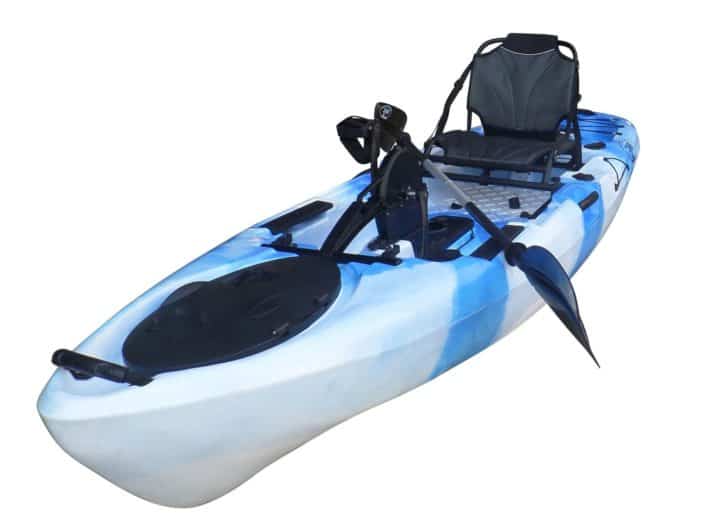 Just ten and a half feet long and weighing a svelte 60 pounds, the BKC-UH-PK11 combines portability with cost-efficiency.
Despite the smaller size, there's still plenty of storage space thanks to a roomy bow hatch.
Stability is what you'd come to expect from a pedal boat and I'd even feel confident trying to stand and cast when conditions are ideal.
It doesn't have many of the additional features that are the mainstay of many fishing kayaks, but there are three rod holders built into the design.
Multiple color options
Paddle included with purchase
Comes with scupper plugs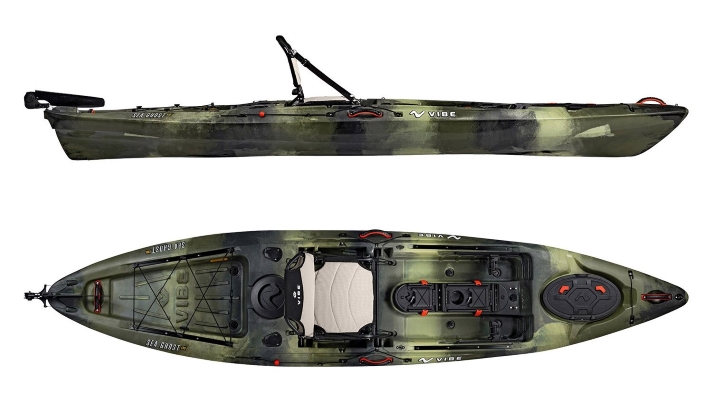 Vibe has only been around since 2014, but since their arrival they've been focusing solely on fishing kayaks. That one track focus is starting to pay off with the Vibe Sea Ghost 130.
The big brother of the Sea Ghost 110 (another worthwhile model) the Sea Ghost 130 is a little longer at 13-feet than most in its class and this along with the wide beam gives it a nice mix of speed and stability.
There's plenty of storage space for weekend getaways including a watertight hatch in the stern. But it's the boat's customization that propels it to the top of this list.
Gear tracks surround the wide cockpit and comfortable seat, allowing you to customize your Sea Ghost to your exact specifications. Whether you need extra space for tackles or want to install a GoPro or even a fishfinder, it's possible in the Sea Ghost 130.
Customization options galore
"Hero seat" one of the most comfortable in the game
Big 550 pound load capacity
Read our full Vibe Sea Ghost 130 review.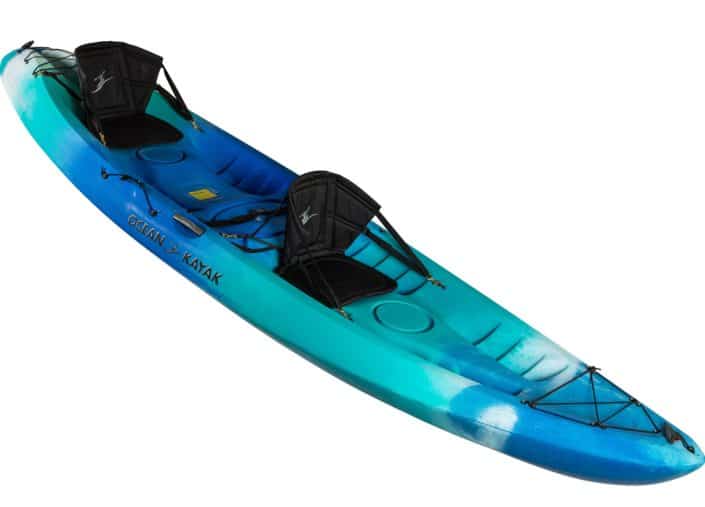 A big and spacious vessel, the Malibu tandem is nonetheless a swift and responsive boat that is a lot of fun to paddle.
Despite the size (it's 12-feet long and 340-inches wide) it's designed to be paddled both solo and tandem giving you plenty of versatility.
There's even room for a smaller third passenger making it a great boat for families.
There's enough storage space in the bow and stern for a weekend getaway. I wish some of the storage was watertight, though. I have to stuff my gear into dry bags and secure it beneath the deck bungees.
Bigger paddlers will appreciate all the legroom and the adjustable seats are very comfortable.
Skid plate for added durability
Versatile boat with room for 1,2, or 3 passengers
425-pound load capacity
Read our detailed Malibu Tandem kayak review.
Best Inflatable Kayak for the Money: Sea Eagle 370

There aren't many inflatables that are as versatile as the Sea Eagle 370.
Able to be paddled both solo or tandem, the 370 is stable enough for ocean paddling and tracking isn't all that bad thanks to two tracking skegs.
It's also capable of handling up to class III whitewater with a tough fabric exterior that can absorb most bumps and minor collisions.
Transportation is much easier with a deflated boat and the 370's set-up and takedown is simple with the inflating process taking less than ten minutes.
There's not the storage space for long trips, and while stable and more responsive than most inflatables, I wouldn't venture too far from shore when on big bodies of water.
Can be paddled solo or tandem
Huge 650 load capacity
Two paddles, a pump, and a carry bag are included

Not to be mistaken for its shorter relative the Aruba 8, the Aruba 10 is two feet longer (10-feet) giving you a noticeable boost in speed and tracking capability.
Like most Sun Dolphin boats, the Aruba 10 is meant as a recreational kayak so it's easy to paddle and very maneuverable.
From a performance perspective, I don't trust it to handle challenging ocean currents or rough rivers, but as a playboat it's perfectly fine and easy to transport, weighing just 41 pounds.
There's a watertight stern hatch for more sensitive gear but not much else in the way of storage, limiting more to a day boat role than overnight adventures.
Padded seat with adjustable seat back and foot braces
Not enough storage for multi-day trips
Light and easy to paddle
Read our full Sun Dolphin Aruba 10 review.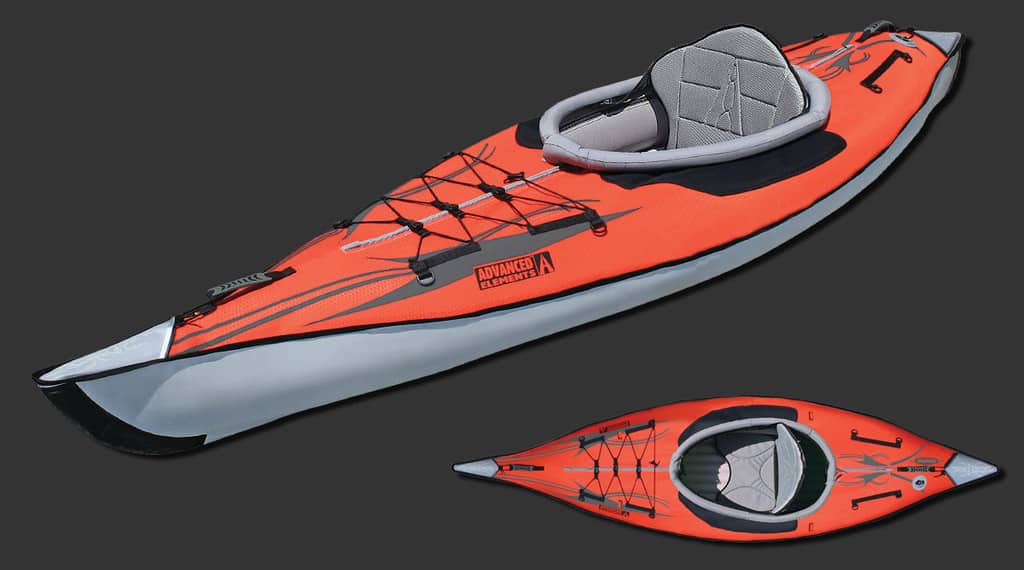 Available for half the price of most hard-sided kayaks, the Advanced Elements Advanced Frame manages not to sacrifice on-water performance.
An aluminum frame gives this inflatable fantastic rigidity that can stand up to many of the same conditions that a more expensive hard-sided kayak can.
Capable of more ambitious ocean paddles, the Advanced Frame is one of the best performing inflatables with competitive tracking, speed, and stability.
Being an inflatable means finding storage space at home and transporting it to and from the water is much easier.
However, it does require more work to set-up. With multiple tubes to inflate it can have a steep learning curve for some.
The aluminum frame gives it impressive stability in all conditions
Set-up requires patience and a steep learning curve
Tracks well when using the included tracking fins and skeg.
Read our full Advanced Elements Advanced Frame review.
How to Get the Best Kayak for Your Money
Where do you See Yourself Paddling?
Not all kayaks are designed to handle choppy waves or strong tides.
Many "recreational" kayaks for example are maneuverable and easy to paddle when conditions are placid, but are unresponsive and unstable when the water is rough.
The same goes for whitewater kayaks that are shorter and tippier to better handle going over rocks and taking sharp corners.
If you plan on paddling in calm lakes and mellow rivers, then a recreational or basic inflatable kayak will probably do the job.
But if you have designs of doing more than that on the open ocean or whitewater rivers, consider a touring sea kayak or a white water model.
Sit-In vs. Sit-On-Top
These are the two primary types of kayaks. With sit-in kayaks you sit on the bottom of the hull with your legs and lower torso protected from the elements by the boat's combing which can be enclosed with a spray skirt.
Since your center of gravity is lower, sit-in kayaks can be slimmer without the risk of tipping over. This makes them faster and more efficient to paddle than their sit-on-top counterparts. They're the preferred design for cold weather environments where you want to keep rain or waves off you or if you want to do longer trips where speed is more important.
Sit-on-top kayaks have no defined cockpit space. They feel less cramped and give you more room to move around while on the water. Getting in and out of them is also easier. They're best off in warm weather since there's no way to protect yourself from rain or waves.
Most companies have tried to work around this by putting their seats higher above the water to keep you from getting wet. While this does help, it raises your center of gravity and requires sit-on-top kayaks to be wider in order to maintain stability.
Inflatable vs. Hard-Sided
The biggest difference you'll notice when browsing these two material types is the price.
Inflatable kayaks are almost always cheaper than their hard-sided counterparts. They're easier to transport since they can be stored and moved while deflated and most are simple to set-up. Additionally, they often come with a free paddle, even though this is typically not the best kayak paddle.
But outside of a few exceptions, you're not going to get the same on-water performance from an inflatable. No matter how well you inflate it, an inflatable will lack the rigidity that allows a hard-sided boat to track and handle oncoming waves. Hard-sided boats also have the advantage of more storage space for longer trips.
But the logistical ease of inflatables is a big positive in their corner. And while they have a reputation for being unstable and fragile, most inflatables are just as stable as hard-sided boats. Durability has improved in recent years with tough fabric exteriors and multiple air bladders so that even if one is punctured the paddler is able to reach shore safely.
Tandem or Single
If you foresee yourself paddling with a partner most of the time, it may be worth investing in a tandem.
Most tandems are noticeably heavier than singles, but since there's another person there to help this can be alleviated.
Tandems have additional stability thanks to their wider beams and their longer keels tend to provide more legroom and better cruising speed. Loading a single tandem onto your car also requires less space than a pair of singles.
While some tandems always require two paddlers, there are a few that can be paddled either solo tandem.
These designs are usually recreational models of both hard-sided and inflatable material and can provide more versatility. Check with the manufacturer before trying to paddle a tandem on your own as some can be slow and unresponsive when paddled solo.
Pedal or Paddle Fishing Kayaks
As kayak fishing grows in popularity the market for pedal drive kayaks has steadily increased. These boats are propelled much like a bicycle with a pedal drive system.
Pedal boats are faster than paddle kayaks since you're able to use the larger muscles of your legs instead of just your arms.
With your hands free, you're able to cast, change tackle, or have a snack while in transit or trolling. To steer, most pedal kayaks have a hand-operated rudder that's installed into the kayak's hull next to the seat.
The extra components of the pedal drive system do make them more expensive than traditional kayak models. Due to the extra equipment, they're bigger and heavier as well with some even requiring an extension to fit in the back of a pick-up.
Be prepared to also spend a little more time doing routine maintenance to keep the pedal drive in working order, especially if you're taking it out in saltwater.
Conclusion
When looking for the best bang for your buck on the kayak market, there's a litany of options available if you're willing to do a little price comparison.
I wasn't expecting my favorite on this list to be an inflatable, but the Advanced Frame from Advanced elements is just too darn impressive to ignore. With the performance of a hard-sided at a fraction of the price, you can take the Advanced Frame just about anywhere.
A close runner-up is the Sea Ghost 130 from Vibe. Though technically a fishing boat, it has the speed and stability to be much more than that.
What do you think of our list? Do you have a favorite that we left out? Let us know in the comments below.