Just because you lack storage space for a hard-sided kayak doesn't mean you have to accept subpar performance.
Luckily, for those whose only place to store a kayak is in their closet, there's the Advanced Elements Advanced Frame.
Based in San Francisco, Advanced Elements specializes in a range of inflatable vessels including kayaks and stand-up paddleboards. They also provide a host of accessories for their products offering everything from spray skirts to kayak anchors and kayak sails.
After my Advanced Elements kayak review, I came away impressed with the boat's performance, especially for an inflatable.
It can compete with many more expensive hard-sided kayaks with impressive speed and a rigid, stable design thanks in part to the aluminum frame.
Pros:
One of the fastest inflatable kayaks
Multiple skegs improve tracking
Aluminum frame makes it sturdy and stable
Cons:
Set-up is not very intuitive and you have to inflate seven different air chambers
Difficult to drain, leading to water hiding in cracks and crevasses during storage
No air pump included
Things to Consider Before Buying an Advanced Elements Advanced Frame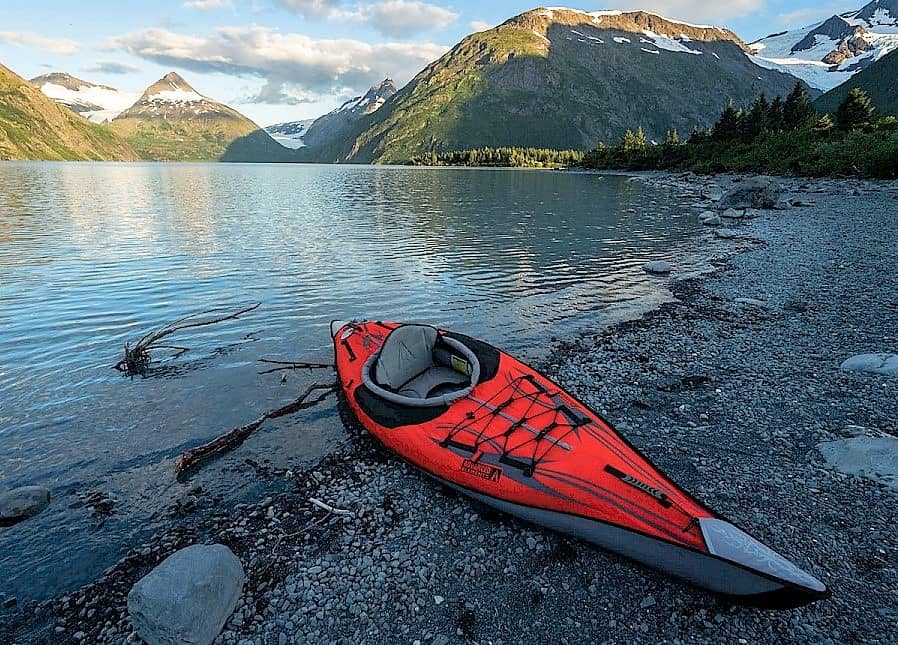 As one of the most impressive inflatable kayaks, the Advanced Frame melds storage convenience with an enjoyable on-water experience. With a convenient carry case, you can keep your Advanced Frame in the hallway closet and transport it in the trunk of your car.
But ideally, you should have a place to lay your kayak out to dry after use. One of the shortcomings of the design is that pooling water is difficult to remove and can lead to a mildew smell from the material after a while.
Assembling and inflating is more challenging and time-consuming than many inflatable kayaks which are designed for casual and recreational users.
If you're not as concerned about performance and are looking to save a little money, you could probably do just as well with a cheaper and simpler model like the Intex Challenger K1.
Specifications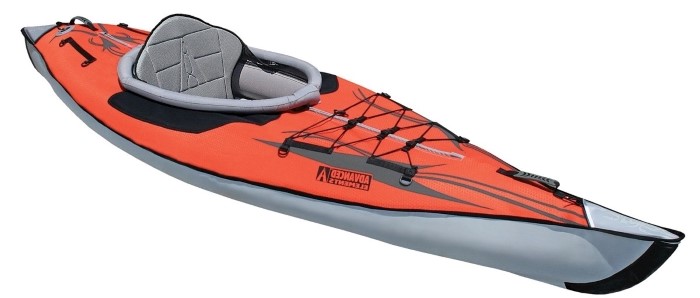 Length: 10 feet, 3 inches
Width: 33 inches
Weight: 33.25 pounds
Load Capacity: 300 pounds
Design
Material
The Advanced Frame is made of PVC-coated polyester. This synthetic is a popular choice among inflatable kayaks thanks to its durability and rigidity.
To go along with this material, the Advanced Frame also has an aluminum frame in the bow and stern to add additional stability.
Speed
In most cases, the longer the keel of a kayak, the faster it can move through the water. At just over ten feet long, the Advanced Frame is not a very long boat.
But thanks to a tapered bow, it still boasts a competitive top speed that rivals some hard-sided kayaks.
While many inflatable kayaks eventually become waterlogged which decreases their speed, the Advanced Frame has a waterproof outer coating to help maintain speed for however long you want to paddle.
Maneuverability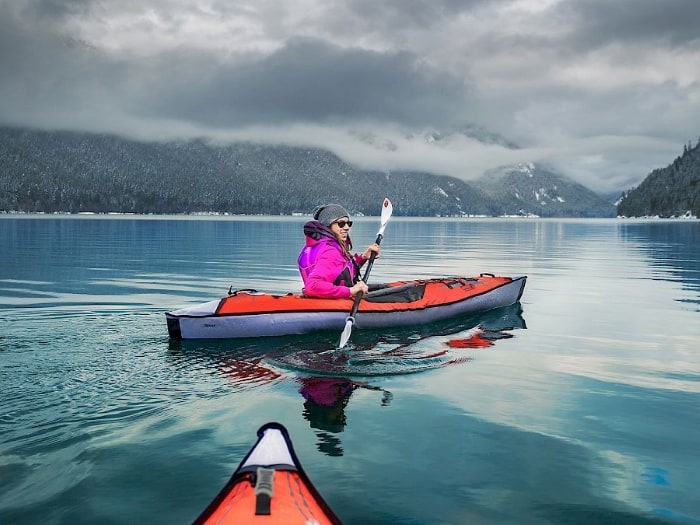 It handles well on the water compared to other inflatables. While there's no rudder included in the design, most paddlers will be able to fit into tight corners just by using their paddle.
If you're new to the sport, it'd be a good idea to make sure your first outing is in a calm and protected location so you can get used to making tight turns and get a better understanding of how the boat responds to your paddle strokes.
Comfort
With a thick cushioned seat that's fully adjustable, most paddlers will feel comfortable for as long as they want to paddle.
There's no designated foot braces, but the narrow design and the ridges on the hull's interior give you plenty of places to brace your knees and feet.
I do have a couple of small critiques with the Advanced Frame. There are no scupper holes and while the cockpit hole is narrow, water will inevitably enter your seat. There are ridges on the edge of the cockpit meant for a spray skirt, but inflating the boat to a high enough PSI to hold one tight is difficult.
Speaking of inflating, it can also be tough to inflate the bottom of the kayak to the point that you don't feel the waves beneath you. It's a minor inconvenience but definitely noticeable, particularly in moderate to rough chop.
Stability & Tracking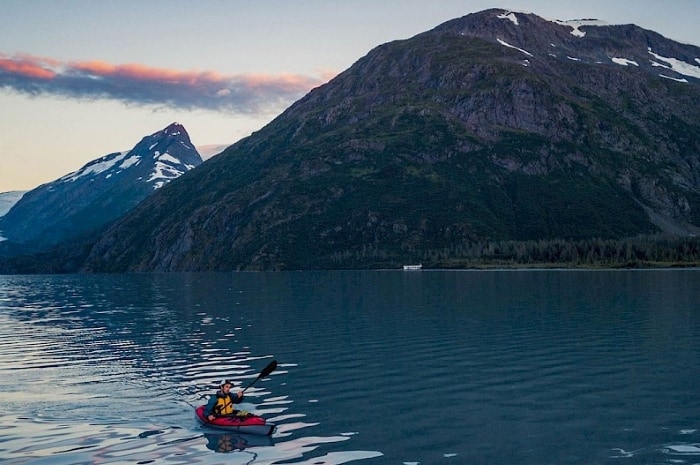 There aren't many inflatable kayaks as stable as this. It's a really hard kayak to capsize and easy to get back into should you fall out.
If you're a beginner you'll appreciate this forgiving design that can stand up to any unexpected weather you stumble across.
Several tracking fins run along the underside of the hull which helps keep the Advanced Frame running on a straight course regardless of the wind, waves, and tide.
It rides low in the water which decreases the surface area for the wind to act on it. Add in the aluminum frame and you'll be hard-pressed to find another inflatable that tracks as well.
Durability
You'll never be able to emulate the durability of a hard-sided kayak made of fiberglass or plastic. But Advanced Elements is doing their best.
A special plastic coating allows the Advanced Frame to cruise over submerged obstacles without incident and it's capable of landing on an assortment of beaches. Be cautious landing in the surf or on rocky shores and it can last a long time.
When moving it to and from the water, always carry your boat in lieu of dragging it. Even if it doesn't puncture, scratches will begin to degrade the material and make it more susceptible to leaks when you do collide with something larger.
Listen for the sound of escaping air as you inflate, particularly around the nozzles and seams.
Portability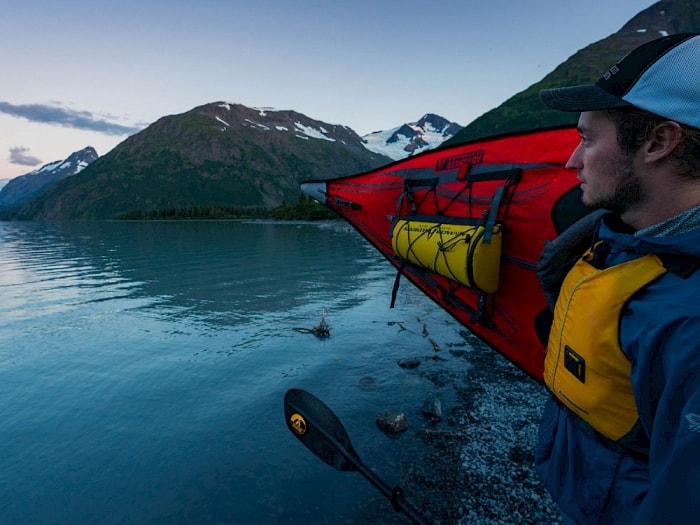 It's not the lightest of inflatable kayaks thanks to the aluminum frame, but considering the performance you're getting, 33 pounds seems more than reasonable. If you have someone to help you with a tandem carry, there's a handle located on the bow and stern.
The Advanced Frame is a challenging kayak to assemble. The included instructions are difficult to comprehend in a few spots and the boat has seven independent air chambers.
It comes with a carry case, though I was disappointed in its construction. As well made as the boat is, the case seems to be cheaply made and I'm waiting for one of the seams to burst any day. If you plan on moving it a lot when it's still deflated, it may be worth reinforcing the bag yourself or buying one that's harder.
Features & Accessories
There's no rudder on this design, but the multiple skegs installed on the bottom enhance the boat's tracking.
An inevitable consequence of inflatable kayaks is that onboard storage space is hard to come by. There are no dedicated watertight hatches so you'll have to be creative where you stash gear.
Some bungee cords are stretched across the deck to hold day-use items and depending on how long your legs are you may have room to stash supplies down there.
You won't find any extra goodies with your purchase. There's no paddle which is understandable, but it doesn't come with a pump either which is frustrating.
A couple of the nozzles require a specific adapter from Advanced Elements if you don't want to inflate them manually.
Value
While the Advanced Frame is more expensive than the majority of inflatable kayaks, it's still cheaper than competitive hard-sided models.
For the level of performance you get, it's hard to quibble with the price, even if you have to purchase a pump separately.
If all you want is a boat for the occasional relaxing paddle on a quiet lake, the challenging assembly and higher price may not be worth it.
But if you want an inflatable kayak that can handle something more technical than a calm lake or lazy river, the Advanced Frame is one of the best.
Testimonials
I spent some time online to see what other paddlers of the Advanced Frame thought. Most of the reviews were positive with praise for the boat's performance and stability.
Some mentioned the challenging setup and the occasional issue with the skeg warping over extended storage periods. 
As for me, I must admit I really like this kayak, especially as a boat to take on all my travels to get to remote places without needing a kayak rental shop.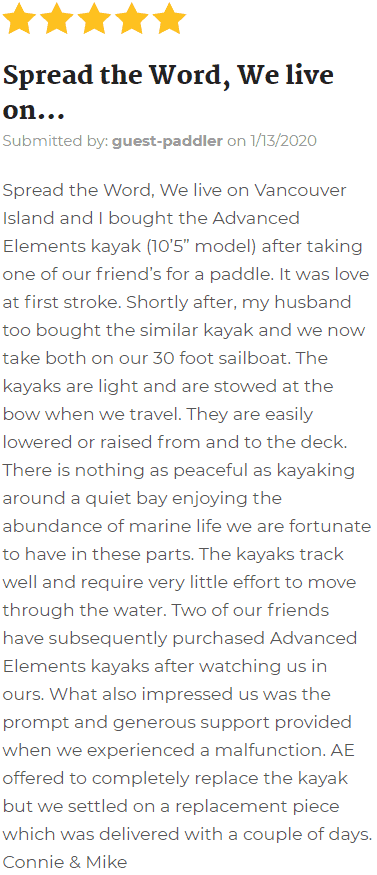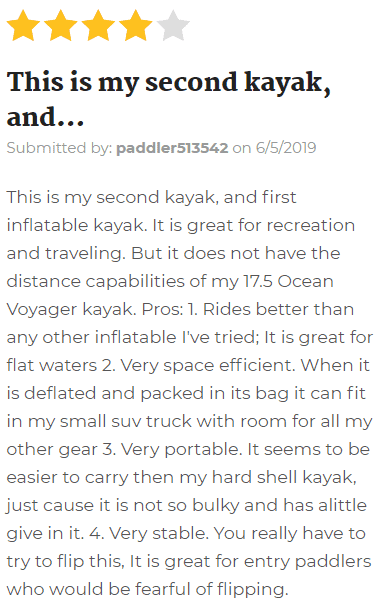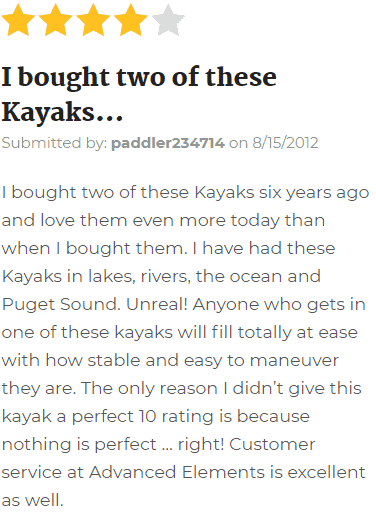 Alternatives
Advanced Elements Advanced Frame Convertible Tandem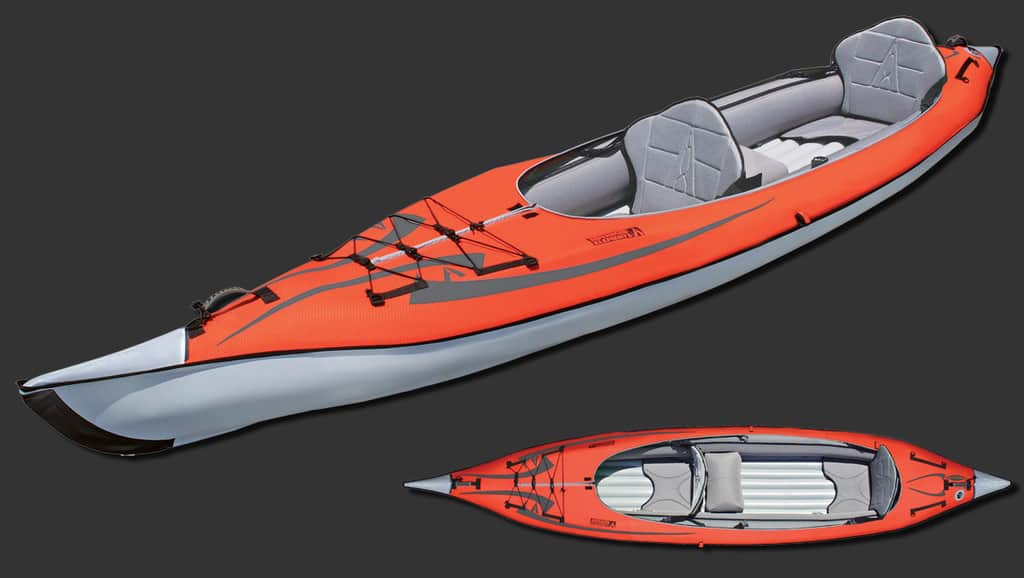 With many of the same features and similar on-water performance, the Advanced Frame Convertible Tandem is basically a longer, two-person version of the Advanced Frame.
An extra skeg has been installed to increase the tracking of this slightly longer kayak. The longer keel and the option to have a second paddler gives it a faster top speed than its smaller cousin. It still has good stability and tracking despite the longer keel.
It can be paddled solo as well, though the extra weight and longer length can make it feel unwieldy and challenging on your own.
Similar issues with a complicated set-up and no included pump make getting on the water challenging, but once you're on the waves, this is one of the best inflatable tandems on the market.
Excellent rigidity and stability
Tracks well thanks to tracking skegs and one larger one
Multiple air chambers and complicated instructions bring a steep learning curve
Sea Eagle SE370

Capable of being paddled solo or tandem, the Sea Eagle SE370 is a cheaper and lighter inflatable option.
It's easier to set-up and assemble with just three air chambers while the more open design means it can be dried and stowed quickly.
But it lacks the high-end performance of the Advanced Frame.
Wind, waves, and turbulence can wreak havoc with the boat's tracking and I wouldn't advise taking it on open water.
The design is plenty stable but isn't as hydrodynamic, making it better as a casual, recreational option.
You can get a paddle and pump included from some retailers and it's a fine choice for your first kayak when you don't want to break the bank.
Simpler to set-up and assemble
Stable with good tracking in calm water
Can be paddled solo or tandem
Performance diminishes in wind and waves
Oru Beach LT

Not technically an inflatable, the Oru Beach LT can still break down into a case the size of a suitcase, providing the same level of portability. With no pump required, you can grab and go with ease.
The portability doesn't mean you have to sacrifice performance. The Beach LT has impressive stability and excellent tracking to go along with a hydrodynamic design that makes it one of the fastest kayaks in the category.
But it's substantially more expensive than the Advanced Frame. As expensive as many quality hard-sided kayaks, some consumers may be more apt to invest in a high performing polyethylene or fiberglass boat that has better durability, storage, and rudder.
If you lack the storage space for a hard-sided boat and desire similar performance, the Beach LT fills the void.
The chair isn't as comfortable and while it is portable, it folds down instead of deflating. This can make carrying it awkward and difficult if it needs to be moved over long distances.
Top-notch performance with great tracking, stability, and speed
As expensive as many quality hard-sided kayaks
Thin seat cushion gets uncomfortable after a while
No inflation necessary
Weighs just 26 pounds
Conclusion
One of the better performing inflatables, the Advanced Frame is one of the few in its class that can compete with hard-sided kayaks. Multiple skegs keep you on course and I love how sturdy it feels thanks to the aluminum frame.
It makes up for the complicated set-up and lack of included incentives like a pump or a paddle. If you need a higher performing and sturdier kayak but lack the storage space for a hard-sided model, the Advanced Frame is the vessel for you.
You can learn more about Advanced Elements and their other products by visiting their website.