Besides the kayak itself, the most important piece of equipment is your paddle. Your kayak may be the vehicle, but it's only as fast and efficient as its engine.
Not all paddles are made equal. Specific designs and shapes are tailored to the diverse world of kayaking, and picking one that is the proper length and blade shape is vital if you want to avoid sore shoulders and an aching back.
So which is the best kayak paddle for you? In this article, we'll be talking about some of the best paddles on the market for paddlers of all experience levels.
We'll also show you what to look for in your paddle and how to ensure you find the right length for your body type.
Selecting the right paddle is too important to leave it up to chance. Learn how to get the right one for your next trip below.
Best Kayak Paddles

A heavier paddle made of aluminum and plastic, the Whisper from Bending Branches is one of the best paddles if you're just beginning your kayaking career.
The paddle is only available with a straight shaft, but all but the tallest paddlers should be able to find a length that will suit them. It's definitely more of a recreational paddle as it's a little heavier than some of the more expensive paddles on this list. If you're planning to go out for several days, be prepared for some sore shoulders if you're wielding the Whisper.
But it's great for more casual day outings and perfect for newcomers to cut their teeth on. It's a two-piece paddle with three holes at the ferrule (adjustment point), allowing you to paddle straight or at 60-degrees in either direction. If you want more control over your feathering angle, you may want to look elsewhere for a paddle with more customization.
The blades are plastic (here's where the extra weight comes in) but the overall design is sturdy and durable thanks to the aluminum shaft.

A classic paddle for newcomers, the Magic Plus has some versatility at a welcoming price tag. It's the heaviest paddle on this list weighing almost 2.5 pounds, so when you're ready to level up to multi-day trips you'll want to leave this one behind.
The blades are a bit of a cross between the long/skinny and fat/short designs, giving you plenty of power and decent efficiency, again as long as you're not going too far.
Like the Whisper from Bending Branches, the ferrule adjustment point in the center has three different options including feathering points at 60-degrees. It comes in three finite lengths: 220 cm, 230 cm, and 240 cm, one of which should work for most beginners.

Available in two sizes that can both be adjusted, the Angler Ace gives you lots of versatility without having to worry over selecting just the right paddle length.
The adjustable ferrule lets you feather at any angle you like.
It's only available with a straight shaft, but chances are if you're fishing, you won't be too worried about your paddling efficiency over multiple days and several miles.
The shaft is carbon fiber though, so it is reasonably light for a paddle of this caliber despite the plastic blades (though they are reinforced with carbon fiber). All together the Angler Ace weighs in at just under two pounds.

Lightweight and incredibly easy to adjust, the Pungo Glass from Wilderness Systems is a versatile and durable paddle that's even reasonably priced. With limitless adjustment options, it can be easily feathered and the length can even be changed thanks to the level lock connection system.
It features a carbon shaft but fiberglass blades which helps keep the price down while maintaining excellent rigidity that should allow it to survive years of use with no decrease in performance.
While it won't perform quite as well as paddles with carbon fiber blades, the lower price for this sacrifice seems worth it and makes it a fine high-end choice for paddlers of all experience levels.

If you've got the extra cash and fancy yourself an adventurous touring kayaker, look no forward than this beauty from Werner Paddles.
At its best on long trips, the paddle is made entirely out of carbon fiber, giving it a super lightweight design that weighs just 816 grams (1.8 pounds) compared to the Pungo that weighs 970 grams (2.1 pounds). While this 0.3-pound difference may seem trivial, when you're doing thousands of paddle strokes per day, it adds up quickly.
It's not as user-friendly of a paddle as some on this list and can be more challenging to adjust. The feathering system can be frustrating to get it just where you want it, although it does provide plenty of different angles to choose from ranging from 60 to 30-degrees.
But once you get past these minor nitpicks, you'll love the glossy finish and dihedral design that cuts through the water smoothly, just don't get mesmerized watching it pass through currents like a fish. Werner offers the design in both straight and bent shaft designs.
How to Choose the Best kayak Paddle For You
Size

Paddle length is usually measured in centimeters with lengths from 210 to 260 cm (approximately 7-8.5 feet).
The best way to choose the right paddle for you is to measure your torso height. Sit up straight in a chair and measure from your crotch to the tip of your nose. Use the corresponding chart to determine the right paddle length for you.
While this will get you pretty close to the right paddle length, there are a few other factors you may want to consider. The wider your kayak the wider your paddle will need to be to reach the water. Touring kayaks tend to be narrower and will require a shorter paddle while most recreational and fishing boats are wider.
Use your kayak type as a tie-breaker when determining where you land on the paddle length spectrum.
Blade & Shaft Materials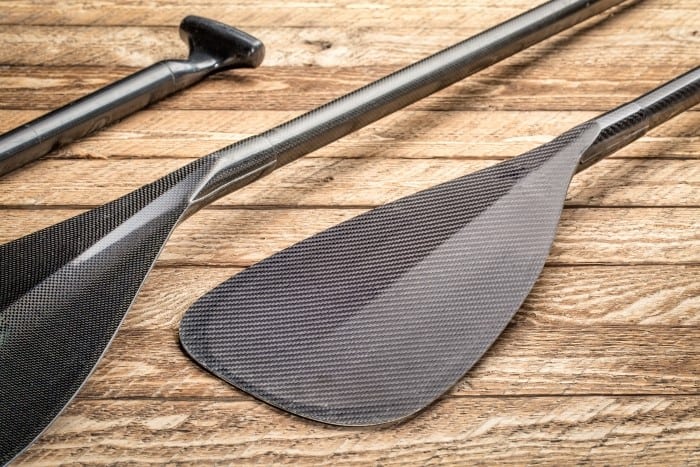 There are three common types of materials for modern kayak paddles: carbon fiber, fiberglass, and aluminum. Some specialty companies also offer paddles made of more exotic materials like wood paddles with a clear fiberglass finish. Like most kayaking materials, the lighter it is the more you can expect to pay.
The most expensive material is usually carbon fiber. Ultralight and very durable, carbon fiber paddles are probably best reserved for the most passionate paddlers that are out on a weekly basis. The big financial commitment puts these paddles out of range for most casual kayakers. The one exception may be if you're a whitewater kayaker where the extra durability may be necessary.
Fiberglass paddles are a nice mid-range choice. They're lightweight, though usually not as light as carbon fiber varieties. They provide good durability and are a versatile paddle that can be used for most paddling outings. Their excellent performance makes them a favorite of more experienced paddlers.
Aluminum paddles are durable and inexpensive. They are easily the heaviest of the three material types, making them burdensome on long paddle days. They're best reserved for newcomers or as a spare on long expeditions.
You may see paddles made out of plastic on the market as well. I'd steer clear of these even if the low price tag seems enticing. They lack the rigidity to give you a strong paddle stroke and can "bend" in the water.
Straight vs. Bent Shaft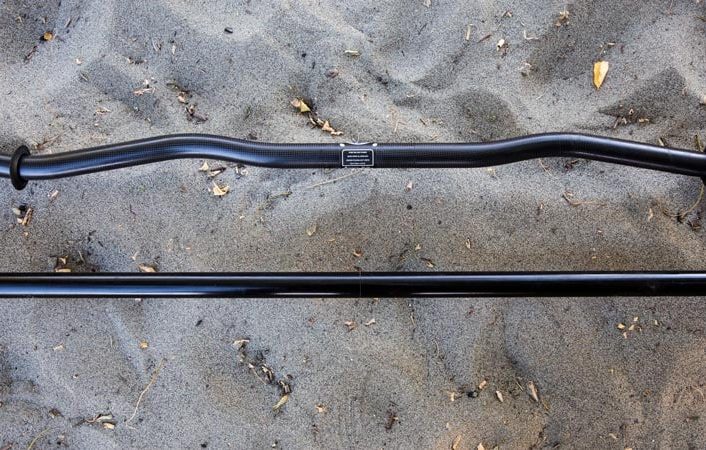 The two primary paddle shaft configurations, straight shaft designs are the classic kayak paddle shape. As the name suggests, the shaft is one long, uninterrupted handle. These are the most common designs and most can be feathered. They're a multi-purpose paddle good for a variety of conditions with lots of control. They're at their best when battling currents.
Bent shafts have two twists or bends to place your hands. This allows you to change your hand position, a feature favored by touring kayakers that are paddling for several hours each day. Paddling efficiency is increased and there's less stress placed on your wrists.
Feathered vs. Unfeathered Blades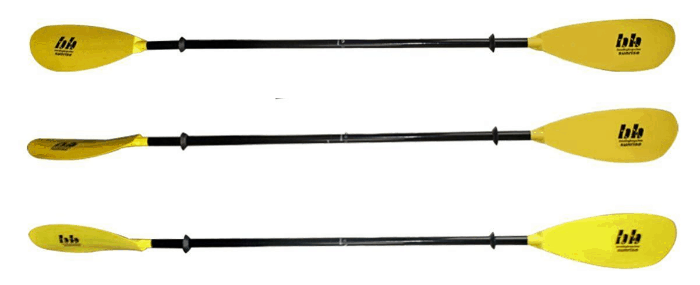 One of the easiest ways to improve your paddling efficiency is by feathering your paddle. This is done by making the paddles offset.
This way, the high paddle is turned parallel to the water as you stroke. It may not seem like it before you try, but this greatly reduces your paddle's wind resistance and can make a huge difference in your paddling speed.
Paddles can be feathered in either direction and most paddles have multiple angles they can be adjusted to with 45 and 60-degree angles being the most common configurations.
Spend some time in calm water experimenting and getting comfortable with your paddle in the feathered position. It'll take a while to develop the muscle memory since you'll need to twist the paddle after every stroke to keep the flat edge of the blade from hitting the water.
One, Two, and Four-piece kayak paddles

Many kayak paddles can be broken down to make transportation and storage easier. This does sacrifice some durability, but it can also be hard to move a rigid, eight-foot piece of fiberglass around when not in use.
I don't think a four-piece paddle (can be broken down in the middle of the shaft and the blades are removable) is unnecessary for most people. It introduces two more weak points at an already vulnerable spot where the blades and shaft meet.
But I do think a paddle that can be split in the middle of the shaft is worth sacrificing a bit of durability. It makes for easier storage and loading in a vehicle. If you're bringing a spare (highly recommended especially for multi-day trips) be sure it can be broken down so it can be stored beneath the rigging on deck.
Fishing vs. Touring. Vs. Whitewater Paddling
While any paddle can get the job done, you'll always get the best results by tailoring your paddle to the specific activity.
Long, thin paddle blades are best if efficiency and speed are your priorities. These are great for low-angle paddling where you're less concerned with maneuvering and more interested in efficiency and minimizing your fatigue. Choose one of these svelte models if you'll be doing longer trips or recreational and fishing outings on the lake.
Shorter, fatter blades are best for whitewater paddling. These paddles give you better immediate control, great for sudden stops and starts as you maneuver around rapids and dodge obstacles. They're built for high-angle paddling which you'll probably be doing a lot of on the river.
best kayak paddle – Conclusion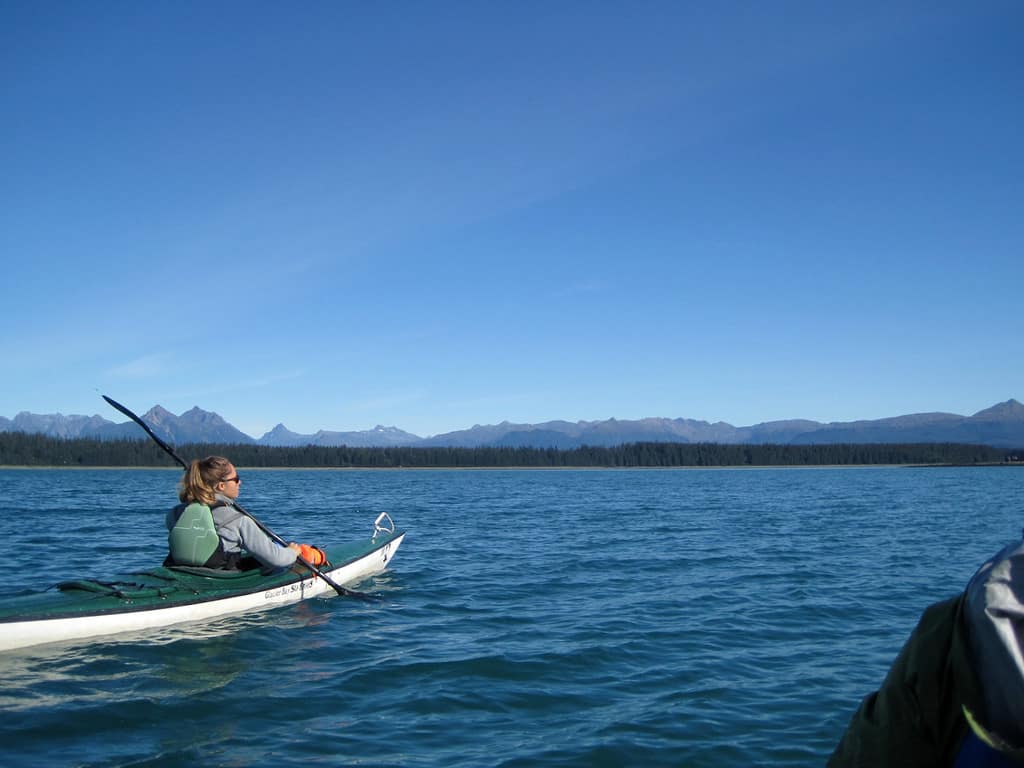 By now you should have a firm grasp of the different types of kayak paddles and which one fits your budget and experience level. Here's hoping your next paddle purchase is a smooth and easy one.
We'd love to hear from you. What's your favorite paddle? Did we miss anything important? Leave us your tips, hints, and stories in the comments below.