For the financially conscious paddler or those new to the sport looking to try it for the first time, an inflatable kayak combines price efficiency, accessibility, and an easy to paddle platform.
But which is the best inflatable kayak? In this article, we'll highlight our favorites in several categories so that whether you're a newcomer or a passionate paddler who lacks the storage space for a bigger boat, you'll find the right kayak model for your lifestyle.
Best Inflatable Kayaks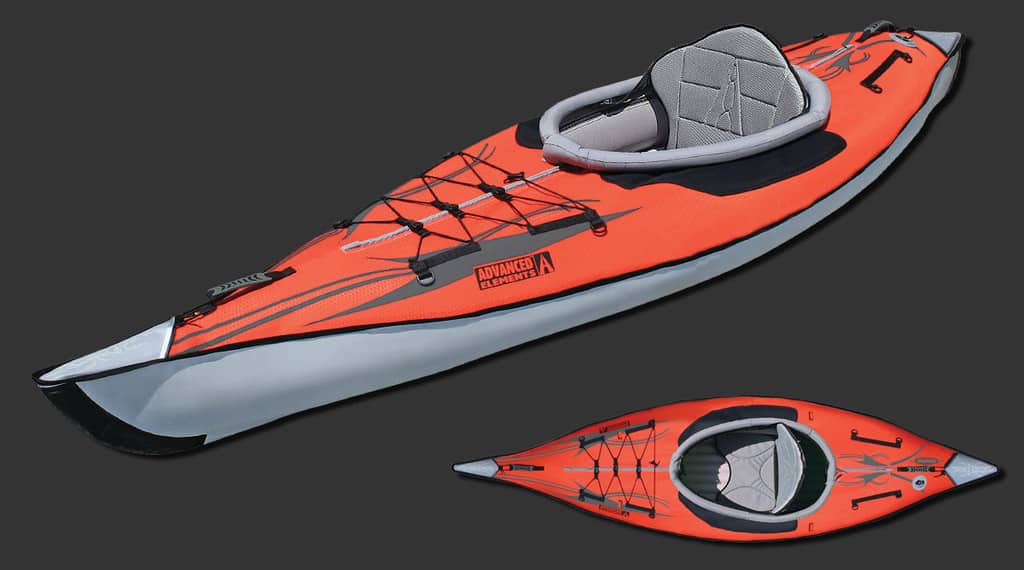 Advanced Elements brings home the top choice and doesn't even break the bank.
The boat has a tough aluminum frame that gives it a sturdy structure with tracking and speed that rivals many hardshell kayaks.
The responsiveness and comfortable seat make it excellent for longer trips across a myriad of conditions.
It's a boat that can be paddled in wind and waves with confidence. Durability is top-notch and will keep it paddling for years.
The aluminum does add some extra weight and the set-up has a learning curve thanks to seven different air chambers.
High-performance level that rivals hard-sided kayaks
All the air chambers add to the set-up's learning curve
Enough storage space to allow for weekend trips
Read our full Advanced Elements Advanced Frame review.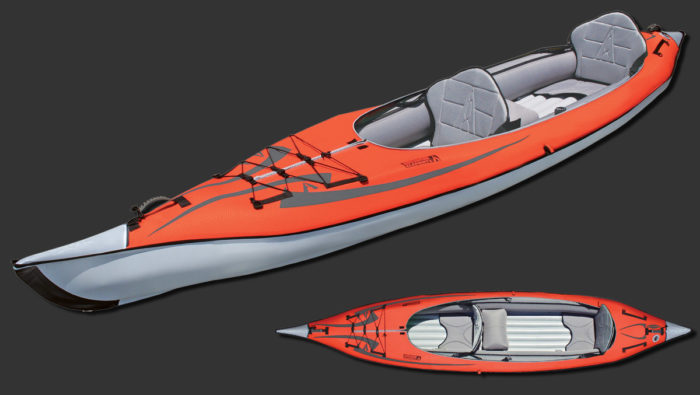 This model's simple setup and on-water performance make the Advanced Frame Convertible a great tandem inflatable.
Little additions like pockets behind the seats and paddle holders are the sort of innovations paddlers will wonder how they lived without.
Capable of solo or tandem trips, the long keel, tracking fins, and skeg make it a joy to paddle.
The long keel makes this a fast kayak capable of trips and open crossings not possible in most inflatables.
2-4" tracking fins and a small skeg keep the Advanced Frame on course regardless of wind and waves.
The only downside is it weighs 55 pounds which makes it cumbersome for paddlers to carry on their own.
Can be paddled solo or tandem
Fins and skeg make for great tracking over rougher water
One of the more expensive inflatable kayaks and harder to set-up

Built for the serious angler. This design has thick PVC fabric and non-slip padding on the floor and sides.
The boat comes with built-in rod, hook, and lure holders so everything stays secure.
They've even installed a 36" fish ruler on the pontoons so you can back up your fishing tales with the numbers. It can do more than just fish.
The stable and durable design means it can handle class III whitewater.
The 385 can be paddled either solo or tandem, though the weight (45 pounds) can make it challenging for some solo paddlers.
Once on the water, it can hold up to 635 pounds which should satisfy even the most voracious angler.
Able to be paddled solo or tandem
Specific locations to secure all your angling gear
Flexibility to handle some tougher rivers
Click here to learn more about the best inflatable fishing kayaks.
Best Cheap Inflatable Kayak: Sea Eagle 370

With such a wide variety, selecting your first kayak can be paralyzing. First-timers will appreciate any boat that is cost-effective and user friendly.
My first kayak was a simple open kayak that I could move from the car to the water myself. The simpler the boat, the more likely you are to use it.
The Sea Eagle 370 hits all these notes. Able to accommodate one or two paddlers, this versatile boat has an extra thick and forgiving fabric exterior for any accidental bumps or drops.
Despite the durability, the 370 remains a svelte 32 pounds making it one of the lighter tandem kayaks. The rigid I-beam floor construction adds stability and gives newcomers confidence.
Can handle class III whitewater
Struggles in windy conditions
"Cheetah chairs" some of the most comfortable on the market
Best Cheap Tandem Inflatable Kayak: Intex Explorer K2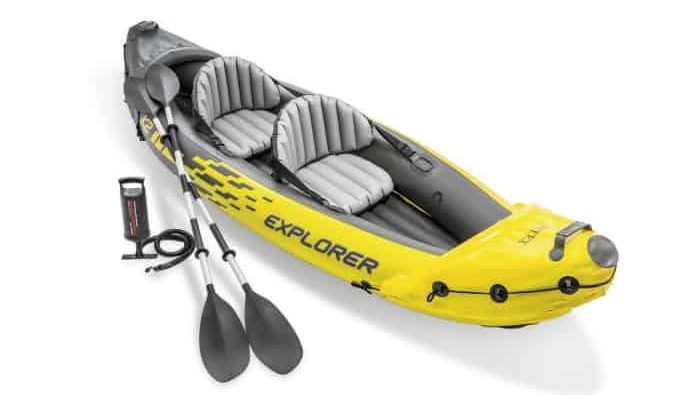 Capable of handling one or two paddlers, the K2 from Intex is one of the most popular beginner inflatable kayaks thanks to its cheap price tag and noteworthy stability.
The tough vinyl construction makes it tough to damage and the set-up and take-down is intuitive and simple.
On the water, the K2 feels stable and maneuverability is satisfactory with either one or two paddlers onboard.
Performance-wise the K2 is limited to calm and protected waterways like placid lakes or slow-moving rivers.
Two Aluminum paddles included
Bungee cords stretched across the bow and stern for more storage
Lightweight for a tandem at 33 pounds
Read our full Intex Explorer K2 review.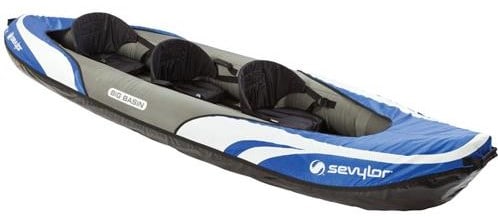 With a thick tarpaulin bottom and tough as nails PVC outer layer, the Big Basin from Sevylor can handle all sorts of rough and tumble trips.
Marketed as a three-person kayak, it more comfortably fits two adults and a child. Either way, there's more than enough room for you and your dog.
Tracking is greatly improved thanks to a pair of skegs that especially come in handy when there's just one paddler aboard.
Tough outer layer protects from scrapes, drags, abrasions, and dog claws
Splash guards help keep water out
No pump or paddle included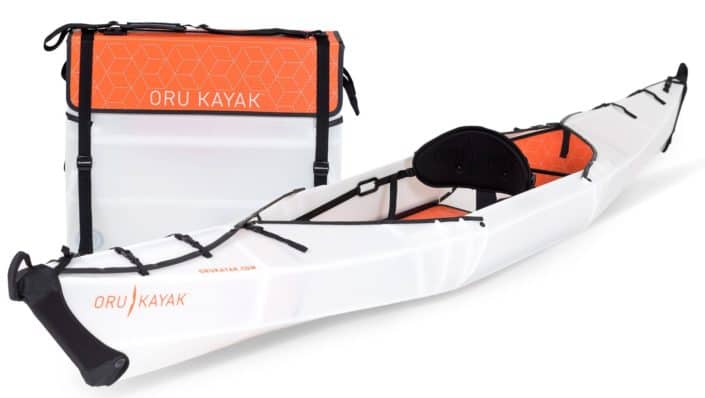 Though not an inflatable, the folding kayak Beach LT from Oru gives you the same sort of convenience and easy transportation as an inflatable.
Instead of inflating, the Beach LT is folded and the ridges provide a stable and responsive paddling platform.
Made of polypropylene, the Beach LT glides effortlessly over the water and the smooth sit-inside design makes for fast and easy paddling.
Snapping the parts together and taking them apart is easy with no pump required and ensure that no water remains trapped, a common issue with traditional inflatables.
Add in the large cockpit for easy entry and exit and a weight capacity large enough for weekend outings, and the Beach LT makes for an admirable, easy-to-transport kayak.
The large cockpit does allow waves to enter easier if not using a spray skirt
More expensive than most inflatables
Durable with pristine handling and stability
How to Choose the Best Inflatable Kayak
Consider What You Plan on Doing the Most
The first question you need to answer is what kind of paddling you see yourself doing.
Are you looking for a cheap and simple boat that you can transport easily for those lazy Saturday afternoons? Do you want to fish? Is there a whitewater river you want to tackle? How many kids or dogs do you want to bring along?
In general, the more specialized or challenging the water conditions, the more expensive and specialized kayaks become.
In the inflatable category, there's no shortage of cheap, stable boats meant for those recreational day trips on placid water. Many of these are great for taking kids out while the more durable ones can accommodate excited and unpredictable canines.
As you go up the price range, inflatables become more advanced. They may require a steeper learning curve when it comes to inflating and have more rigidity and an aluminum frame to help with tracking.
If you want to take your boat out for multiple days, make sure it has enough storage space to house your gear.
Single Vs. Tandem Vs. Convertible Kayaks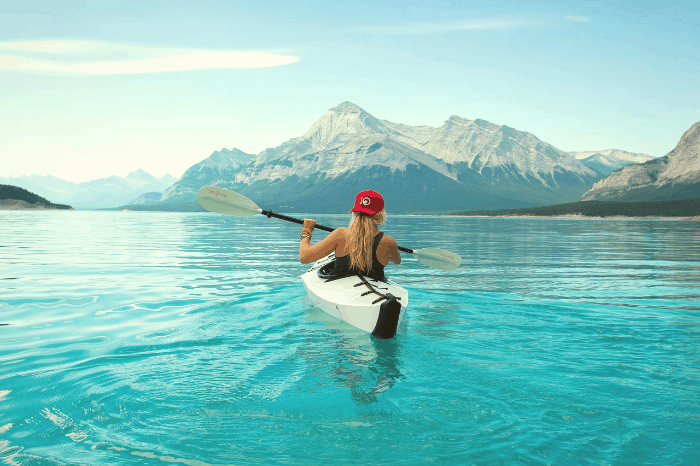 Most hard-sided kayaks are clearly defined as single or tandem boats. Tandems are ungainly and difficult to power and steer on your own while most singles don't have space for a dog, much less an extra person.
Convertible kayaks have the space for two people but the bow seat can be removed or retracted for single paddler use. This set-up is common with entry-level inflatable boats and can be a great option for couples that want to paddle together. The added flexibility and lightweight design of most models allow for easy transportation and set-up for one or two people.
Check the specifications and manufacturer's recommendation before purchasing. Most of these boats are stable but lack the performance to paddle in dynamic or changing water conditions.
Comfort & Portability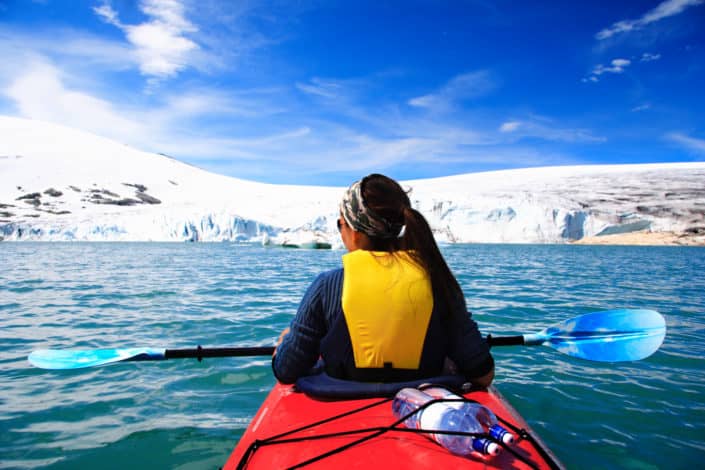 There are few things that will dissuade you from using your new kayak more than an uncomfortable seat.
If at all possible, try out your kayak before purchasing. Even if it means setting it up on the floor of the sporting goods store. Ensure that you have enough back support and the seat is padded.
For taller paddlers, make sure there's enough legroom and that the foot braces are in the appropriate places.
Try lifting the kayak both inflated and deflated and stored in its travel case to see if it's possible to move solo.
It shouldn't be hard to find a vehicle that will fit a deflated and folded kayak. But if you want to try moving your boat fully inflated, ensure that your vehicle has the proper rack and straps for safe transportation.
Finally, make sure to have a good kayak paddle that fits the width of your boat.
Sit-In Vs. Sit-On-Top Kayaks
The two primary kayak styles. Sit-in boats have a defined cockpit in which the seat is on the floor of the kayak. A spray skirt goes around the combing and keeps rain and splashing waves from entering.
Since you have a lower center of gravity, sit-in kayaks can maintain stability with a sleeker and more efficient design than sit-on-tops. Many have more dedicated watertight storage space and this along with the slim design and more protected cockpit makes them the preferred model for cold weather paddlers or touring.
Sit-on-tops keep the paddler further above the water line to compensate for the lack of a protected cockpit and keep water from splashing onto your exposed legs. Since you're sitting higher, the hull is wider and multi-hull or pontoon-style designs still give them great stability.
Watertight storage space is harder to come by, and while maneuverability is good, sit-on-tops often struggle to keep up with the slimmer sit-in cousins. Most are used for recreational trips although they've also become the preferred choice for fishing kayaks too.
Ease of Set-Up
Most inflatables are easy to set up and take'down with some practice, but going through the steps in a controlled environment first will help make it go easier the first time you launch.
Most entry-level boats come with a pump, but make sure one is included before purchasing. Most inflatables have multiple air chambers which adds redundancy and makes them harder to sink. Some of these chambers require different nozzles to inflate and may require an additional purchase. This is more common on more expensive models but always check before you buy.
If you want kayaks that are even easier to set up than inflatables, check out these best folding kayaks.
Extra Features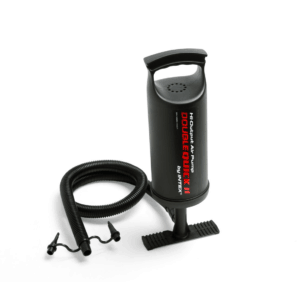 Depending on your kayak's primary function, some packages come with extra goodies to sweeten the deal.
The most common of these for basic boats is paddles. In most cases they won't be the best, but will be enough to get you out on the local lake.
Some sit-on-tops have scupper holes to allow water to drain and prevent pooling. Scupper plugs can be used in rough weather to keep water from sloshing into your seat. Sometimes these plugs can be included.
Conclusion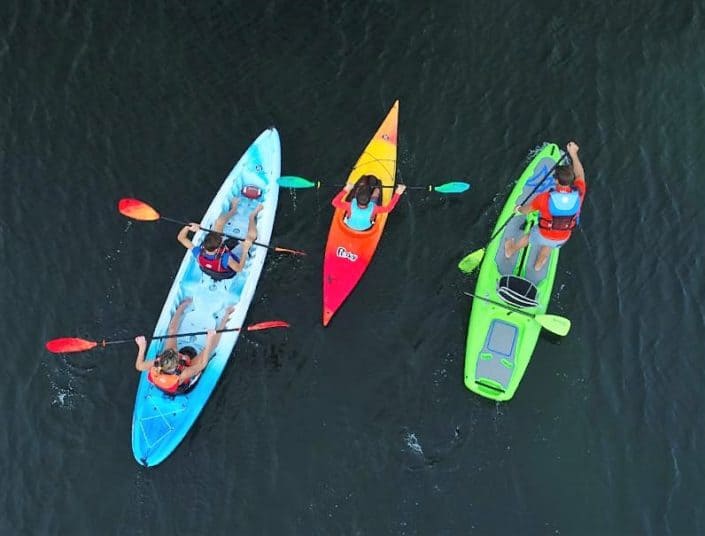 There's plenty of inflatable kayak designs to satisfy most needs and interests. The combination of stability, portability, and price makes them especially good for beginners.
The Advanced Elements Advanced Frame can keep up with some sit-inside hard-sided models at a fraction of the price and without the headache of worrying about storage.
While more expensive, the Oru Beach LT provides many of the same qualities along with a more durable hull.
For newcomers, Sea Eagle and Sevylor provide designs that have great stability and simple set-ups, allowing you to get your feet wet and see if kayaking is right for you.
What do you think of our list? Share your stories and feedback with us in the comments below.