Choosing your first kayak can be daunting. Most beginners want their first kayak to be stable, easy to use, and cost-efficient. For many, this means your first kayak will be an inflatable.
Luckily Intex has you covered, having produced inflatable products from swimming pools to kayaks for 40-years.
In my detailed Intex Explorer K2 kayak review, I was happy to find that it serves as a fine budget vessel for novice kayakers.
Coming with everything you need to get started including paddles and a pump, the Intex Explorer K2 can be paddled either solo or with a partner.
The boat is designed with beginners in mind. The wide hull provides superior stability in calm water. It's a forgiving craft, giving you time to learn the art of kayaking.
However, it struggles in rough conditions and should be limited to mellow lakes and calm rivers.
If you want a kayak with more versatility, I'd recommend higher-end inflatables such as the unmatched Advanced Elements Advanced Frame Kayak.
Pros:
Good maneuverability and tracking
Stable design is great for beginners
Easy to setup and takedown
Cons:
Performance issues in rough water
Included paddles are sub-par
Things To Consider Before Buying an Intex Explorer K2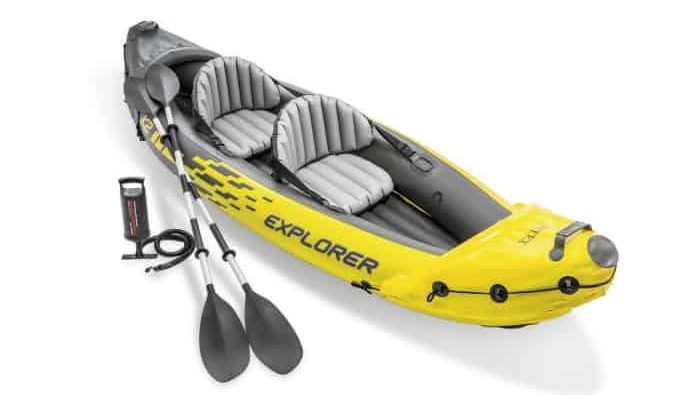 Designed as a recreational kayak, this model sports all the basic features and accessories for casual and first-time kayak owners.
When deflated, the Intex Explorer K2 can be stored almost anywhere. The small size and light weight make for easy transport via car, bicycle, or on foot.
Because of this, it has a limited storage capacity and is not a versatile vessel. From a safety perspective, it should only be used for simple day trips and I wouldn't recommend taking it on the ocean or in any fast-moving water.
Those who plan on paddling challenging waterways such as ocean crossings or rough rivers should look to a more versatile high-performance model.
Specifications
Length: 10 feet 3 inches
Width: 3 feet
Weight: 30 pounds
Load Capacity: 400 pounds
Design
Material
The Intex Explorer K2 is made of PVC (polyvinyl chloride). The standard material for most inflatable kayaks, PVC is flexible but durable. Designed to handle accidental bumps or drops, the kayak can endure some impacts such as paddling over a submerged rock or stick.
It can absorb more contact than you might expect. Inflatables have the unearned reputation of being fragile. But they can take a decent pounding. The PVC can even withstand the paws of your canine companions if you want to take them paddling.
You can improve the lifespan of your kayak by always carrying (never dragging) your kayak from the car to the water and coming into beaches carefully.
Speed
I hope you're not in a hurry when you're paddling an Intex Explorer K2. Unlike sleeker, faster kayaks, the design has a uniform width from bow to stern.
While this makes it more stable, it increases drag on the water and slows you down considerably. You won't be winning any races in this model
Maneuverability
Being so light makes the Explorer K2 more maneuverable on calm water compared to many of its competitors. While the performance will deteriorate in rougher conditions, beginners will appreciate how responsive and easy to turn it is.
Comfort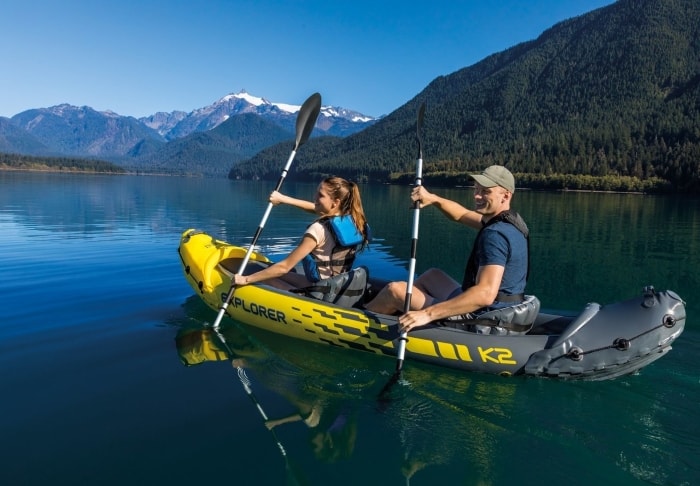 The Intex Explorer K2 comes with two inflatable seats that can be removed if you prefer. While you can't do much to adjust them, it's a reasonably comfy boat if you're just out for the day.
Being an inflatable, the seatbacks may not provide as much support as you like. Don't be surprised if you start to feel stiff after a while.
Those with longer legs may feel cramped in the back seat. If you're paddling solo, being able to remove one seat is a great feature and gives you plenty of legroom.
Stability & Tracking
On its own, the Explorer K2 has decent tracking in calm water. Any sort of wind or current can make it challenging to keep your course.
The boat does come with a removable skeg that is easy to attach. This greatly improves your tracking in all conditions and will make your first trip easier and less frustrating.
The wide hull may slow you down, but it makes this a kayak you can paddle with confidence. I don't know if I'd recommend trying to stand up, but this is a stable kayak that will allow you to shift and adjust with little risk of capsizing.
Should you flip over, it's wide design makes it one of the easier kayaks to get back in.
Durability
The PVC fabric should hold up for some time if treated correctly. Monitor your kayak when you inflate it. Listen for the sound of air escaping around seams and nozzles as this is where most leaks originate.
All kayak owners must deal with some repairs regardless of what they're made of. Your purchase comes with a collection of patches to cover any holes that inevitably crop up. While the patches are effective, the boat doesn't come with any glue so you'll have to purchase this separately.
The Intex Explorer K2 has two independent inflatable tubes that give it buoyancy. This redundancy also gives you peace of mind. Should one tube be punctured, the kayak will still float and buy you time to reach the shore.
After using, be sure to give the fabric time to dry out. Storing a wet inflatable kayak will weaken the fabric over time.
Portability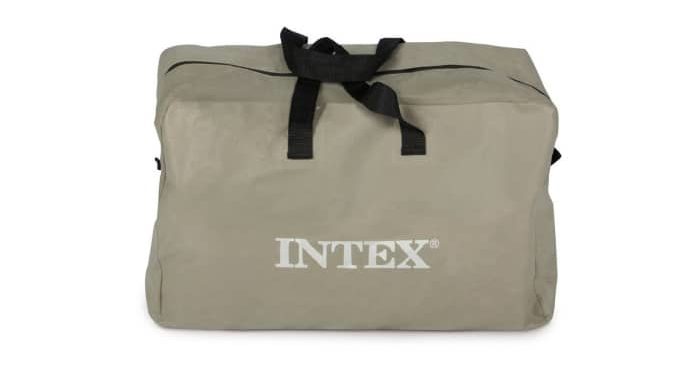 At a svelte 30 pounds, the Intex Explorer K2 is one of the lightest tandem kayaks on the market. When deflated, it fits in the included shoulder bag. While I haven't had any trouble with it, some have complained about the structural integrity of the carry bag.
When inflated, you can use the easy grip handles along the kayak's side to safely carry it to and from the water.
Features & Accessories
Skeg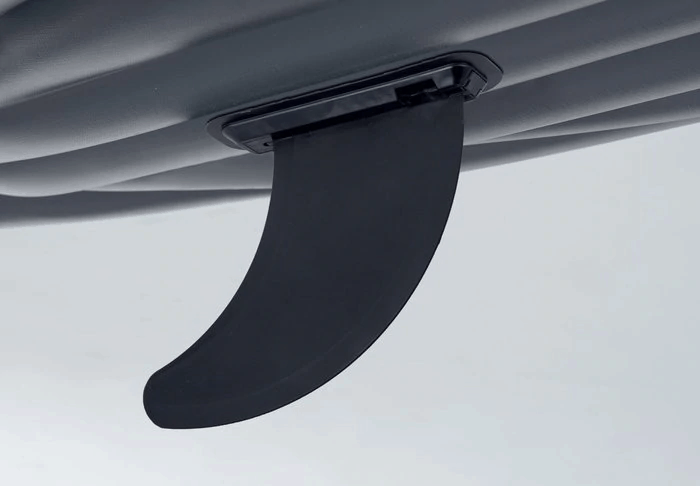 The kayak can be paddled with or without the included skeg. From a performance perspective I recommend always using the skeg to improve tracking.
In shallow water, the skeg should be removed to avoid dragging or catching on the bottom.
Storage Capacity

Being able to hold up to 400 pounds will accommodate most tandem paddlers. You won't find any storage compartments however so any gear you bring along will have to fit somewhere in the cockpit.
Paddle Holders
The Intex Explorer K2 does not come with paddle holders, which is normal for an inflatable kayak.
Included Accessories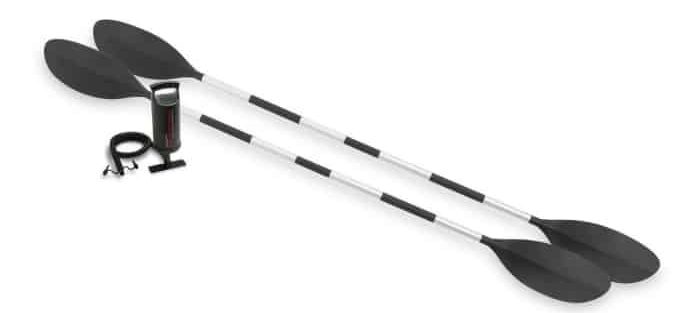 If this is your first kayak, chances are you're also needing paddles and the other necessary accessories. Intex has you covered. The Explorer K2 comes with most of the basic features you need.
The kayak comes with two paddles, a foot pump for inflating, a carry bag, and puncture patches. I was impressed with how well the pump worked and how quickly the kayak inflated.
The other products are more rudimentary. The paddles are fine for beginners but you'll want to upgrade if you plan on doing a lot of paddling. They're a little flimsy and won't generate a ton of force. This isn't a big deal if you're just out for an hour. But if you plan on paddling all day, you'll find them frustrating.
But for the price, I look at getting these paddles as more of a bonus.
Value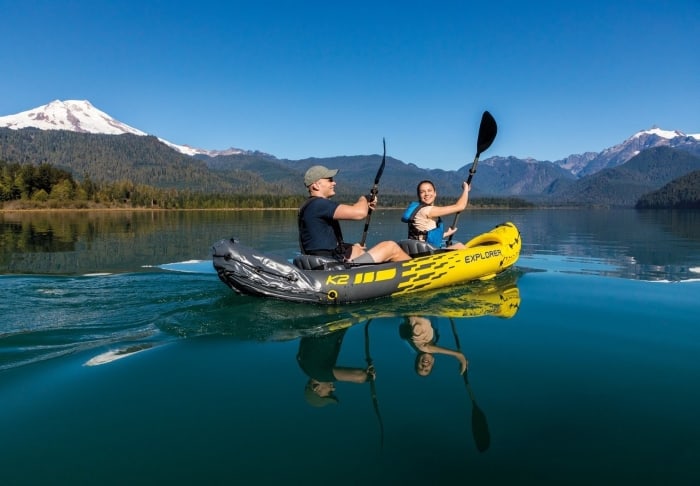 As an entry-level kayak, the Explorer K2 provides great bang for your buck.
It's far from a high-performing kayak and I question whether it should be used for anything besides tranquil outings on the lake.
But as an introduction to the sport or if you're looking for a way to spend a relaxing weekend with your family or friends, the cheap price and all the extra goodies you get make it worthwhile.
Just because you can't take it on raging rivers doesn't mean it's madfe poorly. The PVC fabric is plenty strong enough and I was pleasantly surprised with how maneuverable it was. The quick set-up, easy disassembly, and portability put it in worthy consideration for your first kayak.
Testimonials
After reviewing Intex's Explorer K2 I looked around online to find reviews from other owners to see what they thought. The majority of the reviews I found were positive with plenty of praise for its simple set-up and extra accessories.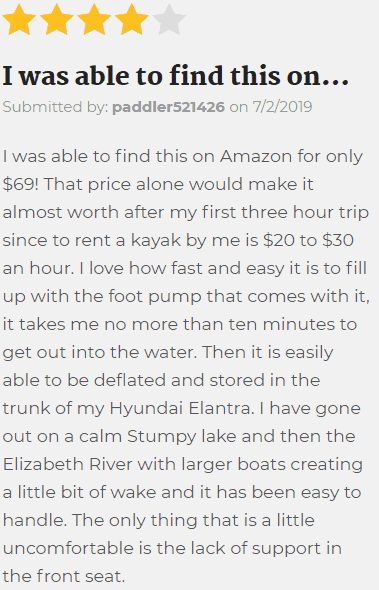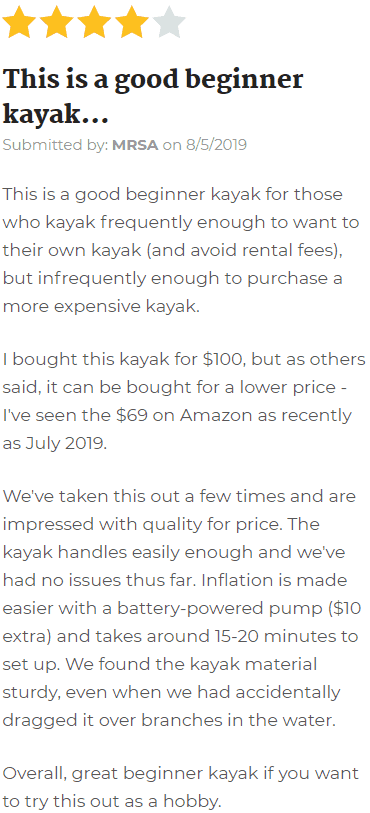 Alternatives
With their portability and cost-effectiveness, there are many inflatable kayaks designed for beginners.
Intex Challenger K2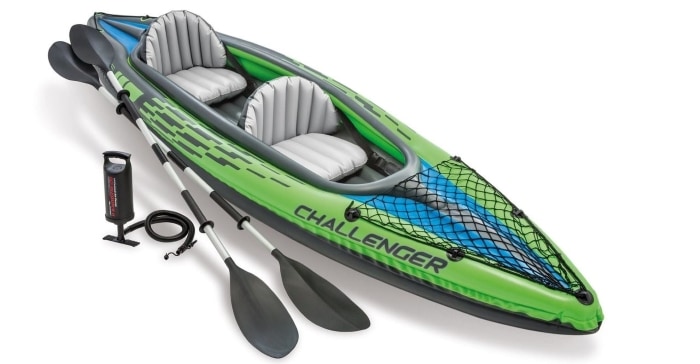 Another introductory tandem kayak from Intex. Like the Explorer K2, the Challenger K2 is a stable craft with a removable skeg that tracks and performs well in calm water. Keeping with Intex tradition, it comes with everything you need (excluding life jackets) to start your paddling career like paddles and a pump.
With a more elongated bow, it does have some dedicated storage space thanks to the bungee netting strung across it. That said, there's nowhere near enough storage space for anything besides day trips.
It's also a little longer and lighter, measuring 11 feet 5 inches and weighing 27.5 pounds. So you may be able to coax a little more speed out of it.
A bit faster and lighter than the Intex Explorer K2
Stability and included accessories make it a good starter boat
Performance issues in any wind or waves
Sea Eagle 330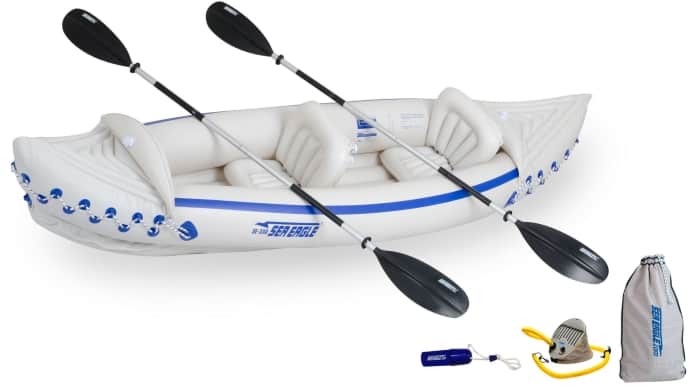 Lighter and able to hold a whopping 500 pounds, the Sea Eagle 330 is a higher-end, albeit more expensive, version of the Explorer K2.
Like the Explorer K2, longer-legged paddlers may find themselves cramped inside this ten-foot, ten-inch vessel.
The multiple tube design makes it durable to puncture, but also means it sits higher in the water than Intex's models. This makes it less stable in chop.
Two skegs can be attached to the bottom which improves tracking. While it may be a little better, I find that the performance remains similar to the Explorer K2 at a heftier price.
Larger load capacity but lighter
Sits high in the water, decreases stability
Similar performance to Intex's kayaks
Advanced Elements Advanced Frame Convertible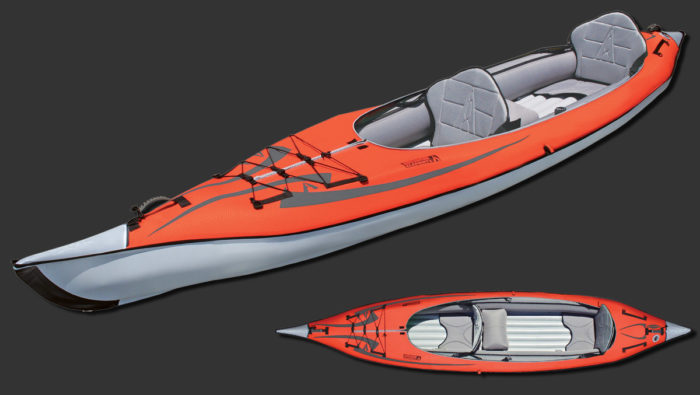 The easy choice if you're looking for a high-end and versatile inflatable kayak. Substantially more expensive than the Sea Eagle and Intex models, the Advanced Frame Convertible tandem kayak combines durability with superb performance.
This kayak from Advanced Elements can be paddled solo or tandem and cuts through wind and waves impressively for an inflatable. It handles more like a hard-sided kayak and is a great choice if you plan on doing more than day trips on the lake.
The aluminum frame makes it very durable but does make it heavier, checking in at 55 pounds. The set up is more in-depth and challenging for beginners and the weight doesn't make it as portable. But if you plan on spending a lot of time in your kayak and are willing to make the investment, the Advanced Frame Convertible leaves the competition in the dust.
Remarkable versatility and performance for an inflatable
Harder to transport and more challenging to set-up
Can handle all sorts of weather thanks to the aluminum frame and two skegs
Read our full Advanced Frame Kayak Review.
Conclusion
While not the highest-performing kayak, the Intex Explorer K2 makes for a fine tandem kayak for beginners.
I love the versatility of being able to remove a seat for solo trips, and the lightweight construction makes it one of the easiest kayaks to carry whether it's inflated or not.
The inclusion of a pump and paddle are great values and the ease of setup can help with any intimidation you feel the first time you head to your local lake.
With proper treatment, the Explorer K2 can be enjoyed by a wide range of age groups looking to start their paddle career. For more, check out Intex's official website for pricing and availability.