For those that don't have the space to store a hard-sided kayak, there's a world of easy-to-transport folding kayaks available. But which is the best folding kayak for you?
In our folding kayak reviews, we'll break down the best folding kayak in several categories. So whether you're a seasoned paddler or are new to the sport, you can find the best model for you.
Best Folding Kayaks in 2023
Classified as a touring kayak, the Oru Kayak Bay ST can handle most voyages.
At home on lakes, oceans, and rivers up to a Class II rapids rating, the design does an excellent job of combining speed and stability thanks to the 25-inch beam and speed.
This, along with the surprising maneuverability, makes it a nice choice for both beginners and experienced paddlers alike.
Portability is fantastic. Folded down and empty, the Kayak Bay ST weighs just 28 pounds and can even be carried on foot.
A double-layered hull and hard chine improve the rigidity and durability, so you don't have to worry about rocks or damaging your boat when moving it.
Compact, easy to carry size when folded
Capable of low-intensity whitewater paddles
Folding and unfolding on your own can be challenging
No paddle included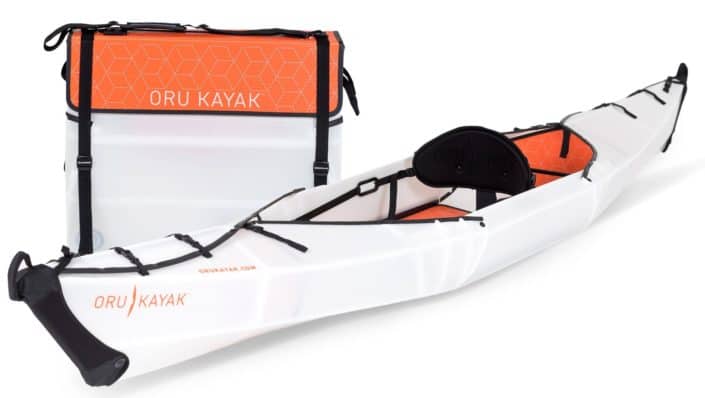 With a similar construction and the same material as the Kayak Bay ST, the Beach LT from Oru prides itself on stability. This stability makes it great for beginners.
The cockpit is wide and spacious, with room for an adult and a smaller child at the same time.
You also get the same lightweight design with the Beach LT checking in at 28 pounds too.
The broad beam and a little extra storage space also make it great as a fishing kayak, particularly if you buy Oru's fishing kit.
Fantastic stability and easy to paddle
Versatility and ability to be a fishing kayak
Performance suffers in rough water. Not for rapids.
Room for an adult and a child

The first origami-style kayak ever developed, I'd trust no one but Oru to venture into this uncharted territory. For their first foray into this field, they've done a heck of a job.
I was really impressed with how compact it was when folded up as it shrunk to the size of a large suitcase.
But despite all the folding required to get it to this size, the folds are strategically placed, so these seams don't compromise the boat's on-water performance.
The tracking and speed remain very impressive thanks to these fold patterns and the rigid hull design.
There's the versatility to switch between solo and tandem configurations, which provide maximum flexibility.
It's like getting two boats in one. They've even added a track accessory system so you can outfit your boat with rod holders, cup holders, and more.
One of the more expensive tandem kayaks
16-feet long but weighs just 40 pounds
Maximum versatility and flexibility
Not compatible with Oru's pack accessories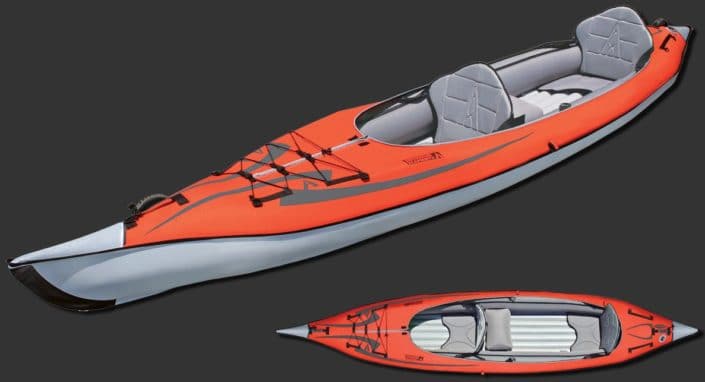 At fifteen feet long, Advanced Elements' Convertible can be paddled either solo or tandem.
Easy to adjust velcro straps allow the seats to be repositioned and allow you to pivot seamlessly from the tandem and solo set-ups.
There's even more versatility thanks to a zipper seam that lets the boat change from an open to closed deck depending on the weather and water conditions.
Three layers of sturdy fabric are wrapped around a pair of U-shaped pieces of aluminum and provide plenty of durability and enhance the boat's tracking.
Rigidity is made even tougher with a high-pressure floor that is especially noticeable when traveling through mild chop or waves.
It is heavier than a lot of the kayaks on this list, weighing 52 pounds. It also doesn't fold down quite as well, making it bulky and cumbersome to move from place to place.
The large 550-pound load capacity more than makes up for this inconvenience, in my opinion.
Inflation is easy, but there's no pump included
Heavy and hard to move
Able to be paddled solo or tandem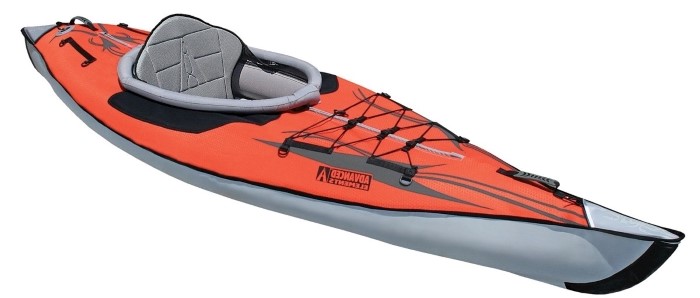 The Advanced Elements Advanced Frame is one of the sturdiest and highest-performing inflatable kayaks out there.
Built-in aluminum ribs give it unsurpassed rigidity and increase the stability to the point that you can take it into waters you wouldn't dream of taking most inflatables.
Three durable layers of fabric cover the Advanced Frame, and multiple air tubes add redundancy in the event of a puncture.
On the water, it can hold its own with some hard-sided kayaks with decent speed and tracking thanks to the included skeg.
Set-up and inflation process is challenging at first
Enough storage space for an overnight trip
Great performance for an inflatable
Compact size may make it uncomfortable for tall paddlers
Read our full Advanced Elements Advanced Frame review.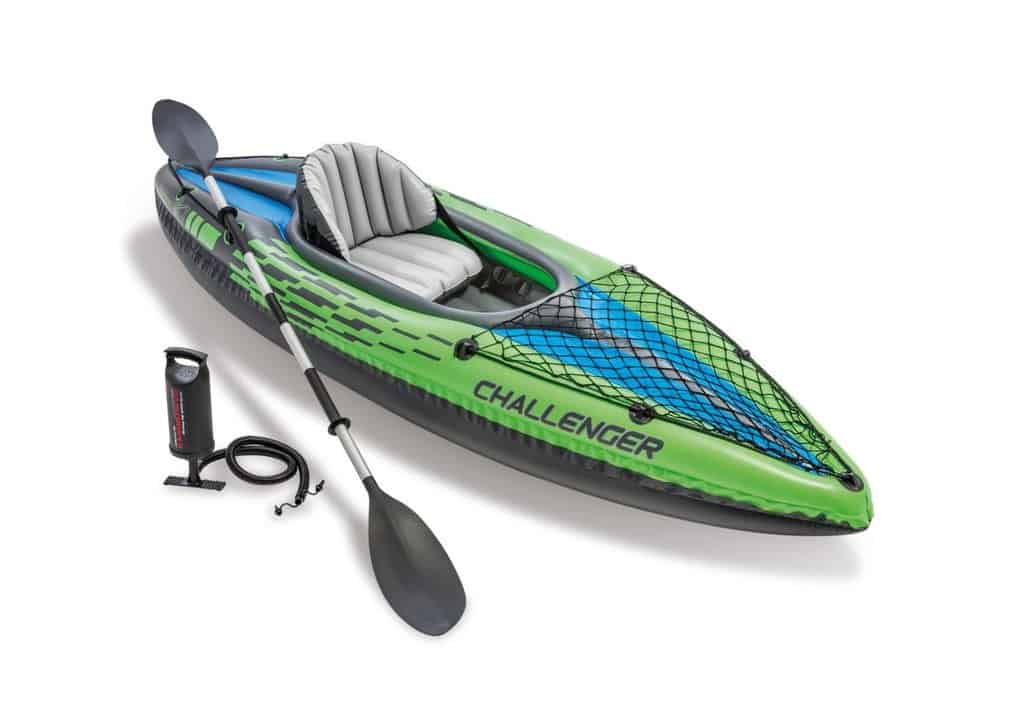 This is about as basic as they come. One of the cheapest kayaks on the market, the Intex Challenger K1 is light, simple, and easy for beginners.
It's easy to paddle and maneuver, which new-comers will appreciate while the set-up and inflation are simple and intuitive.
Durability is better than you'd expect thanks to the sturdy fabric and multiple air chambers.
But it is not a boat that should be used for anything besides simple day trips at your local lake.
Tracking suffers if there is any wind or waves to speak of, and the short length means that you won't be going very fast.
Storage is limited to a large bungee net that's stretched across the bow.
It's just 24 pounds though, which makes transportation a piece of cake and means that little planning, logistics, or storage space is required.
One of the cheapest inflatable kayaks on the market
Stable enough for beginners
Disappointing performance in any sort of wind or waves
Simple set-up and takedown
Pump and paddle are often included with your purchase
Read our full Intex Challenger K1 review.
How to Choose the Best Folding Kayak
Consider What You Plan on Doing the Most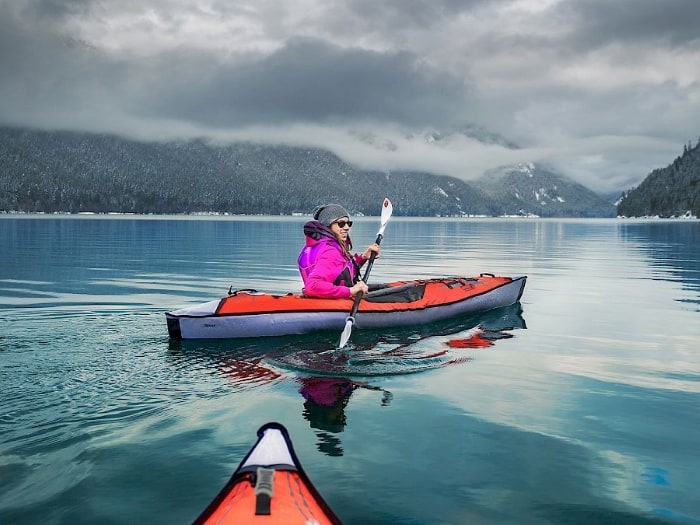 The first question you need to answer when shopping for any kind of kayak is what sort of paddling you plan on doing.
The more ambitious your kayaking adventures, the heftier the price tag and more specialized your boat will need to be.
If you're new to the sport or see yourself only heading out for the occasional weekend outing on calm, mellow lakes, then selecting a cheaper kayak may be for the best. It won't perform as well but will still be easy to paddle and maneuverable.
The same goes if you want to take your kids or dog with you.
Cheaper and stable with lower performance is the way to go. If you are planning on having your canine companion(s) accompany you, make sure the boat you buy has a reinforced deck that can handle their claws.
If you plan on making multi-day trips (also known as touring), then you'll want a more high-end boat. Look for a kayak with a longer keel, which increases speed, and make sure there's enough storage space to hold all your gear.
I'd recommend that at least one of these storage areas be watertight. Few things in life are as frustrating as crawling into a wet sleeping bag at the end of the day.
Sit-In vs. Sit-On-Top foldable kayaks
Once you know what sort of paddling you want to do, it's time to choose between the two primary kayak designs.
Sit-in kayaks have a cockpit in which your legs, waist, and hips are protected from rain and splashing waves. This protection can be further enhanced by wearing a spray skirt that wraps around the cockpit.
You have a lower center of gravity in a sit-in kayak, and as such, they can be slimmer and more efficient without compromising their stability.
They're the preferred model for most multi-day designs as well as river and sea kayaks that perform at a higher level. As such, they generally have a steeper price tag.
Sit-On-Top kayaks don't have a defined cockpit. They're easier to get in and out of, but your legs are exposed to the elements.
Because of this, they tend to ride a little higher in the water, which raises your center of gravity.
To compensate for this, they're wider and bulkier than sit-in kayaks, which can make them less responsive and slower.
Most hard-sided recreational kayaks are sit-on-tops, and you can also find a lot of fishing kayaks that use this set-up.
They're best used in warmer climates where splashing waves or rain may be a welcome respite from the heat as opposed to chilling you to the bone.
Inflatable vs. Origami kayak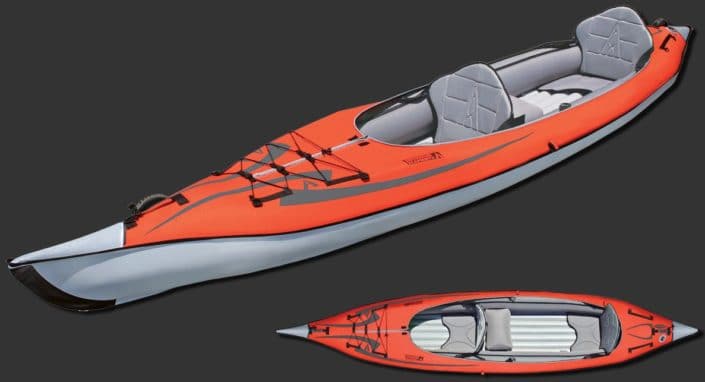 The two most portable and easy to store kayak designs, there are several differences between inflatable and origami kayaks.
Inflatable kayaks are filled with air, usually in multiple air tubes. I-beam construction, often with aluminum, provides rigidity and enhances stability.
They're more durable than you may think with tough UV-resistant fabric exteriors that are often made of several layers. It's important to make sure that they're inflated properly or performance and stability will suffer.
While some companies like Advanced Elements have produced higher-end inflatables that can compete with hard-sided models, most fall into the recreational category and should be limited to day trips on calm and predictable waterways.
Conversely, origami or folding kayaks are made of flexible but non-inflatable materials. To assemble, the material is folded to support itself. This can make the learning curve a little higher, and some models are difficult to assemble on your own.
They tend to be more durable than inflatables since there are no air tubes to puncture. Rigidity and performance tend to be better, and you don't have to worry about an underinflated boat compromising your paddle.
Folding kayaks have a designated number of "fold cycles," which refers to the number of times it can be folded and reassembled before the seams become compromised. This is listed in the product's specifications and is usually around 20,000.
Tandem or Single folding kayaks
Inflatables and Origami style kayaks provide more flexibility in this category than traditional hard-sided kayaks can.
Today we have the luxury of several inflatable and origami kayaks that can pivot between tandem and single settings.
Tandem boats are generally longer and heavier. If your boat is solely for tandem paddling, don't attempt to paddle it by yourself.
A single paddler doesn't have the strength to safely paddle and maneuver a boat with a longer keel and width than a single kayak.
In most cases, a tandem paddled by two paddlers in sync can move appreciatively faster than a solo paddler thanks to their combined strength and the boat's longer keel.
Single kayaks tend to be more maneuverable and are easier to store and transport due to their shorter length and lighter weight.
Best Folding Kayaks – FAQ
What is the best folding kayak?
The best folding kayak is the Oru Kayak Bay ST because of its good mix between speed, stability, and tracking. While it may not be the cheapest folding kayak out there, it's the one providing the best value.
what is a folding kayak?
As the name suggests, a folding kayak is a kayak that can be folded to fit in a carry bag or a backpack. This allows folding kayaks to be much easier to transport and means you could hike to a distant beach and paddle there. It also means you don't need any special car setup to carry your kayak, you can just put it in the trunk or on the seat.
what types of portable kayaks are there?
As mentioned, there are 2 types of portable kayaks:
Folding kayaks (also called foldable kayaks)
Inflatable kayaks
Both have their pros and cons. But mainly, folding kayaks feel and perform more like hard-sided kayaks, while inflatable kayaks are typically more durable.
How many times can you fold an Oru kayak?
You can fold an Oru kayak 20,000 times without weakening the hull, according to the manufacturer. In my experience, Oru kayaks are quite durable but the hinges do weaken over time.
best folding kayak – Conclusion
The excellent flexibility and smaller storage space make folding kayaks a great choice if your storage space is limited.
With such a wide price range and variability in the designs, there's plenty of options on the market.
But if we're going for the best of the best, it's hard to quibble with what Oru is doing with their Bay ST design. I love its versatility and the ability to take it out overnight or down rivers.
A close runner-up is Oru's new Tandem. Able to be paddled solo or tandem, I love the longer keel, the speed, and surprising maneuverability.
What do you think of our list? Did we miss anything? Share your thoughts and kayaking stories with us in the comments below.