For casual anglers and kayakers that want to take on some more challenging conditions, finding an appropriately priced kayak can be frustrating. Too many are limited to the calm mill ponds and mellow rivers.
But what if you want to fish some challenging waters without breaking the bank? Luckily for us, the South Carolina based kayak company Perception has us covered with the Pescador 12.
Stable and capable of handling surf and moderate ocean environments, the Pescador 12 can take you to your favorite fishing holes without breaking the bank.
In our Perception Pescador 12 review, we'll break down our favorite features including a comfortable seat, several custom options, and a top speed that may surprise you.
Pros:
Price effective kayak that can handle protected ocean waters
Impressive top speed without sacrificing stability
Comfortable seat for paddlers of all heights
Cons:
No paddle holder
Not stable enough to stand and cast from
Beginners may struggle with tighter turns
Things to Consider Before Buying

Like all of Perception's kayaks, the Pescador 12 is a hard-sided kayak made of plastic. While this makes it more durable with better performance than an inflatable model, they're also heavier and harder to store.
Make sure you have a good spot to keep your kayak when not in use. Ideally, this will be in a garage or other climate-controlled area, but a shed or similar location will also do as long as it's protected from the elements.
At 12-feet long it may be hard to store in the bed of some smaller pick-up trucks and impossible to fit inside a smaller vehicle. Instead, consider investing in a kayak rack with the appropriate straps so that you can safely get it to the beach.
The Pescador 12 is a "sit-on-top" kayak, a common design for recreational and fishing designs. These boats are wider than sit-in kayaks and provide noteworthy stability that makes them attractive to newcomers. Speed and tracking are usually poorer however making them best for more casual day trip outings or the occasional overnight.
The cockpits are wide and spacious making it easy to get in and out of and you won't get cramped while on the water. But they provide little to no protection from the elements.
If you live in a cold or rainy environment, it may be worth investing in a sit-in kayak like the JoyRide 12.0, also built by Perception. It's similarly priced with many of the same custom options but will do a much better job of keeping you dry in rainy or windy conditions.
Specifications
Length: 12-feet
Width: 32.5-inches
Weight: 64 pounds
Load Capacity: 375 pounds
Design
Material
Like most hard-sided recreational kayaks, the Pescador 12 is made of a tough and durable plastic called polyethylene.
Rigid and difficult to puncture, this plastic should be able to handle any small drops or collisions. With proper maintenance and good habits, you can expect a plastic kayak to last years if not decades.
Speed
The Pescador 12 is a little narrower than most similar recreational and fishing kayaks. But this coupled with a 12-foot keel coaxes a better top speed out of this model.
You won't be able to keep up with a swifter touring kayak, but you can expect to set the pace if your friends have shorter and wider kayaks.
Maneuverability
While there's no rudder or skeg included with the Pescador 12, it is still responsive with a respectable turn radius and you can purchase one if you wish.
The longer keel may make it a bit more challenging for newcomers however as it will take a few more paddle strokes to complete a turn when compared with a shorter boat.
I'd recommend taking it on in calm, protected water and staying close to shore at first until you have a better idea of the boat's capability and your experience level.
Comfort
Pescador is so confident in their seat they gave the design its own acronym. The CSS (Comfortable Seating System) has a molded seat design that includes padding for both your back and your seat.
As a taller paddler, I love the adjustable backrest that can be raised and lowered that gives great support for both taller and shorter paddlers.
Adjustable foot braces run along a track to help you find the perfect position. I prefer these to the multiple footwell design some competing boats have which tend to have "dead space" between the wells that my feet always seem to find. In addition to keeping you comfortable, these braces take the stress off your lower back and improve paddling efficiency.
Stability & Tracking
The Pescador 12 is a reasonably stable kayak that you can feel comfortable and safe in while you reel in "the big one."
But unlike some similar fishing kayaks that allow you to stand and cast, the Pescador 12 isn't approved for that.
This may or may not be a big deal, it's a trade-off for having a narrower keel with a better top speed.
Standing and casting does allow you to get better distance and accuracy with your casts. The improved angle also helps with spotting schools of fish swimming by. But for normal paddling, the boat should feel fine in most conditions.
Another benefit of the long keel is improved tracking. The Pescador 12 does a pretty good job of maintaining the course, especially in calmer waters.
If you plan on venturing further from shore or onto the ocean, I'd consider investing in Perceptions Rudder Accessory Kit. This will improve your turning and tracking in rough water and keep you from spinning broadside to the waves or wind.
Durability
With proper care, you can expect your Pescador 12 to last a long time.
While polyethylene is tough, you can extend the lifetime of your kayak by always carrying (instead of dragging) it to and from the water.
Over time dragging your kayak can cause the plastic to chip and peel which weakens the hull and can decrease your paddling speed.
For storage, keep your boat out of direct sunlight as UV rays can warp and weaken the molding and seams with extended or prolonged exposure.
Portability
For a 12-foot boat, I think 64-pounds seems like a reasonable weight for a plastic kayak. For tandem carries there's a flexible handle on the bow and stern that makes it easier.
Always carry your kayak without any additional gear in it. Even if you feel like you can safely move it with the extra weight, it will cause your kayak to bend or "bow" in the middle over time and compromise its durability.
Features & Accessories
The boat does come with gear tracks in which you can install a paddle holder, but there's not a dedicated one built into the design. If you plan on doing a lot of fishing this may be a worthy investment.
There aren't any extra goodies like an included paddle or similar throw-ins that are sometimes included with recreational kayaks. Perception does make pedals though that are specifically tailored to their boats design. All purchases include a five-year warranty so you're covered should anything go awry.
Fishing Ease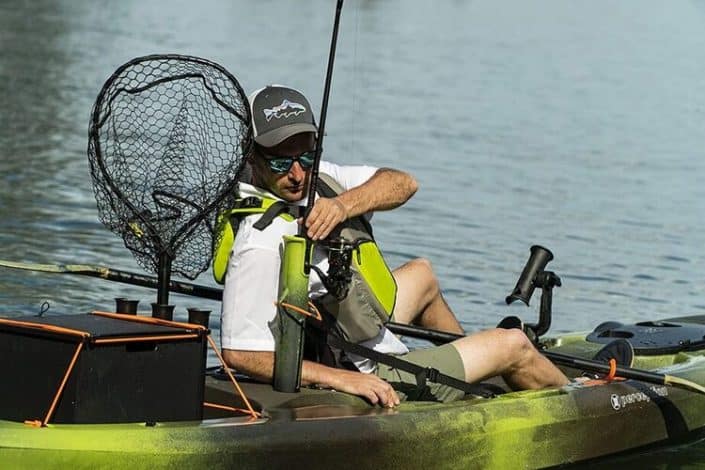 The Pescador 12 comes with several of the fishing accessories that have become standard issue for fishing kayaks in recent years.
The basic package comes with a pair of rod holders and another mount for outfitting. In addition, there are multiple gear tracks for further customization of your craft that allow you to install additional rod holders, a GoPro, a fish finder, or any number of other gadgets that will help you on the water.
The primary storage area is an open tank-well in the stern with deck bungees stretched across the top. It's a great place to keep a tackle box, cooler, and other gear that can be exposed to the elements.
Two watertight storage spaces are further forward. A smaller one that's accessible from the cockpit is great for personal gear and day use items. A medium-sized hatch is located in the bow.
The Pescador 12 has a load capacity of 375 pounds (bear in mind this includes the paddler's weight as well). This should be suitable for day trips and overnight journeys, but be sure not to overload your kayak as it can make it sit lower in the water and more susceptible to swamping or capsizing.
Value
For a decent-sized fishing kayak with a good amount of custom options, solid stability, and speed, I find the Pescador 12 to be reasonably priced. If you have the technical know-how and are willing to install a rudder, it really increases the number of places and conditions you can safely go.
I do wish the load capacity was a little larger so I felt safer going out on longer trips, but for casual users looking to go out for the day or the occasional overnight trip, the 375-pound threshold should be more than adequate.
The one thing that may be a deal-breaker is that it isn't stable enough to stand and cast. If that's important to you, it's best to look elsewhere. Just be prepared to spend a little more and be willing to sacrifice some speed for the luxury.
Alternatives
Perception Pescador Pro 12

With a very similar design to the Pescador 12, the Pro design can handle most of the same water conditions. 
It's lighter than a lot of 12-foot kayaks which makes transportation and carrying easier, but like Pescador 12, this does cost it in the load capacity category as it can only carry up to 375 pounds.
Like most of Perceptions 'Pro' designs, the difference is in the additional custom features. Multiple rod holders and accessory mount options give you the customization opportunities that anglers crave while the adjustable seat has received many positive reviews.
Versatile design with comparable stability and maneuverability to the Pescador 12
Different mounts and gear tracks allow for customization 
No watertight hatch or central console
Read our full Pescador Pro 12 review.
Ascend FS12T/FS128T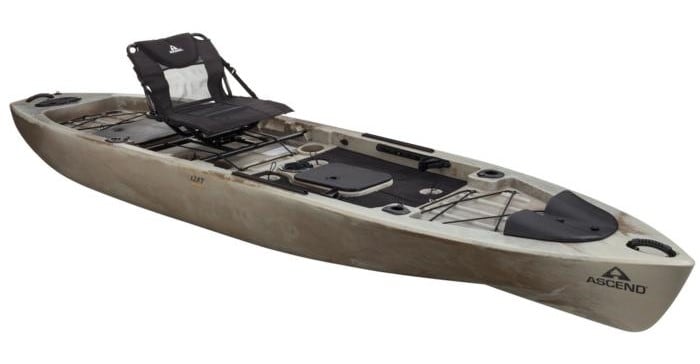 With fantastic stability and tons of storage, the Ascend FS128T is great for beginners and more experienced paddlers alike. The FS12T is very similar to the 128T design but is a little skinnier and lighter.
Both designs are rated as stable enough to allow for standing and casting which can be a huge advantage. Multiple watertight storage areas and one of the most comfortable seats in the kayak market highlight its list of features.
I do wish the designs had more custom features like some of the Perception and Sea Ghost models have, but you do get four rod holders and the boat does have the ability to have an anchor placed on it.
The lack of a rudder or skeg can be troublesome when you're adrift in waves, wind, or current as it can blow you off course.
No rudder or skeg
Great stability
Four rod holders
Read our complete Ascend FS12T review.
Perception Pescador 10

A smaller version of the Pescador 12, measuring ten feet, the Pescador 10 is best suited for the more protected waters of lakes and rivers. The shorter keel does improve maneuverability, but tracking and speed are limited making it tough to handle in windy or wavy conditions.
For the price, you get several custom gear track features so you can outfit your kayak however you see fit along with a couple of rod holders and a big open-air stern storage area.
It doesn't include quite as many gadgets as its fancier cousin, the Pescador Pro 10, but at this price range, it gives you a nice blend of stability, maneuverability, and fishing ease. 
Several customization points
Maneuverable and stable
Sluggish top speed
Read our complete review of the Pescador 10.
Conclusion
As a mid-range recreational or fishing kayak, the Pescador 12 is a worthy choice. It's not going to 'wow' you with a particular feature or function, but it's a tough and reliable design with solid speed and enough customization features to satisfy most anglers.
Add in the reasonable price and I believe it's worth paying a little more to get above the more bare-bones hard-sided and inflatable fishing kayaks to get to something that can tackle more saltwater conditions, especially if you take the time to install a rudder.