If you're looking for a reliable fishing kayak that's a little more high-end but still doesn't break the bank, Perception has several models that may do the trick.
For more than 40 years, this South Carolina based kayak company has been fine-tuning and refining their recreational and fishing designs.
One of the more high-end models is the Pescador Pro 10, not to be confused with its little brother, the Pescador 10.
What sets it apart is additional gear tracks for further customization and a more secure set-up for your GPS and fishfinder.
We'll break down all of its features and what makes it such a nice mid-range option in our Pescador Pro 10 review below.
Pros:
Multiple gear tracks for customization
Ability to install a fish finder or GPS
Comfortable, stadium-style seat that can be adjusted up and down
Cons:
Best suited for calm water where waves are less than three feet
No rudder or skeg
Open cockpit makes it best for warm water fishing
Things to Consider Before Buying a Perception Pescador Pro 10

For a hard-sided kayak, the Pescador Pro 10 is one of the more accessible and easy to handle models. It's not too heavy and the long keel and wide hull gives it above average tracking and stability.
Added together, this makes it a nice choice for newcomers and casual fishermen who are looking for something with a few more bells and whistles than the more basic Perception model, the Pescador 10.
Hard-sided boats can be more logistically challenging. If this is your first kayak or you live in a small apartment with minimal storage space, it may be cheaper and easier to go with an inflatable model that can be stored in a closet when not in use. Make sure your car has a proper kayak rack and you find a good method for safely securing it.
Like many fishing kayaks, the Pescador Pro 10 is a sit-on-top model. This gives you a better vantage point of the water which allows you to get improved distance and accuracy on your casts. The open cockpit design also makes it easier to get in and out.
But it won't be very useful in cold weather or places with a lot of precipitation as there's no way to protect yourself from the elements. Splashing waves and falling rain will quickly soak you. If you live in a colder region, it may be worth getting a sit-in kayak like the Tsunami 125 which provides more protection, especially if you use a spray skirt.
Specifications
Length: 10 feet 6 inches
Width: 32 inches
Weight: 57 pounds
Load Capacity: 325 pounds
Design

Material
Like most hard-sided recreational and fishing kayaks, the Perception Pescador Pro 10 is made of a tough plastic material called polyethylene.
It's a great choice for newcomers as it's close to indestructible. It'll absorb most accidental drops or on-water collisions with little more than a scratch.
With that said, that doesn't mean you should treat it as carefully as you can. Whenever possible, carry your kayak to and from the water's edge and avoid dragging it. These scratches and peeling plastic will accumulate over time and will start to affect the boat's speed and paddling efficiency.
Maneuverability
Quick and responsive to your paddle strokes, the Pescador Pro 10 is a joy to paddle. It's great if your fishing hole is in a tight corner that requires precise paddling to get in and out of.
Beginners will also appreciate the tight turning that can make learning the finer points of paddling easier.
Comfort
If you're going to be waiting patiently for the fish to bite, you'll want a comfortable seat. Perception has always taken pride in their seat design, and they've gone above and beyond with the Pescador Pro 10.
The kayak comes with a stadium-style seat that is padded for both the back and the bottom. It's adjustable back and forth like most kayak seats, but can also be raised and lowered.
This is especially useful when you've reached your fishing spot.The higher vantage point will help you spot fish and also improve the distance and accuracy of your casts.
Stability & Tracking
Anyone who's had a fish on the line knows that the next few minutes are intense, exciting, and unpredictable. The last thing you want to feel is your kayak tipping precariously underneath you.
The Pescador Pro 10 is built with stability in mind. Between the wide hull and long keel, it feels reliable underneath and can accommodate the sudden shifts in weight and balance that can occur with a fish on the line.
There's a lot of fishing kayaks designed to allow you to stand and cast without fear of capsizing. The Pescador Pro 10 is one of these. I would caution you to try it on calm water first before attempting to stand in any wind or chop. You may find it only feels safe when conditions are perfect.
At ten-and-a-half feet long, the Pescador Pro 10 falls somewhere in the middle as far as length. But it tracks pretty well for its specifications and can maintain a straight line with minimal effort. This can become a bit more difficult in windy or wavy conditions as there's no skeg or rudder to help you compensate and you must rely solely on your paddle stroke to stay on course.
Durability
The Pescador Pro 10's plastic hull is one of the most durable kayak materials. If treated properly you can expect it to last a really long time.
One of the few ways it can be damaged or weakened is prolonged UV exposure. If possible, store in a place away from direct sunlight and precipitation to keep it from becoming weathered and the material from getting flimsy and malleable.
Portability
One drawback to a plastic kayak's durability is that they're heavier than other hard-sided boats made of fiberglass or wood.
At 57-pounds the Pescador Pro 10 isn't outrageously heavy, but it can still be a challenge to lift onto the top of your car and most people won't be able to carry it on their own.
To make it simpler, molded handles are laid into the bow and stern to make tandem carries simpler. I do wish they were padded as the hard plastic can dig into your hands for longer portages. If you'd like, it'd be easy to install some softer and moldable handles to make it more comfortable.
Features & Accessories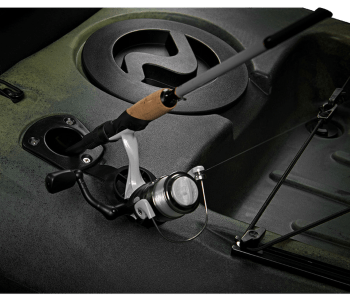 This is what sets the Pescador Pro 10 apart from the vanilla Pescador 10. It comes with a pair of rod holders, a smaller number than some boats in this class but seems like a reasonable number to me.
A paddle holder keeps it out of the way when you're fishing and allows you to have both hands free to cast.
Additional gear tracks provide you with more flexibility to outfit your boat however you see fit. Want additional rod holders? How about a spot to hold a camera or GoPro? The universal track system makes it easy to add and swap items.
The cockpit also has these handy little recesses which are perfect for storing your spare fishing tackle and line.
A central console allows you to securely install a fishfinder or radio that is within arm's reach and easily visible from the cockpit.
Fishing Ease
The Pescador Pro 10 is designed for lakes and rivers. It tracks fine as long as the conditions are good, but if the wind picks up or the waves get bigger than a couple of feet, the lack of a skeg and rudder can make the tracking difficult.
Stability is pretty impressive, and it can handle sudden shifts in weight. If you feel comfortable standing and casting, the Pescador Pro 10 is rated to handle it. Just try it on calm water near shore the first time you attempt it.
There's enough storage space to allow for weekend trips. There's a large watertight stern hatch with a smaller access hatch you can reach from the seat. Deck bungees allow you to pile additional gear on top of the stern hatch. The bow tank-well has a mesh cover as well.
The load capacity of 325 pounds is a little light compared to some other fishing kayaks. But that should still allow most paddlers to safely fit everything they need for a night or two.
Value
Perception's kayaks have always seemed reasonably priced to me, especially when you factor in the custom options that should satisfy most casual and first-time kayakers.
A little extra bonus like a paddle or something similar would be nice, but I'm willing to overlook that when I take into account the kayak's combination of stability, tracking in calm conditions, and storage capacity.
Alternatives

A cheaper and more stripped-down version, the Pescador 10 has similar on-water performance to the Pescador Pro 10.
It does have a few custom options (the Pro version has more) and the molded recess for the fish finder doesn't feel as secure. You do still get a couple of rod holders and for lakes and rivers, it's a reliable and stable craft.
The seat is comfortable, but it's not the "stadium-style" seat you get with the Pro and can only be adjusted back and forth, not up and down.
A cheaper and simpler model of the Pescador Pro 10
Still has some custom features
The seat doesn't go up and down
Read our complete Perception Pescador 10 review.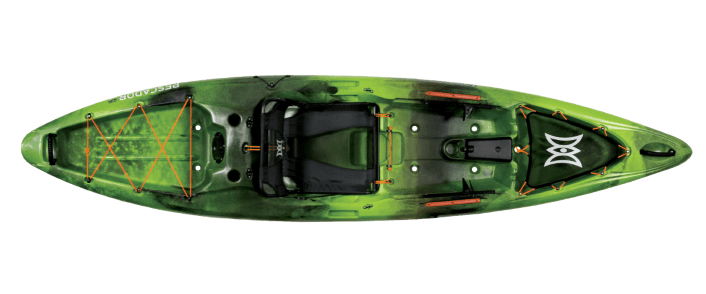 A longer, more spacious kayak than the Pro 10, the Pro 12 measures 12-feet in length. This gives it improved tracking as well as some extra storage space in its bow and stern hatches.
Besides the added length and storage, it's similar to its smaller Perception brethren. You get the same custom option and rod holders to go along with recessed holders for your fish finder or GPS.
There's still no skeg or rudder in the design, however, so while it will stand up to waves and wind a little better, I still don't think it's a boat you'll want to take into dynamic or challenging ocean conditions.
Maneuverability is also a bit poorer simply because the boat is longer which will make it harder to handle for newcomers or swift narrow rivers with tight corners.
Similar custom features to smaller Perception models
Improved tracking thanks to longer keel
Slightly larger 325-pound load capacity
Read our review of the Pescador Pro 12.0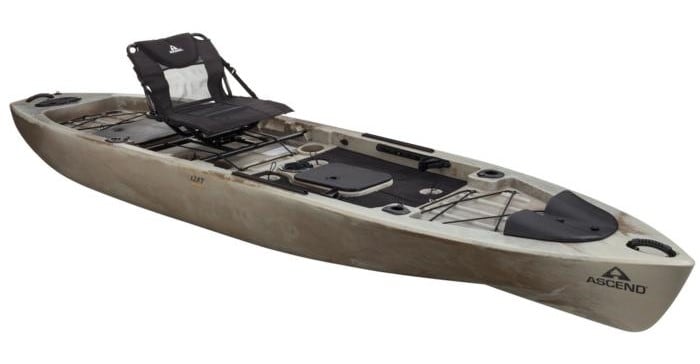 A bigger kayak measuring almost 13 feet long, the Ascend FS128T is a big, beefy, and stable fishing kayak.
It does come with quite a bit of extra weight though, checking in at 84 pounds making it a tough carry, even with some help.
While it does have rod holders, you don't get any of the custom features that Perception's boats offer, though there is a spot to tie off an anchor that can be useful.
When it comes to stability, however, the Ascend FS128T stands alone. It feels incredibly solid underfoot and makes a great platform to stand and cast from.
With such a long keel, the FS128T can maintain its course in most calm and moderate conditions. Strong wind and waves can make tracking troublesome if you're not experienced. 
Read our honest Ascend FS128T review.
Conclusion
If you're looking to spend up just a little bit and want a few more custom features, not to mention a really comfortable and flexible seat, the Pescador Pro 10 may be the kayak for you.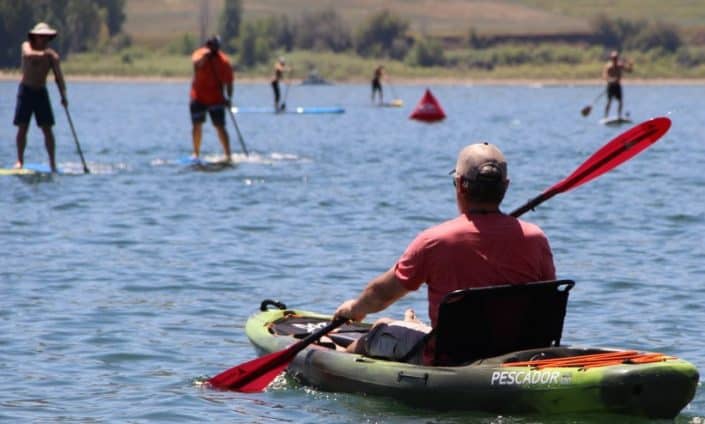 It's not a world-beater by any means, and the subpar tracking in waves and wind limits its upside.
But if you want a durable kayak for all your weekend warrior adventures, it's more than capable of getting the job done.